Creamy mushroom and potato soup comes together on the stove-top in 35 minutes. The chowder like soup is loaded with potatoes and lots of baby bella and Portabella mushrooms. Perfect for colder days during soup season.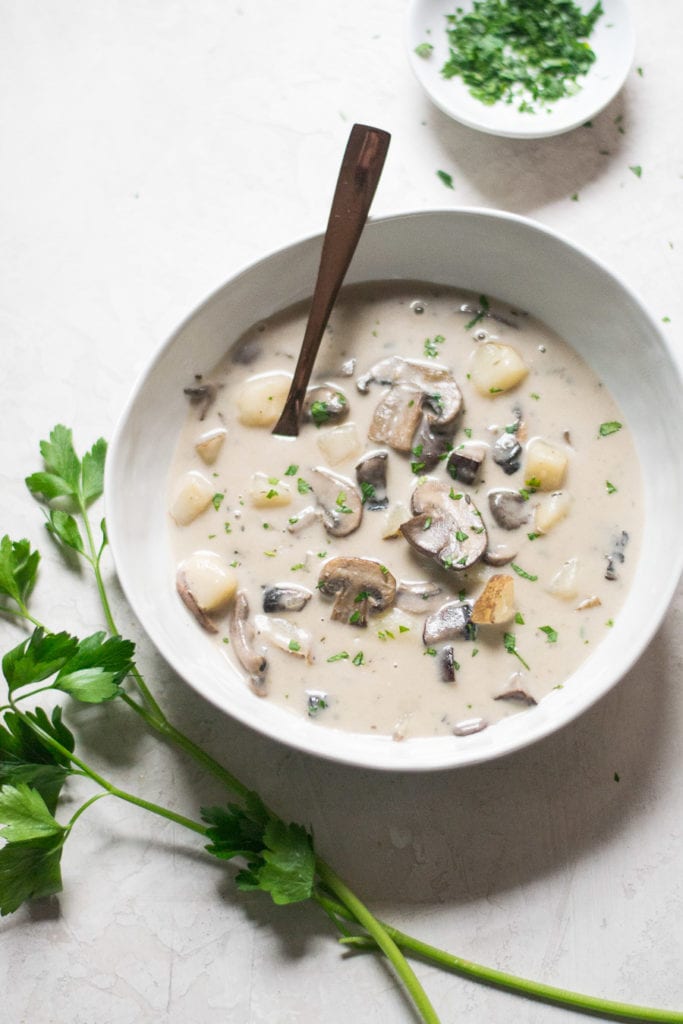 I grew up loving mushrooms. My Mom's famous Polish Pork Chops are smothered in mushrooms. I always loved them. I still do in fact.
Which brings me to something I have been thinking very hard about the past few days: I think I screwed up somewhere with Jack and Andy. It's only natural of course to have this fear.
Let me explain.
I have come to my wit's end with meal times in this house. It should be one home cooked meal for all, right? Jack won't eat carbs. Andy can't do green. Mike deep down shares the same sentiment as Andy. Most nights we end up with three different meals.
I admit I screwed up when I started making separate kids meals. My mom would have never cooked us separate meals. Dinnertime battles were just never fights I wanted to have. I should have rolled up my sleeves and fought for them to even entertain the idea of a mushroom on their plate.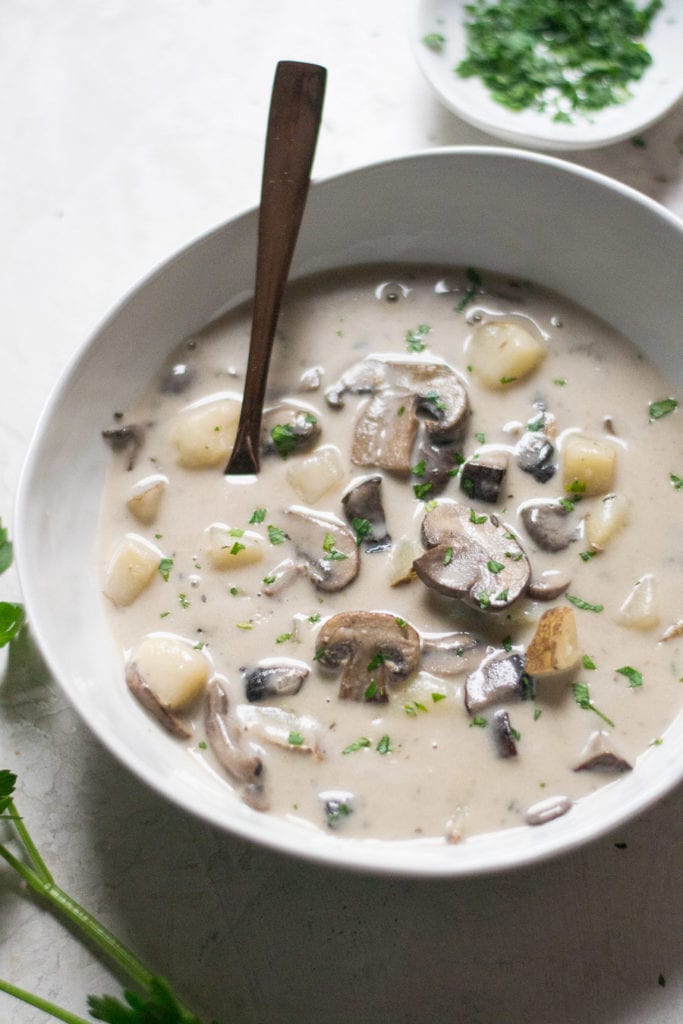 Anybody else in the middle of a never-ending picky eater phase?
The list of what my kids won't eat is three times as long as what they will eat. Finally, this Fall, I got sick of all the meal time shenanigans. The kids get a taster plate of whatever we are eating. If they don't touch it, that's fine. At least I offered.
This leads me to my latest recipe for creamy mushroom and potato soup. I got Andy to try a potato. Jack allowed the bowl to be in his presence. Baby steps people! The boys also like to chop and mix. Including them in the cooking process helps rid aversions too!
Let that be a testament to how amazing this cozy soup is!
Creamy mushroom and potato soup is loaded with diced Russet potatoes, baby bella mushrooms, and big pieces of Portabella mushrooms. It is almost like a chowder and has a hint of garlic, white wine, and thyme to pull it all together.
I'll just keep fighting the good fight over here at meal times. Lord, grant me patience and persistence! One day they will join me in a bowl of soup. I would be happy with any soup or vegetable, actually.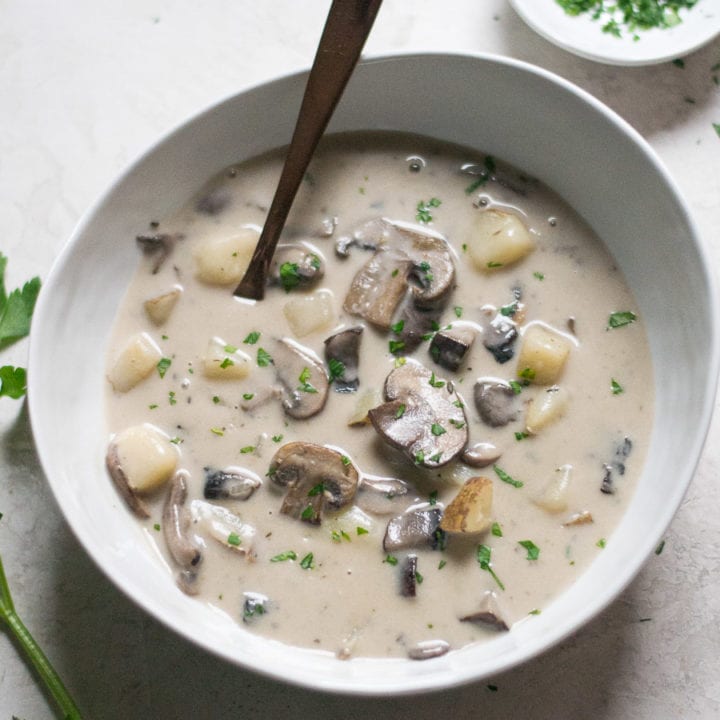 Creamy Mushroom and Potato Soup
Creamy soup loaded with lots of mushrooms and potato, a hint of garlic and herbs, and cooked in 35 minutes.
Ingredients
3 tbsp unsalted butter
8 oz whole baby bella mushrooms, thinly sliced
6 oz (2) Portabella mushrooms caps, cut into cubes
3 large Russet potatoes, diced
1/2 yellow onion, minced
3 garlic cloves, grated
1/2 tsp dried thyme
1/2 tsp dried oregano
1 tbsp salt
1/4 tsp black pepper
3 tbsp all-purpose flour
1/2 cup dry white wine
32 oz vegetable stock
1 cup heavy cream
1 bay leaf
Instructions
Melt the butter over medium heat in a large stock pot or Dutch oven. Once the butter is melted, add the mushrooms, potatoes, and onion. Saute for 10 minutes, stirring regularly.
After 10 minutes add the seasoning and garlic. Stir to combine.
Mix in the flour and stir until coated. cook for 1 more minute.
Deglaze the pan with the wine. Mix to scrape up any burnt or caramelized bits.
Add the stock, heavy cream, and bay leaf to the pot. Mix to combine.
Bring to a simmer and cook for 10 more minutes until the potatoes are tender.
Remove the bay leaf. Taste and adjust the salt and pepper if needed.
Notes
Want a seasonal twist on this recipe? Use an Oktoberfest beer to deglaze the pan instead of wine.
Don't want to use alcohol? Use additional vegetable stock instead.