Slow cooker vegetarian tortilla soup is so easy, hearty, and flavorful you won't even miss the chicken! Dump all the ingredients into the slow cooker and let it do the rest.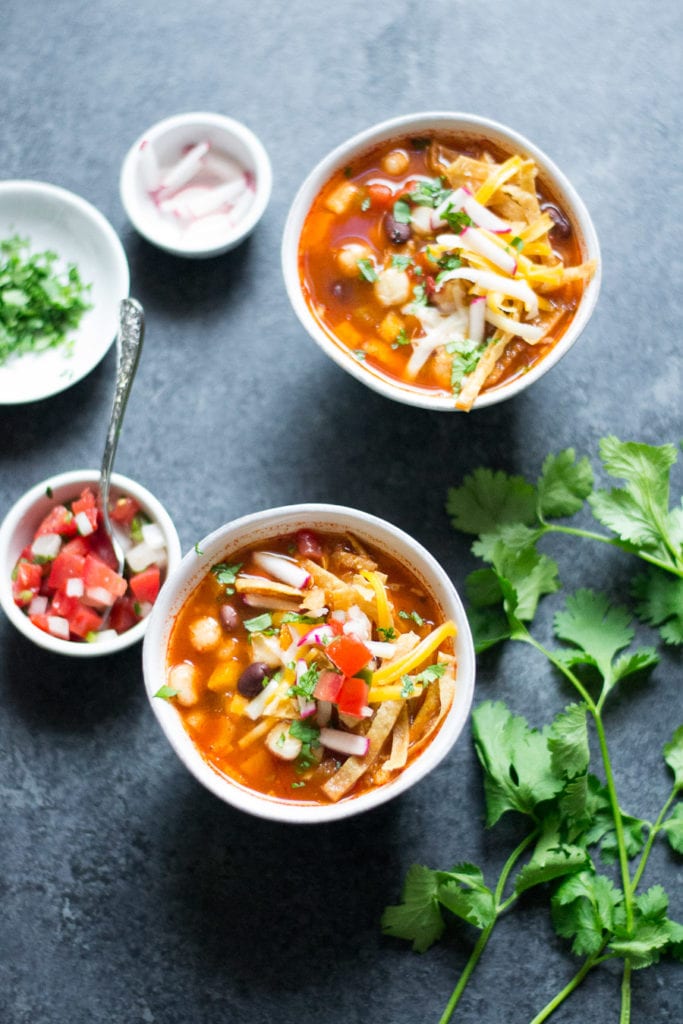 My first book contains one of my favorite recipes. The recipe is for Drunken Chicken Tortilla Soup. You know this is one of my fave recipes because I made it on WGN and at all my library cooking classes.
There was a lot of buzz and inquiry on the social media interwebs about making a vegetarian version. I thought I would do you one better and also make it gluten free. Homemade red enchilada sauce typically uses flour as a thickening agent. At my local grocery stores I found Rick Bayless' Frontera version is gluten free. That's the red enchilada sauce I used for this recipe.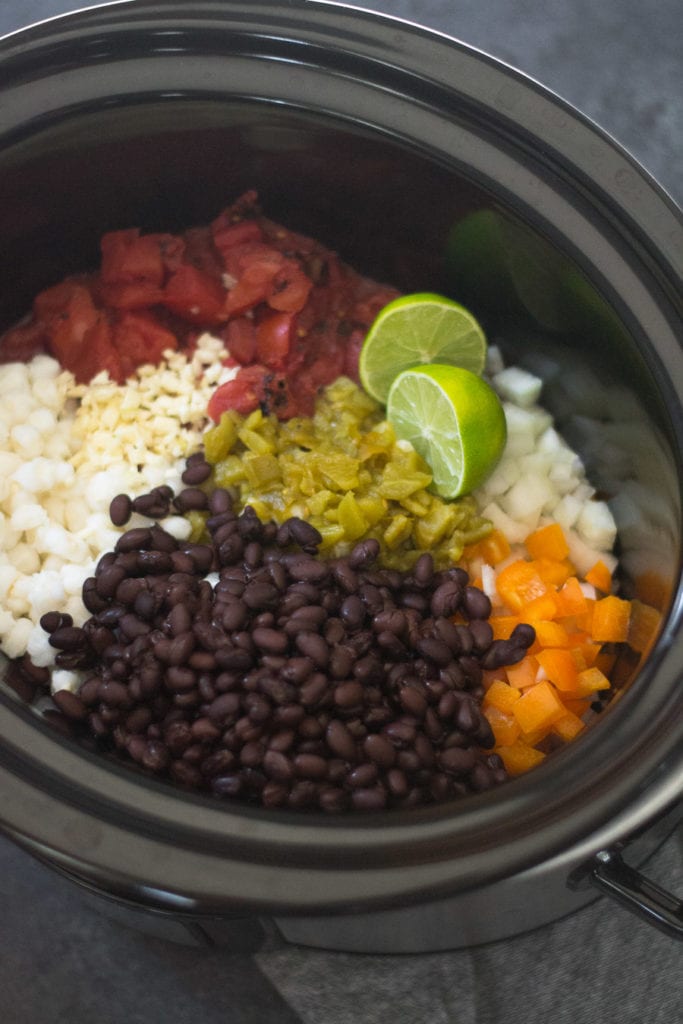 I skipped the beer as well to keep with the gluten free. You can always add in a nice crisp Mexican lager in place of some of the water or vegetable stock if you aren't gluten intolerant.
Slow cooker vegetarian tortilla soup starts with the usual suspects; onion, bell pepper, green chilies, black beans, hominy, and fire-roasted tomatoes. To add all that tortilla soup kick, we add in the red enchilada sauce, garlic, chili powder, oregano, and cumin.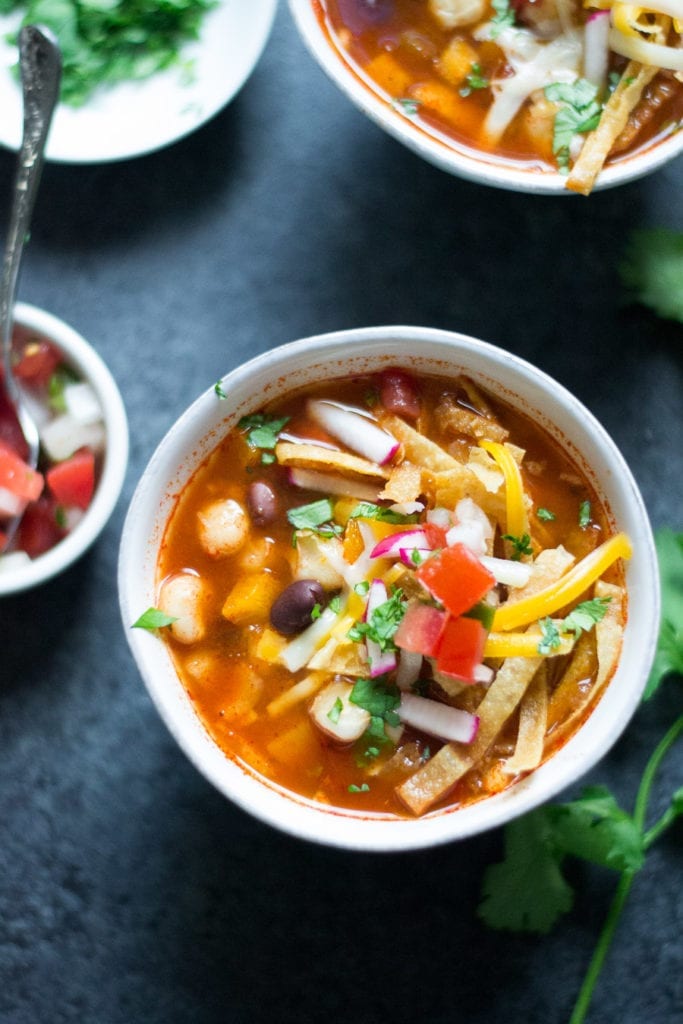 Dump all the ingredients into the slow cooker, give it a stir, and a few hours later it is ready to be devoured. I know a lot of you were waiting for this recipe and you will not be disappointed. I also have a lime and avocado version of tortilla soup with chicken on the blog already in case you want a twist.
Mike took vegetarian tortilla soup to work for lunch three days in a row. After the third day he commented that he could eat CHICKEN tortilla soup ever single day. I dropped the bomb that there was no chicken in the soup and he cared not!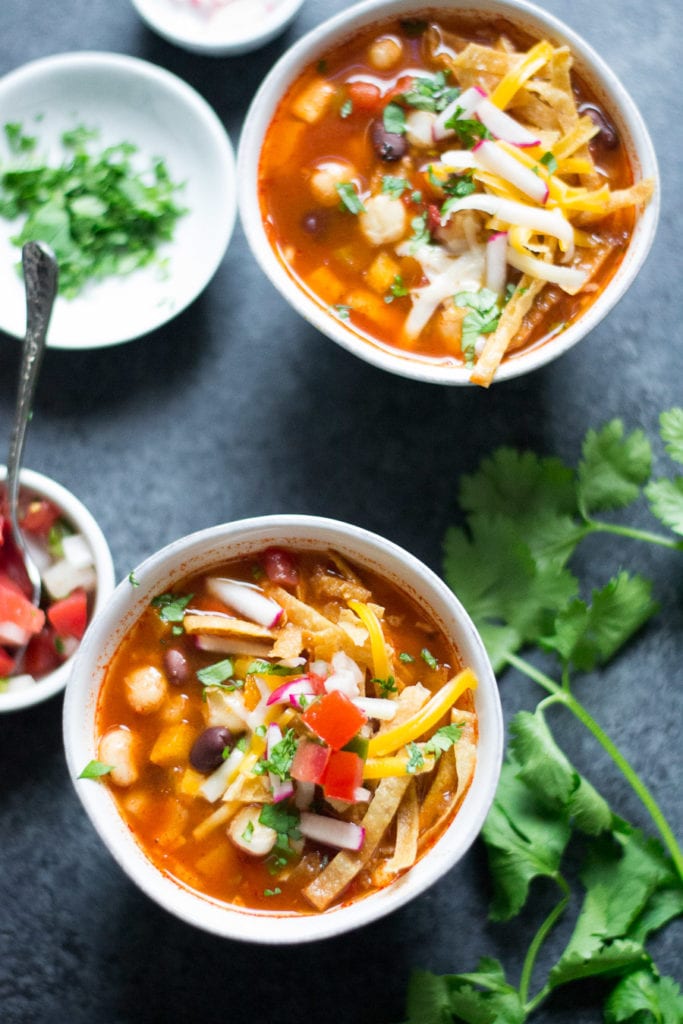 This soup can satisfy veg heads and carnivores alike!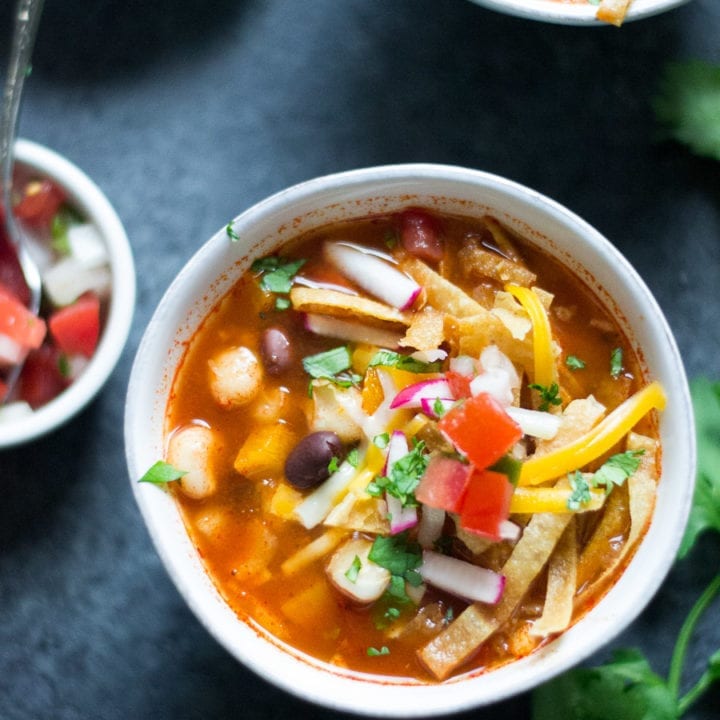 Vegetarian Tortilla Soup
Total Time:
3 hours
10 minutes
Slow Cooker vegetarian tortilla soup is made with onion, bell peppers, green chilies, hominy, black beans, garlic, gluten-free red enchilada sauce, and a plethora of spices.
Ingredients
1/2 yellow onion, diced
1, 14.5 oz can fire-roasted diced tomatoes
1 bell pepper, diced
1, 4 oz can diced green chilies
1, 14.5 oz can black beans, drained and rinsed
1, 28 oz can hominy, drained and rinsed
2 garlic cloves, minced
8 oz GF Red Enchilada Sauce
juice from 1 lime
16 oz water or vegetable stock (or Mexican Lager if you aren't GF)
1 tbsp chili powder
1 tsp ground cumin
1/2 tsp dried oregano
1 tsp salt
1/4 tsp black pepper
Instructions
Add all the ingredients to your slow cooker. Mix to combine.
Cook the soup on high for 3 hours or low for 6 hours. Keep warm until ready to serve.
Top soup with shredded cheese, hot sauce, pico de gallo, cilantro, sour cream, and corn tortilla strips.