Pork chops with red cabbage is the easiest one pan meal. Pork chops marinated overnight and then pan fried. Wilted red cabbage picks up all the juicy pork bits from the pan.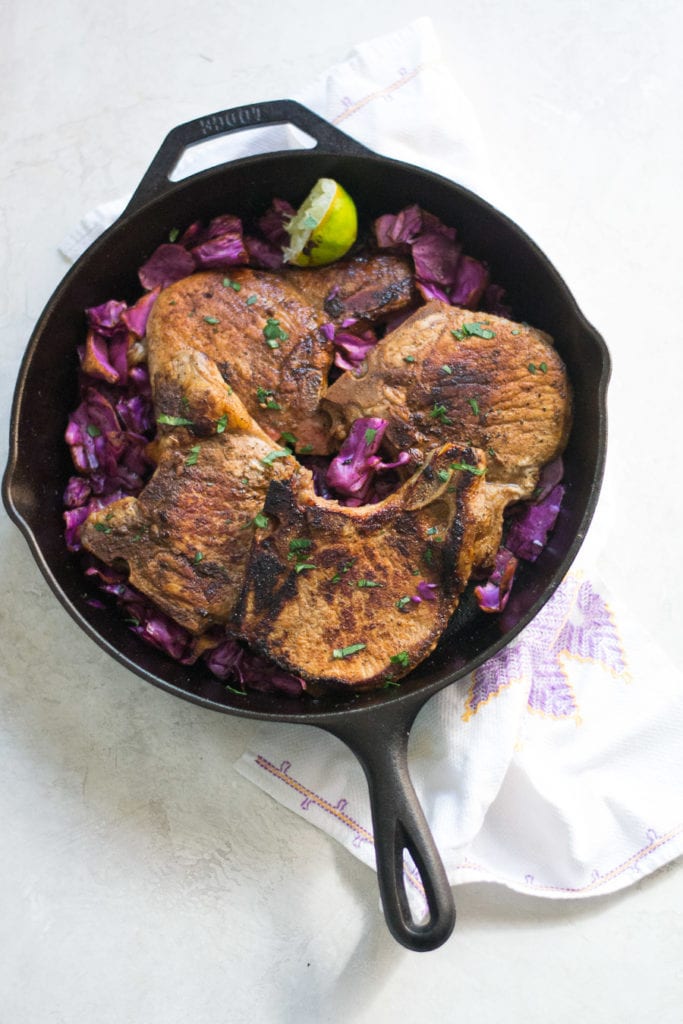 Over the summer Mike and I and the boys went down to southern Illinois to visit our good college friends. It was so nice to see our buddies and watch all our kids get along for two nights.
While we were there, we got to talking about grilling. This was back when I was doing my burger and beer summer Instagram series. The conversation went from burgers to pork. Pork butt steaks to be more exact. I have yet to try the pork butt steaks the STL-ers were talking about.
I did however get home and immediately test out my friend Ryan's pork marinade. The marinade consists of soy sauce, water, vinegar, and sugar. That's it! This marinade creates the most perfect and flavorful crust on a grilled pork chop.
Since I can't be outside grilling as often as I was during the summer with Mike being gone most nights coaching football, I took the recipe indoors and to my cast iron skillet.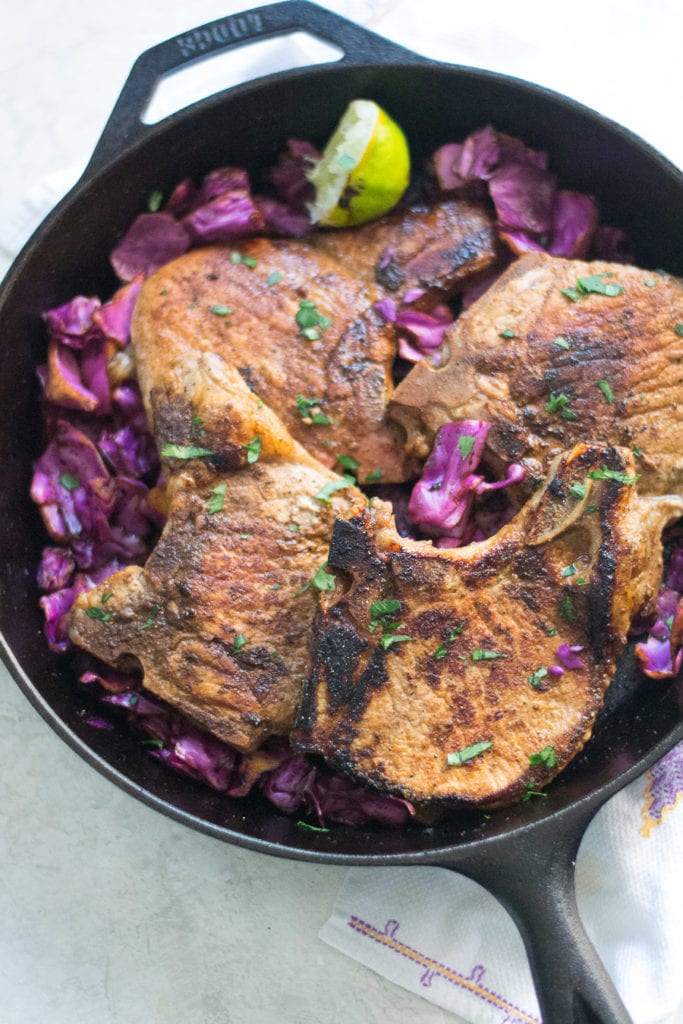 Pork chops marinated in that special marinade and then seasoned with a little chili powder, salt, pepper, and garlic are seared over high heat. Once the pork is deeply caramelized, they are removed from the pan. A little lime juice and cabbage go in to pick up all the excess brown bits and flavor.
This meal is easy and takes well under 30 minutes from start to finish. I love when an entire dish, a side and a main, come together like this in one pan.
I may not be taking that 4 hour drive to visit my buddies any time soon. At least I have this recipe that always makes me think of them. Lucky for me we now cook these pork chops with red cabbage at least once every two weeks.
It's that good.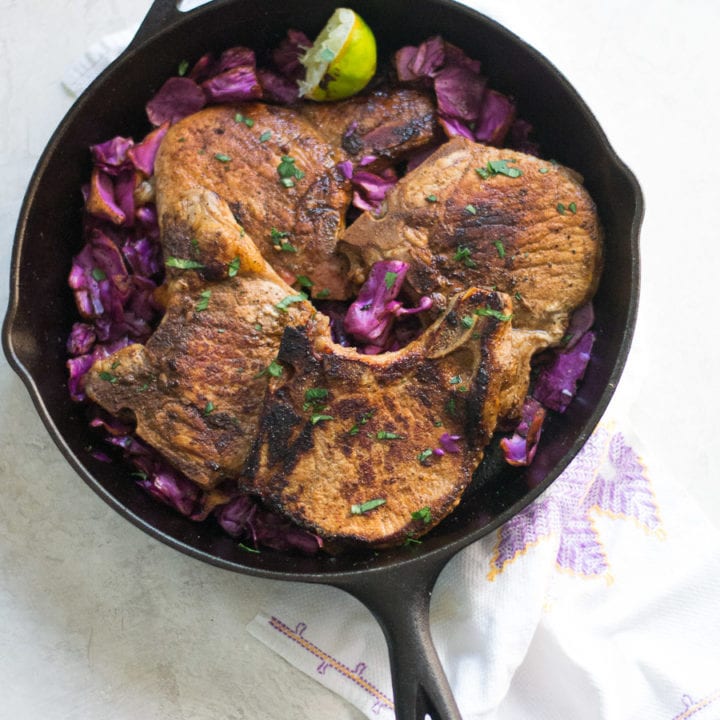 Pork Chops with Red Cabbage
Total Time:
12 hours
10 minutes
Pork marinated in a vinegar-soy sauce marinade, pan-seared, and served alongside a little wilted red cabbage all in one pan.
Ingredients
4, bone-in pork chops
3 tbsp light brown sugar
1 cup water
1 cup low-sodium soy sauce
2 tbsp white vinegar
2 tbsp avocado oil
1 tsp salt
1/4 tsp black pepper
1/4 tsp onion powder
1/4 tsp garlic powder
1/2 tsp chili powder
juice 1/2 lime
1 tbsp apple cider vinegar
2 heaping cups of chopped fresh red cabbage
Instructions
Add the brown sugar, water, soy sauce, and vinegar to a gallon-sized plastic storage bag. Seal the bag and shake to mix the marinade. Place the pork chops in the bag. Seal the bag and refrigerate overnight.
Mix the salt, pepper, onion powder, garlic powder, and chili powder together in a small bowl.
Remove the pork chops from the marinade and transfer to a plate. Season each side with the seasoning mix.
Heat a large cast iron skillet over medium/high heat for 2 minutes. Add the oil, carefully swirl to coat the pan.
Drop the pork chops into the pan. Sear for 5 minutes on each side. When the chops are cooked, remove, and transfer to a plate off to the side.
Reduce the heat to low. Deglaze the pan with lime juice and apple cider vinegar. Add the cabbage to the pan, mix to pick up any bits from the bottom of the pan.
Wilt the cabbage for 2 minutes. Season with salt and pepper.
Serve the pork chops over the cabbage.
Recommended Products
As an Amazon Associate and member of other affiliate programs, I earn from qualifying purchases.