Hearty Minestrone soup with sausage has all the veggies and a touch of spicy meat. This is the best hearty soup to combines the wants of veggie and meat lovers alike.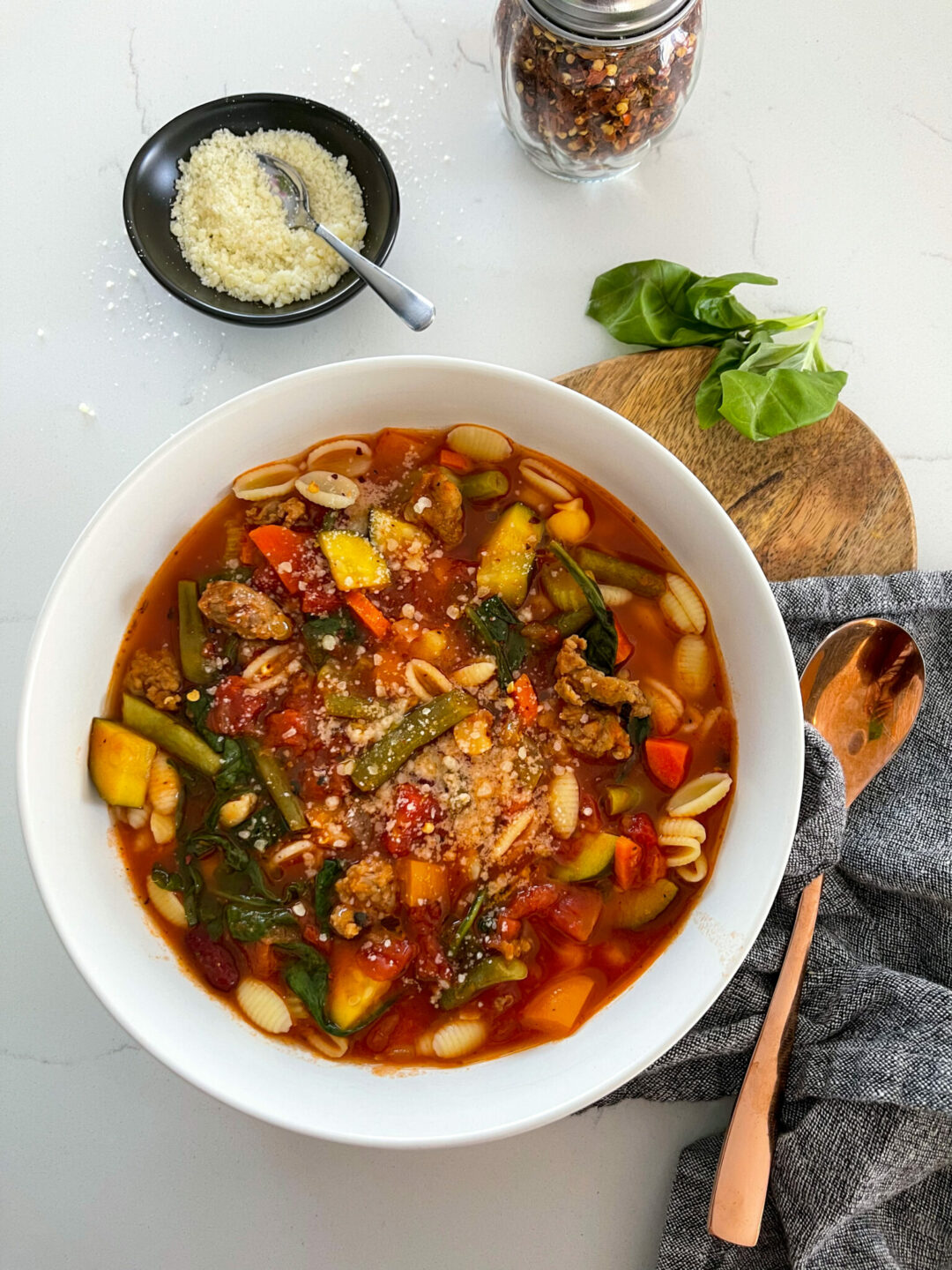 I think I found a new soup winner that pleases both me and Mike.
My favorite soup has got to be Minestrone.
It has a slightly spicy, brothy tomato base and if filled with all the veggies.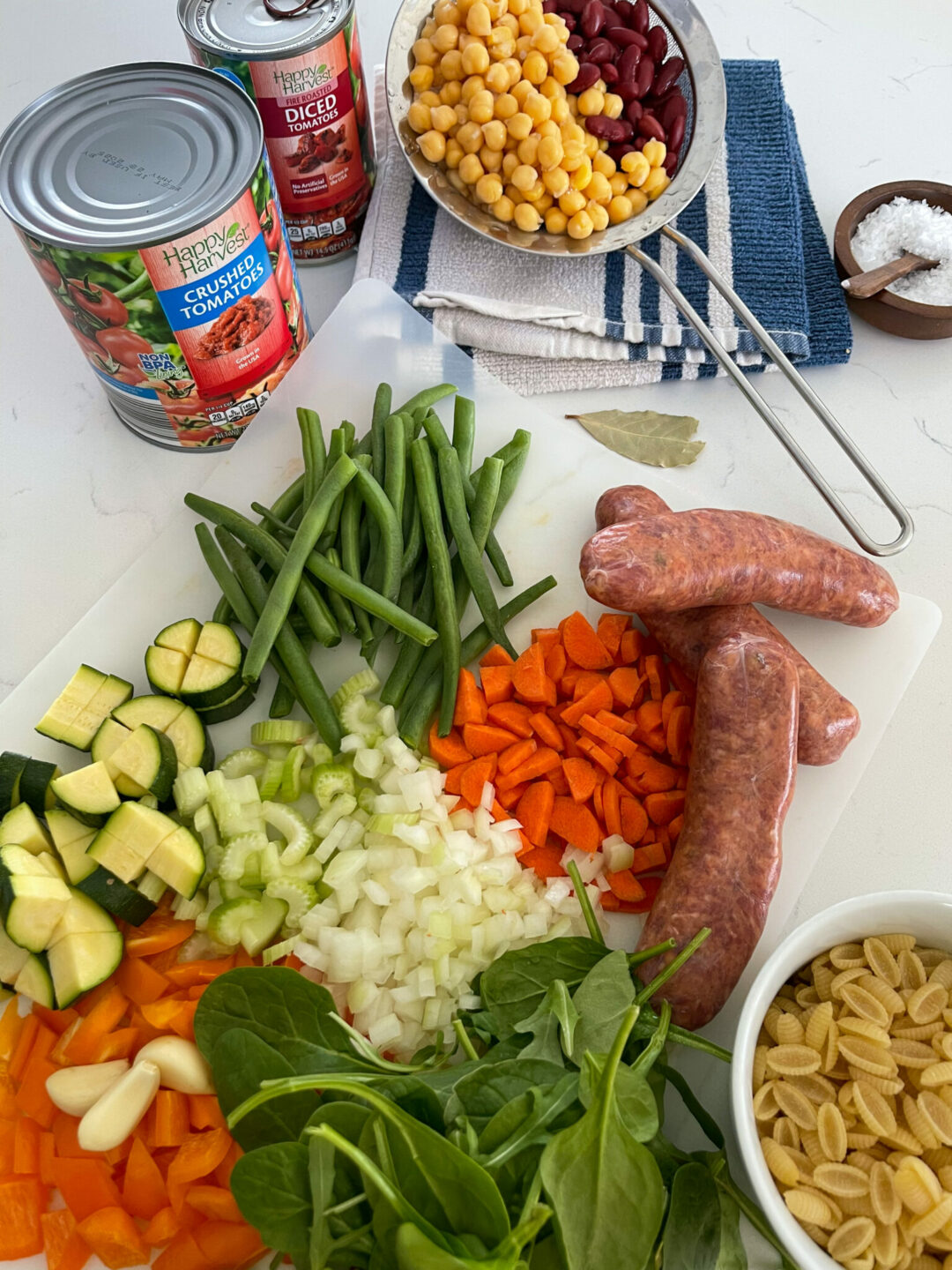 Minestrone has the noods. Noodles. I am sold!
Mike's favorite soup is chicken tortilla.
It is spicy, has chicken, and gets topped with cheese and chips.
The spicier the better.
He settles for my version, drunken chicken tortilla soup.
A week of so ago, I got the not too revolutionary idea to add Italian sausage to my Minestrone soup.
I am sure something like this already exists because honestly, it is just too perfect not to.
It probably has a better, cooler recipe title as well.
Let's run down all the things in this soup:
onion
bell pepper
celery
carrot
zucchini
green beans
spinach
kidney beans
garbanzo beans
mild or hot Italian sausage
noodles
That alone is a gigantic meal. The adjective hearty in the title, hearty minestrone soup with sausage, is very appropriate.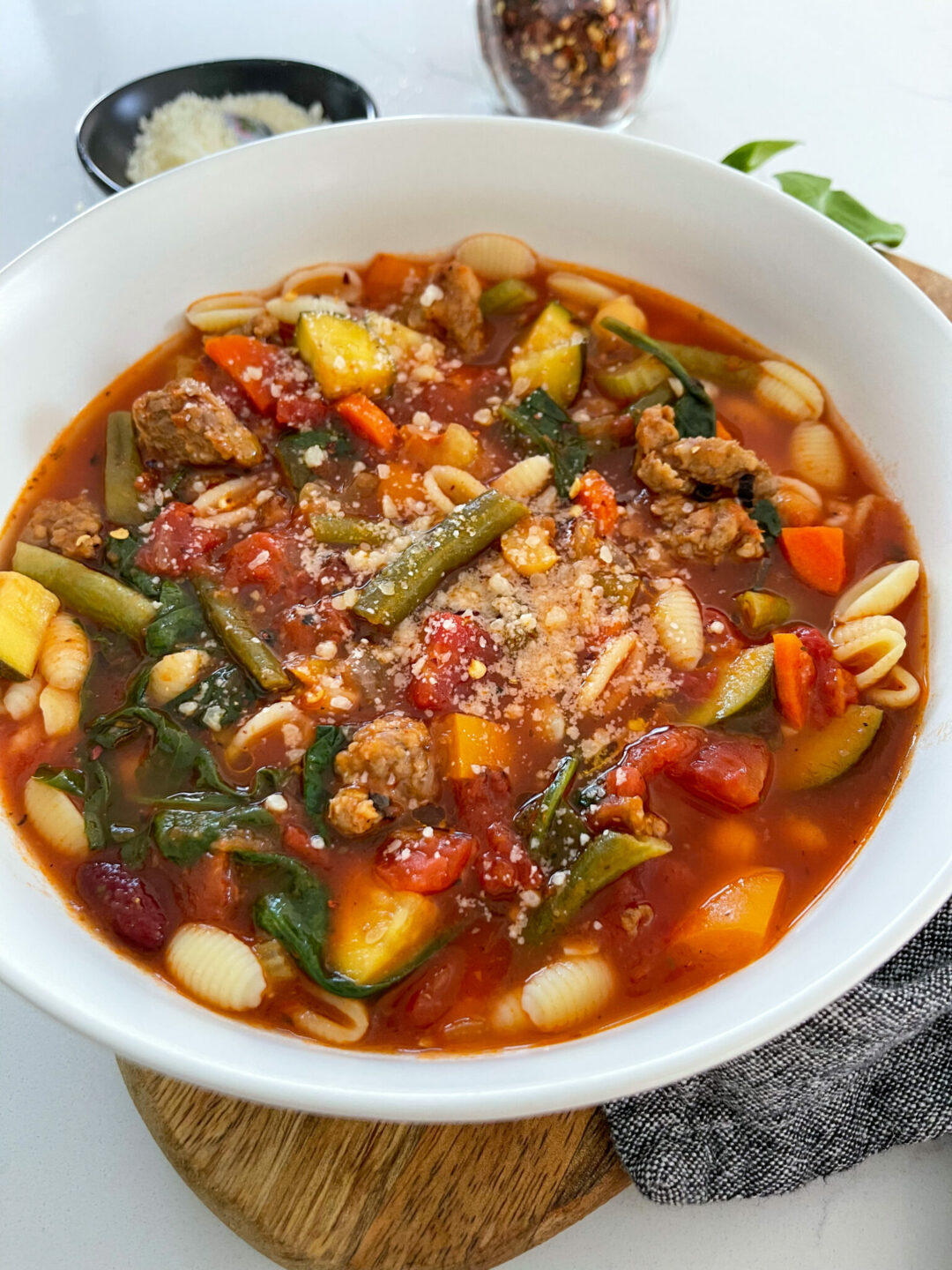 Hearty minestrone soup has a base made from canned crushed tomatoes, canned fire-roasted diced tomatoes, vegetable/chicken stock, and water.
It is thin enough as to not overshadow the ingredients.
The seasonings in the soup are:
salt
crushed red pepper flakes
Italian seasoning
a Parmesan cheese rind
That's it! That is all the flavor makers.
I say this all the time, so as another reminder, listen up!
Cook and store your noodles separate from the soup!
Cooking noodles in soup is cool.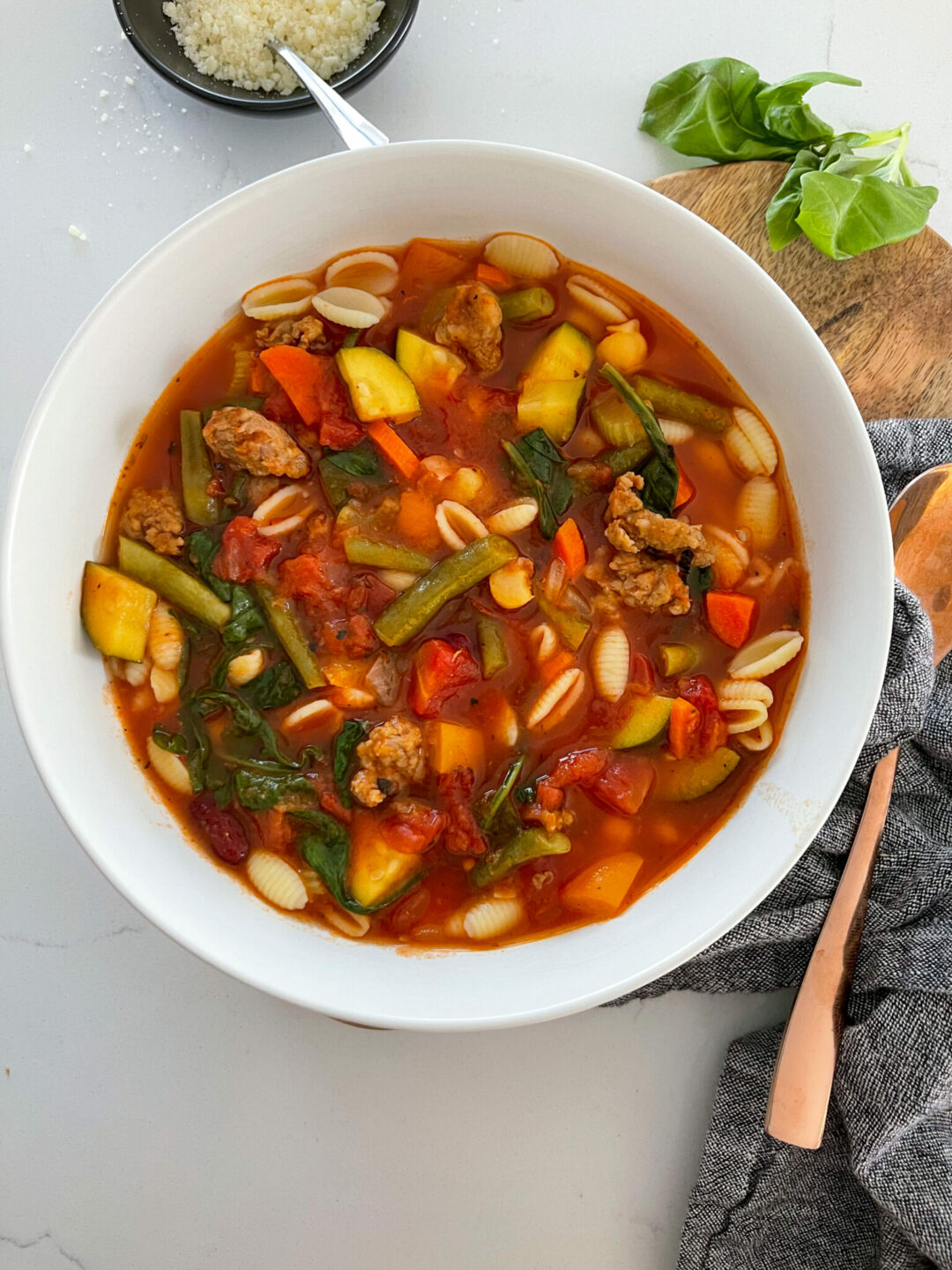 I usually adjust the liquids to take into account the fact that the cooking noodles will absorb a lot of that liquid.
I did not do that for this recipe.
The broth in this soup is liquid gold.
I didn't want it being all absorbed into the noodles.
You can use macaroni, little o's, ditalini, orzo, or mini cavatelli like I did for this recipe.
Any small noodle you like, really.
When you go to serve the soup, add in the noodles.
Add the cooked noodles after you reheat the leftover soup.
Let them sit for a minute so they warm.
I like to top this soup with Parmesan cheese, more red pepper flakes, fresh basil, and a drizzle of good finishing olive oil.
This soup will be sticking around for a while.
If only I could get the kids to like it.
A battle for a future day/blog post.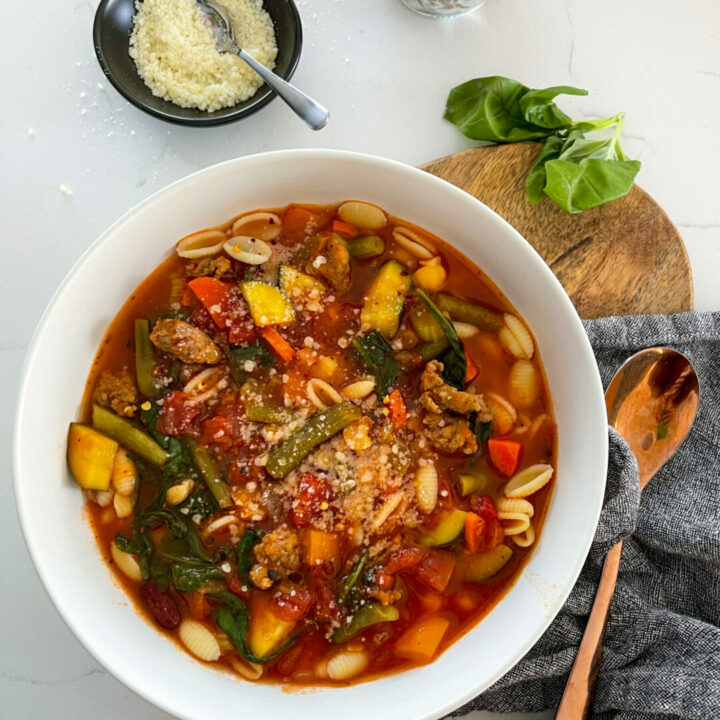 Minestrone Soup with Sausage
Yield: Serves 6-8

Prep Time: 20 minutes

Cook Time: 1 hour

Total Time: 1 hour 20 minutes

Hearty Minestrone soup with crumbled mild or hot Italian sausage and all the vegetables.
Ingredients
2 tbsp extra-virgin olive oil
3 links of mild or hot Italian sausage, casings removed
1 tsp salt, more to taste
1/2 tsp crushed red pepper flakes
1 tbsp Italian seasoning
3 garlic cloves, minced/grated
1/2 white/yellow onion, diced
2 carrots, diced
2 celery stalks, diced
1 bell pepper, diced
1 small/medium zucchini, diced
1 1/2 cups fresh green beans, cut into 1" pieces
1, 14.5 oz can fire-roasted diced tomatoes
1, 28oz can crushed tomatoes
28oz water
2 cups vegetable or chicken stock
1, 14.5 oz can kidney beans, drained and rinsed
1, 14.5 oz can garbanzo beans, drained and rinsed
1 bay leaf
1 parmesan rind
2 cups small noodle like macaroni, mini shells, orzo, ditalini, or mini cavatelli
2 cups fresh baby spinach
Instructions
Write instructionsBring a medium pot of heavily salted water to a boil. This will be ready on the side when we want to cook our noodles.
Heat the olive oil in a large Dutch oven or stock pot over medium. Add the sausage and use the side of a wooden spatula or spoon to break the meat into bite-sized pieces. Cook until brown in color.
Add the salt, red pepper, Italian seasoning, and garlic. Cook for a minute while mixing and using the spoon to scrape free any brown bits.
Add the celery, onion, carrot, bell pepper, zucchini and mix to scrape up and deglaze pot. Cook for about 7-10 minutes until the veggies become tender.
Add the canned tomatoes, water, and stock. Mix to combine.
Mix in the beans and the bay leaf and parm rind. Cover with a lid. Simmer over medium low for 20-30 minutes.
While the soup simmers, cook your noodles until tender. Drain and keep off to the side.
Remove the lid. Add int he spinach. Keep uncovered and cook for an additional 5 minutes. taste and adjust salt and pepper if needed.
Carefully remove the bay leaf and parm rind, discard.
Add about a 1/2 cup of noodles to each serving bowl. Top with hot soup. Garnish with more crushed red pepper, parmesan cheese, and fresh basil or parsley if you have it.
Notes
Adjust the crushed red pepper flakes if you don't like it with a little kick.
Recommended Products
As an Amazon Associate and member of other affiliate programs, I earn from qualifying purchases.