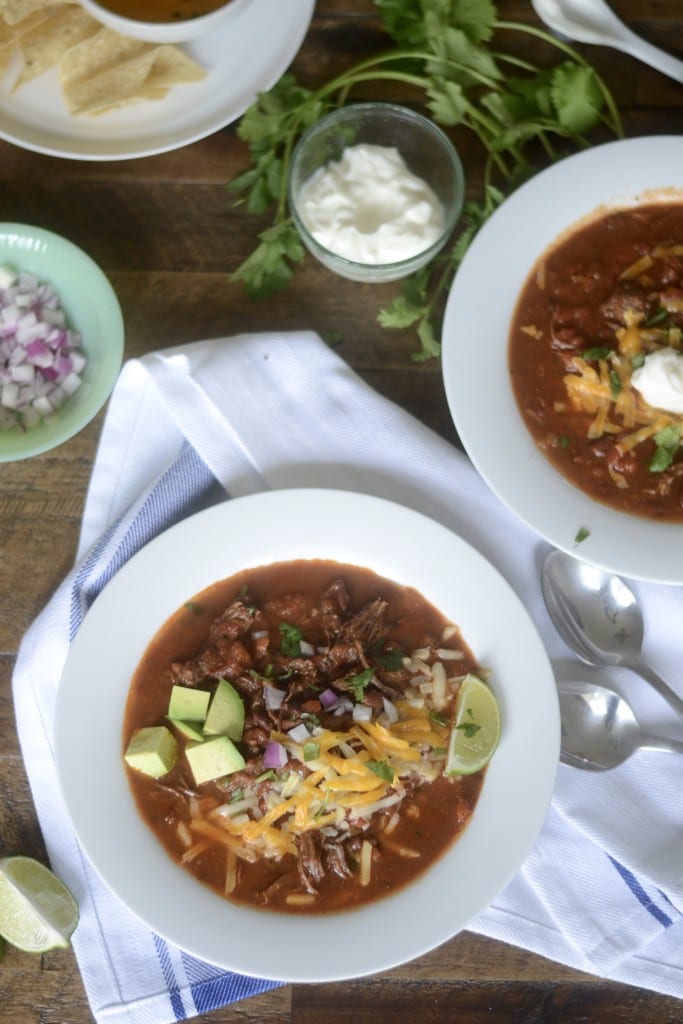 Happy Taco Tuesday! Meh. Yeah, I love tacos, like, a lot, but I am kind of sick of them. GASP! I just need a little switch up from our usual carnitas tacos. You are shaking your heads right now and totally thinking I am crazy. That's ok. It isn't a surprise. I am crazy.
This isn't like your normal chili though. (Said every food blogger ever plugging his/her new chili recipe).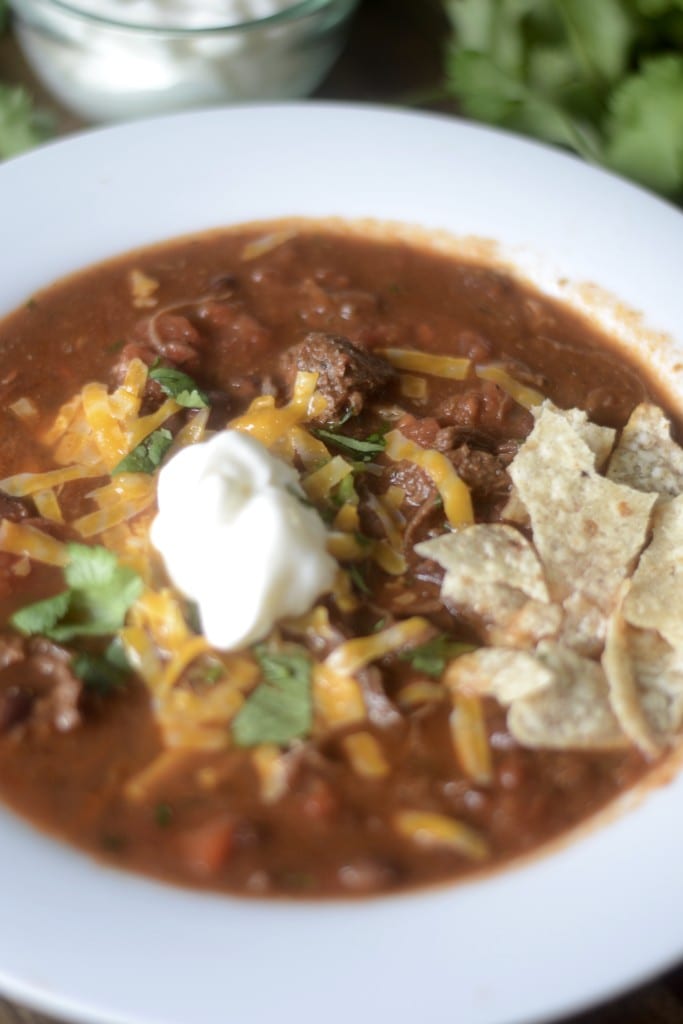 This chili seriously tastes like that beautiful, smoky, citrus, garlic laden piece of meat. I like to call this the meat-lover's chili. It is just like a big pot of shredded steak. You cannot go wrong with that. So, yes, this can replace your taco Tuesday menu. Throw some guac, cheese, and tortilla chips on top and you won't miss a thing. Trust me.
Recipe talk out of the way.
Can we talk about how the world just like stops spinning when a football game is on? Mike tells me he is no longer supporting the Chicago Bears. I was kind of skeptical because I have heard this before except about a different team, the Chicago Cubs. See, I am a Chicago White Sox fan and we just suck all the time so I have nothing to worry about. But, earlier in the day on Sunday Mike was all, "The Bears suck blah blah blah."
Then, bum, bum, bum, buuuummmm, duhn, duhn, duhn, duhn…. (that's the NFL Sunday theme song btw). I peep into the family room and the game is on, Mike is sprawled out on the couch, feet propped up on a pillow lecturing me about how he just wants a moment in the day to watch the game. Uhhhhh, hubba-whaaaa?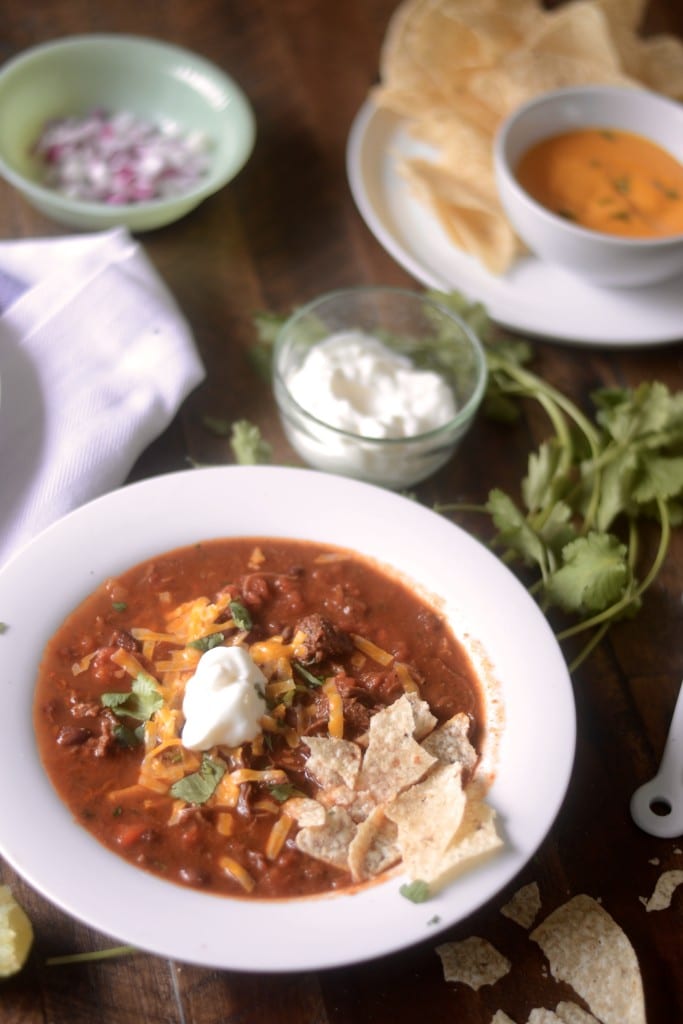 Aren't you the same man that not but three hours ago told me "the Bears suck."
Cue the next lecture which includes, work hours, yard work, and all the stuff I just did around the house.
Ummm yeah. Football season is not that awesome. Awesome food (eh hem, like this chili) but not that awesome for the significant others that just want their husbands to hang some dang shelves on the wall of the home they have lived in for over three months now.
End of rant.
Slow Cooker Carne Asada Chili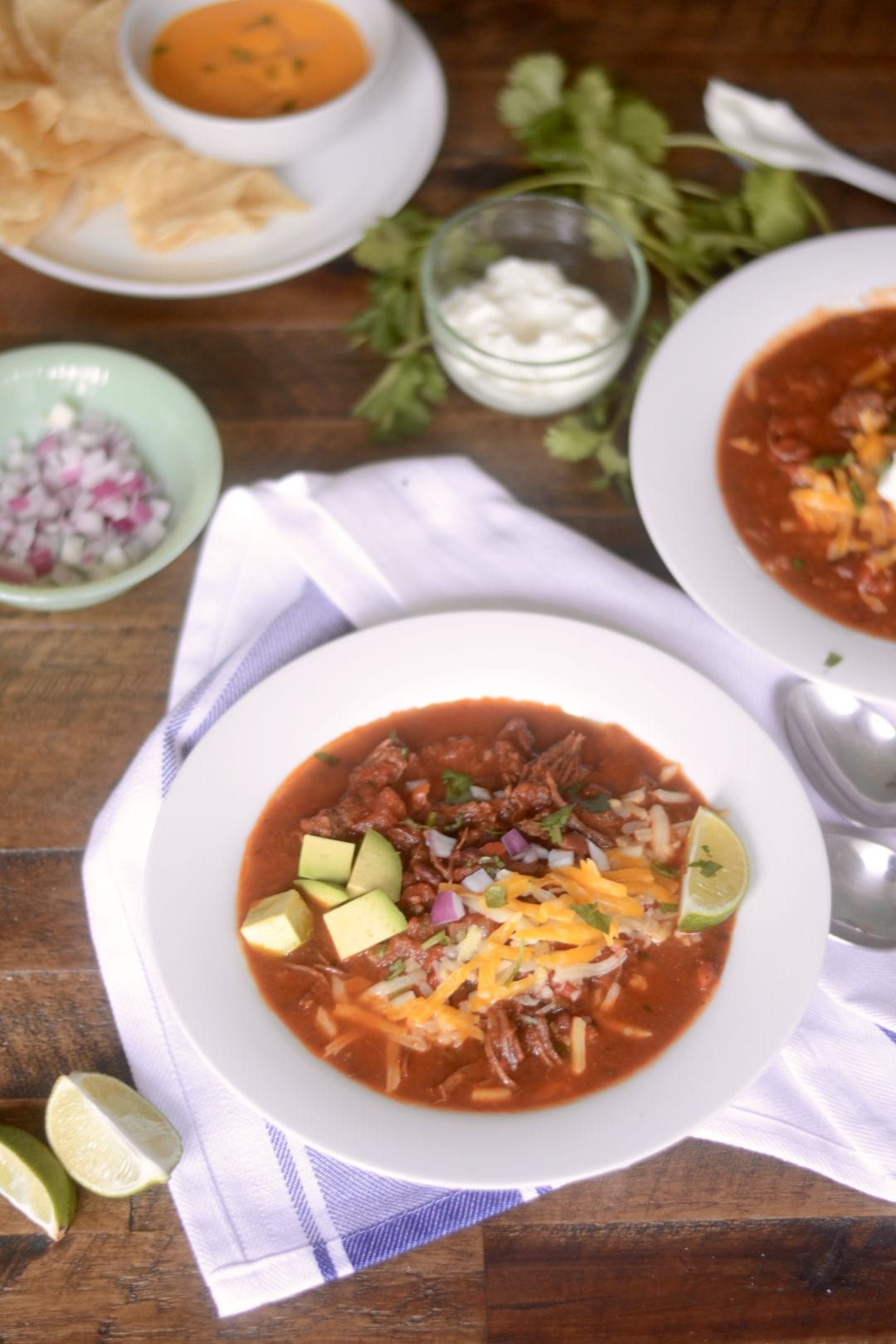 Sick of taco Tuesday? Switch it up with all the citrus and smoky flavors of carne asada in chili form. Tender sirloin steak, black beans, and roasted red peppers slow cooked in a citrus tomato broth. Perfect for football or a cold, rainy day.
Yields: Serves 6 - 8
2 Jalapeños, seeded and finely diced
1/2 Red Onion, finely diced
1, 12 Ounce Jar Roasted Red Peppers, drained and diced
4 Cloves of garlic, grated
Juice from 2 Limes
Juice from 1/2 an Orange
1 Cup light Colored Beer or Low-Sodium Beef Stock
1, 14.5 Ounce Can Diced Tomatoes, drained
1, 28 Ounce Can Crushed Tomatoes
2 Pounds Beef Sirloin Steak
1 Tablespoon Chili Powder
1 Tablespoon Ground Cumin
1 Tablespoon Dried Oregano
1, 14.5 Ounce Can Black Beans, drained and rinsed
Salt and Pepper to taste
Big bunch of Fresh Cilantro, chopped
Add fruit juices, red onion, Jalapeño, garlic, red peppers, beer/stock, diced tomatoes, crushed tomatoes, and all the seasonings to the slow cooker. Mix to combine.
Nestle the meat down in the liquid so it is completely covered. Cover with lid.
Set the slow cooker to low for 8 hours or high for 5 hours.
Once the timer has gone off and the chili is cooked, remove the meat, and shred with two forks. Add the meat back to the slow cooker.
Chop the cilantro. Add that to the chili, mix to combine.
Serve with colby jack or pepperjack cheese and sour cream.
Preparation time:

12 minutes

Cook time:

5 - 8 Hours

Total time:

8 hours 12 minutes