Tender beef, baby potatoes, carrots, celery, mushrooms, onions, and peas come together quickly in a thick Guinness based stew using the Instant Pot. Not only is Instant Pot Guinness Beef Stew good for Saint Patrick's Day but also good for cold and rainy Spring day dinners.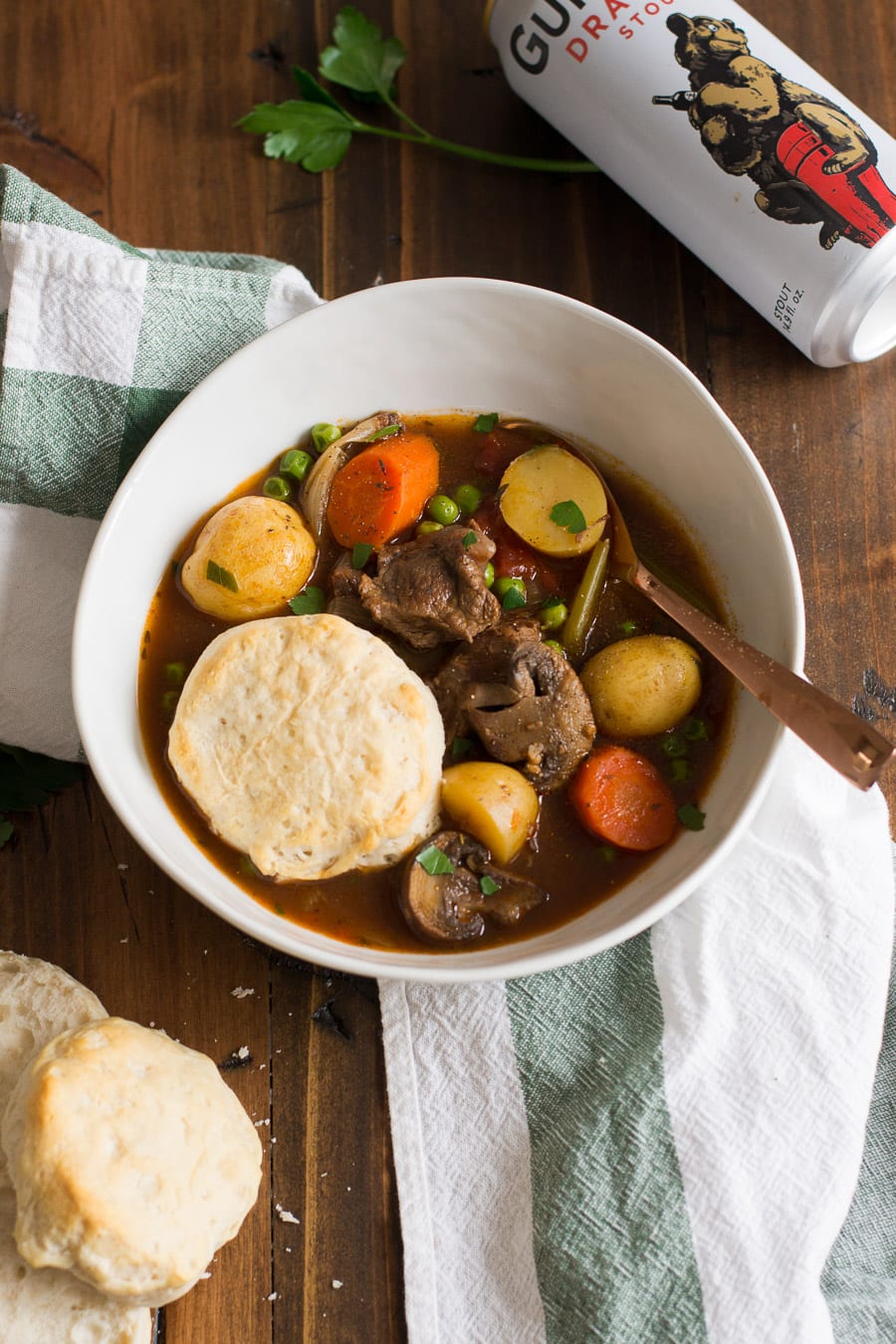 Happy Saint Patrick's day weekend. Ah, to be in my 20's on this day just for one more time… is something I never ever want to do again. Anybody else with me on that one?
I am like an 8th Irish I think. My heritage is mainly Polish and German. I am more likely to fully celebrate Paczki day and Fat Tuesday than St. Patrick's. If only I would have applied that thinking in my 20's.
I would have avoided lots of kegs and eggs and crying-about-some-boy-by-2pm situations. Also, green food coloring in beer.
All I have to do now, is make a Rueben out of leftover corned beef and throw together something with Guinness.
Mike loves Guinness. I was always a fan of a snakebite or a half cider beer and half Guinness drink. Guinness is too filling for me. The fullness of Guinness translates very well to cooking.
It is the perfect beer to add flavor to your beef stew, chili, or even your mac and cheese.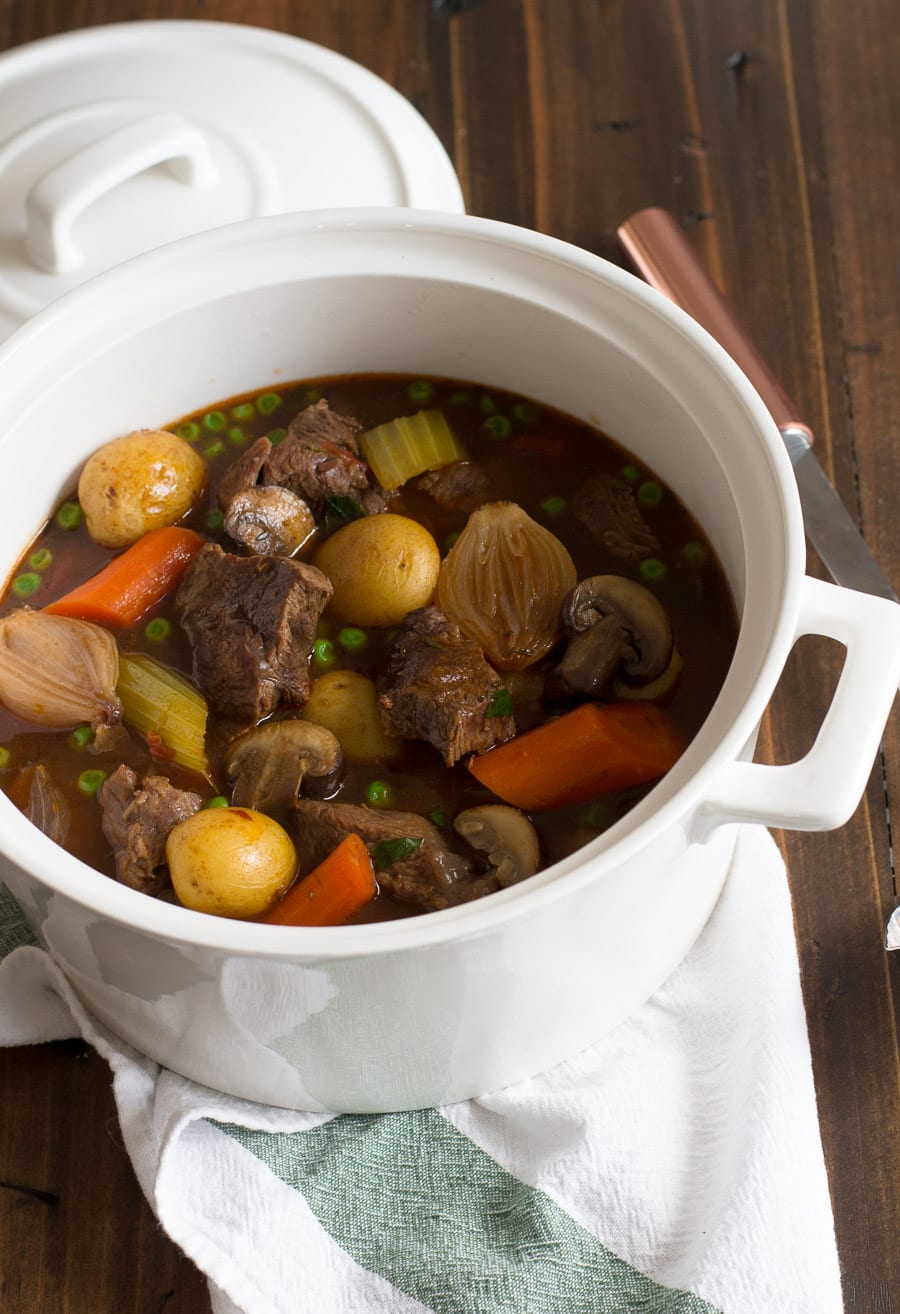 Since I already have a slow cooker beef stew featuring Guinness, I figured why not make a version for the olde Instant Pot?
Guinness and beef stew meat along with mushrooms, baby potatoes, peas, carrots, celery, and onion make for one hearty St. Patrick's Day themed meal. It's so good I dare say you may even make it more than once a year.
First things first, we need to caramelize and brown the mushrooms and potatoes before we get things cranking in the IP. Nobody wants a soggy or rubbery mushroom. That sounds like a lead in for a Michael Scott "That's what she said…" joke. I won't do it though.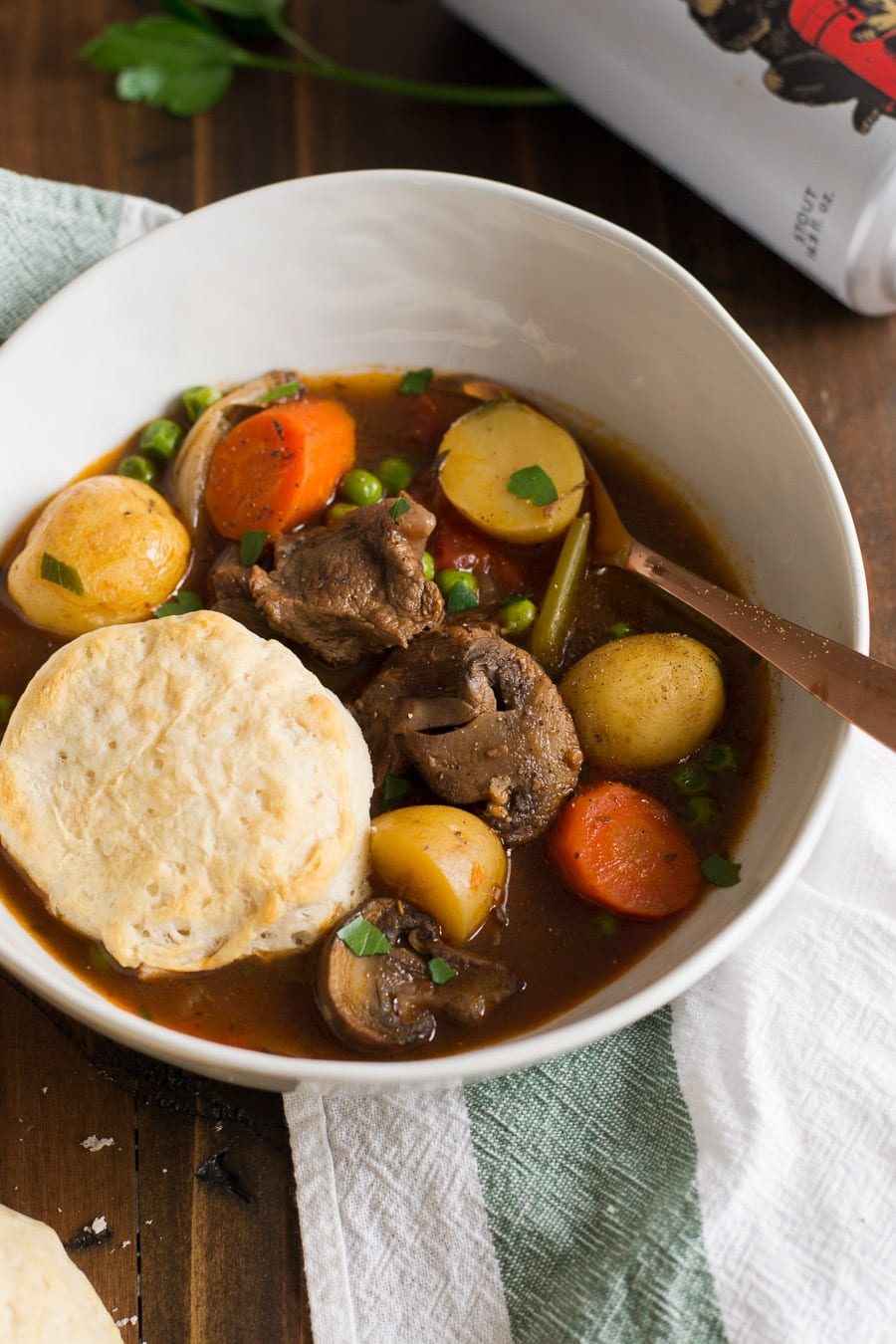 This recipe makes enough to feed a crowd or freeze half for a cold, rainy Spring day. Yesterday it was snowing and 34 degrees so yeah, a day like that would have been perfect for this.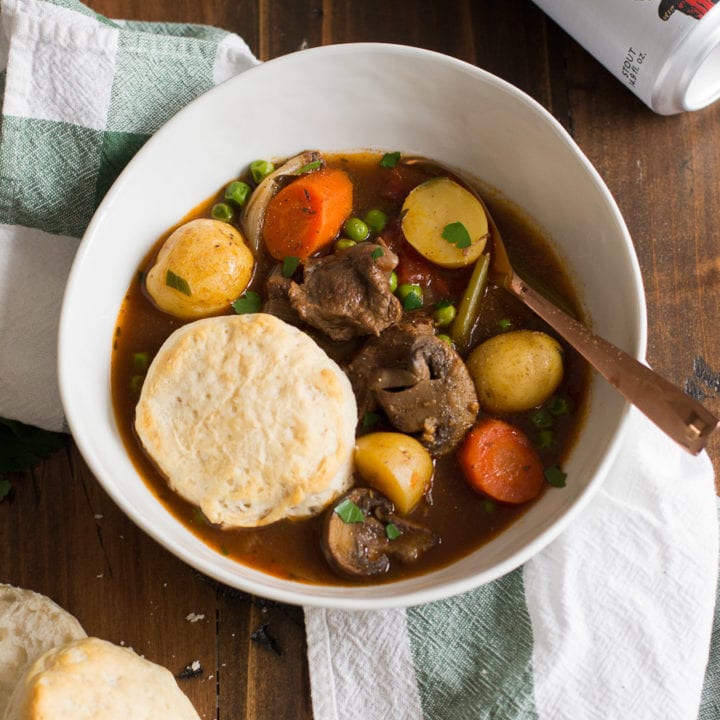 Instant Pot Guinness Beef Stew
Instant pot Guinness beef stew with beef, mushrooms, potatoes, celery, carrots, onions, and peas.
Ingredients
1 tbsp extra virgin olive oil
10oz cremini mushrooms, cleaned and sliced
1 1/2 lbs beef stew meat
2 tbsp corn starch
1 tsp salt, plus more to taste
1/2 tsp black pepper
1/4 tsp dried thyme
1, 16oz Guinness
1 tbsp Worcestershire
32oz low-sodium beef stock
1 cup canned crushed tomatoes
2 carrots, peeled and chopped
2 celery stalks, chopped
3 small shallots, peeled and chopped into thirds or halves
1lb baby potatoes
3/4 cup peas
1 tbsp fresh chopped flat leaf parsley
Instructions
Set the Instant Pot to sauté. Let the pot heat up for a minute. Add the oil and swirl it about to coat the bottom of the pot.
Add mushrooms and sauté until they are caramelized, about 10 minutes. Remove the mushrooms and transfer to a plate off to the side.
Toss the beef with the cornstarch, salt, pepper, and thyme. Add the beef and all the seasonings to the pot. Cook for another 10 minutes until browned.
Press Cancel. Remove the beef and transfer to plate with the mushrooms.
Deglaze with Guinness and Worcestershire, scraping up all the brown bits off the bottom.
Mix in the stock, tomatoes, carrots, celery, onion, potatoes. Add the mushrooms and beef back to the pot too. Mix to combine.
Secure the lid with the steam vent sealed. Press "Pressure Cook" until the light is beneath "High Pressure." Use the "-/+" buttons to adjust the time until the display reads 30 minutes.
Quick release the pressure. Remove the lid. Mix in the peas, adjust the salt and pepper to taste.
Serve with biscuits and top with fresh chopped parsley.
Notes
For the stovetop: Add oil, mushrooms to large Dutch oven over medium heat. Brown mushrooms, about 10 minutes. season beef with salt, pepper, thyme, and corn starch, toss to coat. Add the meat to the pot. Sear for about 10-15 minutes, Add in Guinness and deglaze. Mix in remaining ingredients. Bring to a simmer over medium/low heat. Cook for 50-65 minutes until beef is tender and stew has thickened.
For the slow cooker: Brown mushrooms and seasoned beef in a pan. Deglaze with Guinness. Add contents of pan to the slow cooker. Mix in remaining ingredients. Set the slow cooker to low for 10-12 hours until beef is totally tender.