Stewed cauliflower soup with turmeric and pepperoncini can be made quickly in the Instant Pot or let to simmer all day in the slow cooker. The turmeric and pepperoncini add a bit of warm, healthy spice. This is the ultimate cozy and easy soup for those cold snaps.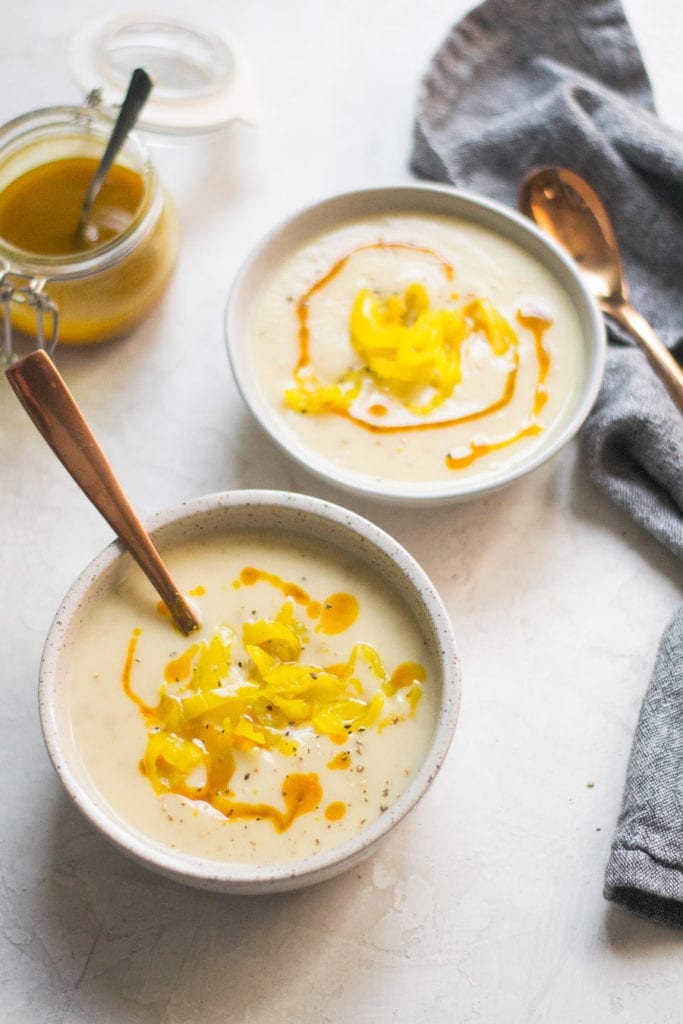 Oprah said that cauliflower is having a major moment right now. I tend to agree with her. Cauliflower is everywhere! It's replaced rice and pizza crust. You can now find cauliflower noodles and even bread. It is a great addition to soup instead of dairy to make it creamy.
I get the versatility, but are we sick of it yet?
I am going to hope the answer to that question is a no because boy do I have an easy recipe for you today!
Stewed cauliflower soup is made from a whole head of cauliflower, a few potatoes, onion, garlic, vegetable stock, and a bit of heavy cream. Toss it into the slow cooker and let it go all day or make it in 7 minutes in the Instant Pot. After the allotted time, mix int he cream, and then puree until smooth. It's that easy.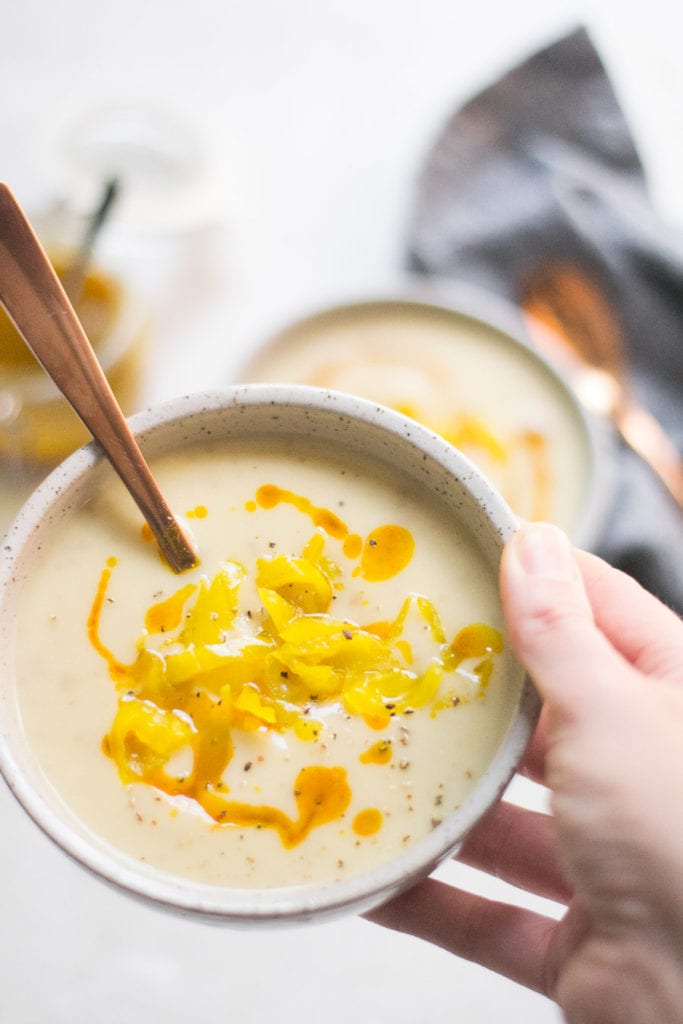 Not to be out shined by cauliflower, turmeric is having a major moment as well. Why not put them together? We are all super trendy millennials here, right? *Scoff.*
Turmeric is mixed with a bit of olive oil and drizzled over the finished soup. The turmeric with some chopped pepperoncini add the right crunch and spice to this creamy, dreamy soup. Get ready for more cauliflower recipes. It is in season after all!
If you like this cauliflower recipe, try these:
Greek Chicken Cauliflower Rice Bowls
Do you need more cozy, fall soups?
Roasted Fennel and Tomato Soup
Creamy Vegetable and Wild Rice Soup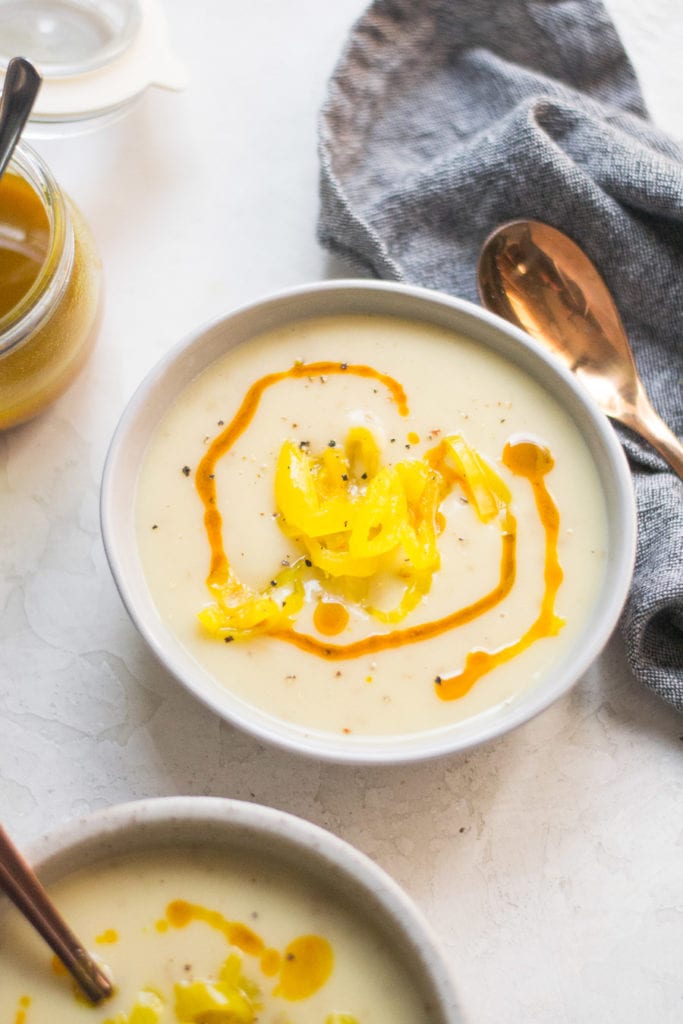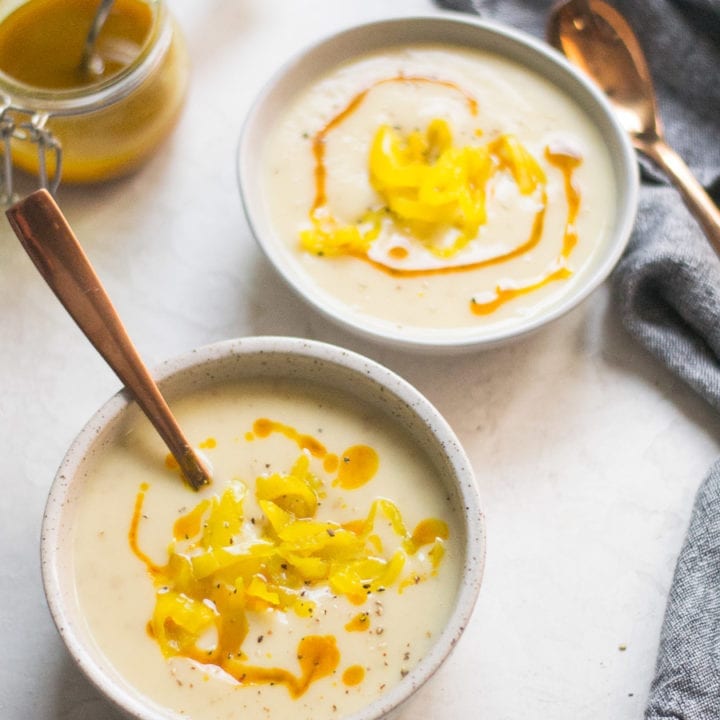 Stewed Cauliflower Soup with Turmeric and Pepperoncini
Total Time:
3 hours
5 minutes
Creamy cauliflower and potato based soup made both in the slow cooker and Instant Pot. Top with spicy turmeric oil and pepperonicini peppers for a warming kick.
Ingredients
1 large head of cauliflower, core removed and cut into florets
2 1/2 cups baby potatoes, cut in half
4 garlic cloves, minced
1/2 yellow onion, diced
1 tsp salt
1/2 tsp black pepper
32 oz vegetable stock
1/2 cup heavy cream
1/4 cup extra-virgin olive oil
1/2 tsp ground turmeric
3/4 cup chopped pepperoncini or banana peppers
Instructions
Add the cauliflower, onion, potatoes, garlic, vegetable stock, salt, and pepper to the slow cooker or Instant Pot. Mix to combine.
FOR THE SLOW COOKER: Set the slow cooker to High for 3 hours or Low for 6 hours.
FOR THE INSTANT POT: Secure the lid with the steam vent in the sealed position. Press Manual/Pressure Cook until the light is beneath "High Pressure." Use the "-/+" buttons to adjust the time until the display reads 7 minutes. Quick release pressure and remove lid.
Add the heavy cream. use either an immersion blender or a blender (working in batches) to puree the soup until smooth.
In a small bowl, whisk together the turmeric and oil. Drizzle the turmeric oil over the individual bowls of soup. Top with pepperoncini or banana peppers and then serve.