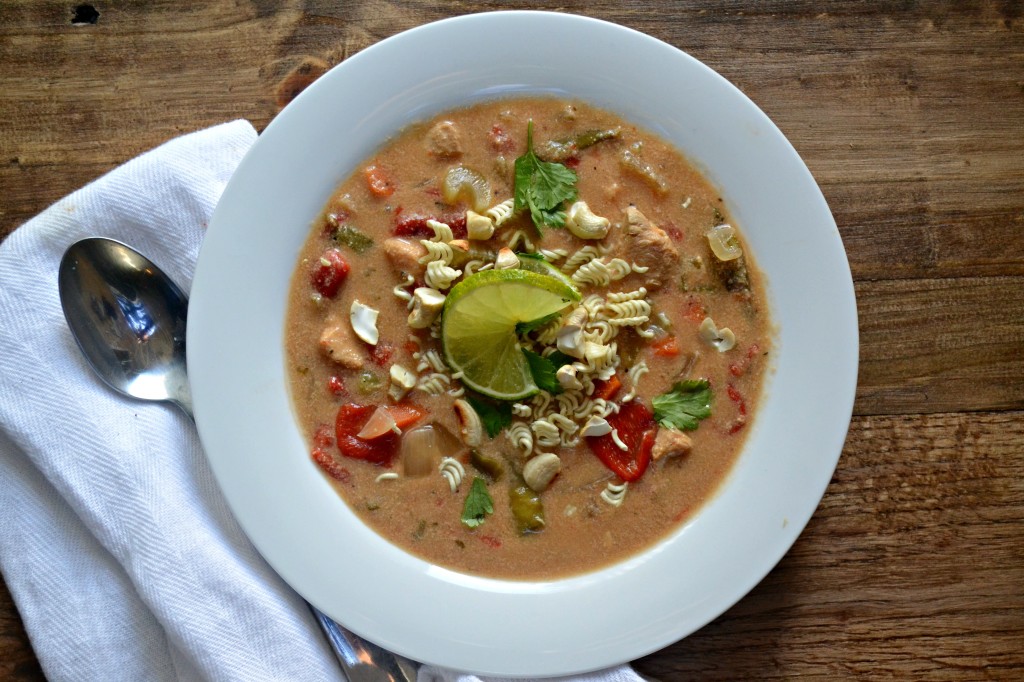 Wow! That was a mouthful, eh? That's what she said! Ha beat you to it! Sorry to all of you non-Office fans out there that don't get that joke. Alright, Thai slow cooker soup, that's the basic take away from this long ass recipe title. God bless the slow cooker. Let's just call November Slooooowvember on Sarcastic Cooking.
I have a lot of good quality slow cooker recipes for you guys this month. Hold on to your butts people.
First and foremost, I have a question for you guys. This is maybe only the second or third Asian/Thai recipe I have ever made on the site. Can you believe that? Wait, that wasn't the question. I have had many bad experiences with Asian/Thai food so I don't really cook it a lot. I know a lot of people loooooove Chinese take-out, my family included, but I just can't get into it. I blame my health inspector roots.
When I do cook Asian/Tha-ish food at home it is pretty, pretty, pretty basic. Like most likely not blog worthy. The question I am building up to, is do you guys want to see more variety in the recipes you see on the blog?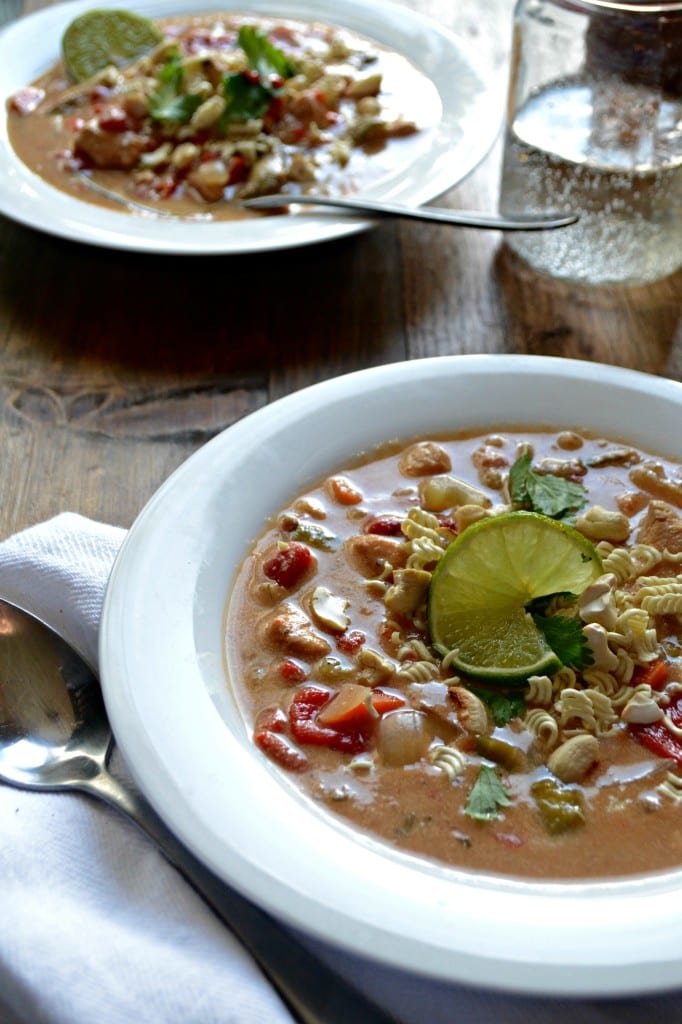 I was super happy I ventured into the world of pho last year and made what has become a classic soup in our household so, if you guys want it, you got it!
Oh my gosh, sorry for so many TV movie references this post.
But seriously, let me know what you think.
In the meantime, indulge in this creamy, spicy, slow cooker soup. I will say it is easy. The only prep you have to really worry about is soaking the cashews overnight and then pureeing and straining them the next day. That's not too hard, right?
I knew you could handle that!
Gluten Free Creamy Slow Cooker Thai Cashew Chicken Soup
A soup version of a classic Thai Cashew Chicken dish with lots of spice and flavor!
Ingredients
1

Cup

Cashews

¾

Cup

Water

½

Cup

Diced Onion

1

Celery Stalk

chopped

2

Carrots

peeled and chopped

1

Jalapeno

seeded and diced

1, 12

Ounce

Jar of Roasted Red Peppers

drained and chopped

Bunch of Fresh Cilantro

finely chopped

2

Large Boneless

Skinless Chicken Breasts, cut into bite-size chunks

24

Ounces

Low Sodium Chicken Stock

1

Tablespoon

Low Sodium Soy Sauce

1

Tablespoon

Sriracha

1

Teaspoon

Sesame Oil

A Couple of Dashes Worcestershire Sauce

A Couple of Dashes of Fish Sauce

1

Tablespoon

Tomato Paste

1

Tablespoon

Ketchup

1

Teaspoon

Black Pepper

¼

Teaspoon

Cayenne Pepper

¼

Teaspoon

Grated Garlic

1

Teaspoon

Coriander
Instructions
The night before you plan on making the soup, add the cashews and water to a small bowl or measuring cup. Allow the nuts to soak overnight. The next morning, puree the liquid along with the nuts until smooth, may take a few minutes. Pour mixture through a fine mesh strainer over a small bowl. Set off to the side.

Add all of the ingredients to the slow cooker. Stir in the cashew cream mixture. Set the slow cooker to low for 8 hours or high for three. Once the chicken is fully cooked, allow soup to slightly cool before serving.

Top with fresh lime slices, fresh cilantro, sriracha, and crunchy ramen noodles (if you are GF do not add the ramen).