Instant Pot Loaded Bacon Cheeseburger Quinoa has everything you could possibly want on a burger just in quinoa form. Sautéed bacon and beef mixed with quinoa and a secret sauce that mimics all those wonderful burger flavors. Top the quinoa with tomato, onion, pickles, and of course cheese to take this one pot meal to the next level.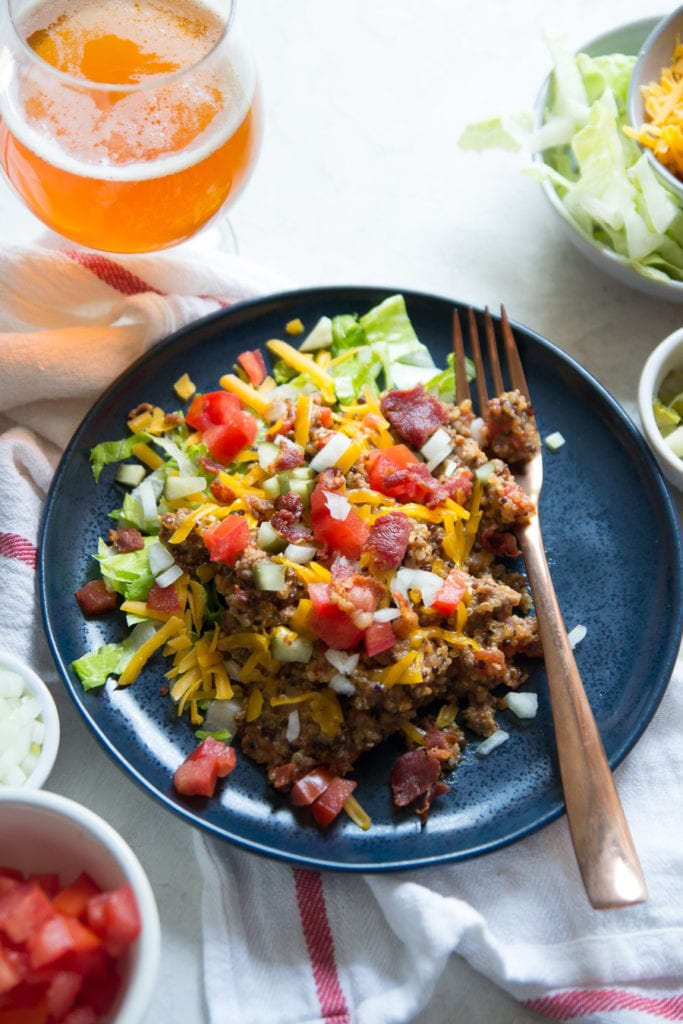 Are you guys sick of sliders? What about Instant Pot recipes? No? Good! Here is another recipe to share with you from my latest book, The Big Book of Instant Pot Recipes. I reworked recipes here and there and then shipped off test samples to my family while I was in creating mode for the book.
Loaded bacon cheeseburger quinoa was the one recipe about which everybody raved.
I mean, what's not to like right? It is all the flavors of a loaded bacon cheeseburger without the bun and with quinoa instead. I really didn't think that out of all 60 recipes I contributed to the book, this no-brainer quinoa would be the star. It ended up being a weekly staple in our house.
Thanks to the saute function on the Instant Pot, you can crisp up the bacon first. Next, the beef and onion get browned right in that glorious bacon fat. Mix in some seasonings, fire-roasted tomatoes, quinoa, and water. Then, let the Instant Pot do it's magic.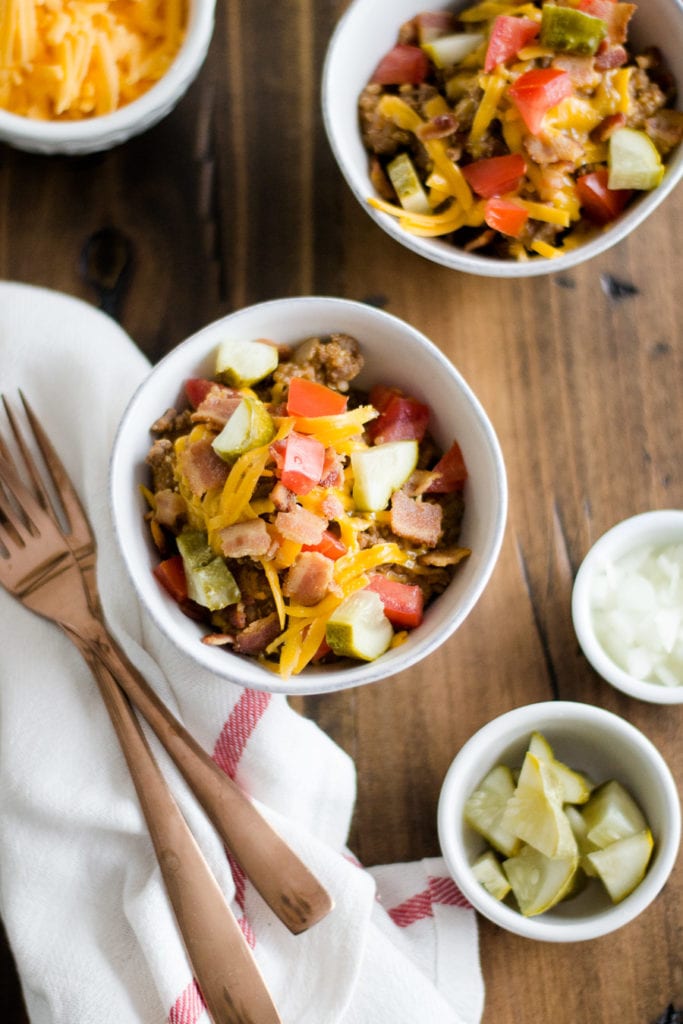 When the quinoa is fully cooked and fluffy, you mix in the secret sauce which is really what gives this that burger flavor. The secret sauce is made of mayo, BBQ sauce, mustard, and ketchup. It sounds like a lot, but do not skip it!
I am a more-is-more kind of girl when it comes to my burger. Mike is a plain Jane. He likes this quinoa as is with just cheese on top. If you want to eat this Stefanie-style, I highly recommend adding cheese, lettuce, diced tomatoes, and diced kosher dill pickles. I sometimes add more diced white onion if I am in that kind of mood.
Like I said, this recipe is great as is, but would even be fun as the base for a "burger" bar kind of buffet where people can add their own toppings.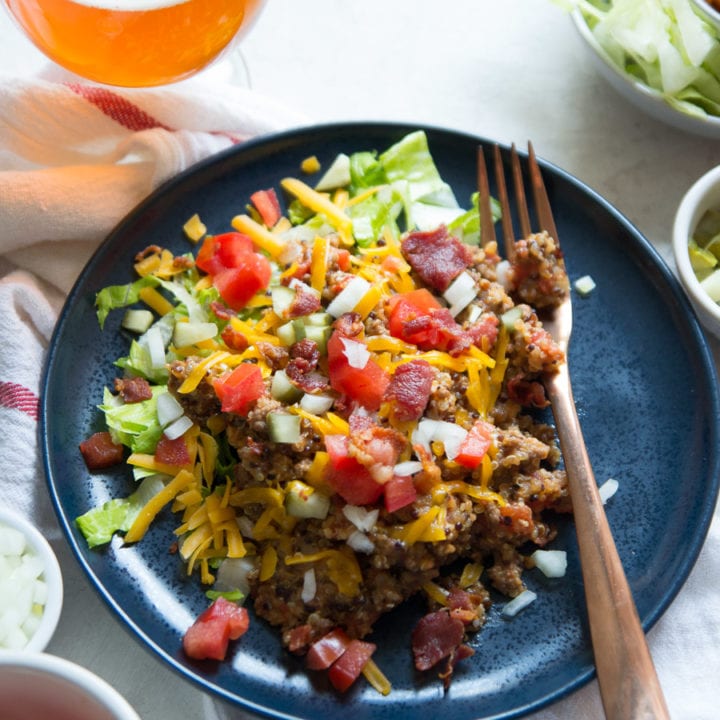 Instant Pot Loaded Bacon Cheeseburger Quinoa
Quinoa loaded with beef, bacon, cheese, onions, tomatoes, and a secret sauce. Top with your favorites, like lettuce, tomato, pickles, and onions.
Ingredients
4 slices raw bacon, diced
1 yellow onion, diced
1 lb 90% lean ground beef
½ tsp ground mustard powder
½ tsp onion powder
1 tsp salt
½ tsp freshly ground black pepper
1 (14.5-oz) can fire-roasted diced tomatoes
1 cup uncooked quinoa
1 cup water
1 tbsp mayonnaise
1 tbsp barbecue sauce
1 tbsp prepared yellow mustard
2 tbsp ketchup
1 cup shredded cheddar cheese
½ cup diced kosher dill pickles
½ cup diced Roma tomatoes
Instructions
Press sauté on the Instant Pot and let the pot heat up for 2 minutes. Add the bacon and cook until crisp. Remove with a slotted spoon and transfer to a paper towel–lined plate.
Add the onion, beef, mustard powder, onion powder, salt and pepper. Break apart the beef using a wooden spoon. Once the onion begins to turn translucent, about 3 minutes, press cancel.
Stir in the can of tomatoes, quinoa and water.
Secure the lid with the steam vent in the sealed position. Press pressure cook until the display light is beneath high pressure. Use the plus and minus buttons to adjust the time until the display reads "1 minute."
When the timer sounds, release the pressure naturally for 10 minutes. Remove the lid.
Press sauté. Stir in the mayonnaise, barbecue sauce, mustard and ketchup. Sauté for 2 minutes while stirring.
Press cancel. Transfer the quinoa to a serving bowl and top with the cheese, pickles and tomatoes.
Recommended Products
As an Amazon Associate and member of other affiliate programs, I earn from qualifying purchases.