Crispy pork, burst tomatoes, chili flakes, and garlic all tossed together to make a simple and flavorful pasta dish. Lardon and Tomato Tagliatelle is a great way to amp up a simple pasta night at home.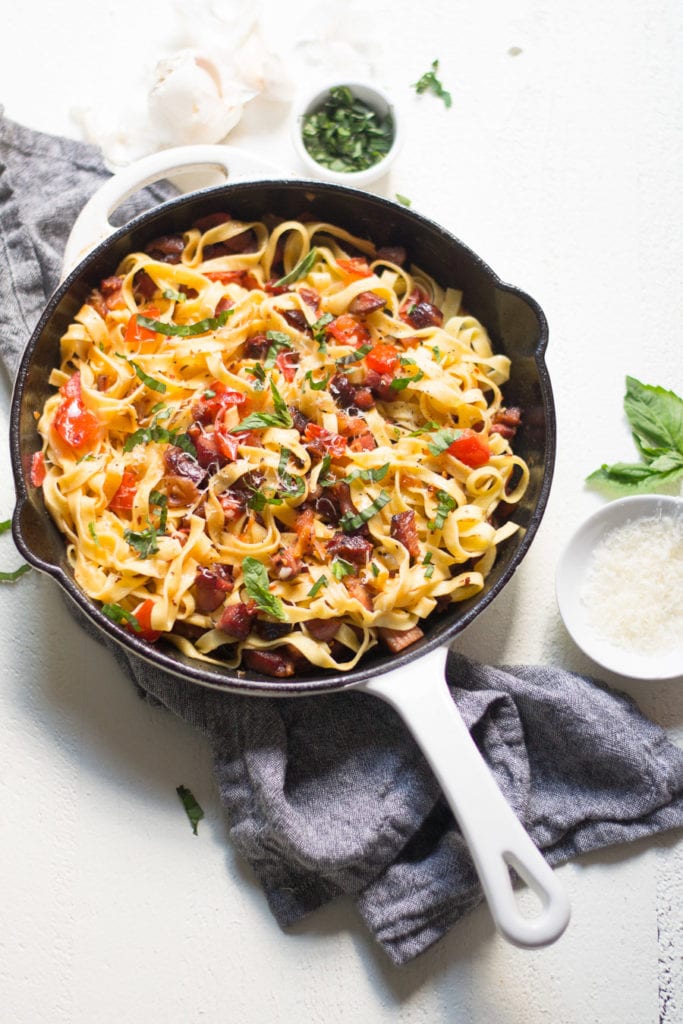 What is a lardon? Why can't they get a better name for this tasty pork morsel? Well, French be doing French things so its name is its name! Thank pork belly or big old slab bacon.
Lardon is like a thick morsel of pork belly or bacon either salt cured or uncured, cut into little matchsticks.
They fry up nicely and hold their shape. They don't dry out and stay meaty and crispy. I don't know why I haven't been cooking with them all along.
I do know why, actually.
A few weeks back, I was flying high from the book release and on my way into the city (again) to film with GoogleTalk. Luckily, it took me forever to find a parking spot in a trendy neighborhood in Chicago, and I got to peruse all the local shops and restaurants I had yet to try.
Being out of the loop is one of the curses of suburb life.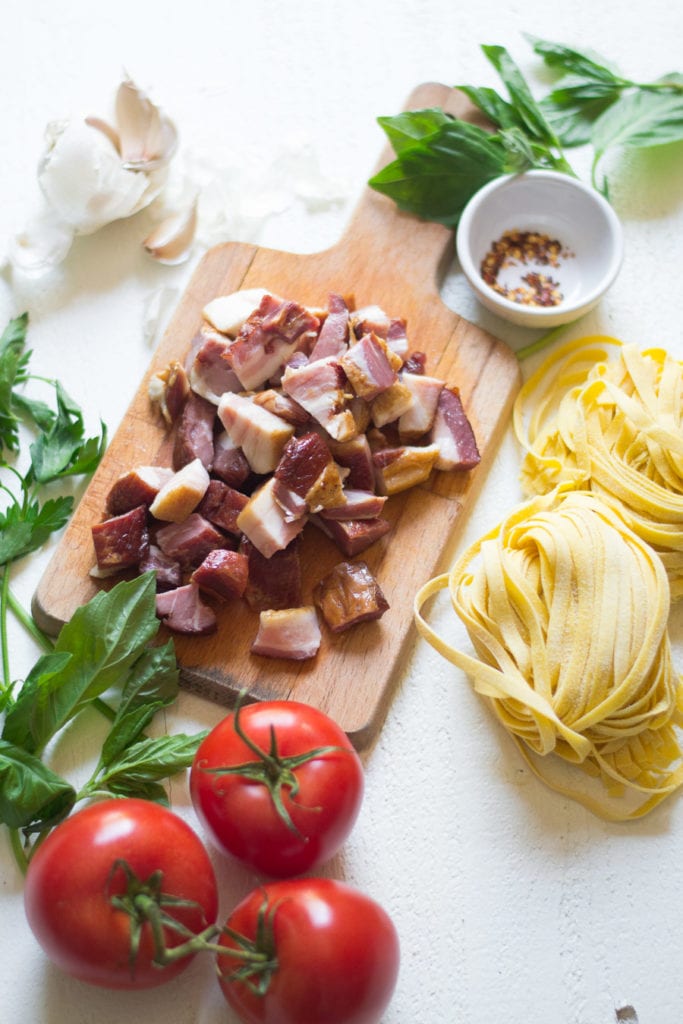 I passed by James Beard award winning Publican and Publican Quality Meats. I always see Teri from No Crumbs Left shopping here and I wanted to be hip like her.
After I finished my talk and demo at the Google offices, I stopped in. I sort of figured since it was the day after head baker Greg Wade won his James Beard award, they would be all of out bread. Sadly, I was correct.
I was able to snag some of their house made nduja and lardons.
Gimme all the meats!
Let's just if say you don't have access to lardons or still aren't really 100% sure what they are, fear not, you can use either chopped up pork belly, pancetta, or even thick cut bacon for this recipe.
Which ever pork you choose, you want to get it super crispy. Render all the fat so you can cook the tomatoes, garlic, and chili flakes in it. No need for added oil. Cook your pasta of choice and toss it right from the pot into the bacon fat coated tomatoes and spices.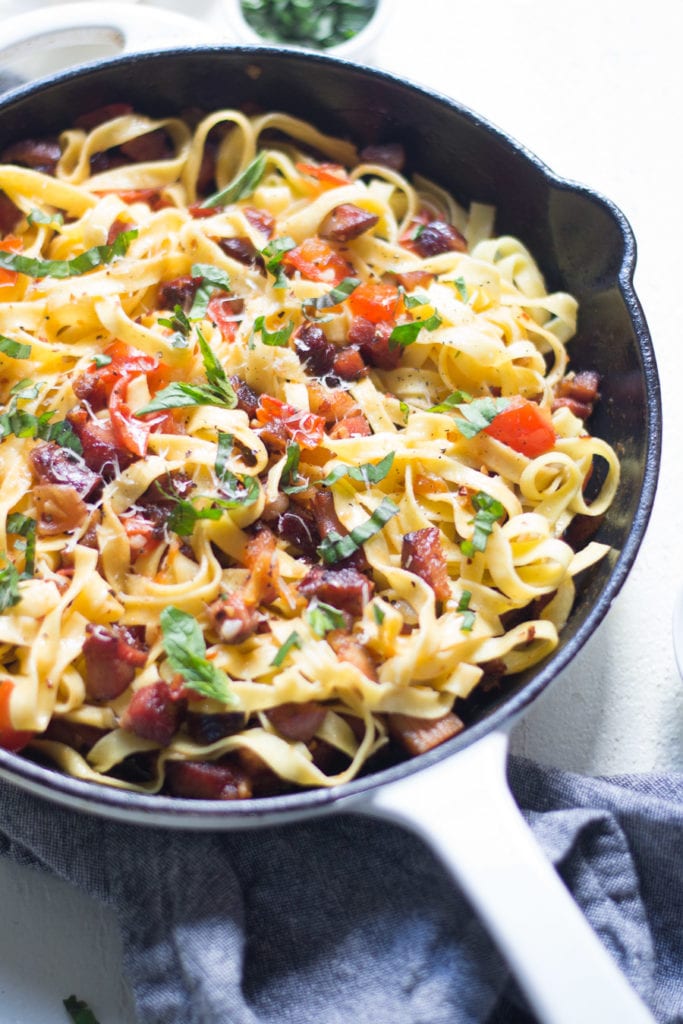 If I lived closer to Publican Quality Meats, I would be making lardon and tomato tagliatelle a lot more often. Good thing even bacon or pancetta are still tasty substitutes.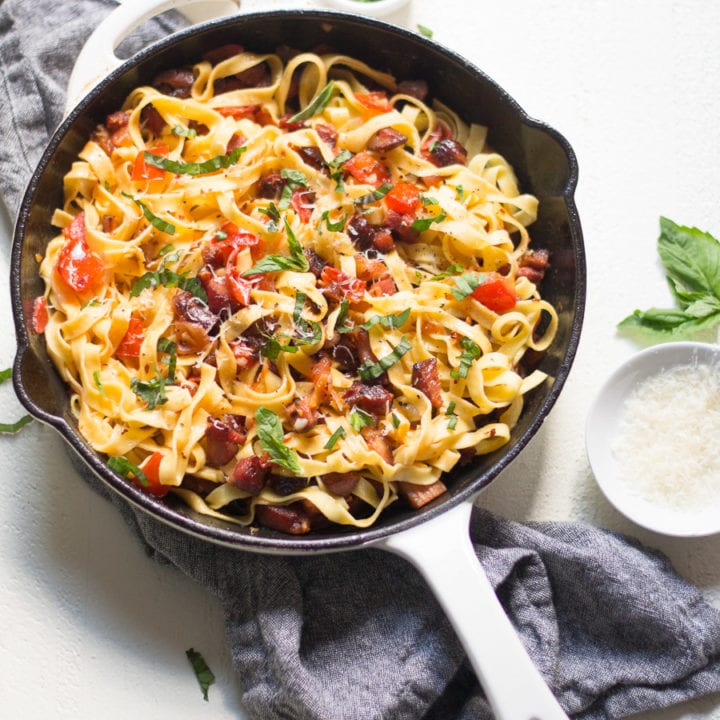 Lardon and Tomato Tagliatelle
Crispy pork lardons tossed with fresh tomatoes, garlic, crushed red pepper flakes, and tagliatelle makes for one simple and flavor packed meal.
Ingredients
1 cup diced pork lardons (or pancetta, thick cut bacon, or pork belly)
1/2 -1 tsp crushed red pepper flakes (depending how spicy you like things)
2 large, vine-ripened tomatoes, seeded and diced
2 garlic cloves, peeled and minced
1/4 cup dry white wine
1/4 cup reserved pasta water
16oz tagliatelle pasta
salt, to taste
fresh chopped basil, garnish
fresh chopped Italian flat-leaf parsley, garnish
fresh grated parmesan cheese, optional topping
Instructions
Bring a large pot of water to a boil. Once boiling, heavily salt the water. Drop the pasta and cook a little under the cook time on the packaging. The pasta will finish cooking in the pork and tomato mixture.
Place a large skillet over medium/high heat. allow the skillet to heat up for at least 2 minutes. Add the pork to the hot skillet. Cook for 10-15 minutes, stirring every once in a while until each side of the pork is caramelized and crispy.
Reduce the heat to medium, add the chili flakes, garlic, and tomatoes. Stir to combine.
Once the tomatoes are softened, about 5 minutes, add the wine. Stir and scrape using a wooden spoon to deglaze the pan.
Transfer the cooked pasta to the skillet using tongs. Mix in the reserved pasta water. Add any salt if needed. Mix to combine. Remove from heat.
Top with basil, parsley, and parmesan cheese if using.
Notes
The pork gives off a lot of salty flavor along with the reserved pasta water so be sure to season a little and taste as you go and not go overboard.