Nashville hot chicken pizza combines glorious spicy fried chicken with the calming effect of cheese and pickles. Trust me it works! Use leftover chicken tenders for the topping; just toss with sauce and make hot chicken pizza this weekend!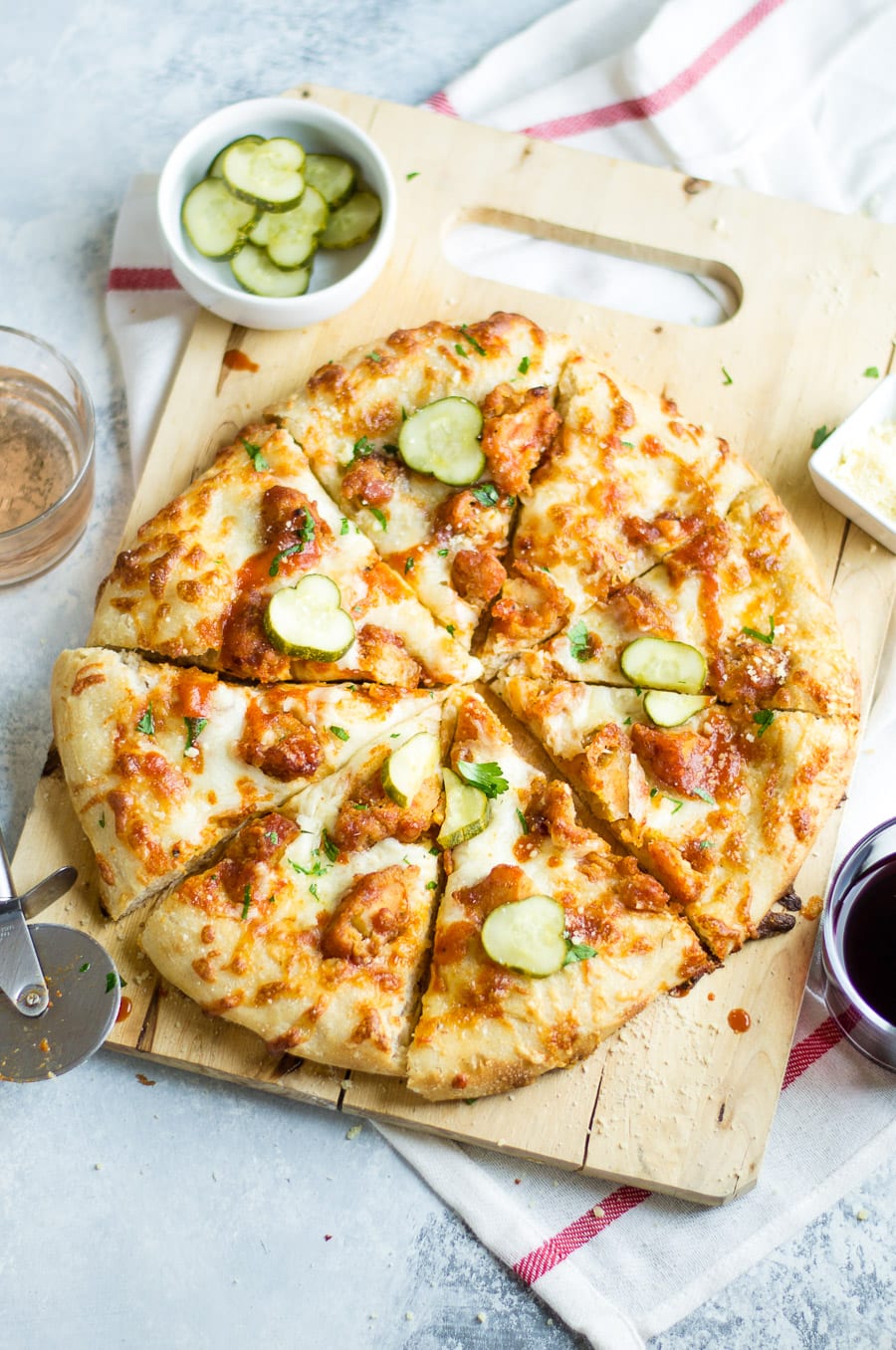 We are getting to that time of year where turning on your ovens and cranking it to 500 degrees is less and less feasible (unless you are me and my kids and eat pizza at least once a week).
I decided to sneak in this homemade pizza recipe before it officially enters the season of summer.
Have you watched Ugly Delicious on Netflix yet?
I know it's probably old news to most of you by now. I devoured the show in two days.
For those of you that haven't watched the show yet, it is chef David Chang talking about his favorite, no-frills kinds of foods.
When I read the description of the show I immediately thought of home cooked food. The stuff made with love and without pretentiousness.
Each episode is about a type of food; pizza, tacos, BBQ, fried chicken, etc.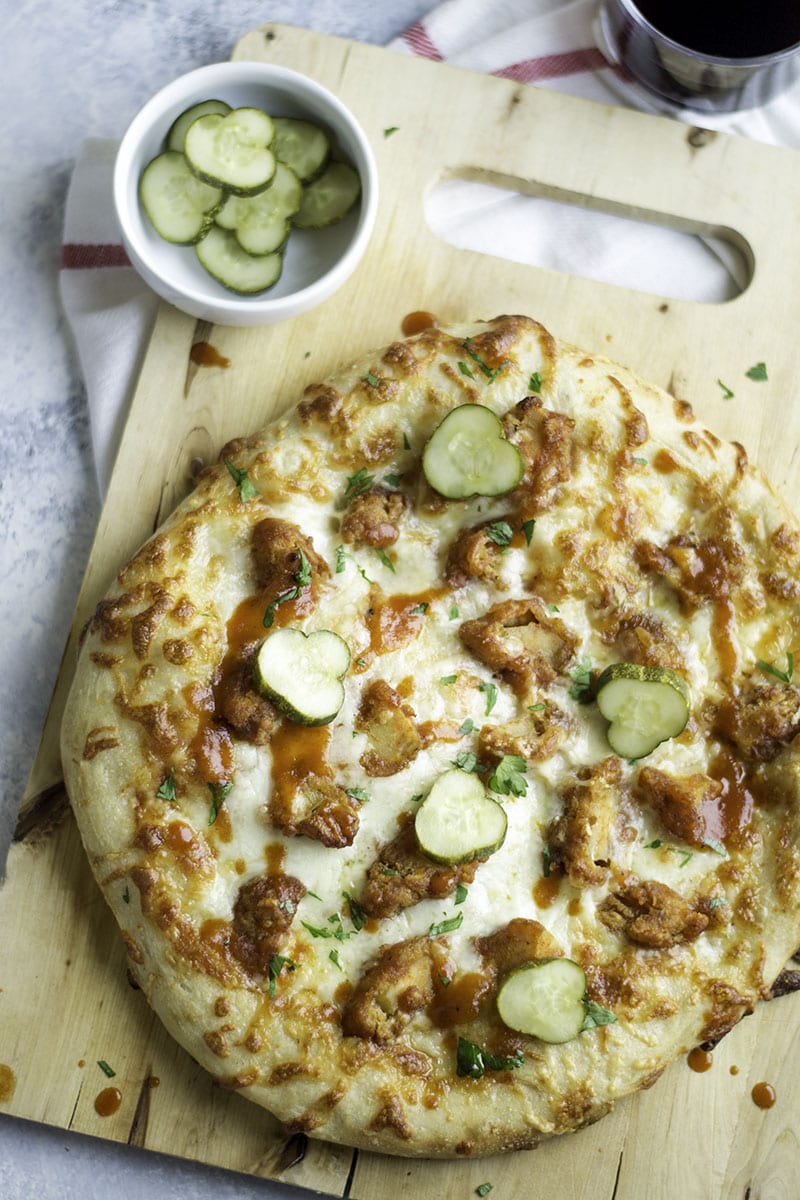 It will make you want to go to all the places and eat ALL the things. I swear, before I die I will visit all the taco food truck featured from California.
The episode that really stuck with me, was the fried chicken episode for reasons you will know once you watch it. I have never been to Nashville, but I think I could handle the hot chicken.
Maybe.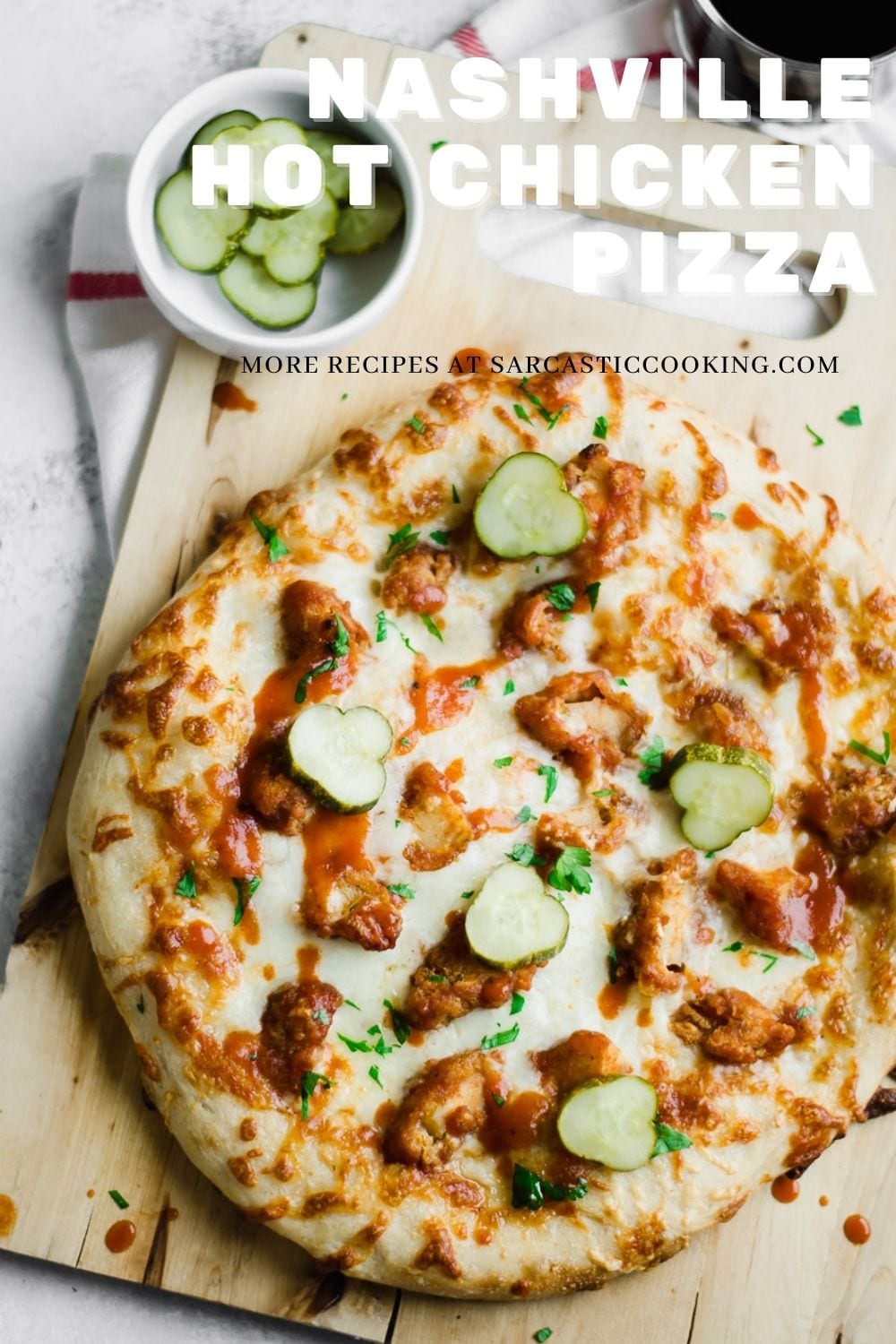 I mean, if we wanna talk who can handle spicy foods better, let us all take a moment to read and revisit the "habanero pepper incident" from our honeymoon. Read -> here!!!
This recipe is my own little midwest nod to that style of flamin' hot spiced fried chicken—except put on a pizza.
It's spicy, friends, and I could have made it spicier. Thanks to the cheese and pickles, that heat is cut down a little bit.
Give it a shot and let me know what you think!
Also, if you have watched Ugly Delicious, what food from the show are you still dreaming about?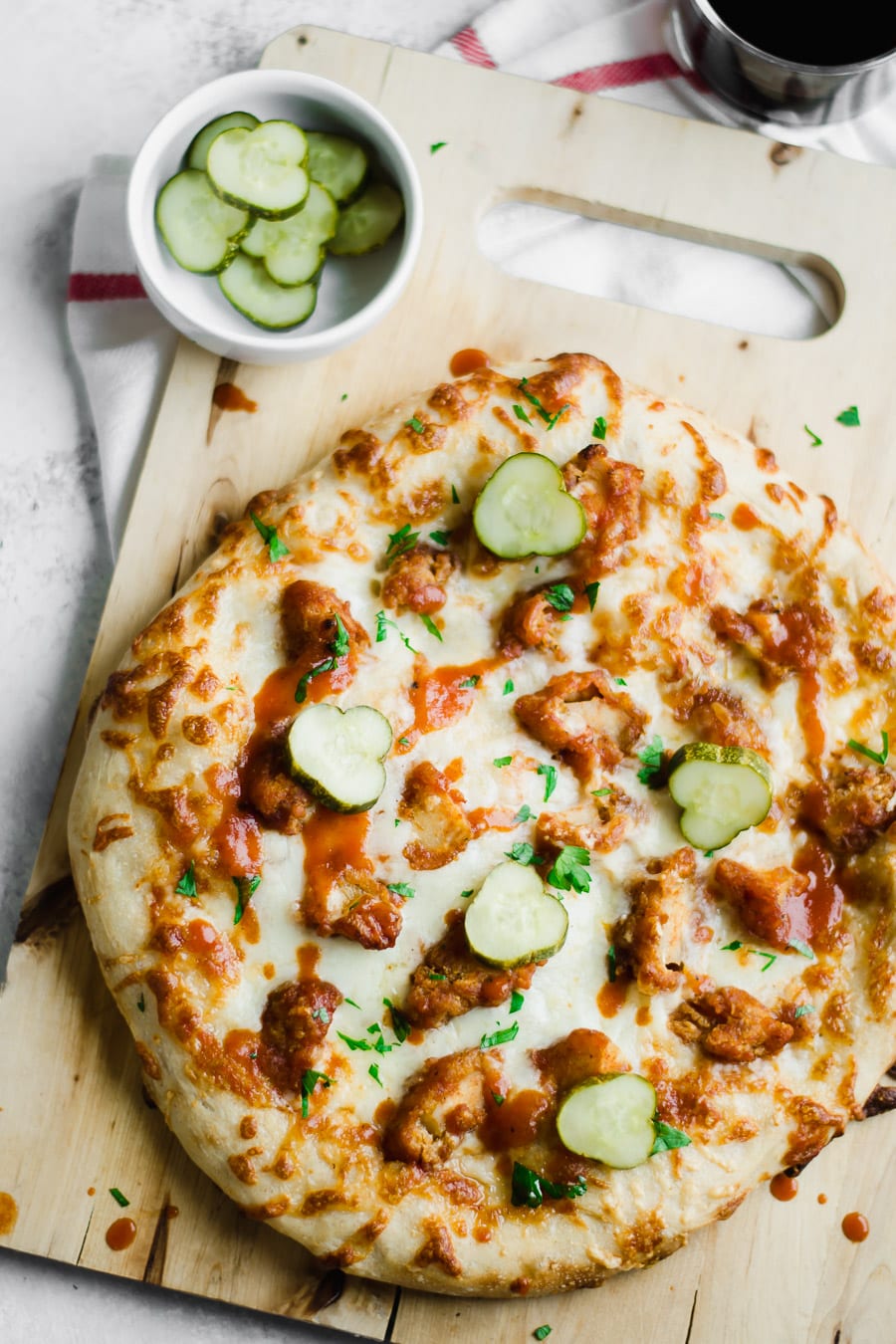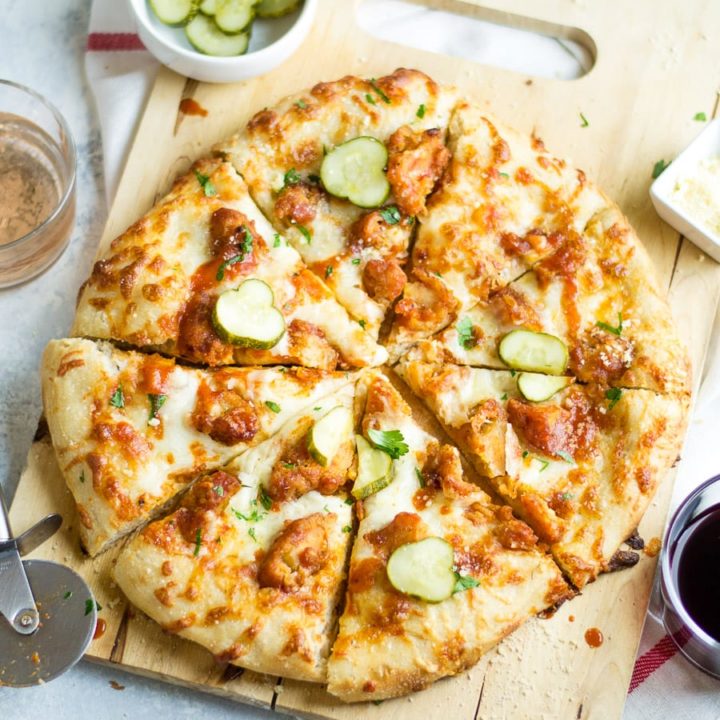 Nashville Hot Chicken Pizza
Hot and tangy Nashville-inspired sauced fried chicken on a cheesy pizza with dill pickles for a cool crunch.
Ingredients
FOR THE HOT SAUCE:
1/2 cup low-sodium chicken stock
1 tbsp corn starch
2 tbsp cayenne pepper
1 tbsp light brown sugar
1 tsp smoked paprika
1/2 tsp garlic powder
1/2 tsp salt
1/2 tsp black pepper
FOR THE PIZZA:
16oz prepared pizza dough
3 breaded chicken tenders (cooked)
1 garlic clove, minced
2 tbsp olive oil
1 cup shredded mozzarella cheese
1/2 cup shredded parmesan cheese
8-12 dill pickle chips
Instructions
Preheat the oven to 500 degrees F with a pizza stone or pizza pan in the oven.
Whisk together the stock and the corn starch in a small microwave safe bowl. Mix in the remaining sauce ingredients. Microwave the sauce for 1-2 minutes until bubbling and thickened. Mix well.
Once the oven is preheated, roll out or stretch out the dough to make about a 12-14 inch pizza. Carefully transfer the dough to a pizza peel or the pizza pan.
Coat the top of the dough with olive oil and the garlic. Spread to evenly coat.
Transfer the dough to the oven and bake for 5 minutes.
Meanwhile, coat the chicken tenders in the prepared sauce and then cut into small bite-sized pieces.
Remove the pizza crust. Top with cheeses, chicken pieces, and pickles. Bake for an additional 7 minutes until the edges start to turn golden.
Once the pizza is cooked, drizzle the top with a little more of the sauce. Cut and then serve.
Recommended Products
As an Amazon Associate and member of other affiliate programs, I earn from qualifying purchases.