Tomato garlic butter pizza is crisp homemade pizza crust topped with a jammy, garlic tomato mixture and mozzarella cheese. It is easy to throw together and will please vegetarians and carnivores alike.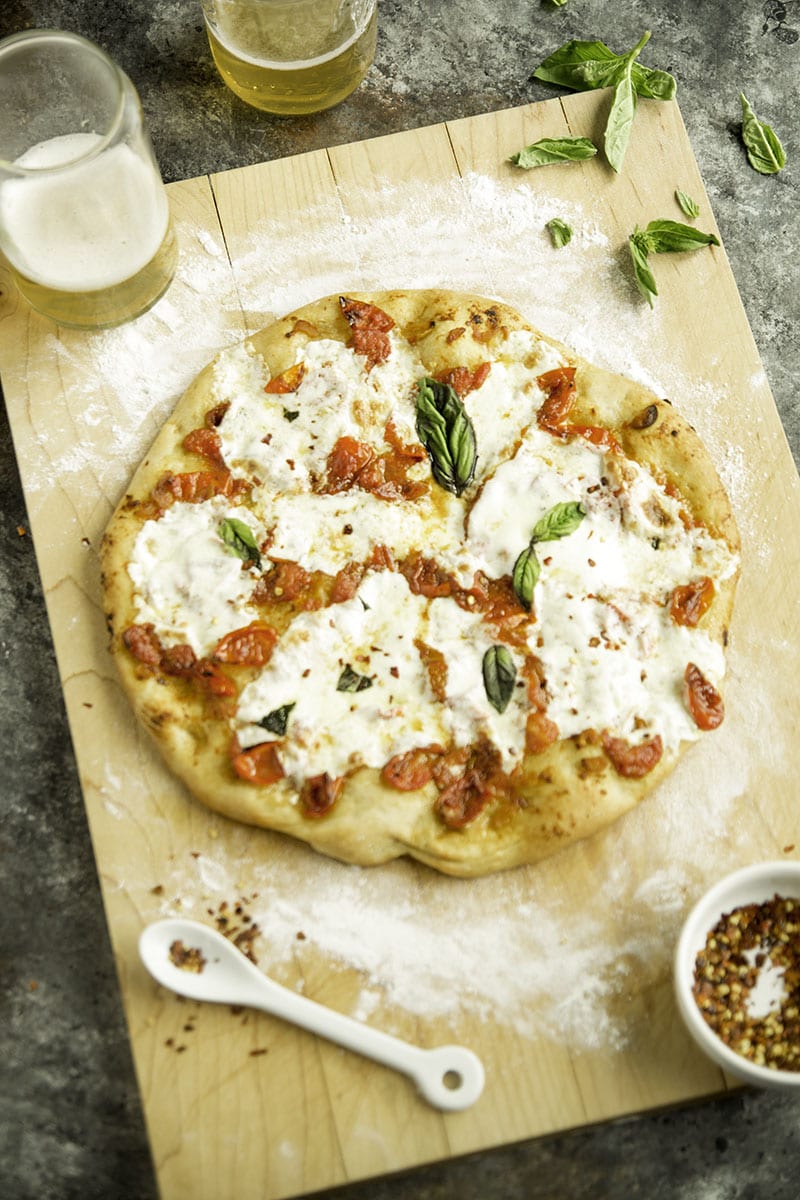 The past two nights, Mike and I have been living the child free life. Don't worry. Andy and Jack are ok. They are spending two nights with their cousins and saint-like Aunts and Uncles. God bless family that loves your kids and wants them maaaaybe a little more than you do sometimes.
Here is the sad thing though.
Mike and I, for like three days leading up to the epic cousin sleepover, were racking our brains trying to think of what we were going to do. I offered my suggestion: clean. Clean carpets. Clean basement toys. Both of those suggestions were met with eye rolls from Mike.
He was mainly focused on where we would be going and what we would be eating.
Let me tell you the answer to his worries. We ate too much. Waaaay too much. We went out for amazing Mexican food last night and made the classic rookie mistake. Not only did we order an appetizer in addition to the free chips and salsa, but we said yes to the second tray of chips.
What were we thinking?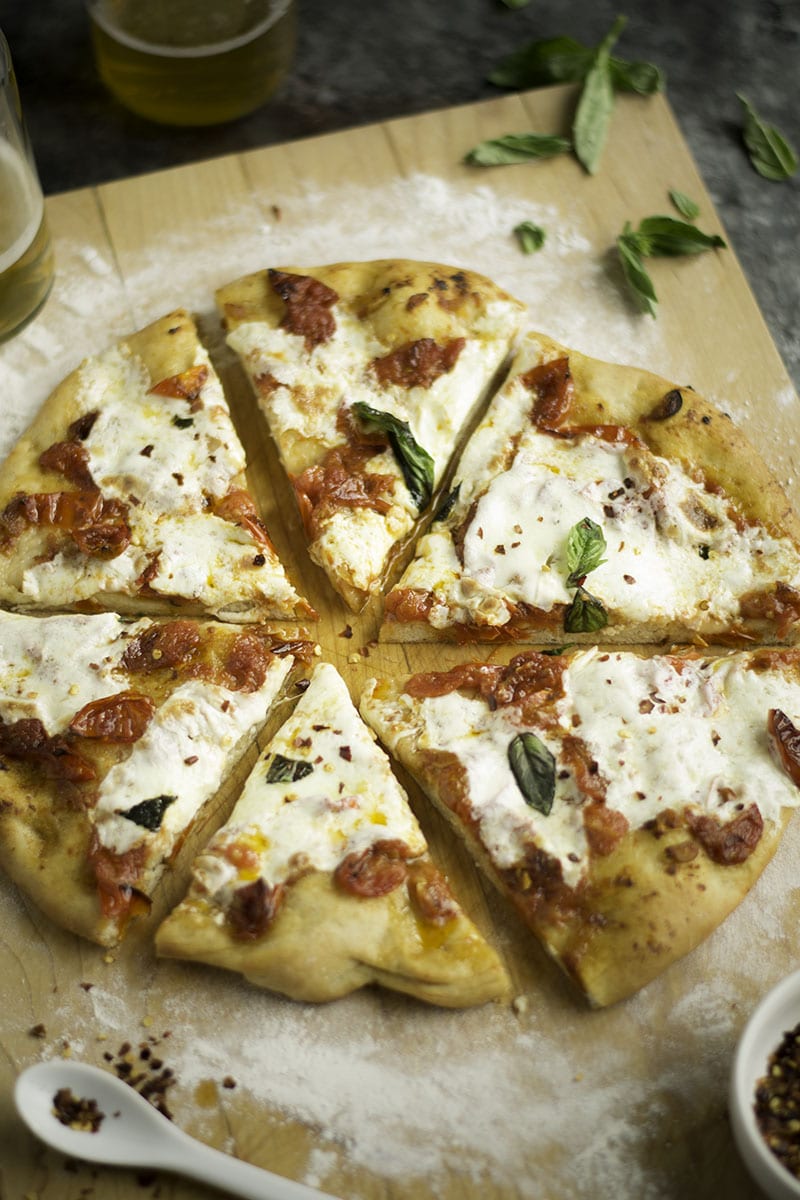 My stomach was busting. The first day on our own we planned things out right. We did an early light lunch and then sushi for dinner. We felt good… Until a bottle of wine was consumed post 2 beers at dinner. That maybe wasn't the smartest either because I am old and cannot bounce back from hangovers as quickly as I could in my 20's.
We powered through.
Carpets and all floors got cleaned. Toys got put away. I even got two new blog recipes under my belt, all the whilst being hungover. Yeah, but the day was filled with a big breakfast at home then an Italian sub for lunch and then tacos, chips, and pozole. Just way too much.
Now I have to tell you about how awesome this pizza recipe is and how you should make it like I make it all the time but in reality I just want to barf. Sorry. Maybe I should have picked a different weekend to shoot this recipe. We ate it anyway.
But for real, tomato garlic butter pizza is phenomenal . Cherry tomatoes form a slight jam when cooked down with butter and garlic. All it needs is a little mozzarella and basil.
Now, I need to go lay down and take more Tums before I go retrieve my children.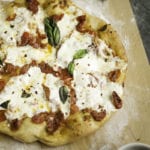 Tomato Garlic Butter Pizza
Crispy thin crust pizza topped with tomato garlic butter sauce and fresh mozzarella.
Servings
1
, 12 Inch Pizza
Ingredients
2

Tablespoons

Extra Virgin Olive Oil

1

Pint

of Grape or Cherry Tomatoes

cut in half

2

Tablespoons

Unsalted Butter

2

Cloves

of Garlic

thinly sliced

Salt and pepper

to taste

Pizza Dough

1, 8

ounce

Ball of Fresh Mozzarella

sliced

Fresh Basil
Instructions
Follow the instructions to make the best yeast pizza dough or prep a store bought pizza dough by letting it sit out at room temperature until the oven is preheated.

Place a pizza stone or pizza pan in the oven and preheat the oven to 500 degrees F.

Heat olive oil in a medium skillet over medium/high heat. Add tomatoes. Cover with lid and cook for 7 minutes.

Reduce heat to low. Use a wooden spoon to burst the tomatoes and mash them up a bit.

Add garlic and butter and garlic to the pan. Mix to combine. Cook on low for 5 minutes. After five minutes remove the pan from heat. Let the sauce cool slightly.

Roll out the pizza dough on a lightly floured surface until it is about a 12 inch circumference.

Carefully remove the hot pizza pan from the oven. Transfer the dough to the hot pan and top with tomato garlic butter sauce and mozzarella. If you are using a pizza stone, prepare the pizza and then transfer to the stone. Bake for 10 minutes.

Top with fresh basil and crushed red pepper flakes. Let the pizza cool for 5 minutes before slicing.