Artichoke dip garlic bread cuts out the middle man, the whole chip and dip situation. It's crispy garlic bread topped with a cream cheese mixture of herbs and artichokes, a kick of lemon, all coated with cheese and baked until golden.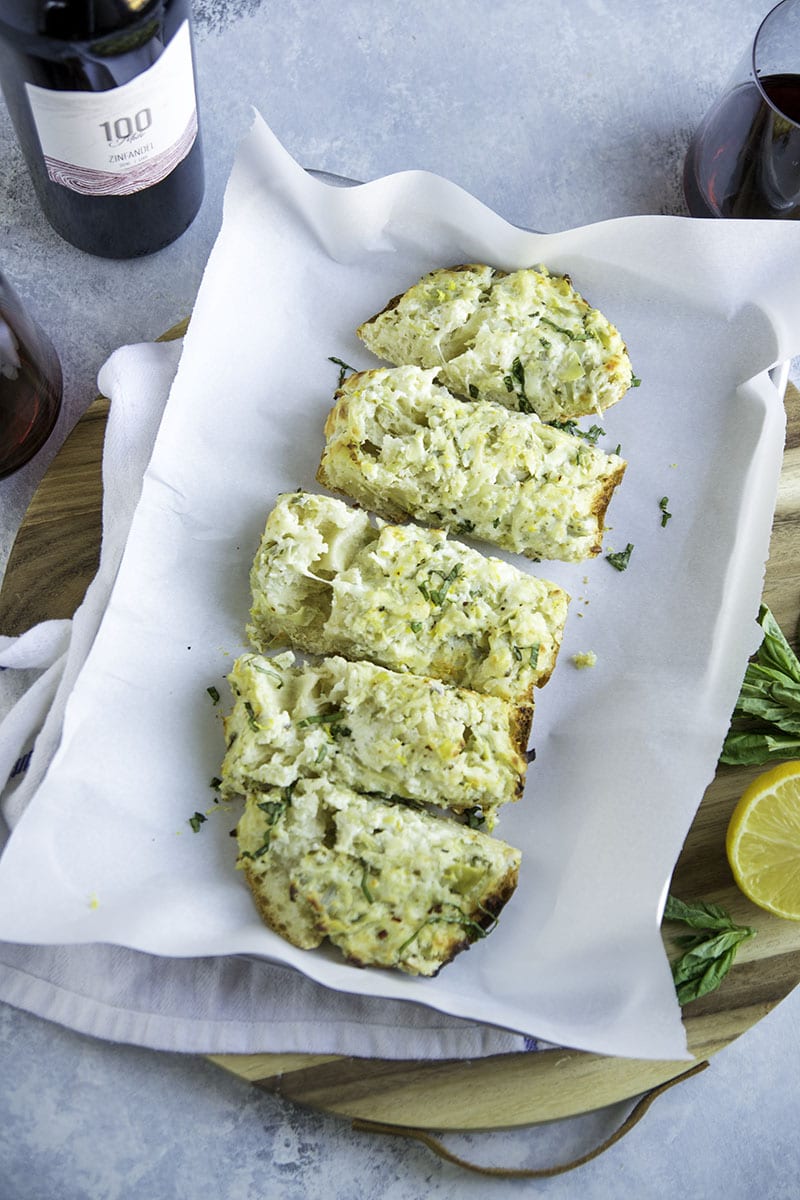 Tomorrow is my birthday. Not a momentous number: 34. Slowly creeping up on those mid to late thirties. Oh God. Am I already in my mid-thirties? How did I just now realize this? I don't feel depressed about this number, per se. Maybe more like, meh.
I don't feel old. Older. I do still cringe every time I hear the word, "Ma'am." But, like my Mom said, "What are people supposed to call you?" If somebody called me "miss" I would probably give them the worst death stare ever because I know they are just being a kiss ass.
My thirties have led me to many self realizations so far.
I suck at receiving gifts and compliments. You could probably gather from that second paragraph that I am a sort of hard to please person sometimes. I think I have worked on becoming more gracious—or maybe just better at not letting my face make an unwanted reaction. My body may be slowing down, but ye olde face is still quick to show all my inner thoughts.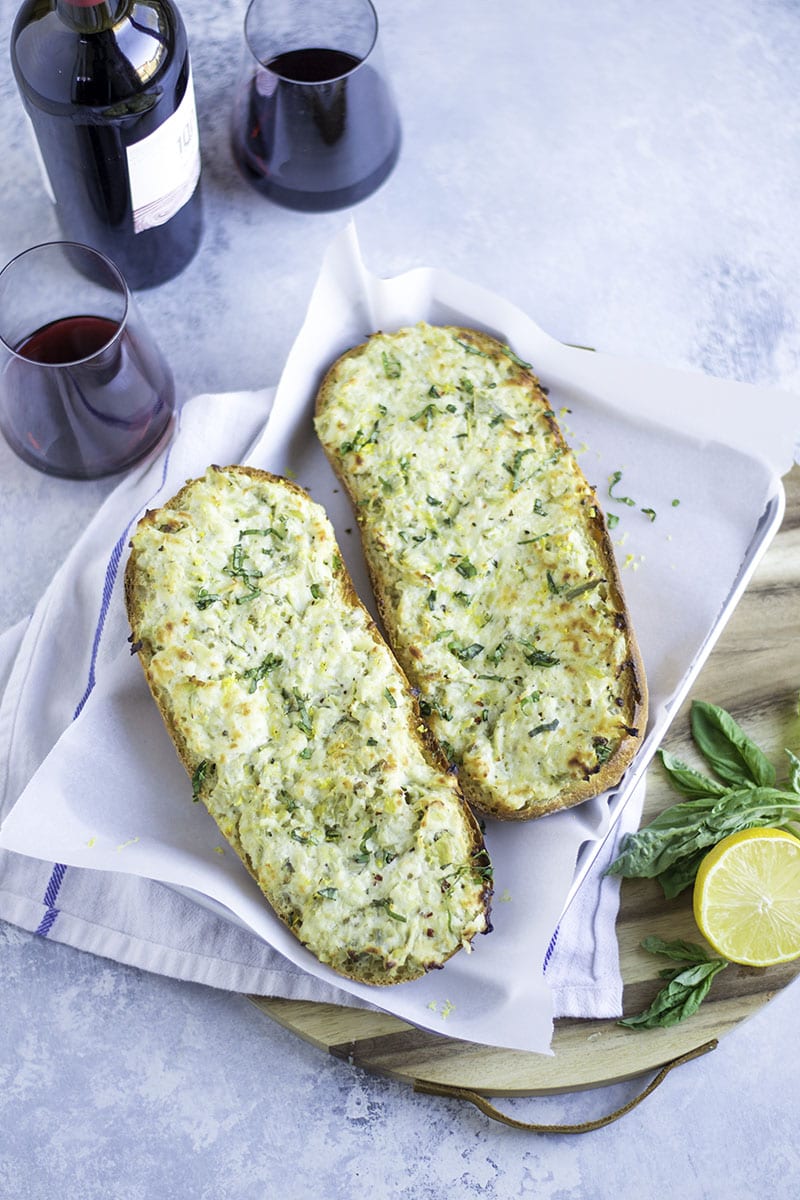 The second realization is that after two kids and 34 years of life, my vision is awful. Why do the little youths I live with always want all the lights off? Let's watch a movie with every light off while Mom kills herself on all the action figure and toy train booby traps. I remember when I was younger, my parents would catch me reading a book with just the light of the tv. They would yell at me to turn a light on or I would go blind.
Well, turns out they were right.
Lastly, my diet. I have been noticing that lately every single meal I eat is carb-based. I blame my vegetarian days for this because, in a pinch, it is way easier to prep a slice of bread than an entire crisper drawer full of veggies for a salad. Right?
Here's my day: toast and egg for breakfast, half eaten PB & J discarded by the kids for lunch, and then a pasta or pizza for dinner. Throw in some stray french fries and cookies and you get the whole picture.
I do try to eat more green or colorful things (mainly so I can have more vibrant Instagram pictures, but it helps my health too so that is an added bonus).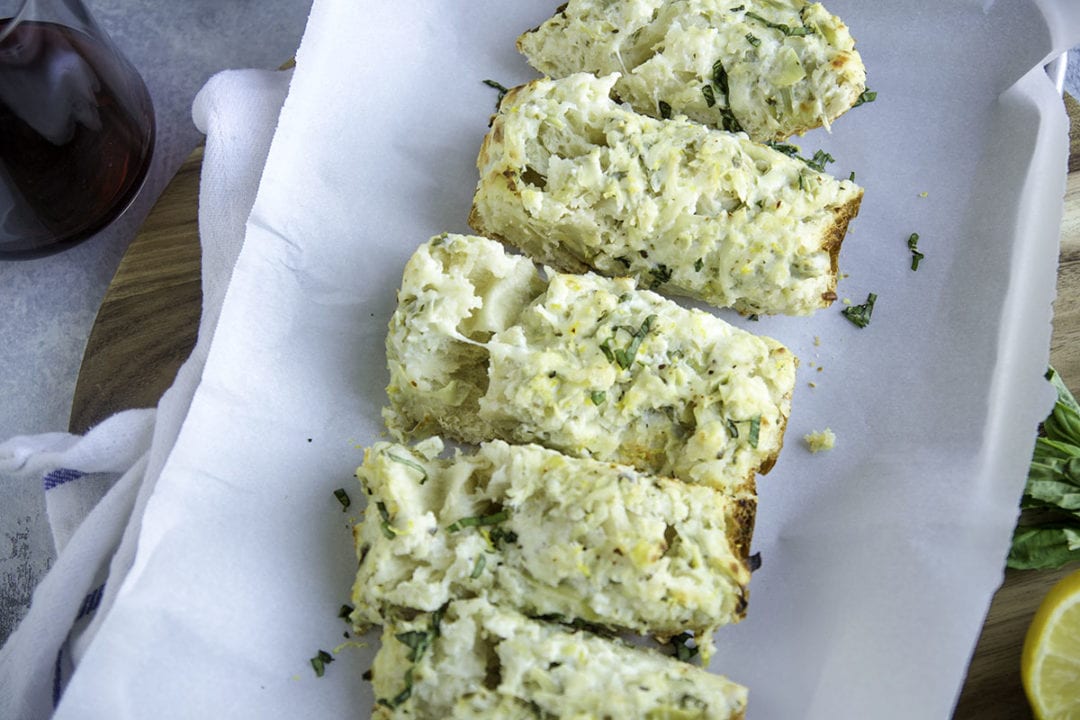 One day Mike made a snarky remark about dinner. He said that pasta dishes need garlic bread on the side so you can use it to scoop up any leftover sauce from your plate/bowl. I naturally took this as a personal attack and now have made garlic bread almost every time we eat pasta since then.
However, in my attempt to counteract the carb life I lead, I added a ton of artichoke hearts. Then, naturally, the only things to add to bread after that are cheese, butter, and more cheese. It's a natural progression.
Balance, right? Artichoke dip garlic bread cuts out the middle man, chip and dip situation, and puts the goods right on toasty bread.
Add in more good with the bad?
That still doesn't make this a healthy lifestyle choice. Oh well! I'm 34 tomorrow. The damage is done. Bring on another slice!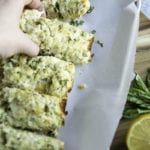 Artichoke Dip Garlic Bread
Creamy and cheesy artichoke dip on top of crispy garlic bread.
Ingredients
6

Ounces

Frozen Artichoke Hearts

thawed and drained

1

Italian Baguette

sliced in half length-wise

2

Tablespoons

Cream Cheese

2

Tablespoons

0% Fat Plain Greek Yogurt

2

Tablespoons

Unsalted Butter

1

Teaspoon

Lemon Juice

1

Teaspoon

Lemon Zest

1/2

Teaspoon

Salt

2

Cloves

Garlic

grated

1/4

Teaspoon

Fresh Cracked Black Pepper

1/2

Teaspoon

Dried Oregano

1

Tablespoon

Fresh Chopped Basil

3/4

Cup

Shredded Mozzarella Cheese

1/4

Cup

Freshly grated Parmesan Cheese
Instructions
Preheat the oven to 450 degrees F. Line a medium baking sheet with parchment paper and set off to the side.

Add the artichoke hearts to a food processor and pulse until finely chopped. Scrape down the sides of the food processor as needed.

Combine the chopped artichoke hearts, cream cheese, Greek yogurt, butter, lemon juice, lemon zest, salt, pepper, garlic, black pepper, and basil, oregano in a medium mixing bowl. Mix until evenly incorporated.

Add the parmesan cheese and 1/2 cup of the shredded mozzarella cheese to the mixing bowl. Mix to combine.

Place the sliced bread cut side up on the prepared baking sheet. Divide the artichoke mixture and place half of the mixture on to each half of bread. Use the back of a spoon to evenly spread the mixture over the bread.

Cover each half of bread with remaining mozzarella cheese and bake for 15-20 minutes until golden, melted, and delicious! Wait 5 minutes before slicing and serving.

Finish the bread off with a little extra chopped basil and lemon zest for garnish.