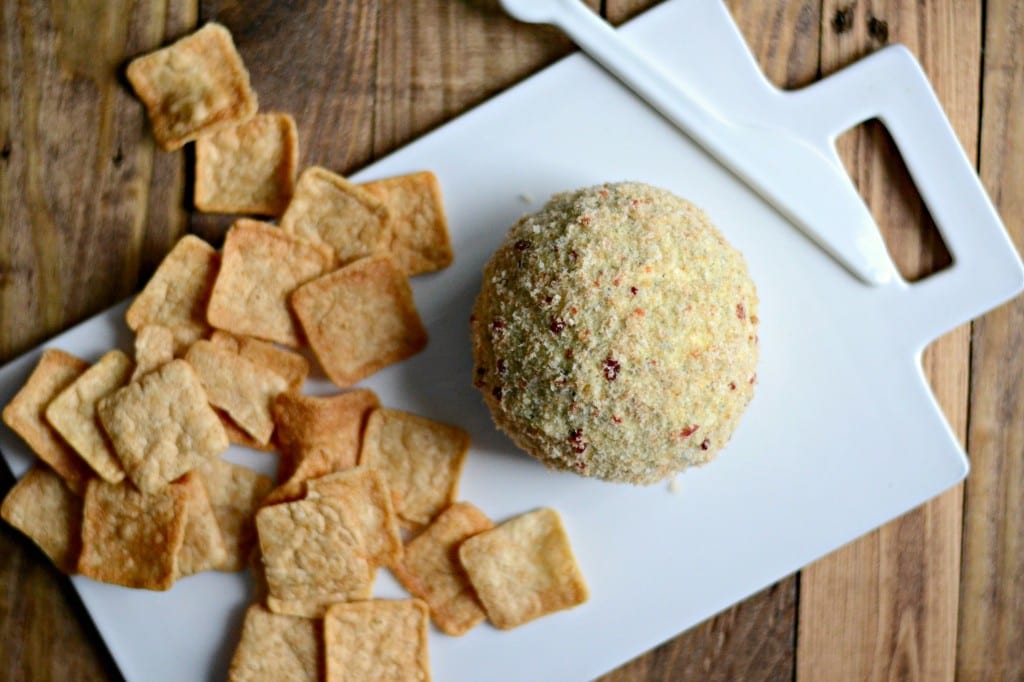 Balls, and balls, and balls! I have seen so many recipes for cheese balls come through my blog feed today. And still, here I am shoving another ball in your face. Maybe the reason people are all about cheese balls for a New Year's Eve appetizer recipe is because they are so easy.
Up until this year, the only balls of cheese I was familiar with are the ones from my college days, fried cheese curds. Every Wednesday, my friends and I would put on our best jeans and ironic t-shirts and head to our local college bar for $2 pitchers of beer and $5 baskets of cheese balls. Yes, you read that correctly, Wednesday. After we finished our homework and studying, of course.
I have yet to try and recreate fried cheese curds because they were so near and dear to my skinny college heart so, a dippable and spreadable ball of cheese it is!
This cheeseball has all the flavors of your favorite spinach and artichoke dip rolled up with some cream cheese and then rolled in bacon-y panko breadcrumbs. I can tell you that I originally made this recipe for Mike's family at Thanksgiving.
The plate was clean by the end of the night.
Whether you are couching it up for NYE like me and Mike or braving the drunks and cold at a bar, have fun, be safe, and eat some cheese!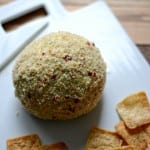 Spinach and Artichoke Cheese Ball Covered in Bacon Breadcrumbs
All the falvors of classic spinach and artichoke dip rolled up in a creamy cheese ball and coated in bacon breadcrumbs!
Ingredients
2

tablespoons

unsalted butter

1

Cup

Fresh Spinach Leaves

½

Cup

Jarred Artichoke Hearts

drained

½

Shallot

chopped

1

Clove

of Garlic

grated

1

8-ounce block cream cheese, softened

4

ounces

Chevre Goat Cheese

6

ounces

grated sharp white cheddar cheese

1/4

teaspoon

salt

1/4

teaspoon

pepper

1

Slice

Cooked Crispy Bacon

¾

Cup

Panko Breadcrumbs

Crackers for serving
Instructions
Add the spinach, artichokes, and onion to a food processor. Pulse until finely chopped.

Add the butter to a medium skillet and heat over medium/low heat. Add the spinach, artichokes, and onion to the skillet and saute until tender, about 5-7 minutes. Add the garlic and saute an additional minute. Remove from heat and let cool completely.

Once the vegetables are cooled, add them, along with the cream cheese, chevre, cheddar, salt, and pepper to the bowl of an electric stand mixer fitted with the paddle attachment. Beat together on low until combined, scrape down the sides as needed. Once the mixture starts to clump together, remove and place on plastic wrap. Form into a ball the best you can.

While the cheese ball chills, add the bacon and bread crumbs to a food processor and pulse until finely chopped. Pour on to a small plate.

After at least thirty minutes, remove the ball from the fridge. Take it out of the plastic and roll it in the bacon breadcrumbs. At this point it is easier to roll into a more perfect ball. Wrap in a new piece of plastic wrap and chill until ready to serve. You can make this ball 1-2 days ahead of time.

Let the cheese ball come to room temperature before serving so it is easier to spread of crackers.