Chocolate crinkle sprinkle cookies are so chewy and slightly crisp on the edges. It is like you took your favorite parts of a brownie and shoved them into one bite of a cookie and then topped them with sprinkles. Make these now! And good luck eating only one at a time of these chocolate crinkle sprinkle cookies.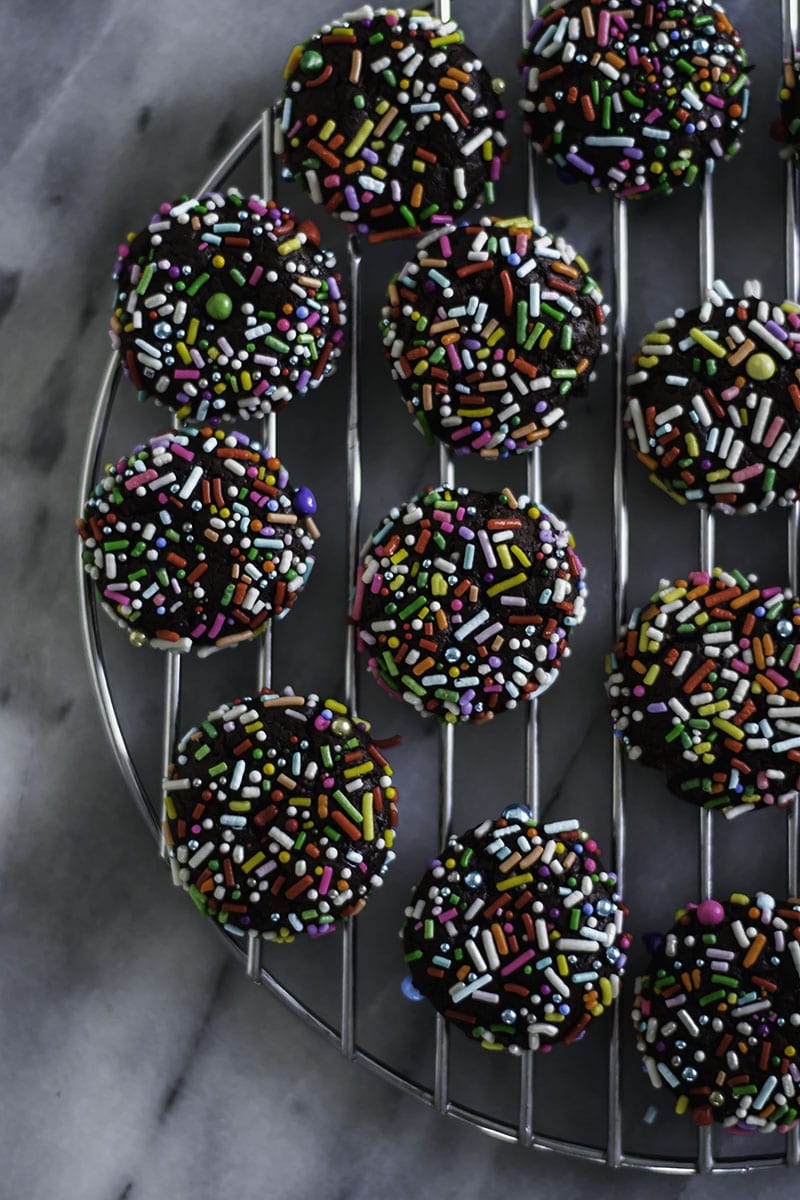 You know how you are supposed to go on vacation to recharge for everyday life? Oh! And when I say "vacation," I mean without kids. Like my friend Christina from Dessert for Two recently said, "A vacation with kids is not a vacation, it is a trip." A trip to where exactly? That's a discussion for another time.
I flew back in from Marco Island on Wednesday night. I was feeling recharged and relaxed and ready to get back to work and reality. That was until I got on the plane.
Chills, hot flashes, and an uneasy tummy made for a not so relaxed entrance back to reality.
The lightning storm on the descent didn't help much either.
We landed safely. My Dad picked me up from the airport. The whole way home I knew I had either caught some stomach bug or got food poisoning. Great! So much for that feeling of relaxation and recharge.
I ended up cutting myself some slack. I rested and napped a lot (that's how I know I was really sick). The boys were left in the capable hands of Mike, my mom, and this giant cardboard box they have been coloring on for four days now.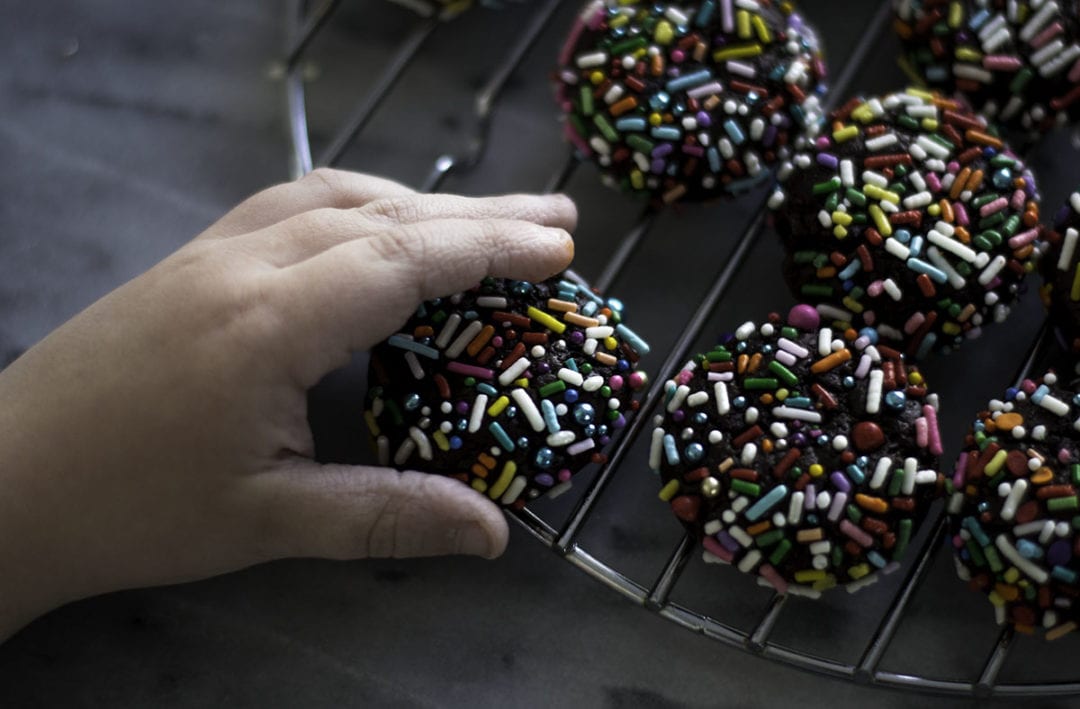 Seriously, why do I even buy them toys?
My four days off turned into 7 and now I'm sitting here with zero energy to get back into this biiiig project I am working on right now.
Normally, I would say coffee and cookies (like these chocolate crinkle sprinkle cookies) solve everything. And usually that's the case, except I can't eat or drink that kind of awesome stuff yet.
While my energy has slightly returned, it seems my digestive system is slow to follow.
So today I am sharing cookies from Jessica's cookbook The Pretty Dish with you guys. Because at least one of us should be able to enjoy these babies.
Amiright?
If you need me I will be crying into my bland food diet and cooking blindly since I can't taste test anything.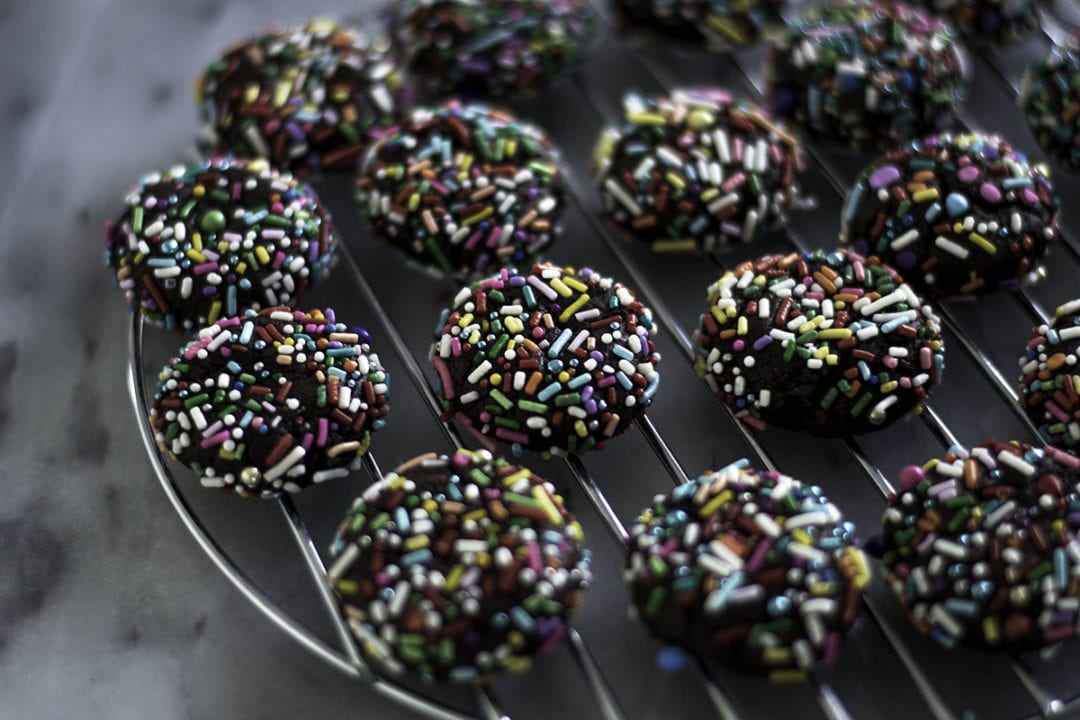 Chocolate Crinkle Sprinkle Cookies
Brwonie-like chocolate cookies with chewy and slightly crisp edges, coated in sprinkles.
Ingredients
1

cup

all-purpose flour

1

tsp

baking powder

1/2

tsp

salt

3/4

cup

sugar

1/2

cup

unsweetened cocoa powder

1/3

cup

vegetable oil

2

eggs

1

tsp

vanilla extract

1/2

cup

assorted rainbow sprinkles
Instructions
In a small mixing bowl whisk the flour, baking powder and salt together.

In the bowl of an electric stand mixer fitted with the paddle attachment, stir together the cocoa powder, oil, and sugar. Once combined beat in one egg at a time. Scrape down sides as needed.

Add vanilla and mix until combined.

Add the dry ingredients and beat on low until no more flour is visible. Refrigerate the mixture for at least 4 hours or for best results overnight.

Preheat the oven to 350 degrees F. Line two large baking sheets with parchment paper. Add sprinkles to a pie pan.

Roll the dough into 1" balls. Roll the balls in the sprinkles, gently pressing down. Transfer the cookies to the prepared cookies sheets. Keep the cookies about 2" apart.

Bake cookies for 10-12 minutes until they spread and look cracked and set. Cool completely on cookie sheet before transferring to a wire rack.