Get ready for the juiciest and tenderest chicken you have ever had. Jalapeño and pickle brined pan-fried chicken is a different twist on a classic chicken schnitzel. Brine the chicken, then press it into a cracker and panko breading, and then fry until crisp and golden.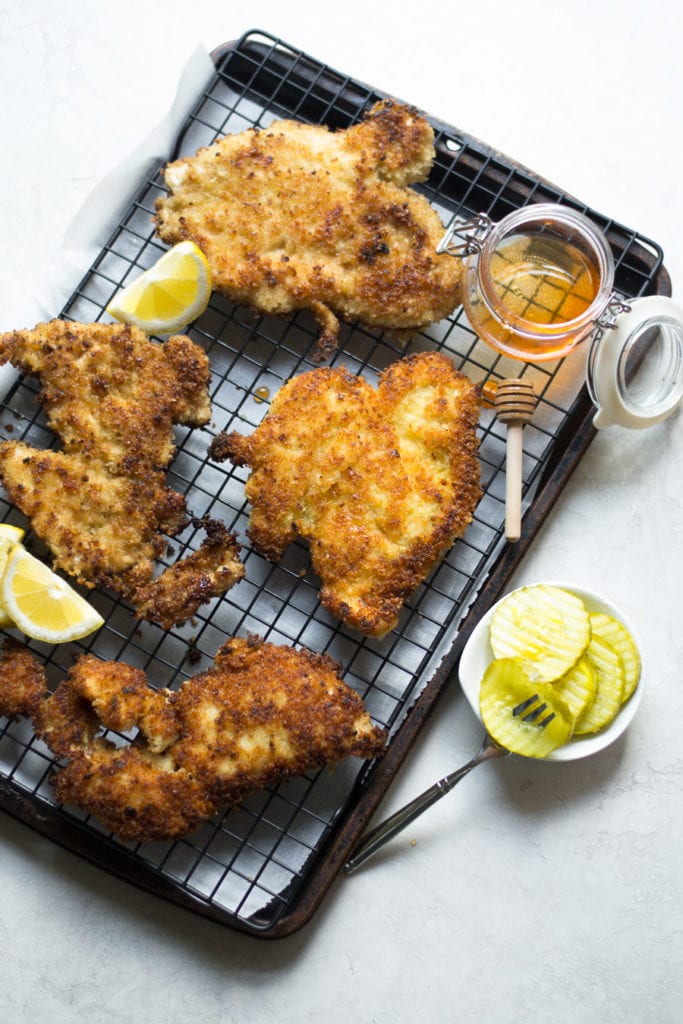 Mike is out of town working hard as an AP English grader with all the other smarty, smart teachers of the country this week. While, on one hand, yay, good for him. On the other hand, ugh not awesome for me.
Don't get me wrong, I love my kids and my two pugs. It's just that being without another adult in the house for a week to talk to and tag in for back up is really hard. Shout out to all the single parents out there. Wow, you are my heroes.
My revenge for Mike leaving for a week to Salt Lake City is making and sharing with you all one of his favorite, most asked for dinners.
I am also revealing to him for the first time, my secret ingredient to get the juiciest and most tender chicken ever.
Pickle juice!
He only knew about the jalapeño juice up until now. Sorry Mike. Your most hated enemy, the pickle, helps to make the best chicken ever.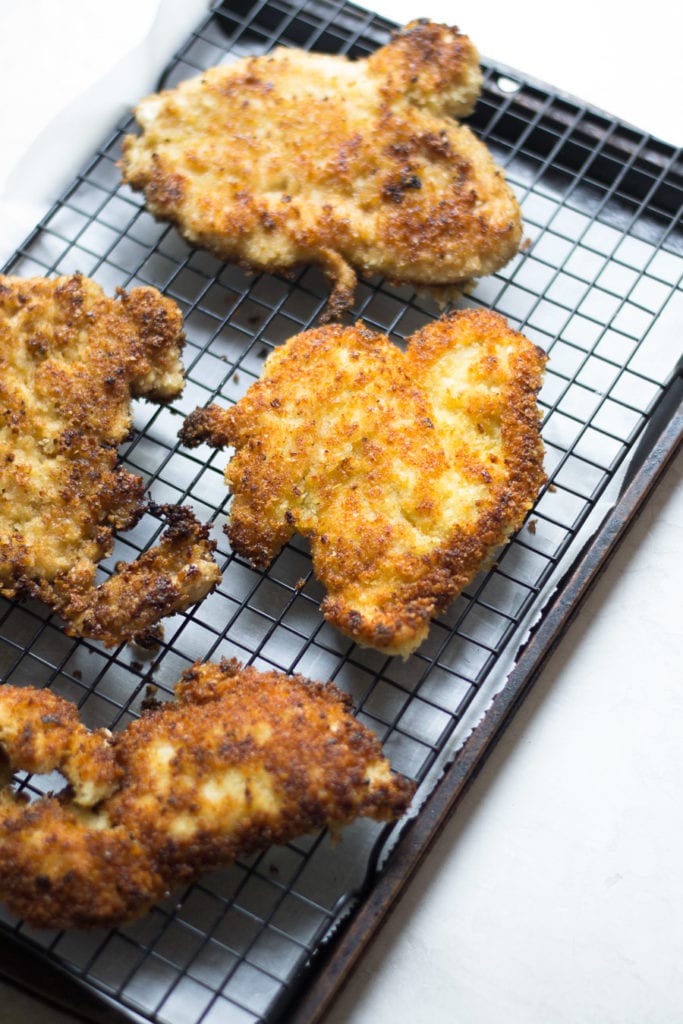 The pickling liquid from jalapeño peppers and kosher dill pickles works on the chicken and adds a salty and spicy flavor as it breaks it down into its most tender self. You are going to be using this brine on all your chicken from now on!
After the chicken comes out of the brine, I pound it really thin and then press it into some panko and Saltine cracker breadcrumbs. No need for eggs to get this breading to stick.
Jalapeño and pickle brined pan-fried chicken is like the best chicken schnitzel you have ever had.
I also like that you don't have to mess with a complicated breading process. "Dry, then wet, then dry again" are not instructions that make me happy. I am always looking for easy and quick chicken recipes for busy weeknights.
Boy oh boy, did I find it.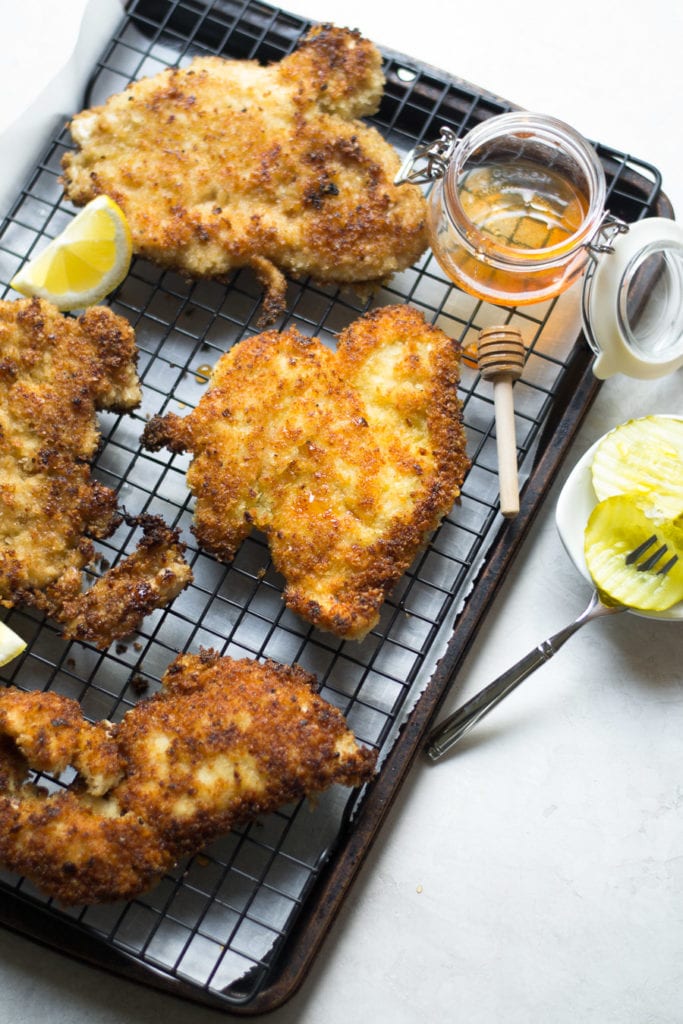 Serve this chicken up with your favorite salad, vegetable, or form of potato and get ready for a meal with zero leftovers!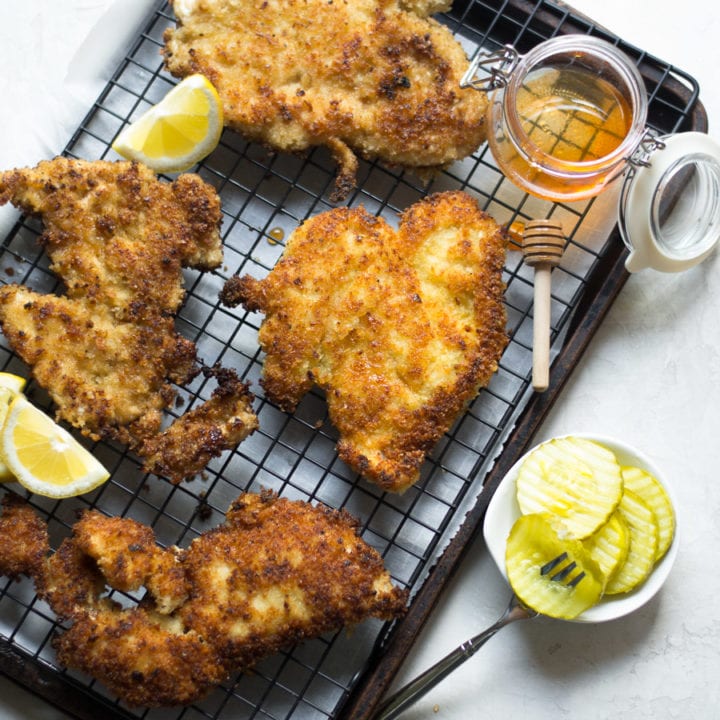 Jalapeño and Pickle Brined Pan-Fried Chicken
Total Time:
2 hours
12 minutes
Pan-fried lightly breaded chicken which was brined in pickle and jalapeño pickling liquid.
Ingredients
2 large boneless skinless chicken breast, butterflied and cut in half
3 tbsp pickle juice
3 tbsp pickled jalapeño brine
1/4 cup buttermilk
1 tsp salt
1/4 tsp black pepper
1/2 tsp Sriracha
1 tbsp honey
1 1/2 cup panko bread crumbs
20 saltines, finely ground
1/2 cup avocado oil, divided
lemon juice
honey or hot honey drizzle, optional
Instructions
Add the pickle juice, jalapeño brine, buttermilk, salt, pepper, sriracha, and honey to a large mixing bowl or a gallon sized sealable plastic food storage bag. If using a bowl, whisk to combine. If using a storage bag, seal the bag and give it a good shake to combine.
Use a meat tenderizer or mallet to pound the chicken flat until it is 1/4" - 1/8" thick.
Add the chicken to the brine. Press all the air out of the bag and then seal. Use your hands to mush the chicken around in the brine. If using a bowl, make sure the chicken is submerged fully in the brine, cover with plastic wrap. Let the chicken chill out in the fridge for at least 2 hours and as long as overnight.
Place the panko and cracker breadcrumbs in a shallow dish or baking sheet. Remove the chicken from the brine, letting the excess brine drip off, and press each side of the first chicken breast into the breadcrumb mixture.
Heat a large skillet over medium/high heat for at least 2-3 minutes. Add 1/4 of the avocado oil to the pan. Let that heat up for one minute.
Place the first coated chicken breast into the hot oil. While it cooks, remove the next breast from the brine and press it into the coating. Add the prepared breast into the pan. I like to cook 2 at a time.
Once you flip the chicken breasts after about 3-4 minutes, prepare the third chicken breast.
After about 6-7 minutes, the chicken should be cooked through. Remove the chicken and transfer it to a wire rack so it stays crispy.
Add the remaining 1/4 cup of oil if needed. Add the next breaded chicken breast to the hot pan. While it cooks on the first side, get the last chicken breast ready.
Once all breasts have been fried on each side for 3-4 minutes, they are done.
Drizzle a little lemon juice over each breast along with honey or hot honey is using.