Creamy and suuuuper easy brown butter Instant Pot mashed potatoes come together in well under 20 minutes. Brown butter adds so much flavor along with the usual suspects, milk, and sour cream to these quick crowd-pleasing potatoes.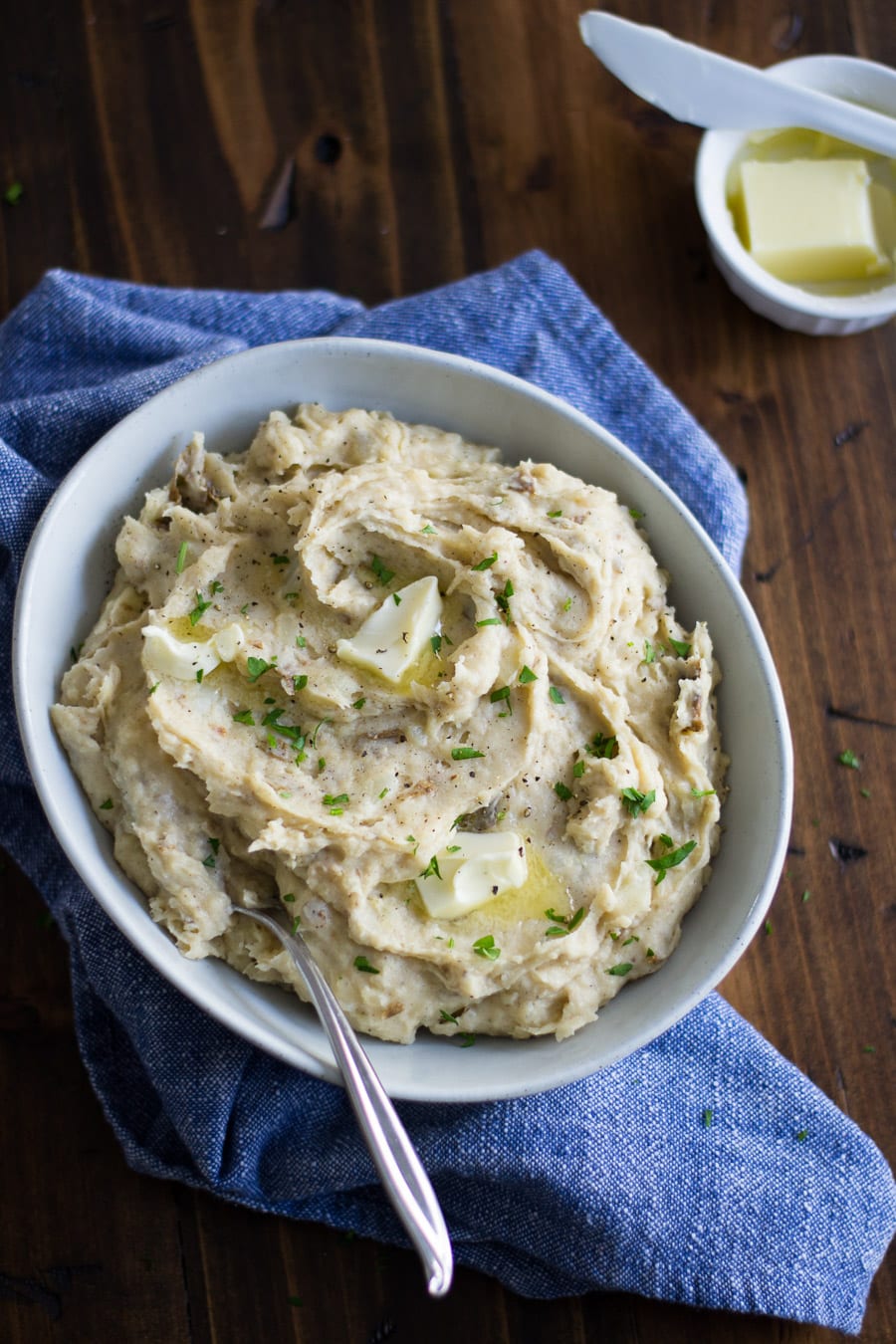 I don't think last year around this time, I was having such an adverse adjustment to this whole time change thing. Maybe I should check old blog posts and see?
Maybe I am writing the same exact thing as I did back then and you loyal readers are like, "Has she lost her mind? Maybe we should ditch her."
PLEASE DON'T LEAVE ME!
Jokes, jokes, jokes. You are under no obligation to be here, but I would miss you if you left.
Evan crazier than adjusting to the time change is the realization that Thanksgiving is a few weeks away. I am so not ready for all the recipes I wanted to make and share with you—as per usual.
Always a month late.
Luckily, there are only 47 days until the next big cooking and eating holiday: Christmas!
To be totally honest, I can wrap my head around it being almost Thanksgiving because the slow trickle of new holiday decorations has started to come out in our house.
I would blame Target but I haven't been yet. I know! Such willpower. I did say "yet," though, so look out bank account. The decorations are just some old small light up trees for the boys room and maybe a festive candle or two.
Nothing too crazy, right?
The only thing stopping me from busting out the tree is that I have two speech and developmental therapists coming to the house twice a week for Jack. They don't need to be exposed to my crazy Christmas explosion house yet.
Yet.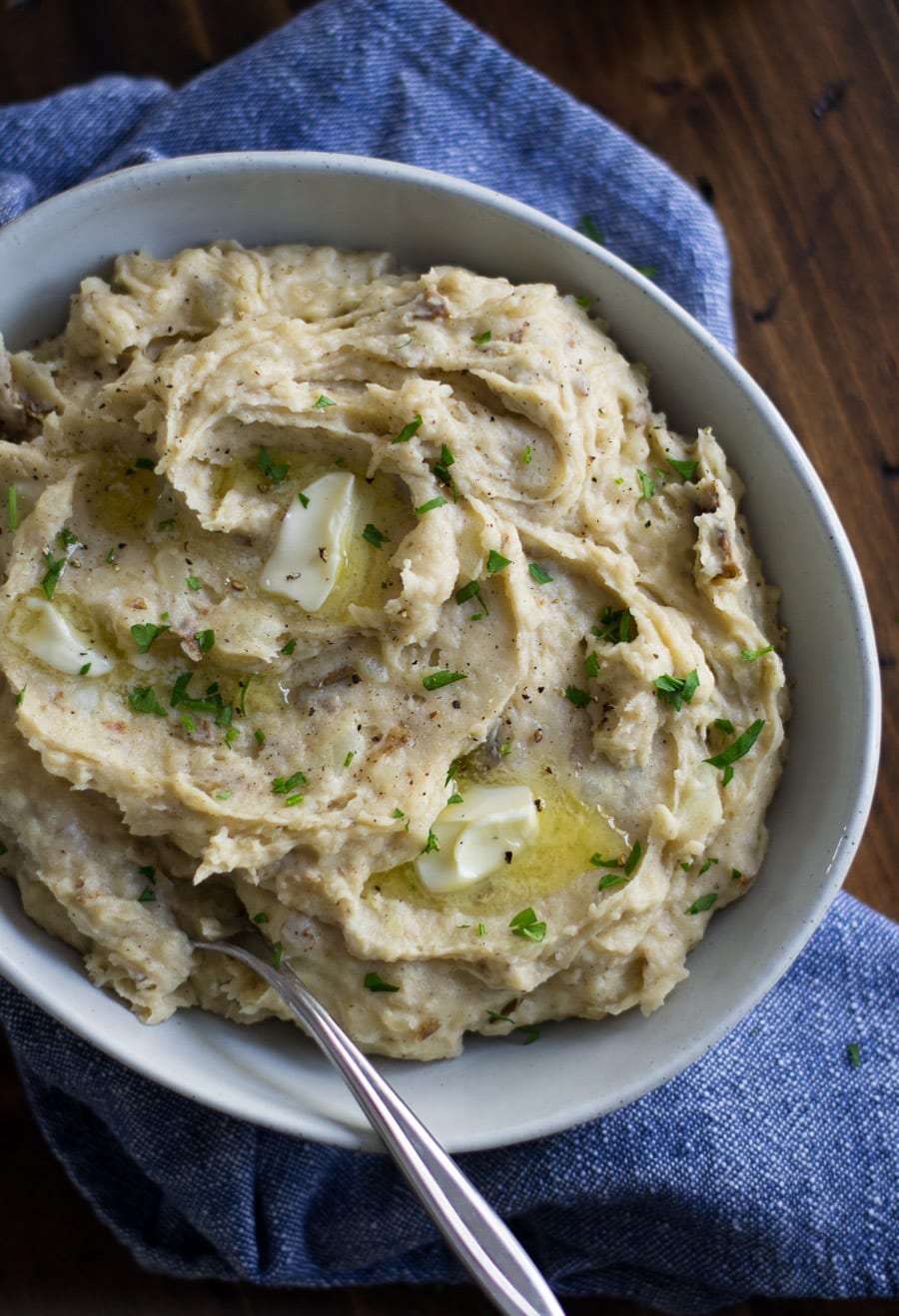 (I give it a week before the whole house is decked out).
So, holidays! Let's talk turkey or better yet potatoes. I am always the girl going for seconds on mashed potatoes. I save them for last, as you do with the best thing on the plate. My Mom is that master potato maker and her recipe is always a hit. That cream cheese makes it, guys!
I love my version of slow cooker brown butter mashed potatoes and decided to take it to the pressure cooker and see what happened.
One word: magic!
Brown butter Instant Pot mashed potatoes and me in love forever!
Heart eye emoji.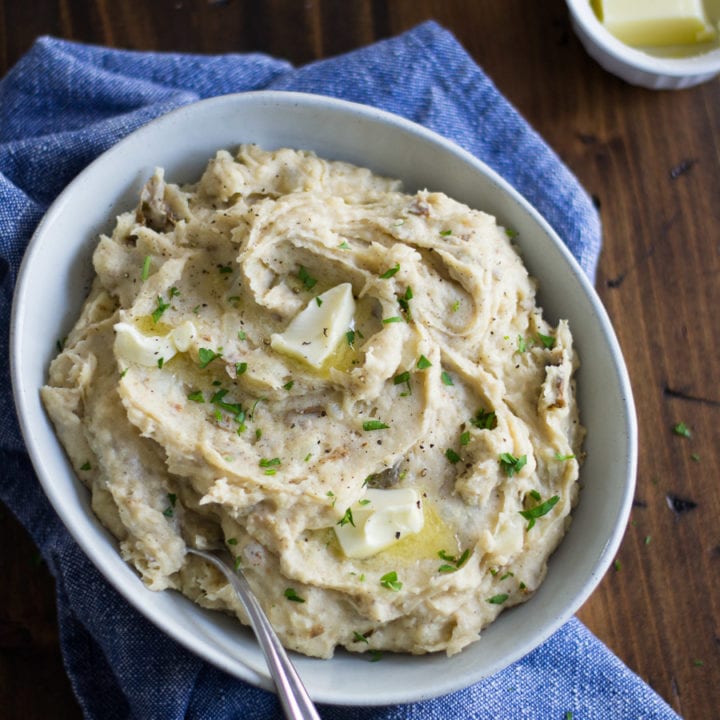 Brown Butter Instant Pot Mashed Potatoes
Brown butter and potatoes along with whole milk and sour cream come together to make magically creamy and rich mashed potatoes in the Instant Pot.
Ingredients
1 stick (1/2 cup) unsalted butter
5 large russet potatoes, cut into thirds
1/2 cup vegetable stock
salt and pepper, to taste
3/4 cup whole milk
1/2 cup sour cream
Instructions
Press the "Saute" button on the Instant Pot. Check to make sure the light is beneath "Normal." Once the pot is hot, add the butter. Use a rubber spatula to slightly stir the butter around. After about 5 minutes the butter should stop to pop and should start to brown. Press "cancel." Continue to stir, you don't want the butter to darken too much.
Add in the potatoes and stock. Season liberally with salt and a dash or two of black pepper.
Secure the lid with the steam vent sealed. press "Pressure Cook" until the light is beneath "High Pressure." Adjust the time display to read 8 minutes.
After the Instant Pot sounds that the time is up, quick release the pressure.
Remove the lid and use a potato masher to mash up the potatoes a bit. Mix in the sour cream and milk. Adjust salt and pepper to taste.
I like to use an immersion blender a few times around to make sure the potatoes are super creamy.
Serve with a little bit of butter and chives on top for garnish.
Notes
I leave the skins on my potatoes because I like a little texture, but if you want an even creamier potato, peel them ahead of time.
Recommended Products
As an Amazon Associate and member of other affiliate programs, I earn from qualifying purchases.