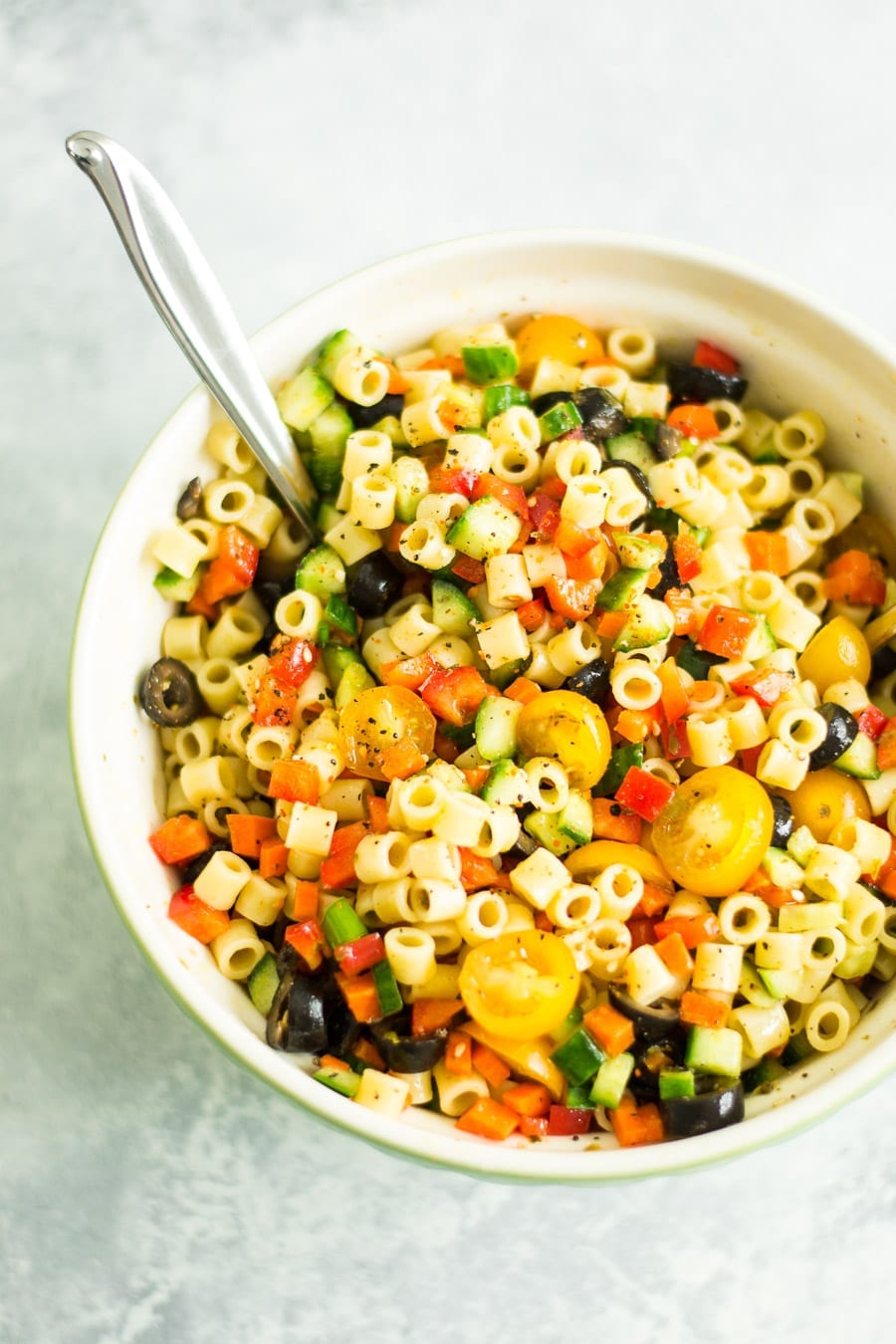 Diced vegetable pasta salad is a simple summer side. The garden veggies are diced so it is even good for tiny human fingers. Diced vegetable pasta salad is tossed in a simple vinaigrette packed with flavor.
Are you familiar with the local gem that is Portillo's? If you are not, A) you are not from the Midwest or B) you live under a rock. Either way, get yourself familiar.
Portillo's started as a hot dog cart a long, long time ago. They since expanded to pastas, ribs, catering, and their oh so delicious and famous chocolate cake. I just bought an entire one the other day for my mom's birthday and I was shocked I didn't eat the whole thing.
I was even more shocked that all the kids weren't as wild about the cake as all the adults were. They will learn…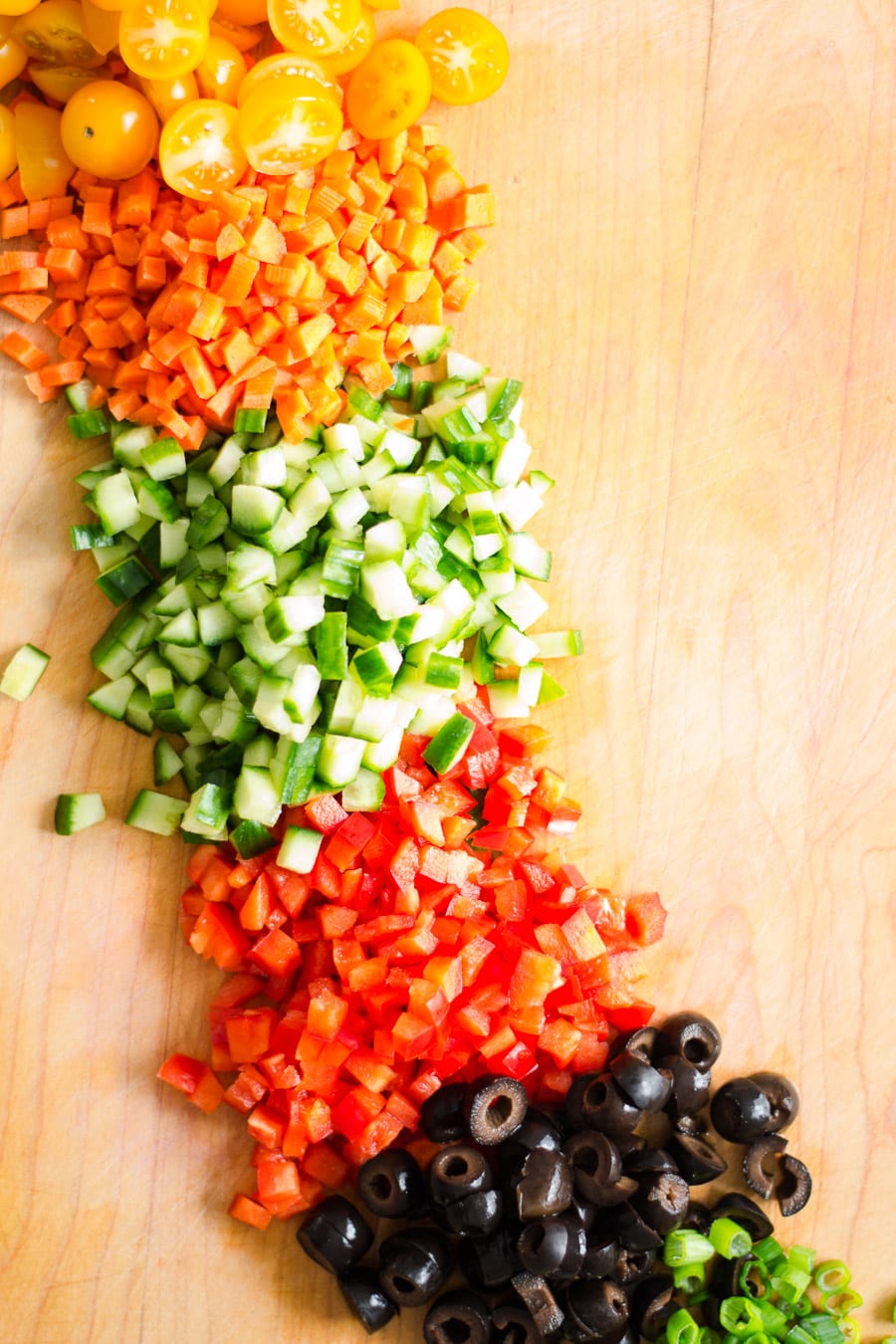 I cannot remember when this mecca of Chicago style hot dogs and cheese fries came into my life. It was as if all time before Portillo's didn't matter. Well, that's not entirely true, because I will always have a soft spot for Superdawg in Chicago. I had my first Chicago-style hot dog there and my mind was blown.
Why had I spent so may years being a tomato and pickle with mustard and ketchup kind of girl?
During high school is really when the hot dog and cheese fry journeys began for me and my brothers. We all went to a Catholic high school which happened to have a Portillo's directly on our route home. Meant to beee!
When you first get your driver's license, you look for any excuse to drive far distances. Our house was like 20 minutes from school and Portillo's. Add in rush hour traffic and you were looking at a good hour round trip excursion. My brother's and I would grab our Discmans, CD collection, and cassette tape adapters and then hit the road to pick up dinner for the family.
Back at this time, I was not even eating meat. They have a killer chopped salad that is still amazing without the chicken and bacon. I would get cheese fries and either a chopped salad, garden salad, or a pasta salad.
Now, some of you familiar with Portillo's may be thinking, They have no pasta salad on the menu. Oh, they used to!
The day they got rid of it my brother cried. Not out loud, internally. He would get that salad every time.
My mom, being as awesome as she is, set out on a personal mission to recreate this pasta salad at home. She would ask the Portillo's workers what was in the pasta salad and test batch after batch. My brother ate every batch and I think they both finally set on a simple pasta salad with a good olive oil and simple seasonings.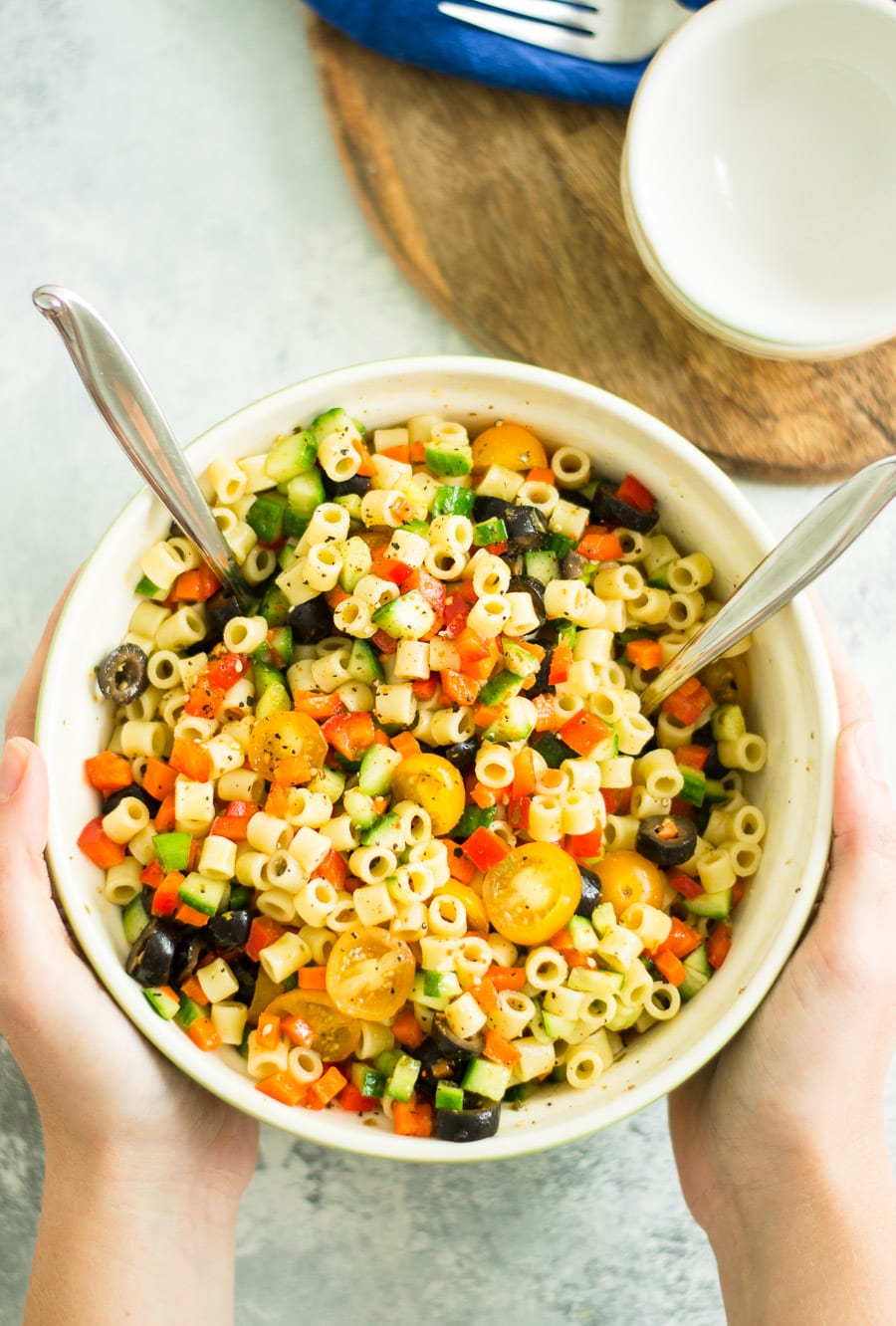 I never do things as simply as they do. So this diced vegetable pasta salad is like my tiny ode to that OG Portillo's pasta salad.
Maybe they will see this post and bring it back?!?!?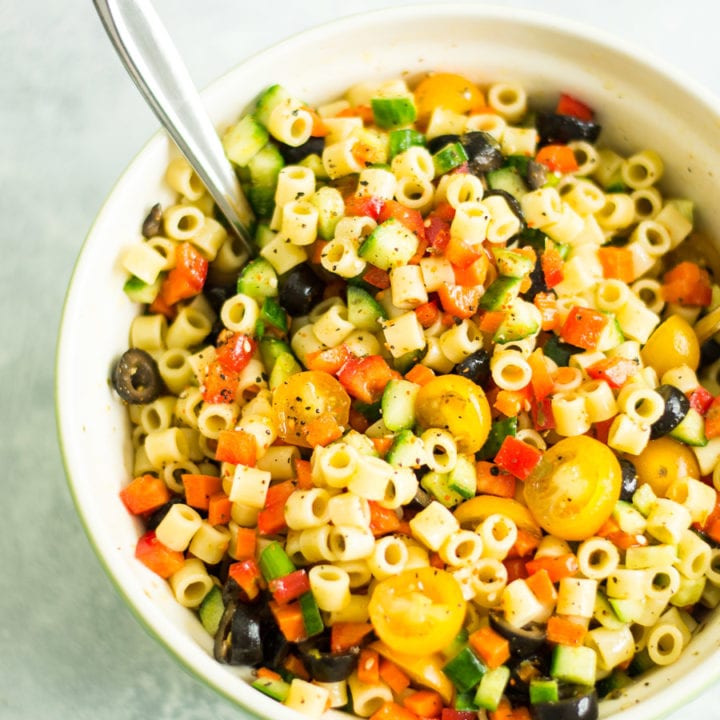 Diced Vegetable Pasta Salad
Diced garden vegetables with ditalini noodles tossed in a basil vinaigrette for a fresh summer side dish.
Ingredients
1 tbsp pesto, store-bought
1 tbsp red wine vinegar
1/4 cup extra-virgin olive oil
1 tsp McCormick's Salad Supreme Seasoning
1/4 tsp salt
1/4 tsp black pepper
2 cups ditalini noodles
3 green onions
3/4 cup sliced black olives
1 red bell pepper pepper, diced
2 persian cucumbers, diced
2 carrots, peeled & diced
1 1/2 cup diced tomatoes
Instructions
Bring a large pot of salted water to a rolling boil. Add noodles once the water is boiling. Cook according to the package's instructions. Drain noodles and set off the side to cool.
In the bottoms of a large mixing bowl, whisk together the pesto, red wine vinegar, olive oil, salad supreme seasoning, salt and pepper.
Add the slightly cooled noodles to the mixing bowl. Mix to combine.
Mix in all the diced and sliced vegetables.
Taste and add more salt and pepper to taste, if needed.
Chill in the refrigerator until ready to serve. Salad is good in a sealed container in the fridge for up to 5 days.
Notes
Pasta salad is always best served at room temperature.
Recommended Products
As an Amazon Associate and member of other affiliate programs, I earn from qualifying purchases.