Chicago style hot dogs are a classic combination of all good things. Don't mess with it. An all beef hot dog topped with yellow mustard, sliced tomatoes, dill pickle, diced onion, neon green relish, sport peppers, and celery salt. Set up a make your own Chicago dog party and be the best host/hostess ever!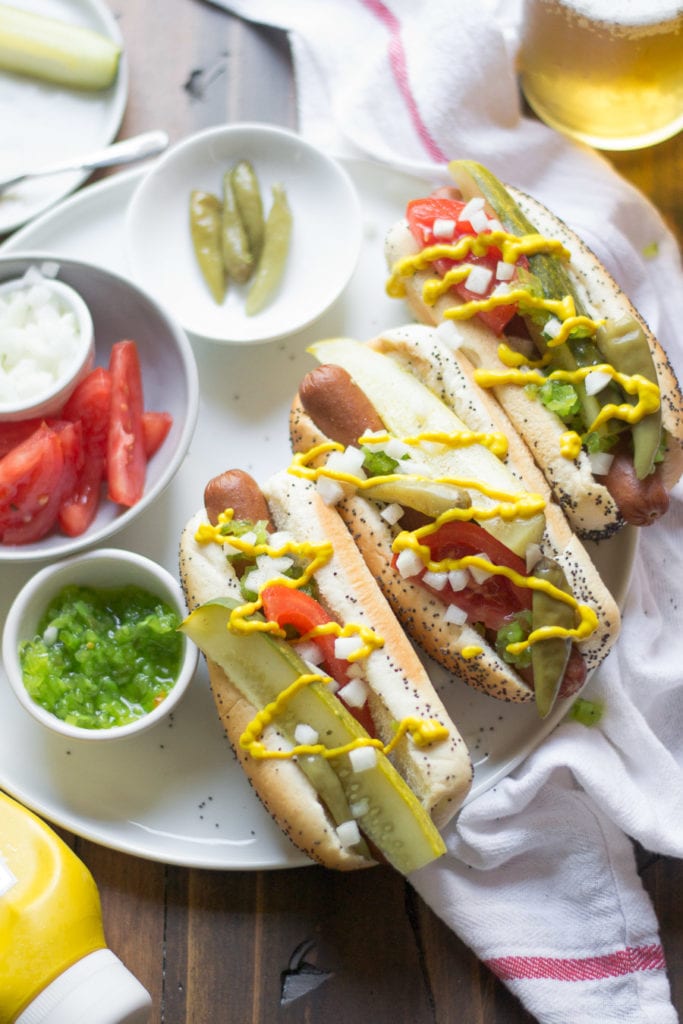 There are some things you just don't mess with.
I never mess with bees. I have never been stung by a bee (knock on wood). I have no plans to get stung by a bee so when I see them coming near me, I leave them alone.
Don't mess with your hairstylist. Always be nice and tip. They hold how you look in their hands and you wouldn't want those hands to accidentally slip and cut a huge chunk out of your hair or even worse, your ear!
Don't mess around with Jim… Anybody?
Don't mess with your mom. Even though it pains me to say this, she is most often right about, well, everything. Plus, the lady birthed you, so give her a break.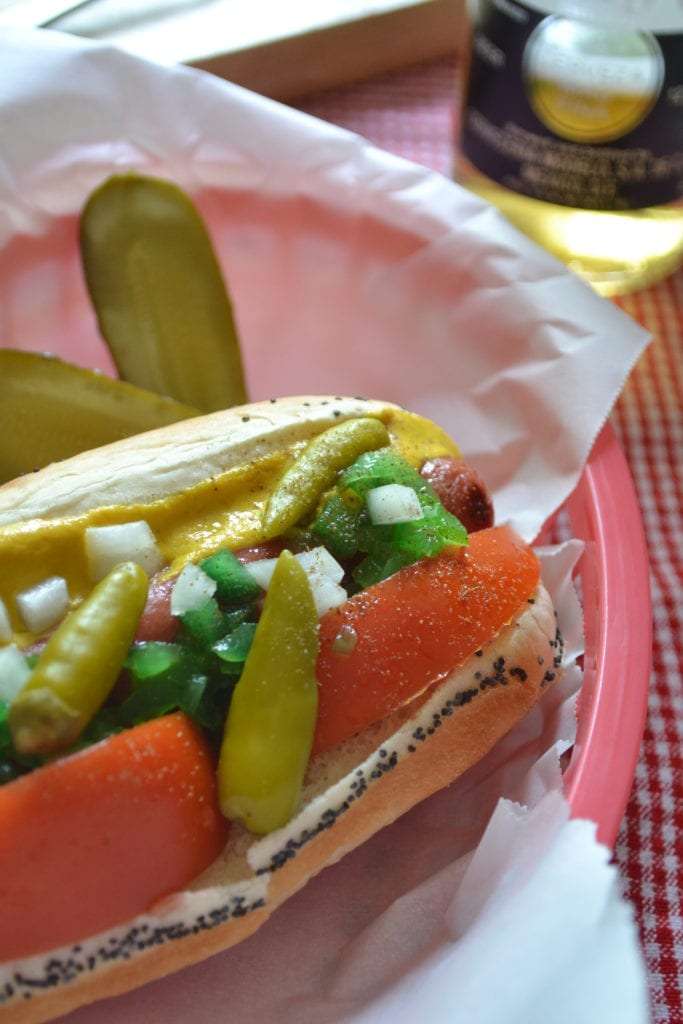 Lastly, even though it may seem like a lot of unnecessary ingredients, you don't mess with a Chicago style hot dog. No ketchup, radioactive green relish…all the ingredients are in perfect harmony. They look like perfect Christmas packages ready for delivery to your mouth.
Ingredients (Makes 2)
2 All Beef Vienna Hot Dogs
2 Poppy Seed Buns
2 Tablespoons Yellow Mustard
½ Tomato, sliced into four wedges
1 Tablespoon Chicago Style Relish
1 Tablespoon White Onion, diced
8 Sport Peppers
¼ Teaspoon Celery Salt
2 Large Dill Pickle Spears
The traditional Chicago hot dog is boiled, but if you don't feel like having a pot of boiling water heating up your kitchen it is ok to grill them. I did. It can be our little secret.

Either boil your hot dogs or grill them over medium heat until cooked through.
Place each dog on a poppy seed bun. Top each dog with yellow mustard, two tomato wedges, a sprinkling of white onion, a sprinkle of neon green relish, four sport peppers, and a dusting of celery salt. Serve with a dill pickle or two on the side.

I hope you guys get a chance to taste and enjoy this Chicago delicacy.