Grilling season is upon us and summer is right around the corner. Get that grill warmed up with these simple and straightforward grilled garlic parmesan chicken skewers. Or kabobs. Whatever you call them. They are easy to prep ahead of time and delicious!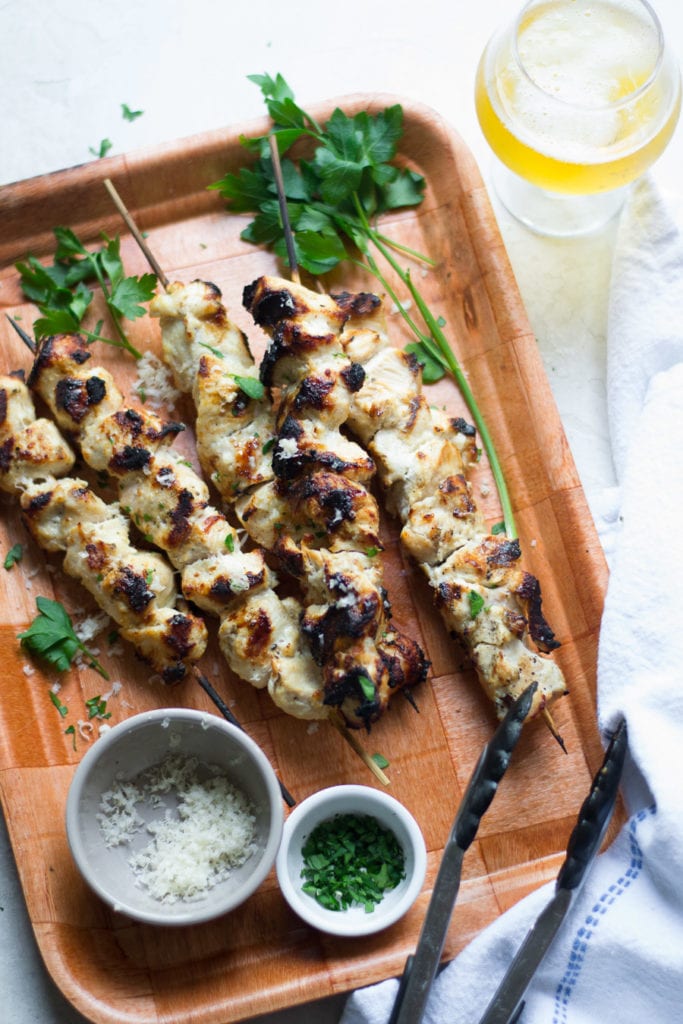 Skewers? Or kabobs? What do you guys call them? I had a tough time deciding which one worked better. It's probably like potato, pa-tah-toe. Get ready for all the grilling recipes now that we have officially kicked off grilling season this past weekend.
Did you guys do any grilling this past weekend? We added a new little pug puppy, Bodie, to our family this past weekend. Thanks to some prep throughout the week, we still had time to grill.
Ya know, in between all the shooing a puppy outside to do his business and the puppy snuggles.
Priorities.
I found a new (to me) local butcher and got some basic burgers. We slapped some American cheese on them, because, ya know, Memorial Day weekend, 'Merica, and all that. During the week, I dusted off the grill to get ready for the weekend.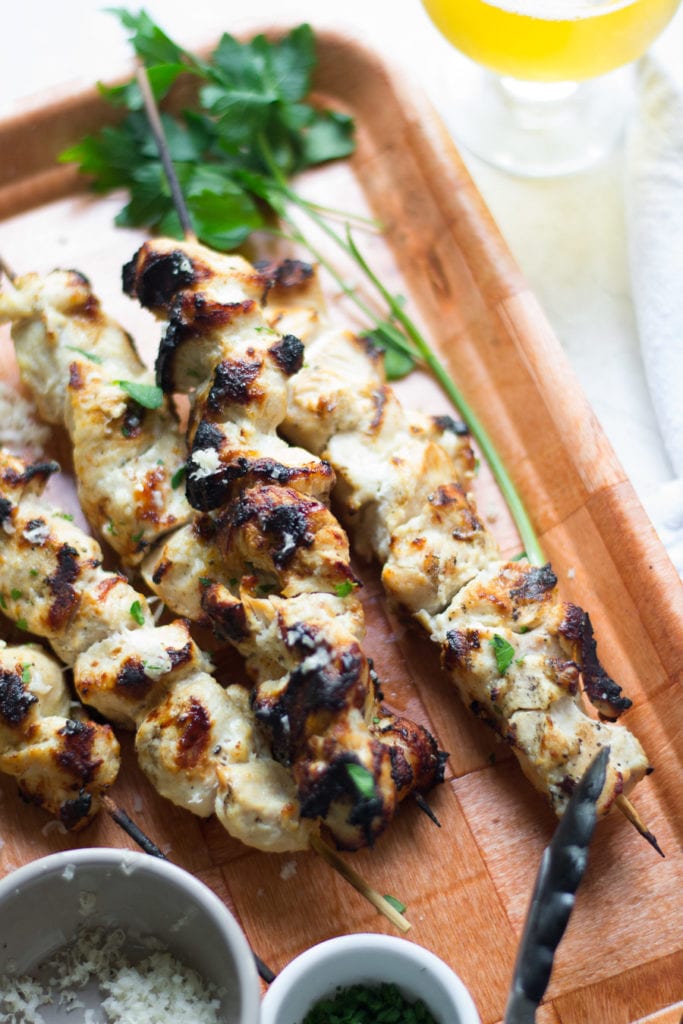 I also had to get the grill ready for my new Instagram series, Burger and Beer Friday. I like to think that after not grilling for all winter long, you need a bit of practice to get things right. Just like making a batch of pancakes, you gotta burn a few before you get in your rhythm.
My inaugural dish, these grilled garlic parmesan chicken skewers, got that grill singin'.
Boneless skinless chicken breasts marinated in Greek yogurt, olive oil, garlic, and parmesan cheese. Let the chicken chill in the fridge for a few hours, soak your skewers so they don't burn, and when you are ready to grill, just assemble.
I really loved these skewers served with some simple veggie skewers. All foods on sticks. It's a theme. just go with it!
The leftover chicken goes really well in some charred up pita pockets or on top of a big salad. I had this idea to top my BLAT salad with this chicken for a truly filling meal. If you try that combo, let me know.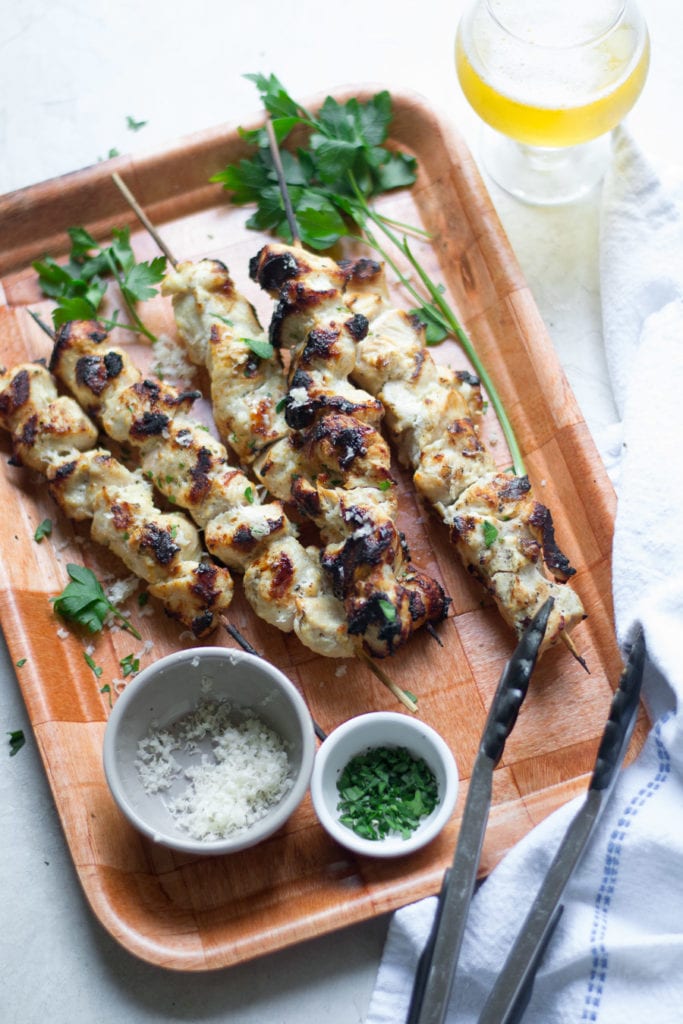 This recipe is super straightforward and easy to pull off no matter your level of grilling expertise. Mike is already asking when we can make grilled garlic parmesan chicken skewers again. I like how he says, "we."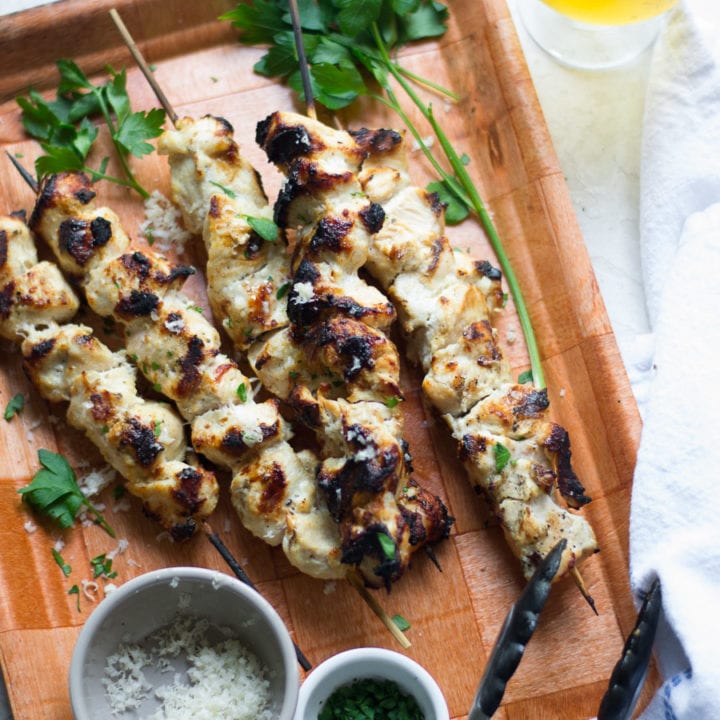 Grilled Garlic Parmesan Chicken Skewers
Total Time:
2 hours
24 minutes
Garlic, parmesan, Greek yogurt, and olive oil marinated chicken breasts grilled on skewers. Simple and delicious!
Ingredients
1/2 cup plain greek yogurt
1/4 cup extra virgin olive oil
4 garlic cloves, grated
1/4 cup freshly grated parmesan cheese, plus more for topping
1 tsp salt
1/4 tsp black pepper
3 large boneless skinless chicken breasts, cut into 1" pieces
6-8 wooden skewers, soaked in water overnight
1 tbsp chopped fresh parsley, optional garnish
Instructions
Make sure to submerge the wooden skewers in water overnight to ensure they do not burn too badly during grilling.
In a medium mixing bowl, whisk together the yogurt, olive oil, garlic, parmesan cheese, salt, and pepper. Transfer the sauce to a large gallon sealable plastic bag along with the chicken pieces.
Seal the bag and get all the air out. Mash all the ingredients together in the bag using your hands. Place the bag in the fridge for at least 2 hours, but up to 12 hours in advance, to marinate.
Preheat your grill on high heat while you assemble the skewers.
Open the bag, remove the chicken and pierce through once or twice with the skewer to ensure it stays put. Place 6 to 7 pieces of chicken on each skewer.
Grill over high heat for 7 minutes. Once the chicken gives and releases easily, flip the skewer. cook the second side for 7 more minutes.
Remove from grill. Top with extra parmesan cheese and optional chopped fresh parsley.