Sometimes adults, just like little kids, get bored with their food. When this happens to me, I find myself breaking apart old recipes and reinventing them. Mainly, it is just me playing with my food.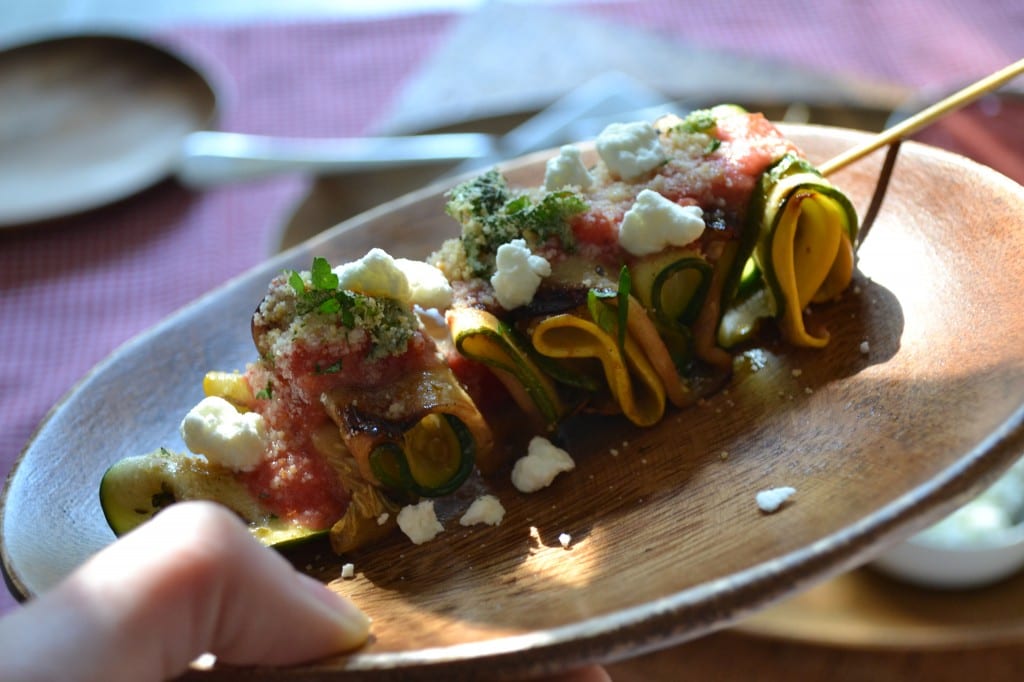 There are only so many ways you can serve vegetables. Trying to turn them into a show-stopper for a dinner party or BBQ is kind of a stretch, especially when you have to compete with meats and seafood of all different kinds.
When I decided it would be cool to make traditional ratatouille into a finger food, I kind of laughed at myself. (Yes, it is sad how uncool my standards are for what is cool.)
Anyway, I know you don't want to read about my inspiration for this dish. Well, bad news—I'm going to tell you regardless! I had the image of ribbon candy looping back and forth and through how beautiful thinly sliced vegetables would be in that same pattern.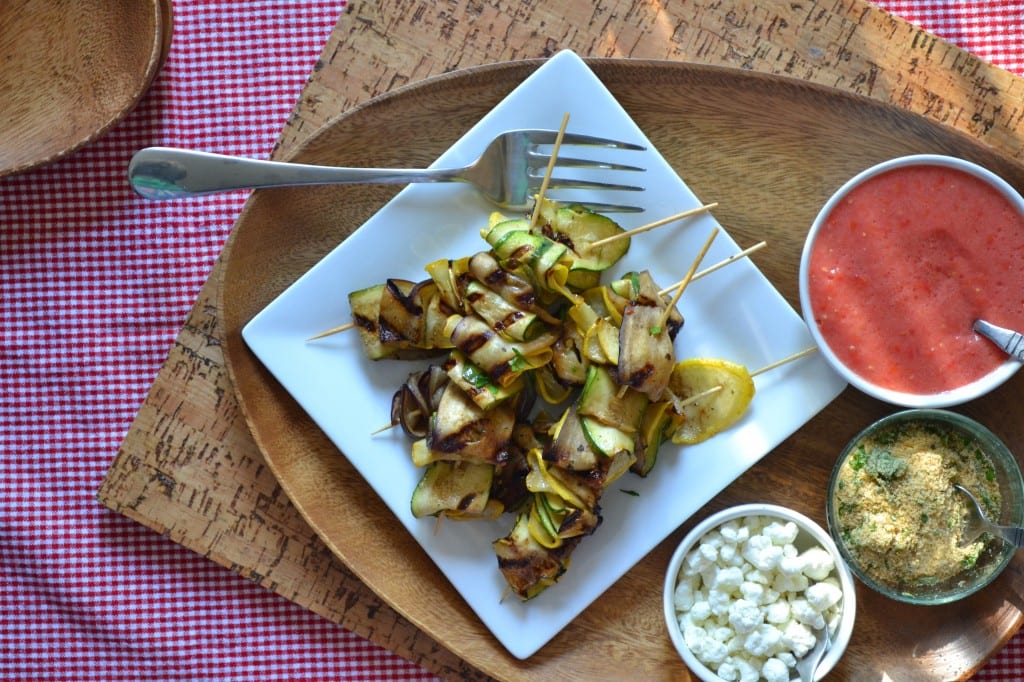 I wanted to make this a great summer dish, so I added some fresh pureed cherry tomatoes, a blend of crunchy gluten-free breadcrumbs with fresh herbs, and soft crumbly goat cheese.
When you take a bite off the skewer, all the flavors combine to remind you of a slow baked hearty ratatouille.
Sigh. The many benefits of playing with your food out of boredom.
Ingredients (Makes 15-20 Skewers)


1 Tablespoon Lemon Juice
¼ Cup Balsamic Vinegar
½ Cup Olive Oil
½ Teaspoon Coarse Sea Salt
¼ Teaspoon Pepper
¼ Teaspoon Crushed Red Pepper
½ Teaspoon Garlic Powder
½ Teaspoon Dried Basil
½ Teaspoon Dried Oregano
½ Eggplant, cut in half again length-wise
2 Small Zucchini
1 Medium Yellow Squash
1 Pint Cherry Tomatoes
3 Ounces Crumbled Goat Cheese
1/3 Cup Gluten Free Breadcrumbs
1 Tablespoon Fresh Basil, chopped
1 Tablespoon Fresh Parsley, chopped
Combine the lemon juice, balsamic vinegar, olive oil, sea salt, pepper, crushed red pepper, garlic powder, dried basil, and dried oregano using a whisk in a large Pyrex dish. This is the marinade for the vegetable ribbons.
Cut the ends off the eggplant, zucchini, and squash. Set your mandolin on the second thinnest setting. Start by slowly and carefully gliding the eggplant along and through the blade. Make sure to get as long of a slice as possible. Continue slicing using the mandolin until all two quarters of the eggplant have been sliced. Place the eggplant slices in the marinade.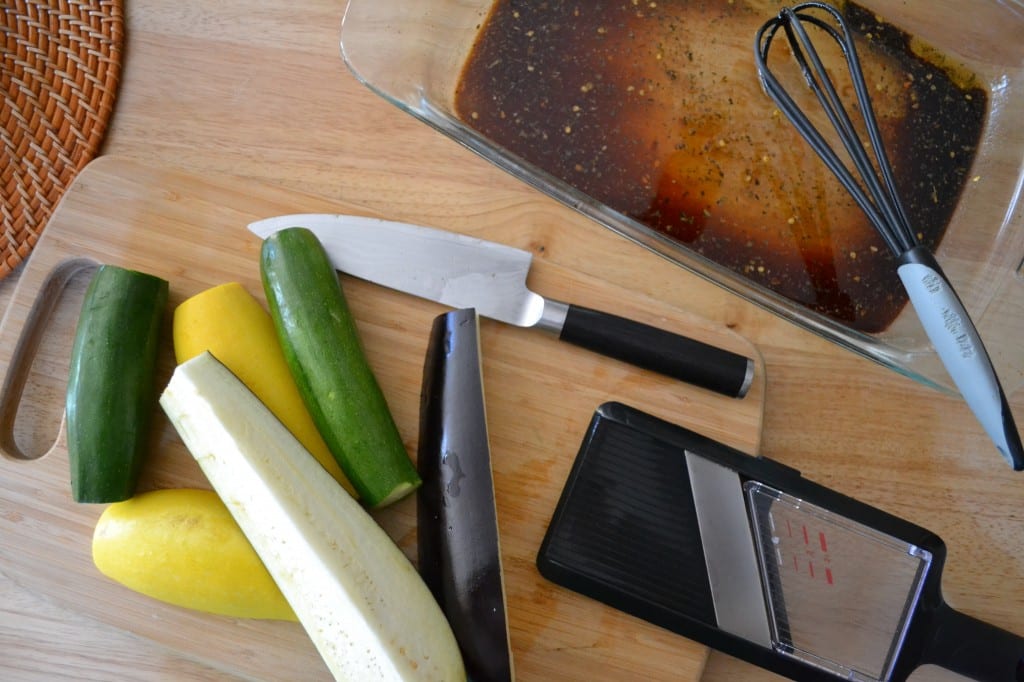 The squash and zucchini are easier to guide through the mandolin than the eggplant because they are smaller. It is also helpful to cut them in half length-wise and then guide the vegetable through, cut-side down. Slice the squash and zucchini using the same setting on the mandolin as the eggplant. When all ribbons have been sliced, place them in the marinade. Toss them using tongs to evenly coat all the slices.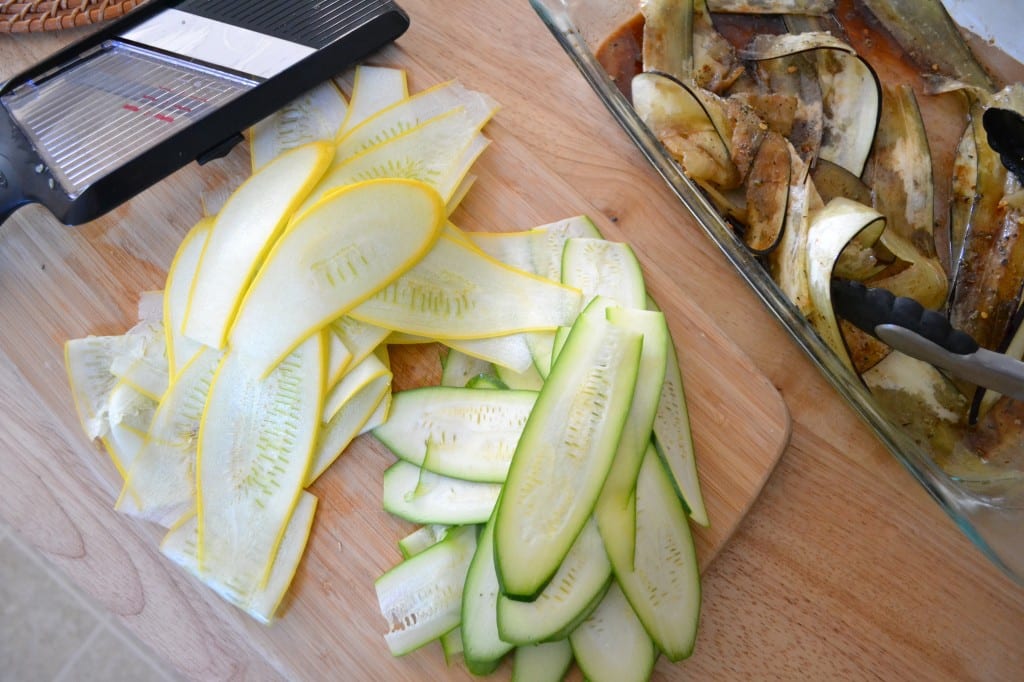 Start skewering one slice of vegetable at a time. Skewer one end, then loop the piece back over itself and skewer it again. Place a different vegetable on the skewer and do the same process. It is easiest to loop two different vegetables at a time and work closer to the sharp end. After you have successfully looped a vegetable ribbon back and forth, slide it further down the skewer and start working with another vegetable. Basically, you want to make a ribbon candy pattern and alternate the vegetables so they aren't all one color in a row.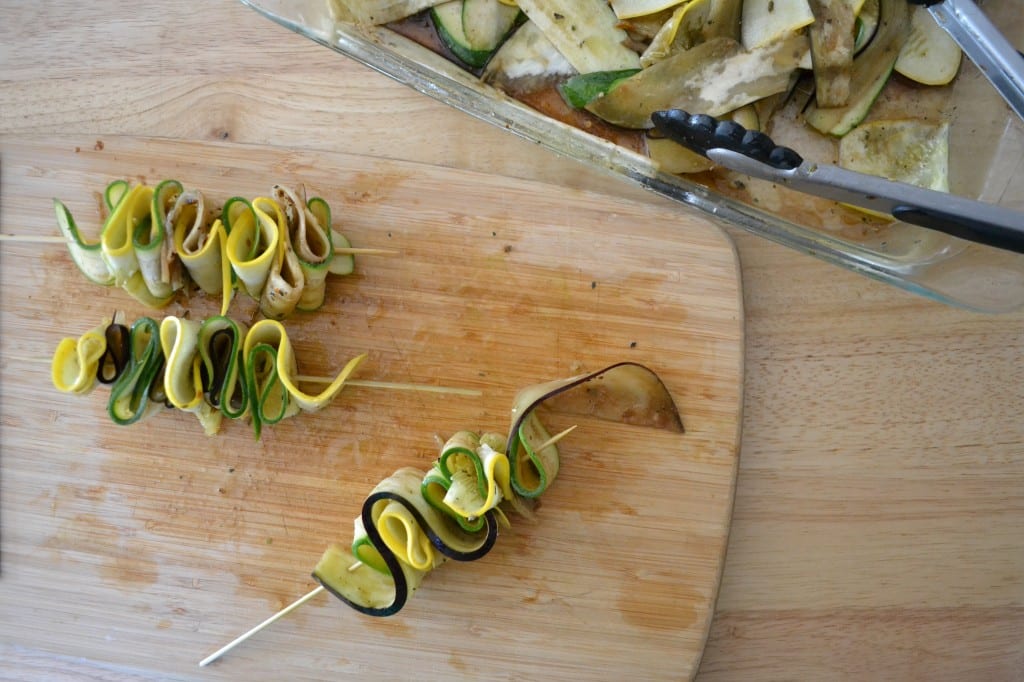 Once all vegetables have been skewered, place them back in the marinade until you are ready to grill. Vegetables can last a day in the fridge.
Heat the grill or grill pan for a few minutes over medium heat. Lightly oil up the grates before you add the veggies. Place the skewers on the grill with the bigger looped side down. Grill for seven minutes on each side, flipping once.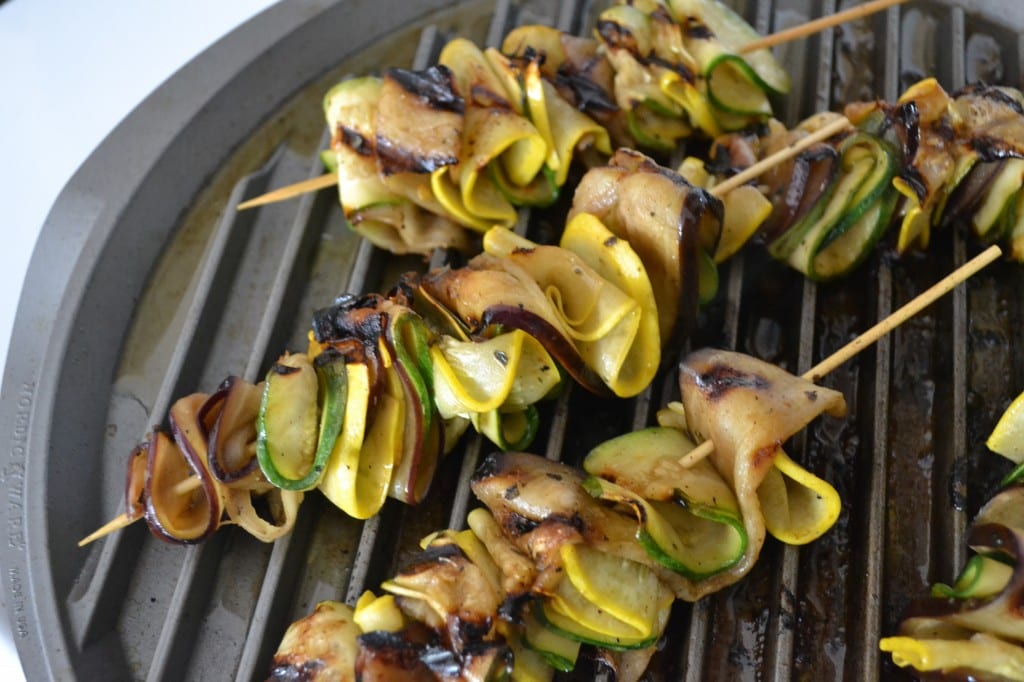 While the second side is grilling, add the cherry tomatoes to a food processor and puree for a minute. Chop the basil and parsley and then combine it with the gluten-free breadcrumbs. Place the tomato puree, goat cheese, and herb-breadcrumb mix into three small bowls.
Arrange the skewers on a serving platter along with the three toppings.
For  the true ratatouille experience, top the hot skewer with tomato puree, breadcrumbs, and then the goat cheese.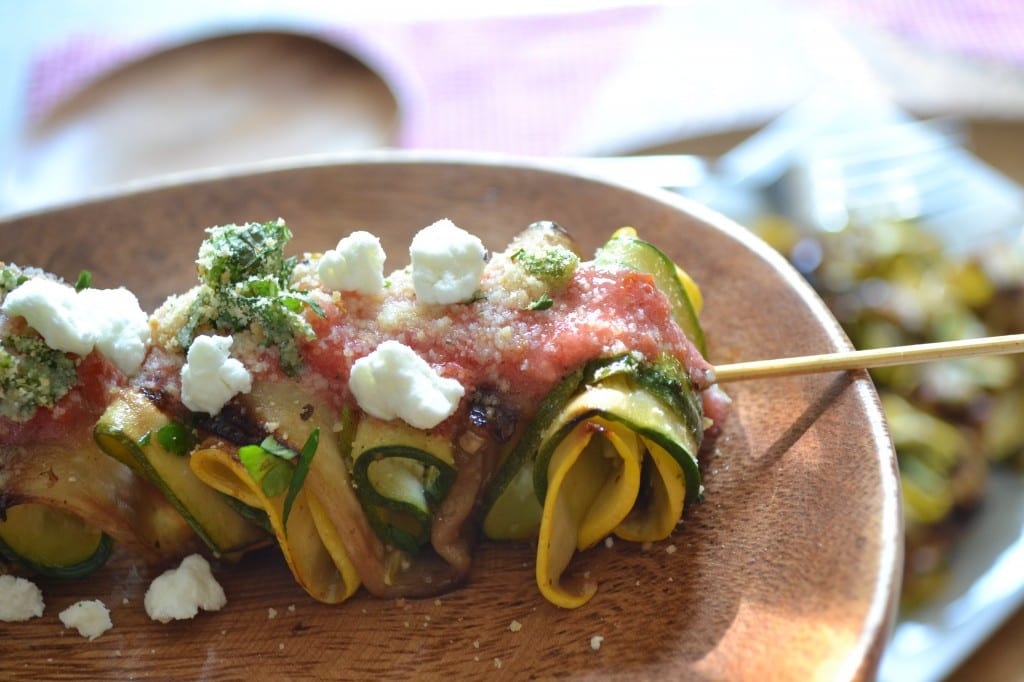 It is a fun and yet fancy finger food. Plus you get to sound cool saying "deconstructed."
Related posts: