I am a huge science nerd. It is true. Not only am I a food nerd, but I also love all things science.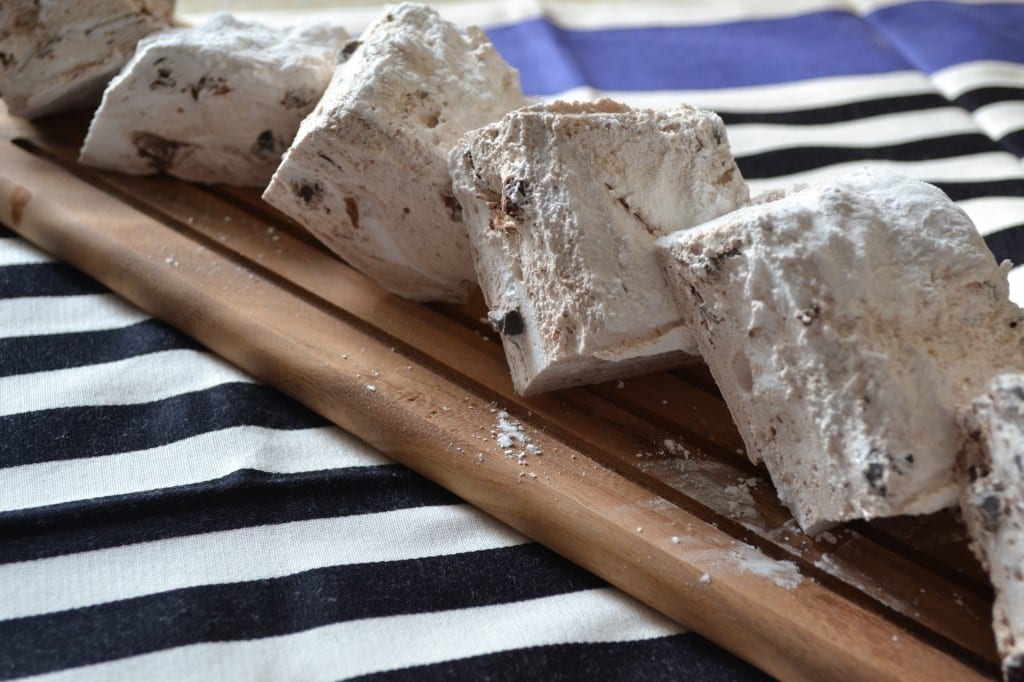 I started my career path as a biology major then once Organic Chemistry hit me (trust me, it hit me hard) I decided maybe biology was too broad of a subject. I then changed my major to Environmental Health/Public Health.
I loved all the labs that went along with every class…well, for the most part. I didn't really love the labs that were at 7 a.m.
One of my worst 7 a.m. lab experiences was when I spilled an entire small graduated cylinder of Hydrochloric Acid into the pocket of my hoodie. My black hoodie immediately turned green. When trying to get the cylinder out of the pocket, I splashed some on my hand, freaked out when I pulled my hand out and saw spots of my skin turning black and shattered the graduated cylinder all over the chemistry table.
Not only was that totally embarrassing, but in addition to having to deal with little black burn marks all over my hand for a week, I now had to pay ten dollars to replace the stupid little glass cylinder. (Don't worry; no lasting damages to my poor clumsy hand.)
Anyways, I wasn't always a total wreck in the lab. I got through four years and moved into a career studying mosquitoes in the lab looking for West Nile Virus. After quite some time of feeling a dwindling amount of passion towards my career path, I made the drastic switch to food.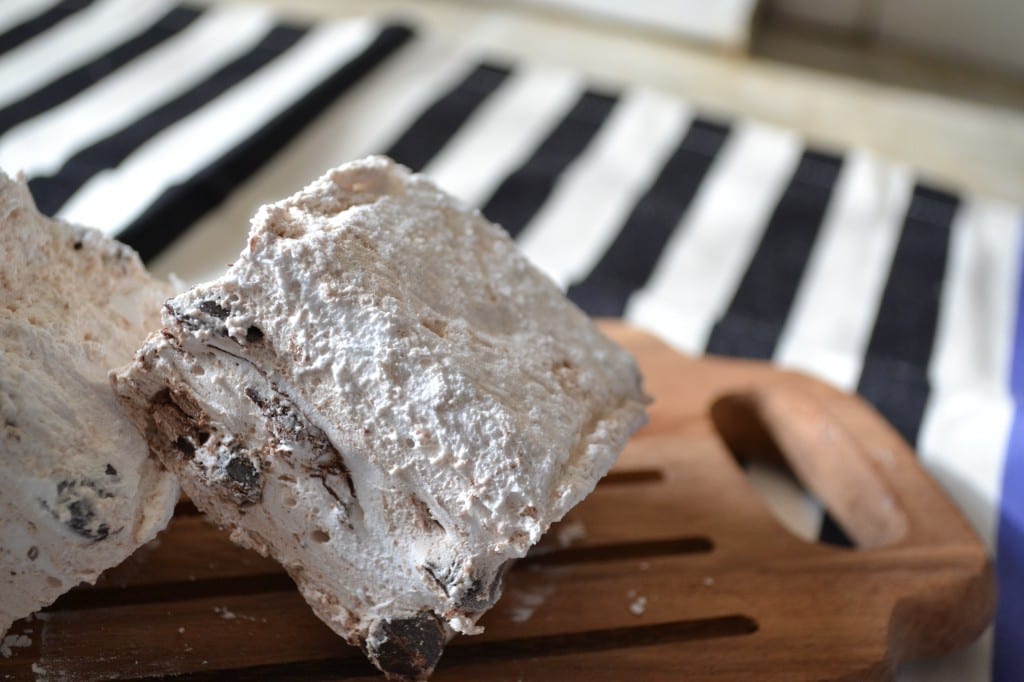 While I am totally passionate about my blog and all that I am doing now, I do miss the days back in the lab. So, when I decided to make these marshmallows, I felt like I was back in the lab!
Watching the sugar transform from a clear off-white to a perfect whippy-marshmallow-white was the coolest thing ever! (Yes, I am amused by the simple things in life.) I hope you guys will have as much fun as I did transforming my kitchen into a science lab while making these marshmallows.
Ingredients (Makes 16 Giant Marshmallows or 24 Small Marshmallow Cubes)


1 Cup Powdered Sugar
1 Cup Cold Water
3, ¼ Ounce Envelopes Unflavored Gelatin
2 Cups Granulated Sugar
2/3 Cup Light Corn Syrup
¼ Teaspoon Salt
1 Teaspoon Vanilla Extract
2 Cups (12 Ounces) Semisweet Chocolate Chips
Grease an 8 inch square pan and shake powdered sugar through the pan, coating generously. Pour ½ cup of water into the bowl of an electric stand mixer fitted with a whisk attachment. Pour the gelatin over the cold water and let it sit while you get the other ingredients together.
In a saucepan over medium heat, add remaining ½ cup water, granulated sugar, corn syrup, and salt. Mix until sugar dissolves Heat mixture until it reaches 240 degrees. Do not stir the mixture after the sugar dissolves.
Turn the mixture on low speed. Carefully drizzle the hot sugar mixture into the gelatin in a steady stream. Try not to pour the hot sugar mixture into the whisk attachment. Once the sugar is incorporated, gradually increase the speed to high and whip mixture until white and thick, about twelve minutes. Stop the mixer and then add in the vanilla extract. Whisk on high for three more minutes.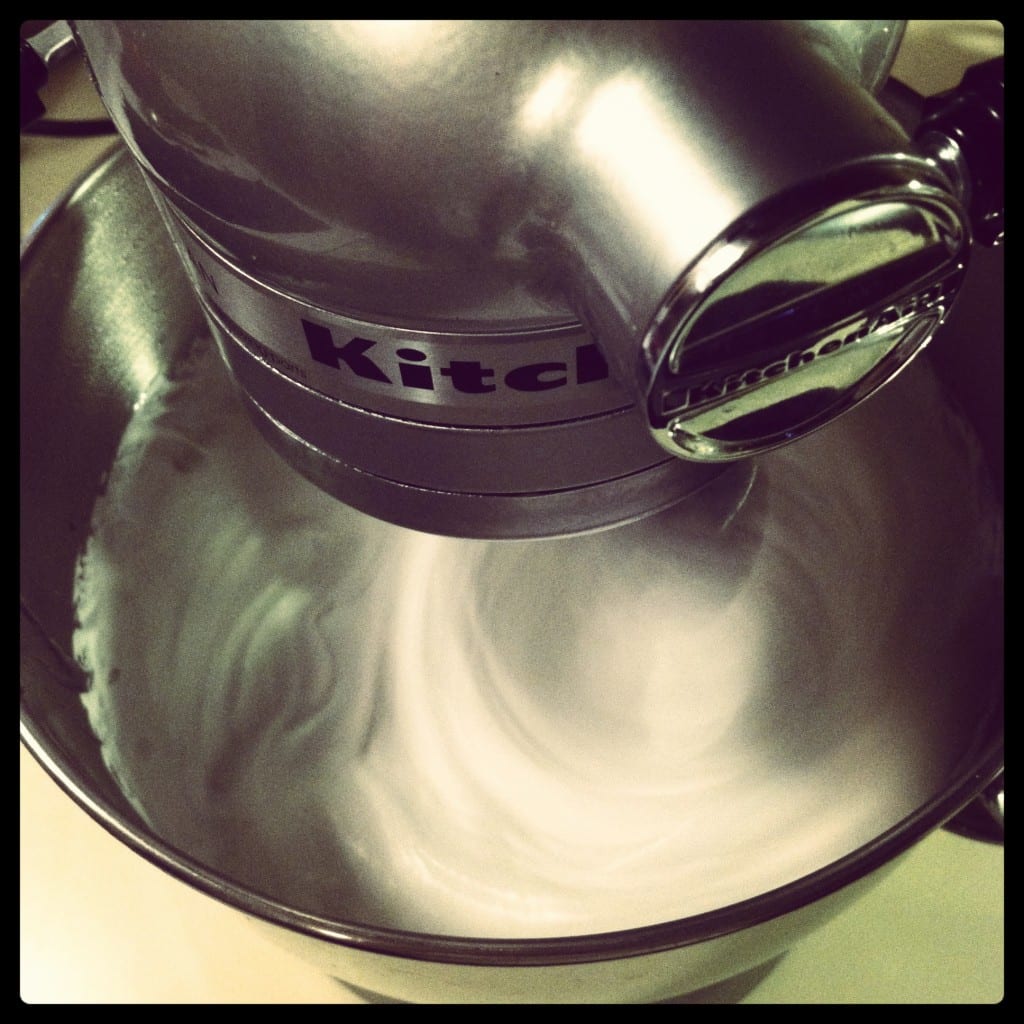 Feel the bottom of the mixing bowl with your hand. The mixture should be warm but not too hot: just warm to the touch. Add the chocolate chips once the mixture has cooled slightly, so as not to melt the chocolate. If you aren't sure if it is cool enough, wait another five minutes.
Scrape the marshmallow mixture into the prepared pan using a slightly wet spatula. Smooth the top. Dust the top with powdered sugar. Let sit uncovered and refrigerated overnight.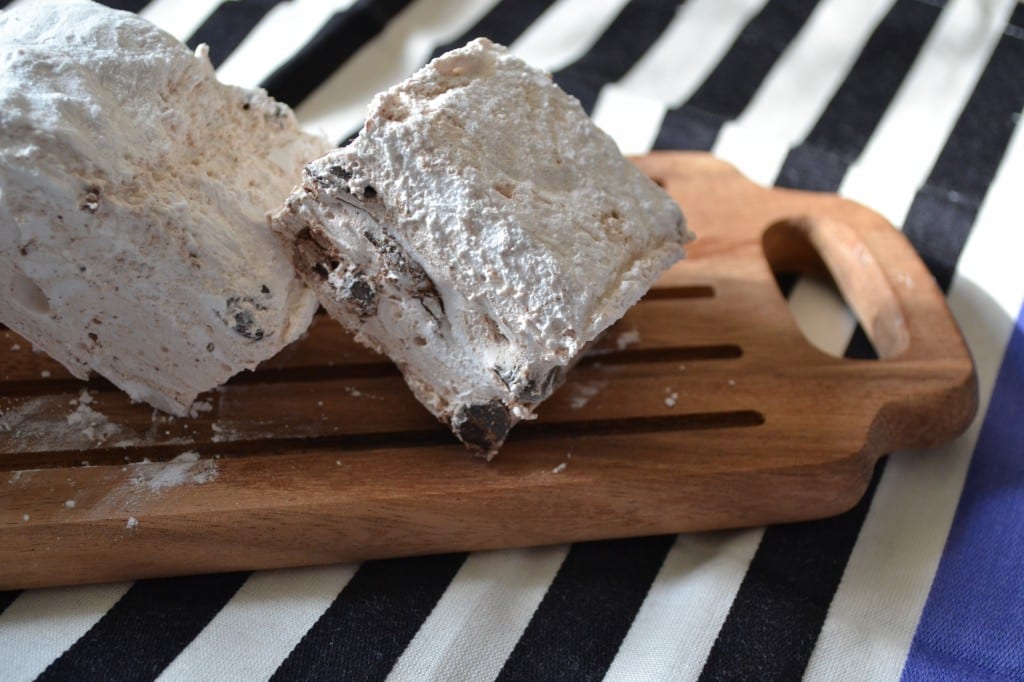 Dust a cutting board with more powdered sugar, use a wet butter knife to scrape out the marshmallow block. Cut the marshmallow into 16 large squares or 24 medium cubes. Lightly dust each with powdered sugar. Store wrapped in parchment or wax paper for up to two weeks.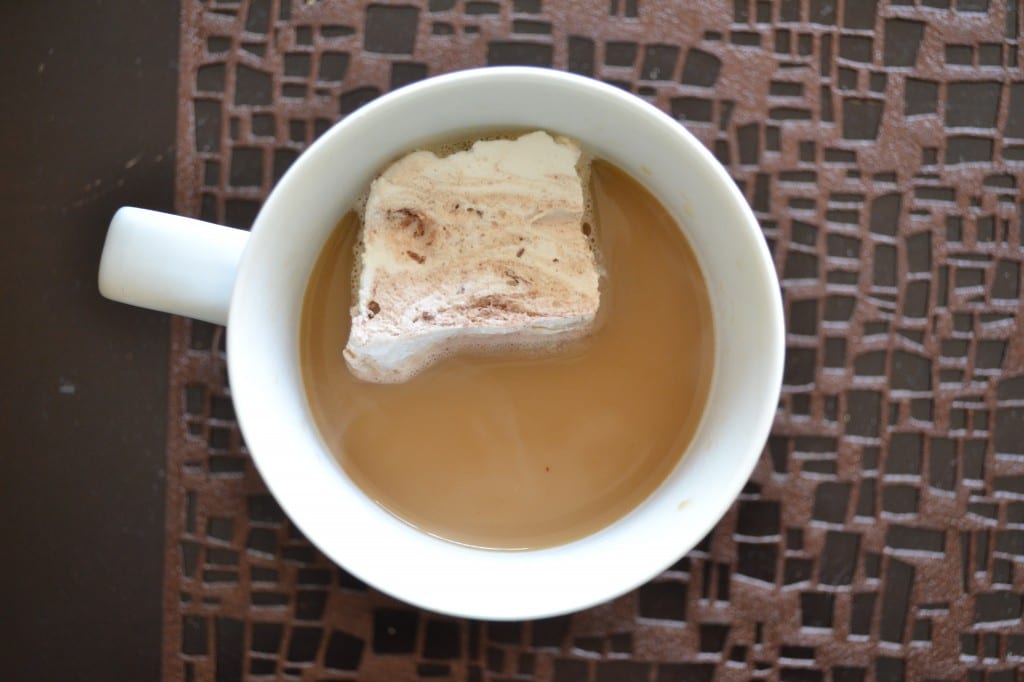 Enjoy these bad boys in a weeknight S'mores treat or in a cup of coffee in the morning.
recipe adapted from Joy the Baker's cookbook
Related posts: