BLAT salad or more precisely a bacon, lettuce, avocado, and tomato salad. The fatty bacon and avocado make this salad way more filling and satisfying than a regular old dinner salad. The dressing packs the perfect punch of citrus to cut through the bacon and avocado. Make your weekday dinner salad or lunch salad great again!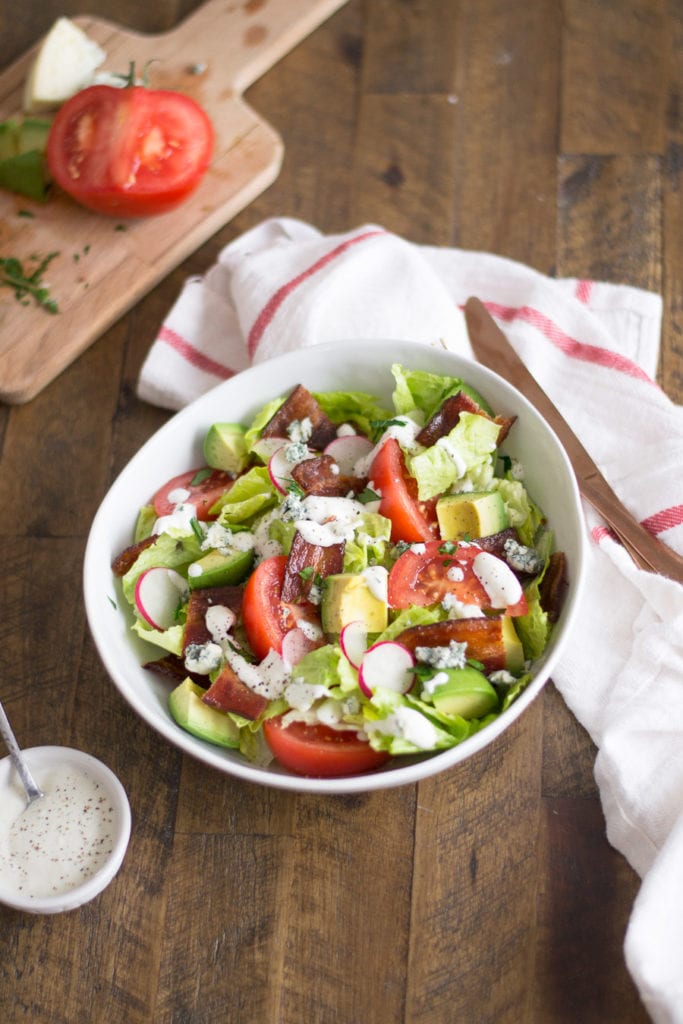 The BLAT salad is my attempt to be carb-free at lunch time. My in-laws are all going carb-free, so why not jump in on the bandwagon? I bandwagon only at lunchtime because of things like toast and bagels for breakfast and pasta and pizza for dinner.
I mean, I have my limits.
This carb-free lunch, aside from Jimmy John sandwich days, started with these turkey and cream cheese lettuce wraps. I also got hooked on BLT lettuce wraps a while ago. Hmmm…maybe I need to bring that one back into rotation?
It actually isn't that hard to not eat carbs for one meal. I wasn't doing it as a diet or anything, just a way to curb a food group I saw myself enjoying a bit too often. I will every now and then scale way back on dairy too. Just little tweaks I make here and there to try to keep some semblance of a balanced diet.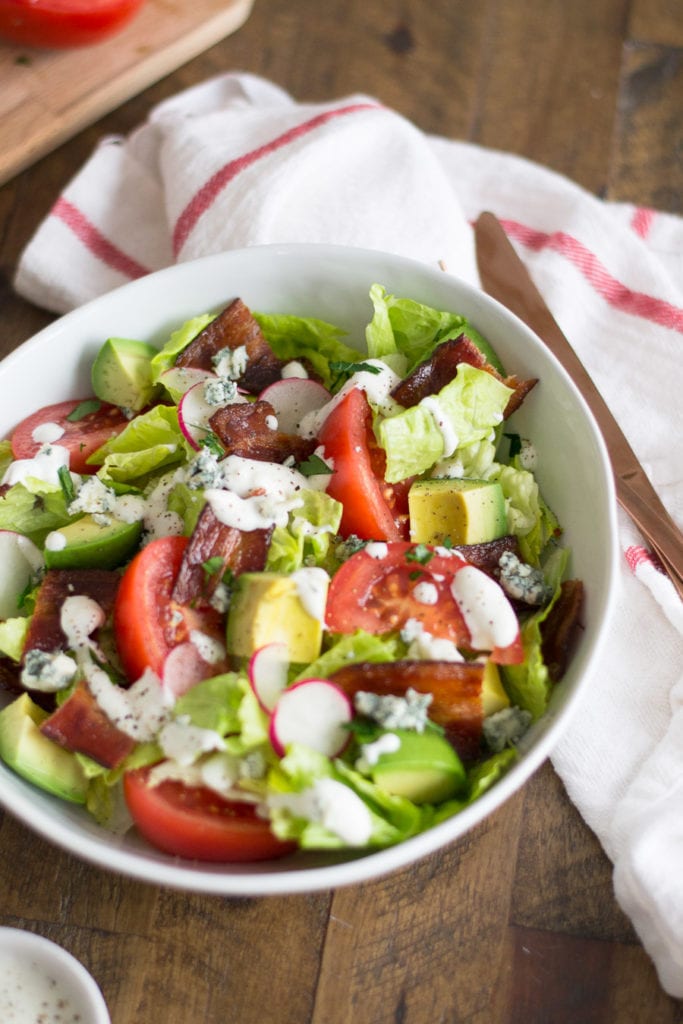 Instead of attempting a lettuce wrap, I threw everything into a big bowl. It is just easier and I suck at styling lettuce wraps, to be perfectly honest.
BLAT salad was also my idea of what to bring to the holiday table this weekend. My family would go crazy for a big bowl of BLAT. I also included the recipe for my favorite, secret ingredient blue cheese dressing. The dressing knocks this salad out of the park!
If you are looking for more traditional Easter side dishes, feel free to scan the list here. I highly recommend my Grandfather's sauerkraut or Mom's mashed potatoes. Both of those recipes will be center stage at our table this weekend.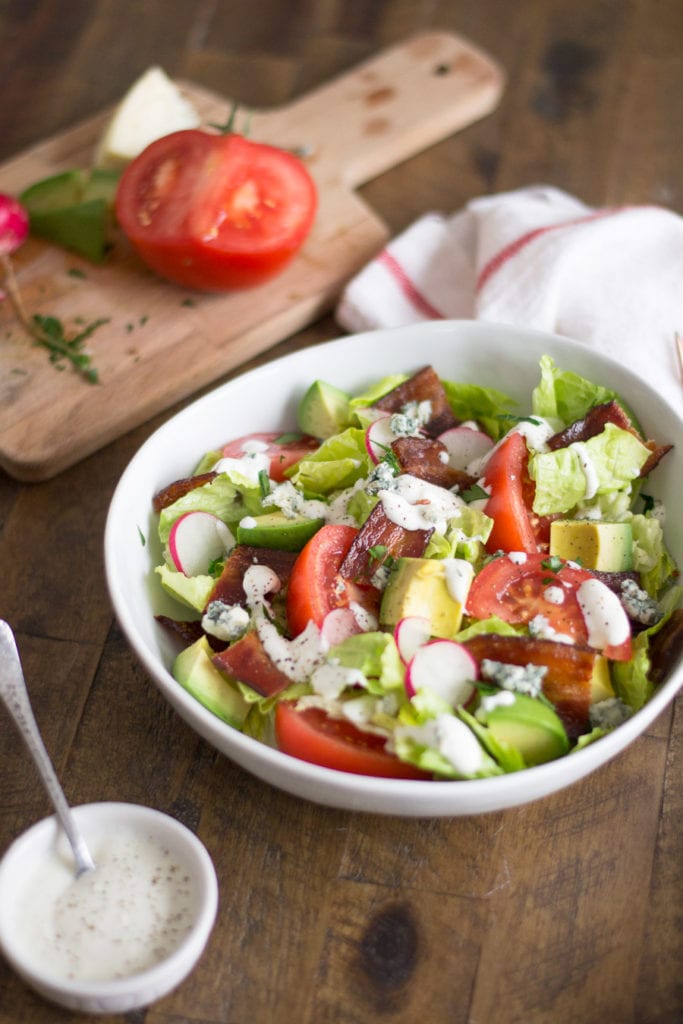 For me, as per usual, it's all about the sides at the dinner table, starting with a good salad.
Ham, who???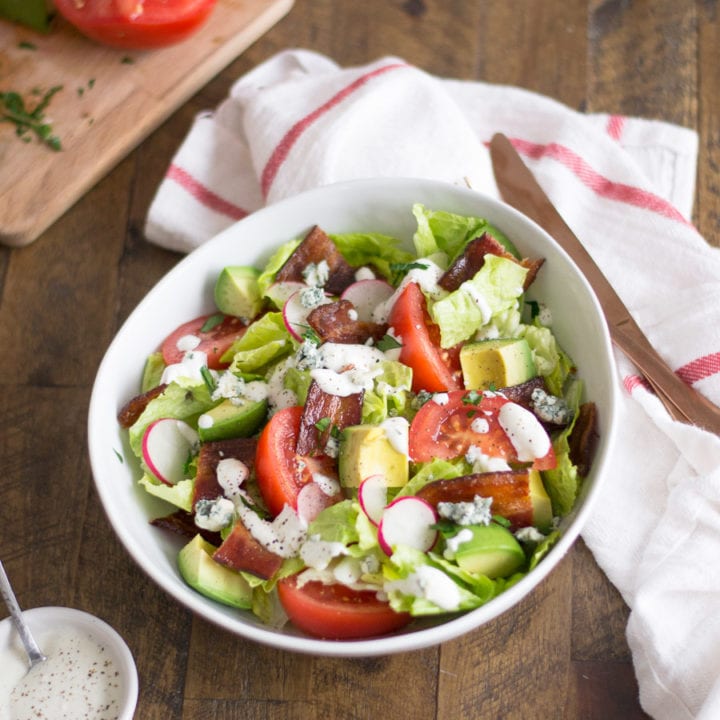 BLAT Salad
Bacon, lettuce, tomato, and avocado tossed together and finished off with the best ever homemade blue cheese dressing.
Ingredients
8 slices center-cut bacon
2 large heads of romaine, chopped
2 avocados, pitted, peeled, and cubed
2 hot house or roma tomatoes, sliced into wedges
1/4 cup crumbled blue cheese
FOR THE DRESSING:
1/2 tsp lemon juice
1/4 tsp Worcestershire
1/2 cup crumbled blue cheese
1 tbsp sour cream
1 -2 tbsp heavy cream
1/2 tsp salt
1/4 tsp black pepper
Instructions
Preheat the oven to 375 degrees F. Line a large baking sheet with foil. Arrange the bacon strips on the foil. Bake for 15 minutes until crispy. Once cooked crisp, remove from pan and transfer to a paper towel lined plate to drain off excess oil.
While the bacon is cooking, make the dressing. Combine all the ingredients in a food processor. Start with 1 tbsp heavy cream. Blend until mostly smooth, scraping down the sides as needed. add another 1/2 or whole tbsp of heavy cream if you want a thinner dressing.
Add the lettuce to a large serving bowl. Top the lettuce with the avocado and tomato wedges.
Cut the bacon into 1/2 inch pieces. Add them to the salad. Top with as much blue cheese dressing as you like. Add crumbled blue cheese to the top of the salad with an extra twist or two of freshly cracked black pepper.
Toss salad and then serve.