Who doesn't love a quick lunch? Whip up a batch of this New York-style scallion cream cheese and be transported right to the bagel shops of New York. The cream cheese is key in making my favorite quick lunch, New York-style scallion cream cheese and turkey lettuce wraps. Great for a lunch on the go or for somebody watching their carb intake.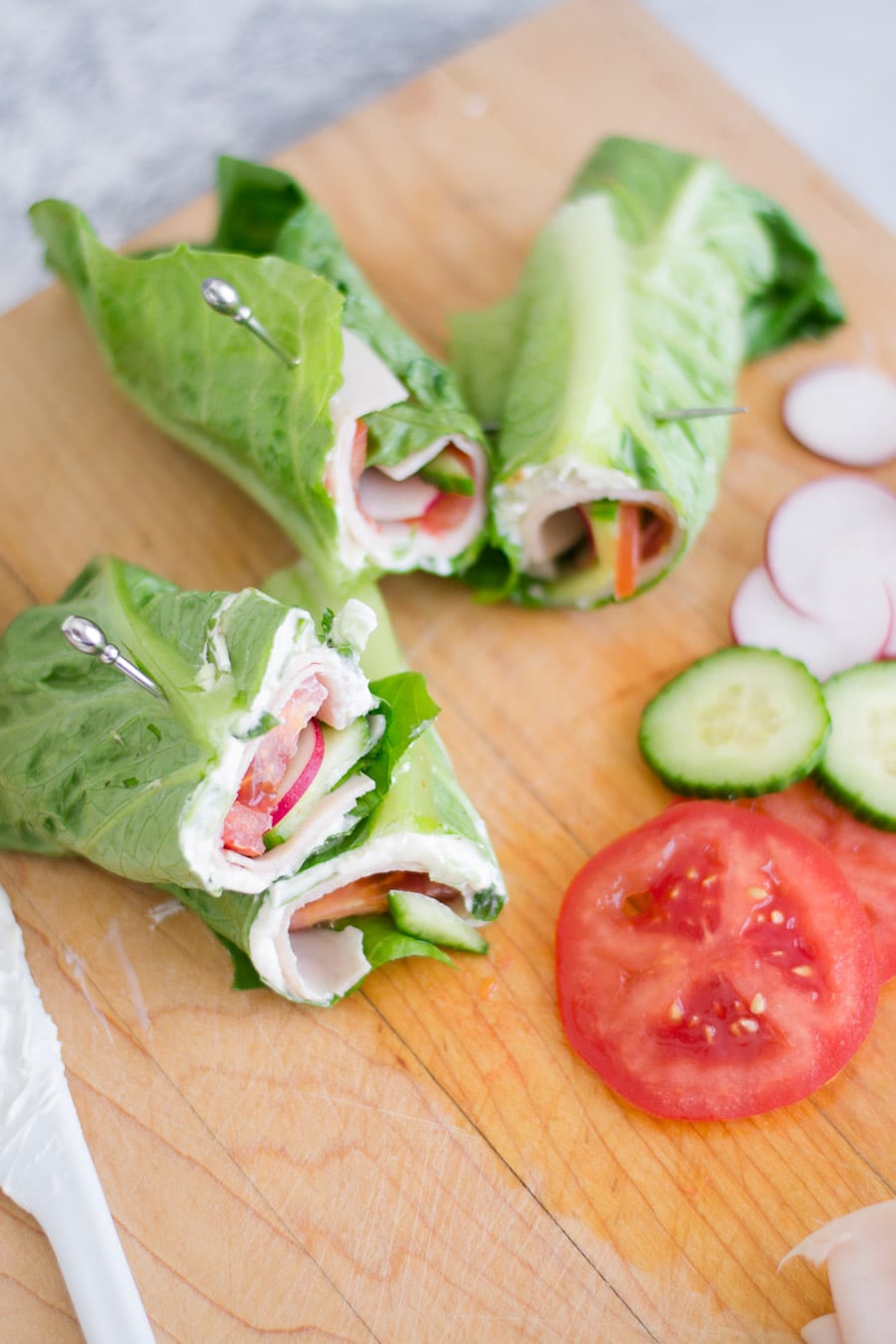 Last month when I was in New York, I ate some of the most amazing and beautiful things I have ever eaten in my entire life. The thing that stuck with me was the cream cheese. There was something different about it. Better.
But don't let all my New Yorker friends know that, their egos are big as is. Kidding! Kidding!
I have made my own herbed cream cheese before. I even made Shutterbean's veggie cream cheese. Both are so good, but still didn't compare with the cream cheese I had in New York.
There is still just something better about New York-style bagel shop cream cheese.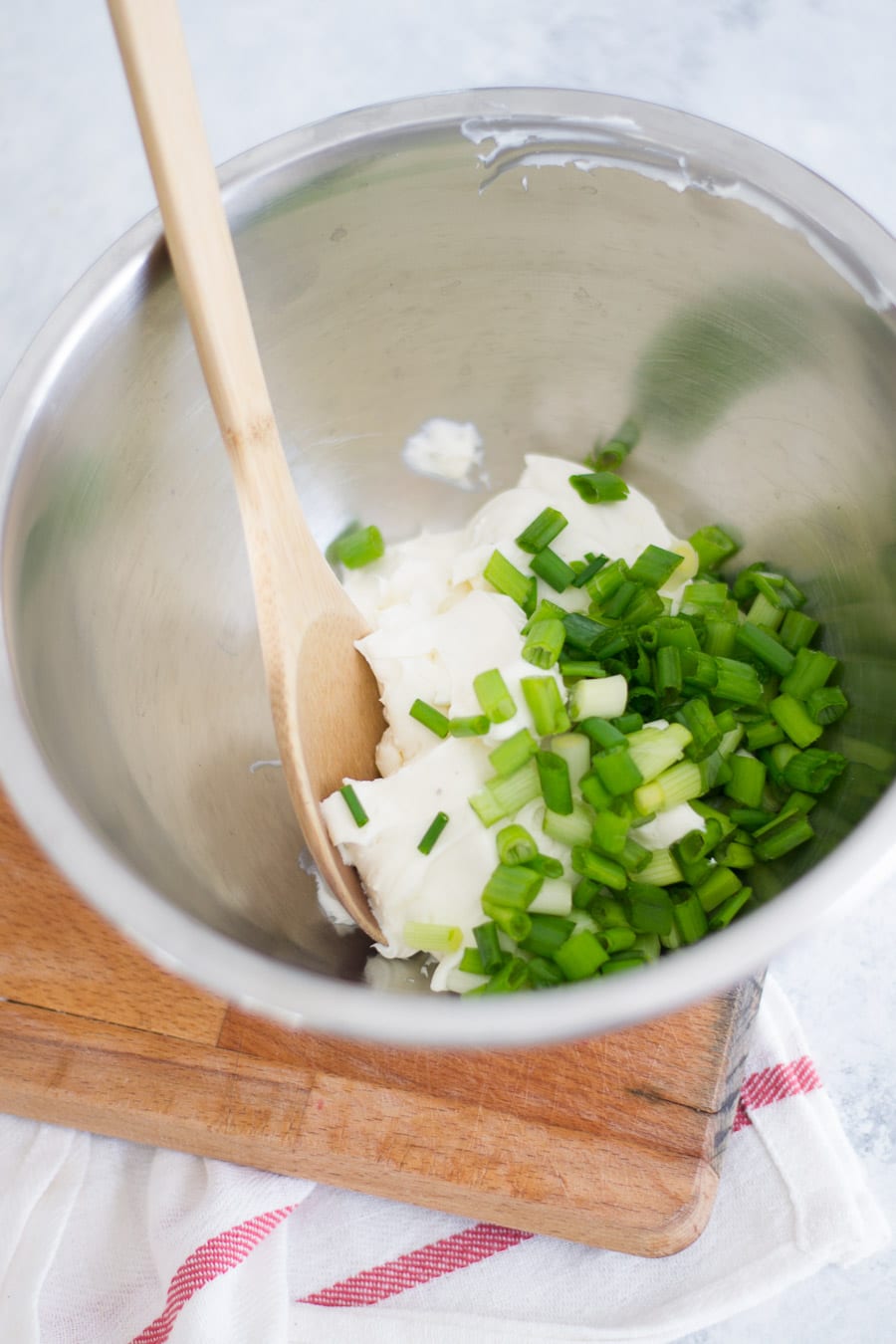 I did a little digging around the interwebs and found out that first and foremost New Yorkers have A LOT of opinions about bagels. Secondly, in order to get that fluffier loftier cream cheese, you need to whip it together with a little sour cream or heavy cream.
Genius!
Around lunch time I try to cut back on carbs. I usually either do a quick mixed green salad or wrap up some veggies in a big leaf of romaine. I may be cutting back on carbs, but that cream cheese was calling to me!
To make the New York-style scallion cream cheese, I mixed together a bunch of chopped green onions with the whipped cream cheese and heavy cream mixture. It was so easy. I had it on hand for toast with sliced tomatoes every morning.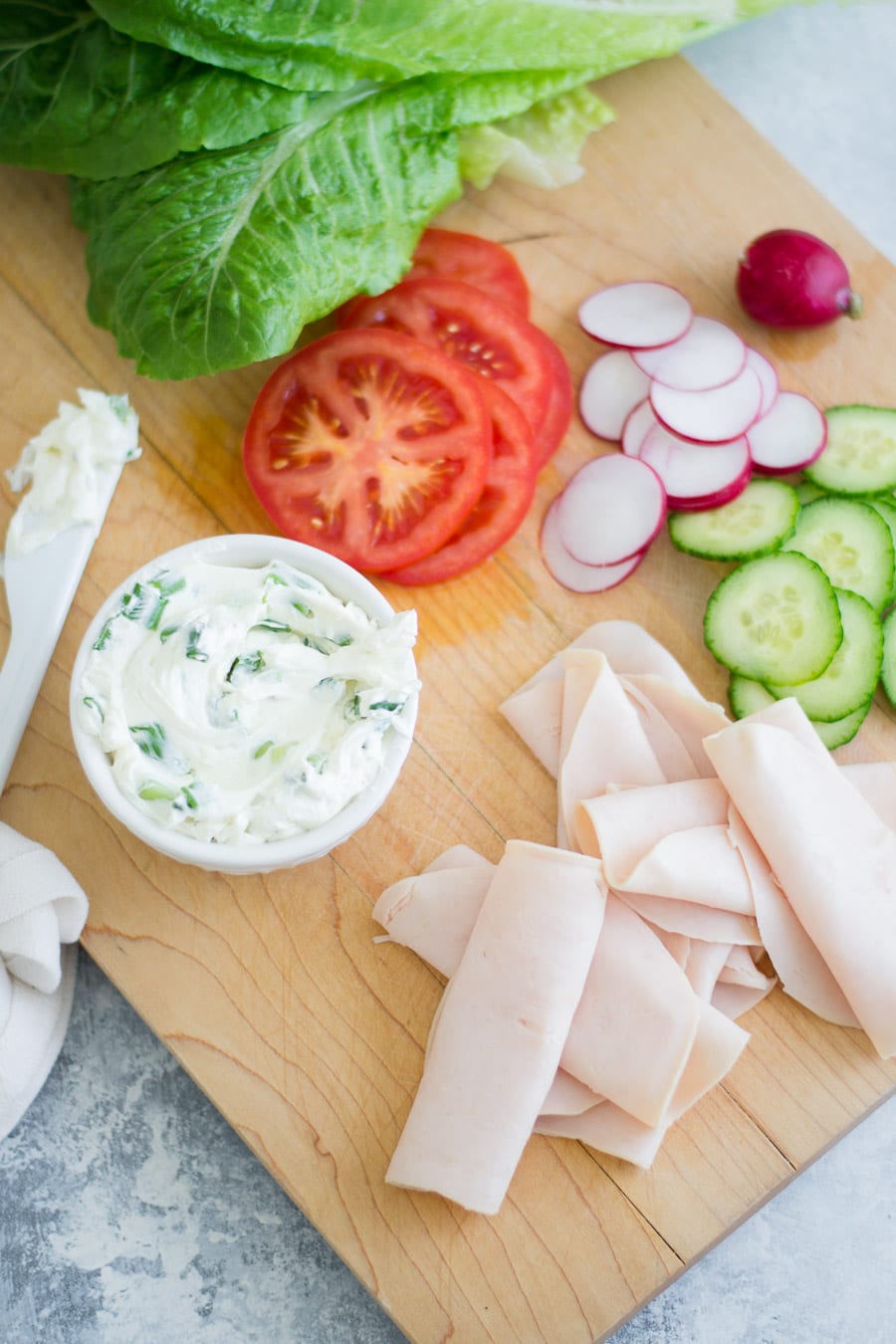 For lunch I spread the cream cheese on romaine and rolled it together with some turkey, thinly sliced cucumber, tomato, and radishes. The really good thing is that I prepped a few wraps the day before, wrapped them in plastic wrap, kept them in the fridge, and they were still great the next day!
I wouldn't advise making them more than a day in advance, they will get wilty and watery. But, day before is just fine.
See below for the recipe for the New York-style scallion cream cheese and the New York-style scallion cream cheese and turkey lettuce wraps. Report back with what interesting ways you are eating and loving that cream cheese, friends!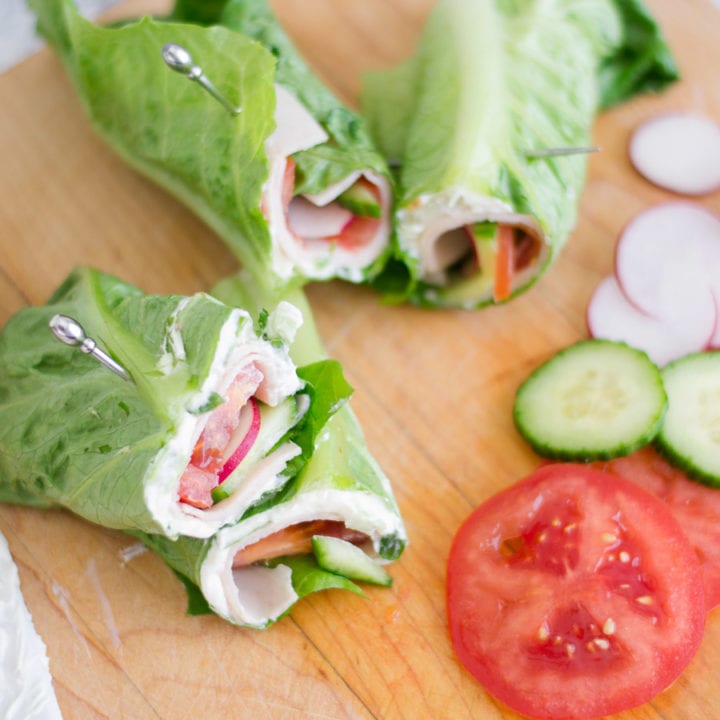 New York-Style Scallion Cream Cheese and Turkey Lettuce Wraps
Yield: 4 wraps

Prep Time: 10 minutes

Total Time: 10 minutes

A crisp romaine lettuce leaf topped with New York-style scallion cream cheese, deli turkey, sliced tomatoes, cucumbers, and radishes.
Ingredients
1/2 cup New York-style scallion cream cheese
4 large leaves of romaine lettuce
8oz sliced deli turkey meat
12 thin slices of seedless cucumber
8 thin slices of Roma tomato
2 radishes, thinly sliced
Instructions
Wash and pat dry the lettuce leaves. Use a spoon to transfer about 2 tbsp of cream cheese to each lettuce leaf.
Use the back of the spoon to carefully spread the cream cheese over the center of the leaf.
Top each leaf with about 2 oz of turkey, 3 slices of cucumber, 2 slices of tomato, and 3 radish slices.
Fold in the shorter sides to the center and then roll the longer ends toward each other. You may need a toothpick to hold them in place if you are packing them for lunch.
New York-Style Scallion Cream Cheese
Yield: 10oz cream cheese

Prep Time: 5 minutes

Total Time: 5 minutes

Whipped cream cheese and heavy cream with lots of green onions folded into it.
Ingredients
3 green onions, whites and greens, chopped
8oz cream cheese, at room temperature
1/4 cup heavy cream or sour cream
tiny pinch of salt and pepper
Instructions
Add the cream cheese to an electric stand mixer fitted with the paddle attachment. Beat on medium/high until fluffy and light. Scrape down the sides.
Add the heavy cream and mix on medium until light and fluffy, about 3 minutes.
Fold the green onions and salt and pepper into the mixture.
Notes
Lasts about a week in a sealed container in the refrigerator. Tastes great on turkey wraps, bagels, or toast with tomato slices and everything bagel seasoning.