Leftover Easter eggs: we all have them, right? Instead of eating one plain, everyday for the next week, make this leftover Easter egg potato salad. Simply steamed potatoes, hard-boiled gees, herbs, celery, two types of onion, dill pickle, and horseradish highlight this spectacular salad. You'll never be mad about having tons of leftover eggs again.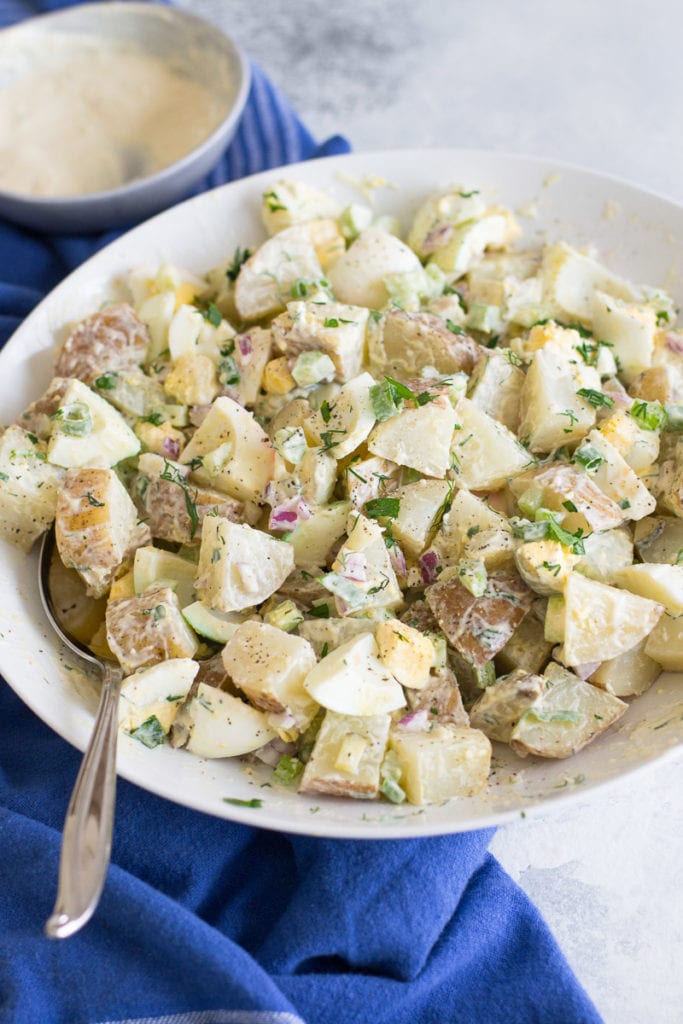 The holiday weekend came and went. All my days are messed up since last week we had two Fridays and what felt like two Sundays. On Saturday, Jack decided to wake up during the night a few times. That really helped the easter Bunny get her job done.
In between each wake up, I remember laying in bed praying, "Jesus, I know you have a lot going on right now, coming back to life and all, but if you could just give me a solid three hours, I swear I can get through tomorrow and be a semi-decent human. Amen."
I think I got a solid three, at least. There were still a few wake-ups after that though. Parent-life. It never does go as you think it should.
Another joyous part of parenting is living with kids that loooooove to color Easter eggs and then refuse to eat them. Andy didn't like that the whites of the eggs were colored. I mean, that is a smack-yourself-in-the-forehead moment right there.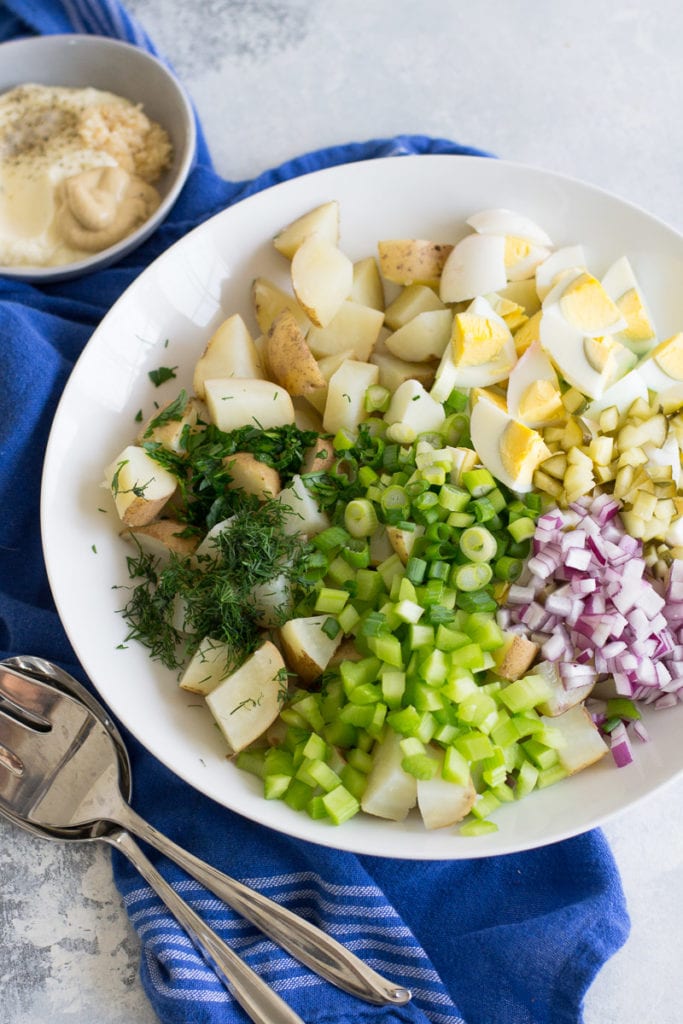 Am I right?
Mike and I are now eating all the Easter eggs. Two dozen to be exact.
You know I like a good jammy egg like the next person, but hard-boiled is not my jam. I usually last a good 4 days then get sick of that chalky, yellow yolk. For the past few years, this classic potato salad has been my jam. It is easy and uses up a good portion of eggs.
I needed more out of my leftover Easter egg potato salad, so I added in celery, a little dill pickle, two different kinds of onions, and a big kick of horseradish.
This is the leftover Easter egg potato salad we all need right now to get us out of that rut of eating a million boring, salt, and pepper topped hard-boiled eggs.
I love this salad for a quick lunch or as a side for a leftover Easter ham slider. PS Don't skip the slider recipe either.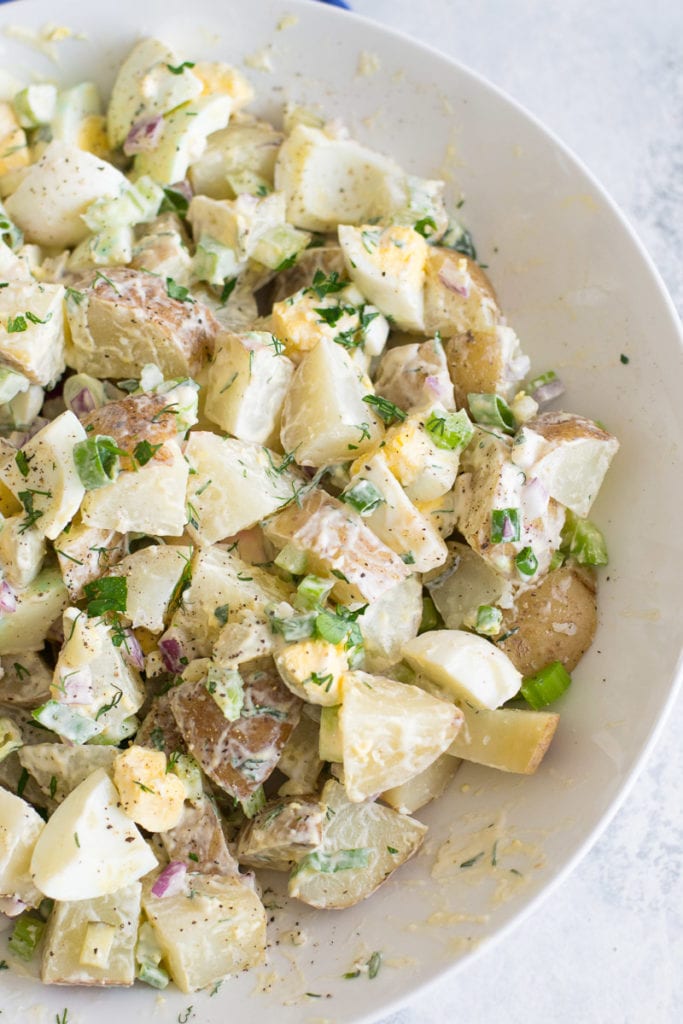 Virtually cheers-ing you with my second hard-boiled egg of the week.
Solidarity, friends.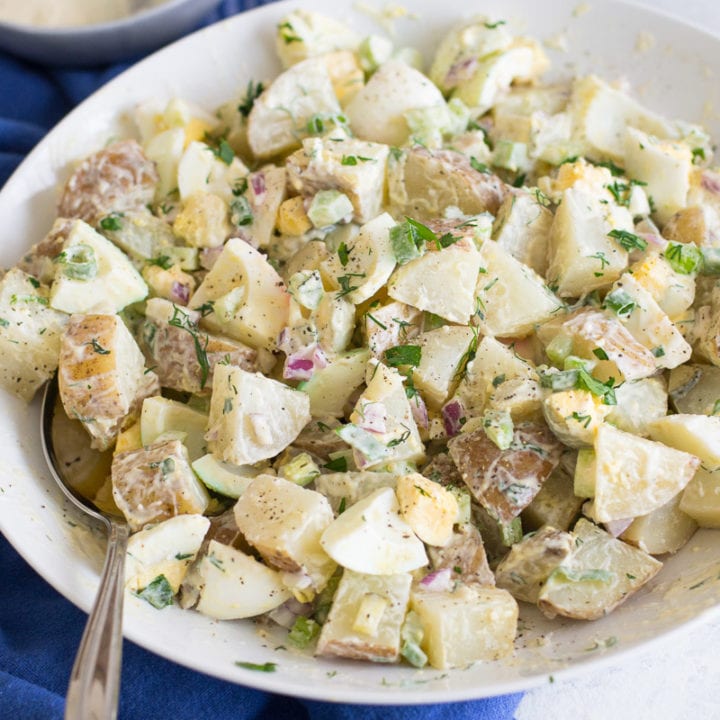 Leftover Easter Egg Potato Salad
Time to Come to Pressure:
5 minutes
Leftover Hard-Boiled Easter Eggs tossed together with Instant Pot steamed potatoes and some fresh herbs, minced dill pickle, onions, celery, and a creamy horseradish-mustard-mayo sauce.
Ingredients
6 large hard-boiled eggs*
4 large russet potatoes, each cut into 6 wedges length-wise
1/4 cup finely diced red onion
1 celery stalk, diced
2 green onions, whites and greens chopped
2 tbsp minced dill pickle
1 tsp chopped fresh dill
1 tsp chopped fresh Italian flat-leaf parsley
1 tsp salt
1/4 tsp black pepper
1/3 cup mayonnaise
1 heaping tsp prepared grated horseradish
1 heaping tsp dijon mustard
Instructions
Add one cup of water to your Instant Pot. Insert the steam trivet. Stack potatoes on top of trivet, careful not to let any touch the water. Secure the lid with the steam vent sealed. Press Pressure Cook. Use the "+/-" button to adjust the time until the display reads 9 minutes.
While the potatoes steam, prepare your ingredients. Peel and cut the hard-boiled eggs into 4-6 pieces each. Add the chopped eggs along with the red onion, celery, green onion, pickle, dill and parsley to a medium mixing bowl.
When the timer sounds on the Instant Pot, quick release the pressure. Remove the lid and carefully transfer the potato wedges to a cutting board to cool slightly.
While the potatoes cool, mix together the mayo, horseradish, mustard, salt, and pepper in a small mixing bowl.
Once the potatoes are cool to the touch, cut each wedge into 4-5 smaller bite-sized pieces. Add the cut potato wedges to the bowl.
Add the mayo mixture to the bowl, fold to combine. Add more salt and pepper to taste.
Notes
*If you are out of hard-boiled eggs, fret not. Add 4-6 large eggs to your Instant Pot along with the potato wedges. Steam for the same amount of time. That way you can cook the eggs and potatoes at once. You should place the eggs into an ice water bath until they cool or in the fridge for at least an hour to cool or up to a day in advance before slicing.
*You can prep the eggs and potatoes a day or two in advance and keep them in the fridge until you are ready to make the salad.
STOVETOP METHOD: Fill a large pot with water, add wedges to pot. Bring to a boil over medium high heat. Once a fork sticks into the potato easily and the potato falls free on its' own, it is cooked. That should take about 9-10 minutes from start to rapid boil. Drain and allow potatoes to cool before slicing.