Cold Thai cucumber noodle salad is light, spicy, and majorly crunchy. Spiralized cucumber "noodles", cabbage, and green onions tossed with a light, spicy, peanut butter dressing. Cold Thai cucumber noodle salad is perfect for these last days of summer.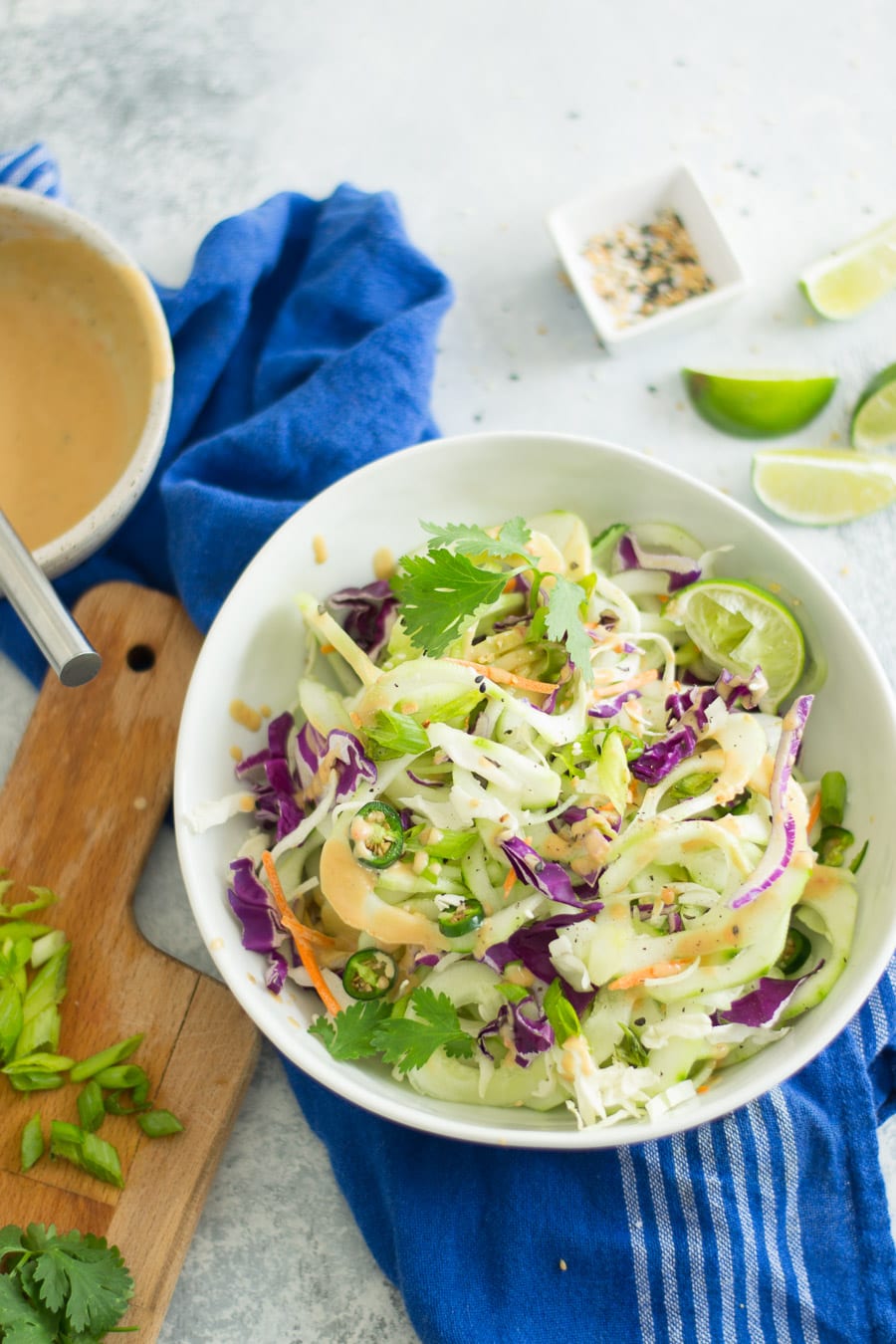 Nothing is over until we decide it is! Summer forever. Or at least for two more weeks. Am I right? Let's soak up all the sun and summer bounty before everything dies, including part of our Midwestern winter souls.
According to my summer Grinch of a father, summer is over—or he just got really sick of the cucumber plants taking over the garden and ripped them all out of the ground. RIP Audrey II, the cucumber version. You served us well.
Before my dad's act of rage, I was able to knock out a new favorite salad. Cold Thai cucumber noodles salad is made with spiralized cucumbers.
Sorry to those of you who thought there were really carb-loaded noodles in this salad.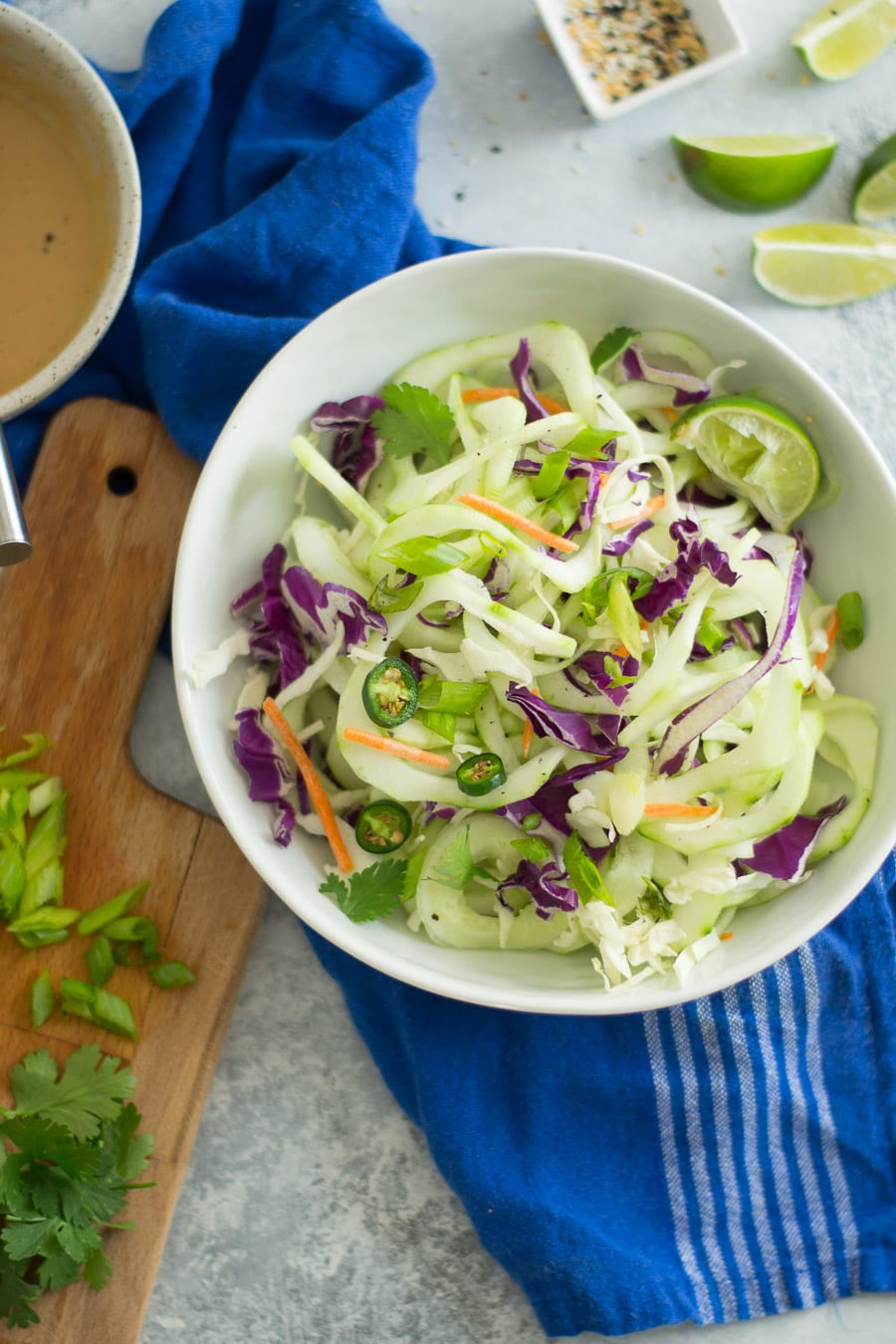 I can understand your disappointment. I often times stare into the abyss of a marinara topped bowl of zucchini noodles and wish they were regular noodles. I know switching out a vegetable for a carb is always a good choice. It just isn't the same.
But this is a salad! This is where vegetables actually belong, so quit your bellyaching!
Cold cucumber "noodles" tossed with cabbage, some green onions and a light, slightly spicy, peanut salad dressing. The crunch in this salad is out of this world. Give me something with a good crunch and I can munch forever. Truly.
The trick to spiralizing the cucumber is to partly peel it and then stop spiralizing the cucumber when you start to get seeds. Nobody wants a long strand of seeds in their salad. Trust me. Use kitchen shears to trim the noodles. Some slurping is ok but when the "noodle" is super long, it is just annoying.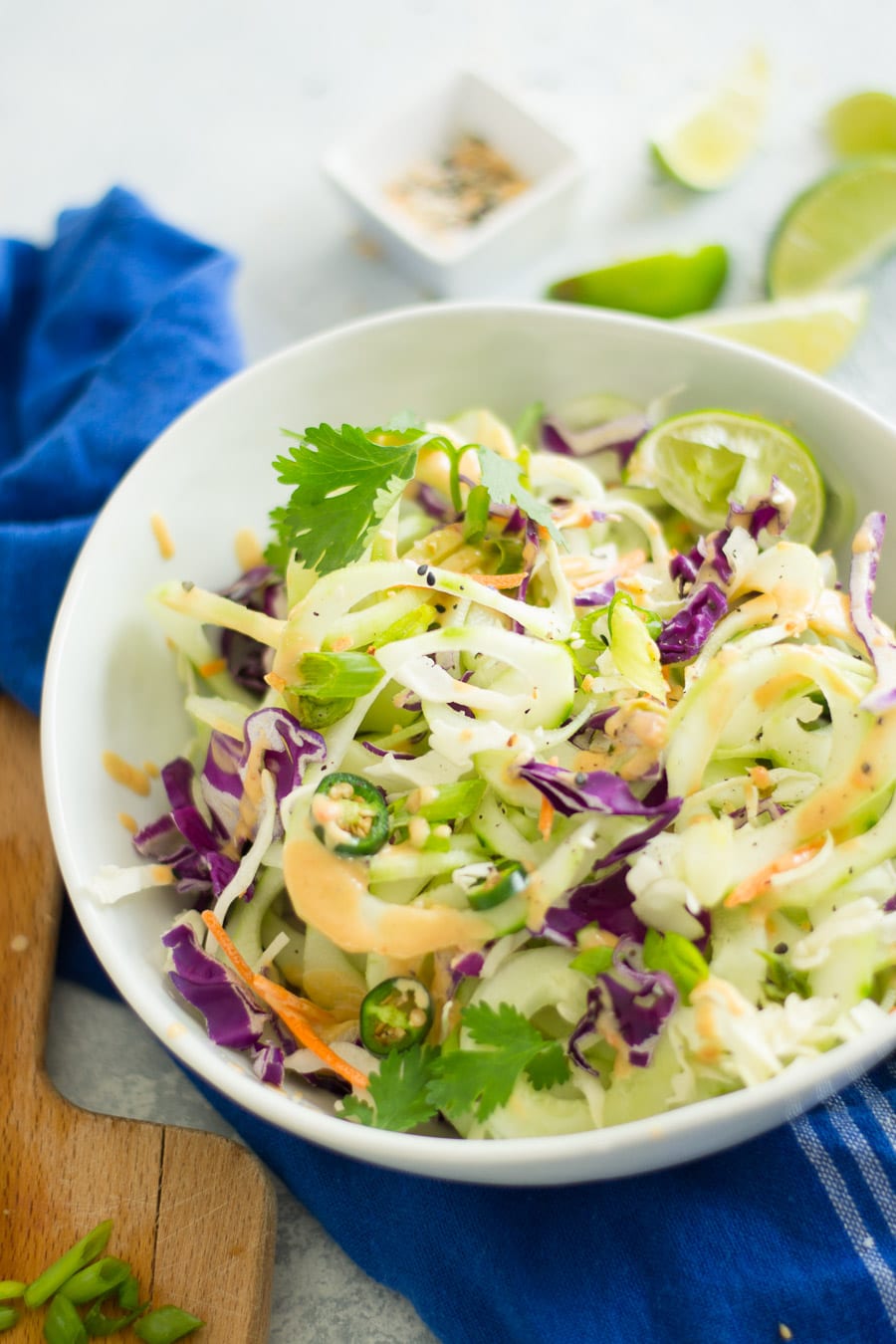 I am a dummy.
While I was photographing this I forgot to add a crucial topping: chopped peanuts!!! Cold Thai cucumber noodle salad is still good without the peanuts, but that extra level of crunch is kinda nice.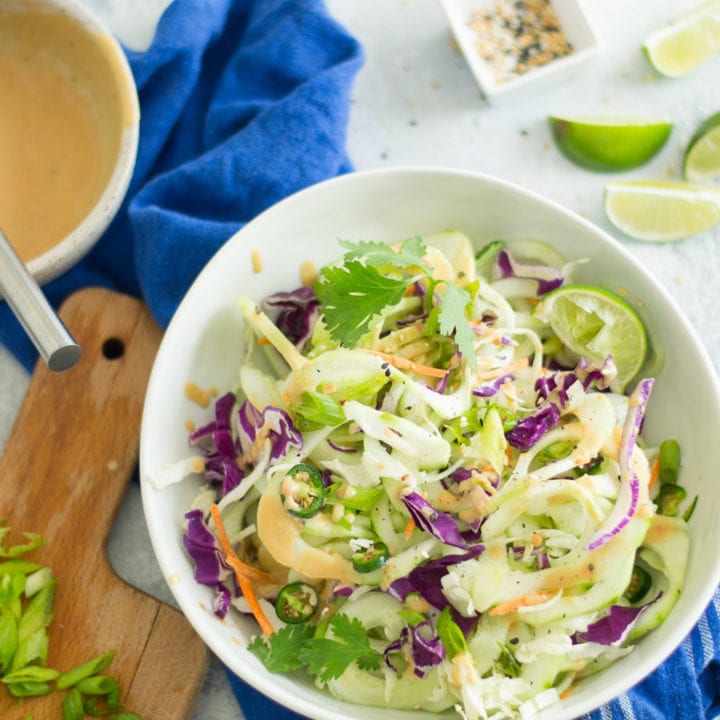 Cold Thai Cucumber Noodle Salad
Yield:
1 large salad or 2 small salads
Spiralized cold cucumber "noodles" , cabbage, and green onions tossed in a light peanut vinaigrette.
Ingredients
for the vinaigrette:
1 tbsp creamy natural peanut butter, melted
1 tsp water
1 tsp apple cider vinegar
1/2 tsp chili sauce
1/4 tsp sesame oil
1/4 tsp soy sauce or coconut aminos
1/4 tso salt
1/4 tsp pepper
for the salad:
2 cucumbers, partially peeled in stripes
1 cup coleslaw mix
2 green onions, chopped
1 jalapeño or Thai chile pepper, thinly sliced
1 tbsp fresh chopped cilantro
2 tbsp chopped peanuts
1/2 tsp sesame seeds
2 lime wedges
Instructions
Trim off the ends of the cucumbers. peel the skin off the cucumbers in stripes. Use a spiralizer on the second widest setting to spiralize the cucumbers into "noodles."
In a small mixing bowl, whisk together the peanut butter and water. Once combined, whisk in the vinegar, chili sauce, sesame oil, soy sauce, salt and pepper. Taste and adjust salt and pepper to taste.
Add the cucumber noodles, cabbage, pepper, and onion to a medium bowl. Lightly coat with a few tablespoons of dressing. Toss with tongs to combine.
Top with fresh cilantro, peanuts, and sesame seeds. Finish with a squeeze of fresh lime juice.
Recommended Products
As an Amazon Associate and member of other affiliate programs, I earn from qualifying purchases.