Bacon, beef, & pumpkin chili is perfect for a quick dinner during almost fall-like nights. Bacon, beef, & pumpkin with the usual chili suspects come together to form a super thick and comforting chili.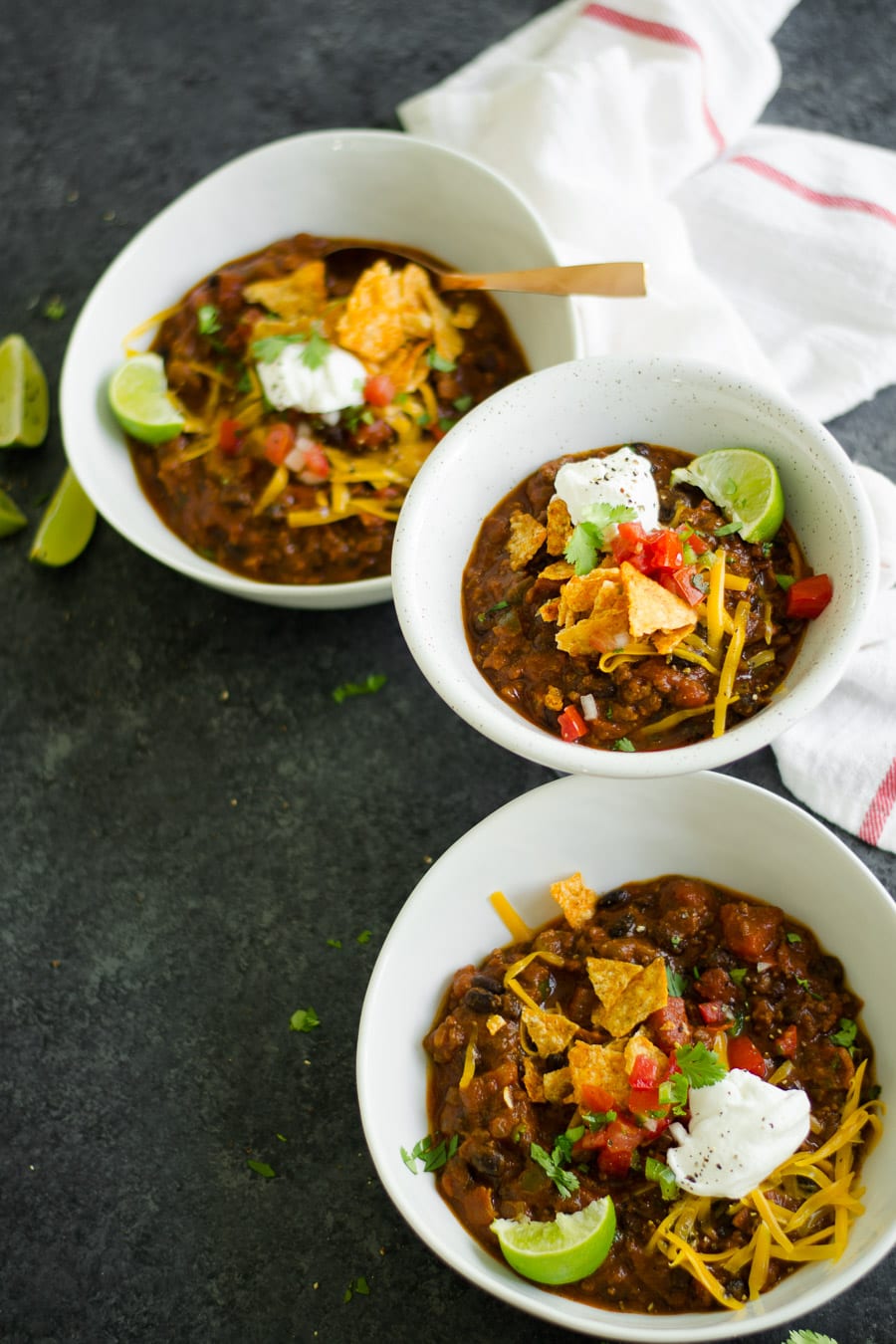 I am writing this to you tonight (which is really last night in internet blog time), under the wire. I should have written this post during Jack's nap time and Andy's quiet time, but I chose to do laundry and cleaning. Well, not really chose…it had to be done.
I guess.
I would have loved to have chosen to do a few other things, first and foremost maybe a shower, yesterday. But that's another rant for another day.
Mike and I have not seen or spoken more than a few sentences to each other all week. His schedule for the fall sort of blows. It is like we are both just roommates during this time of year.
Everyday when he gets home from work, we run down the highs and lows of the day and then, sayonara, off to bed.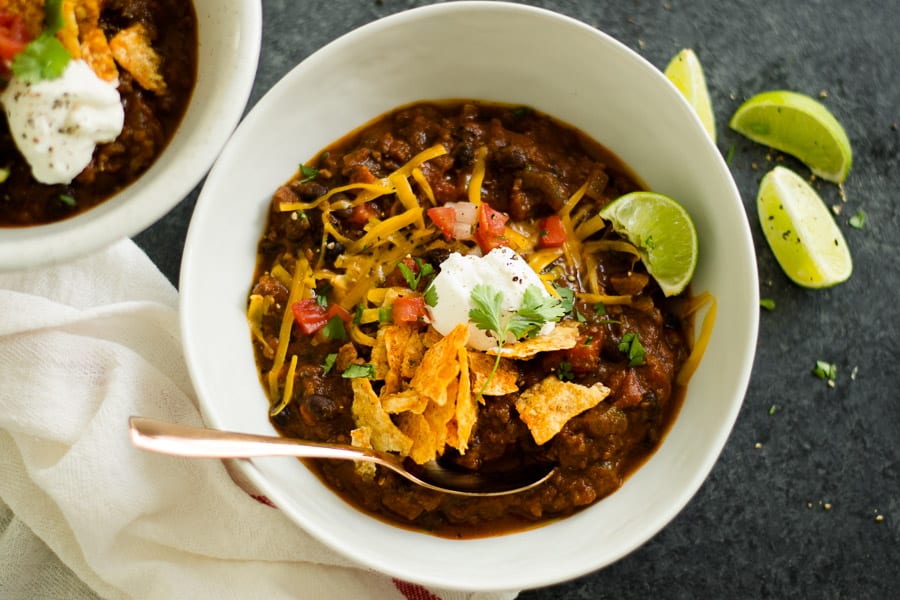 We both know it won't last long, only 8 weeks. Still it is tiresome and weighs on both of us.
Often times Mike keeps up with me and the boys' day through Instagram stories. I know he pops in occasionally, so I like to keep his morale up with more positive moments of the boys day-to-day life. You won't always see tantrum or blow-up moments on IG, but I think I do a good job of letting the viewers know, they happen.
Instagram is actually how Mike discovered there was pumpkin in one of his fave chili recipes. Oops, sorry I'm not sorry. Also, how did I not have a pumpkin chili already on the blog? I have a bunch of pumpkin pastas!
Last night, we finally decided to just hunker down at home and finally finish the last two episodes of Sharp Objects. We both read the book and rarely find a show in common these days, so when this series started, boom!
Yes, I know.
We are soooooo behind in pop culture because it ended like weeks ago. Blah, blah, blah… Honestly we are lucky if we even stay awake through the first episode.
But before all that nonsense begins, I wanted to finally share the written out version of bacon, beef, & pumpkin chili from Instagram stories a week or so back.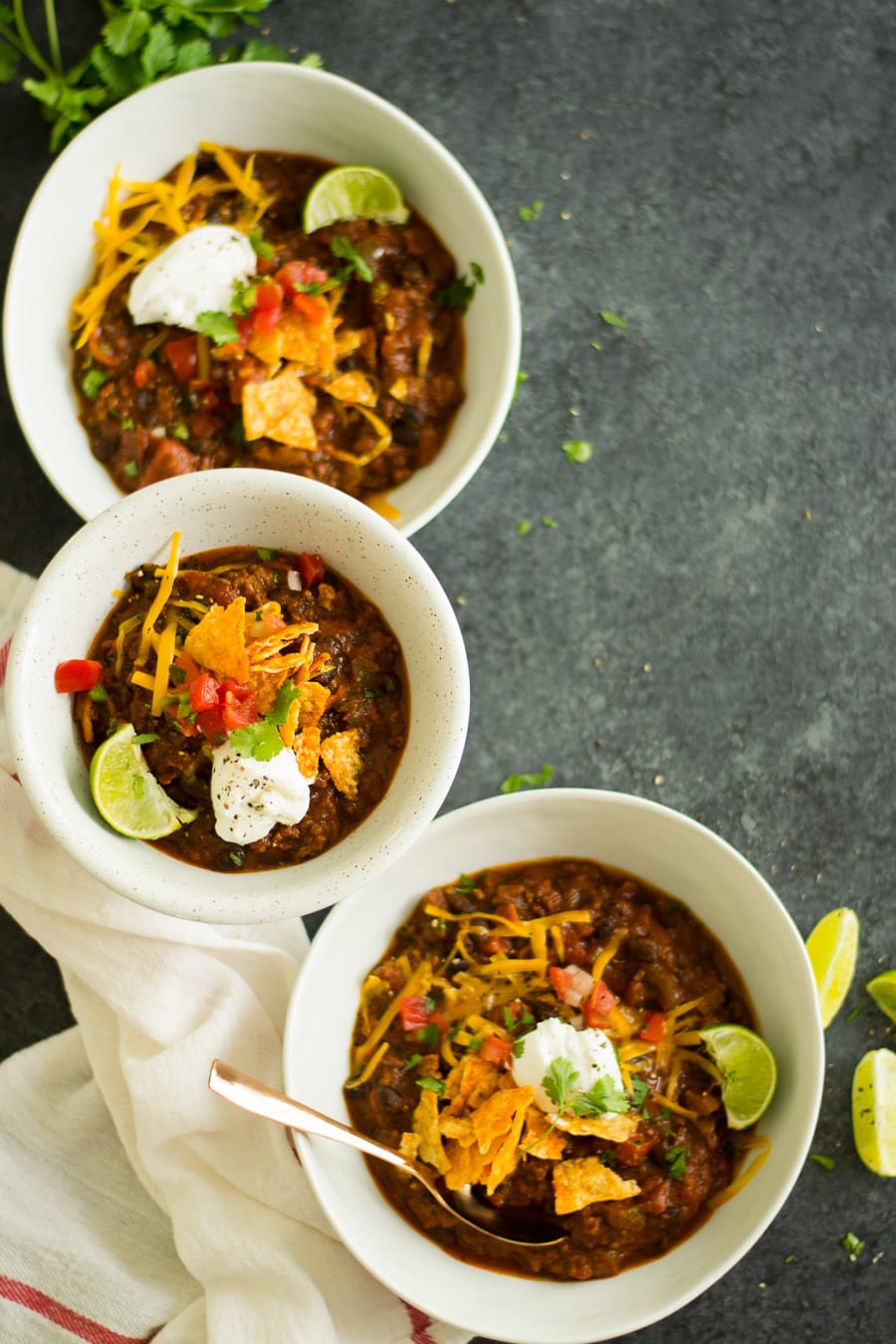 Alright, back to the battle of wills over who can stay awake longer.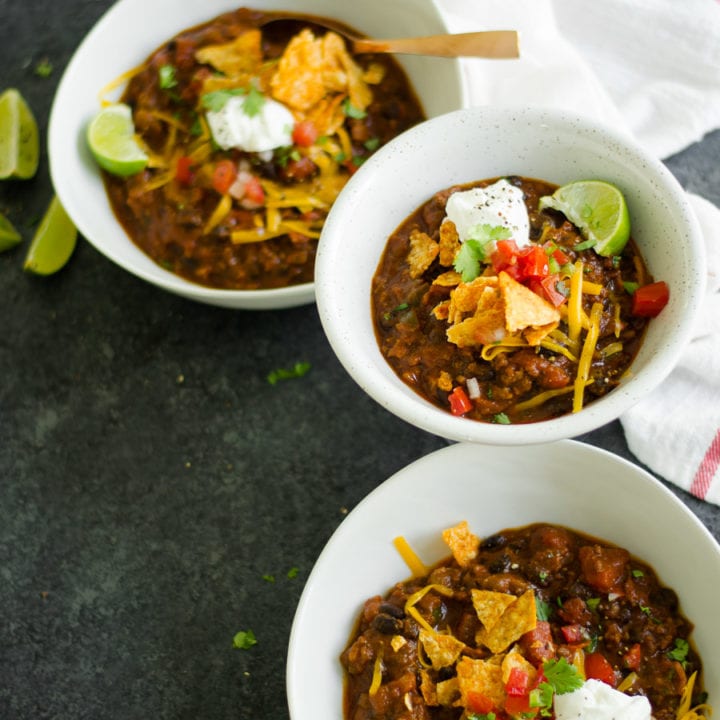 Bacon, Beef, & Pumpkin Chili
Bacon, beef, & pumpkin hearty and thick seasonal fall chili.
Ingredients
2 slices bacon, diced
1 yellow onion, diced
1 green bell pepper, diced
1 jalapeño, seeded and diced
1 lb lean ground beef
2 heaping tbsp chili powder
1 tsp ground cumin
1 tsp coriander
1/4 tsp onion powder
1/2 tsp cinnamon
1/2 tsp oregano
1/4 tsp crushed red pepper flakes
2 garlic cloves, grated
6 oz can tomato paste
1 cup canned pumpkin puree
1, 14.5oz can fire-roasted diced tomatoes
2 1/2 cups low-sodium chicken/beef stock
1, 14.5 oz can black beans, drained and rinsed
handful fresh cilantro, chopped
more salt and pepper to taste if needed
Instructions
Heat a Dutch oven over medium heat. Add bacon and cook until just about crispy, 3-5 minutes.
Add onion, bell pepper, jalapeño. Mix and sautè for 1-2 minutes.
Add beef, dry seasonings, and garlic. Cook for 5-7 minutes. Mix until well combined.
Increase heat to medium/high, add pumpkin, tomato paste. and mix. Cook for 2 minutes.
Mix in diced tomatoes, stock, and beans. Cover with a lid, reduce heat, simmer for 20 minutes.
Mix in cilantro. Taste and then add more salt and pepper to taste if needed.
Serve with cheese, sour cream, pico de gallo, and crushed tortilla chips.