The perfect way to use up those end of summer fresh tomatoes is in Instant Pot fresh tomato bolognese. Fresh tomatoes, ground pork, ground beef, garlic, and herbs all cook together in 20 minutes! Serve on top of gnocchi for a truly comforting summer meal.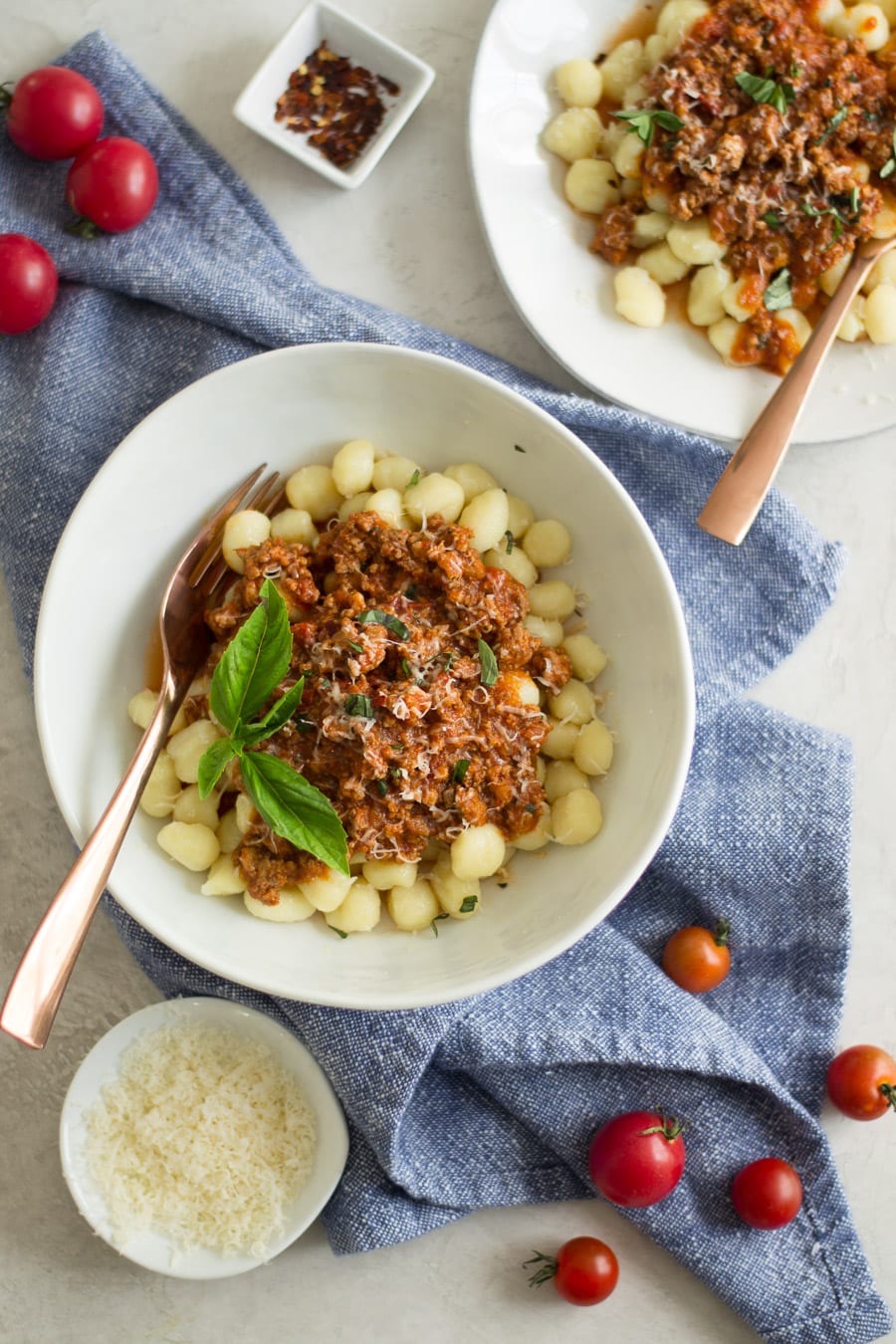 This is it guys. The last week of summer. It's official. Weather wise though, yeah, we are still in the throws of an 80-degree summer here in Illinois. Wish the calendar and Mother Nature could get on the same page.
Summer tomato season is definitely slowing down a little bit and making me all kinds of sad. I ate my weight in tomatoes this summer. Luckily, I did not turn red or into an actual tomato, even though my pale complexion probably could have used a little bit of that reddish color.
Don't laugh.
Once when I was a baby, my mom fed me all the carrot purees, because I was (and still am I am sure my mom would say) a brat. My skin started to turn slightly orange.
My skin turned back to normal. Sadly, I found out that even eating all the carrots at a young age does not help your vision. Too bad. Even though, I have to say my glasses are my favorite accessory.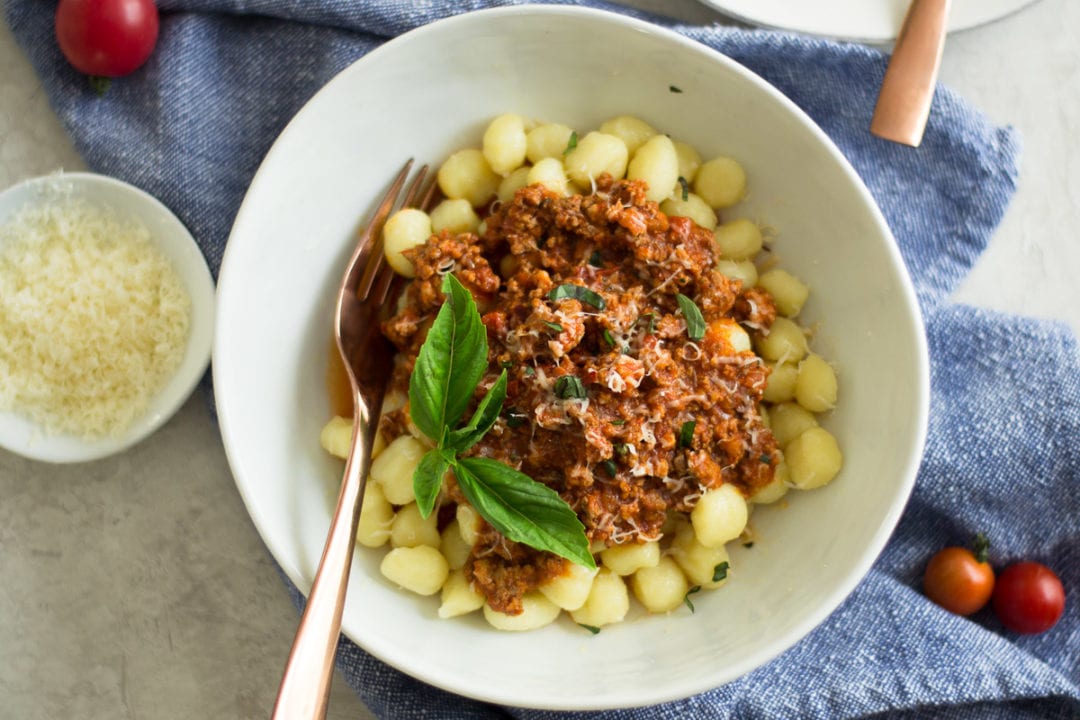 Back to tomato talk.
Growing tomatoes in the garden can be tricky. They either get too big and crack or fall off the vine and get bruised. Or maybe my garden manager (my dad) is just giving me all the banged and bruised tomatoes.
Anyway, those tomatoes are perfect for sauces. I love to make tomato garlic butter sauce with those tomatoes. That is usually the summer go-to. But, on days where I feel like I should make something for my carnivore husband, I whip out the old Instant Pot and make Instant Pot fresh tomato bolognese.
I started out sautéing the onions, garlic, pork, and beef ahead of time. It adds more flavor if you brown them a little ahead of time. Now that we are in the end of summer days, I seriously throw it all in, close the lid, and 20 minutes later it is all ready.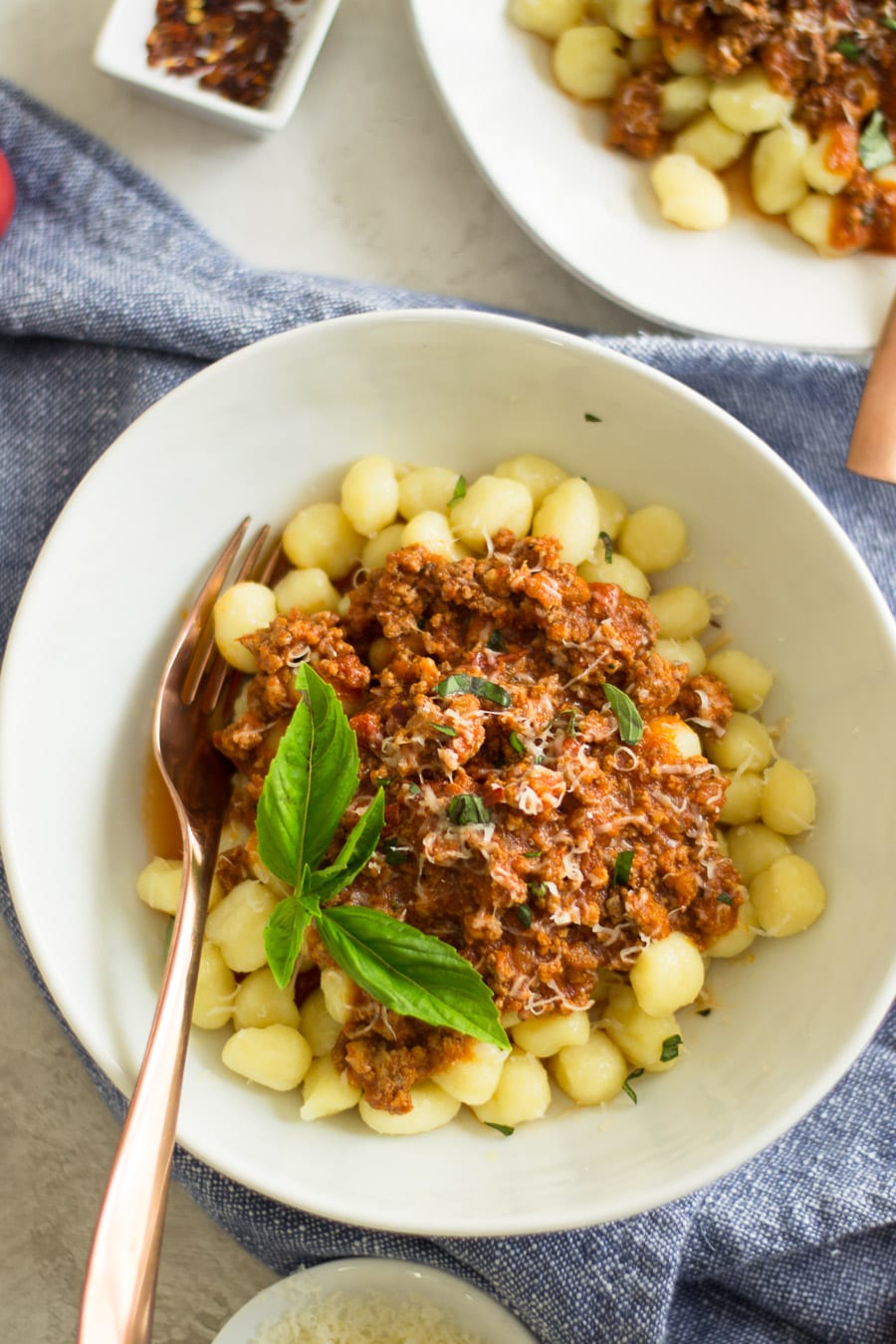 It is a great option to have the sauté function for days when you have time to lovingly stir. Just know if you don't have those extra few minutes, it still comes together and tastes great.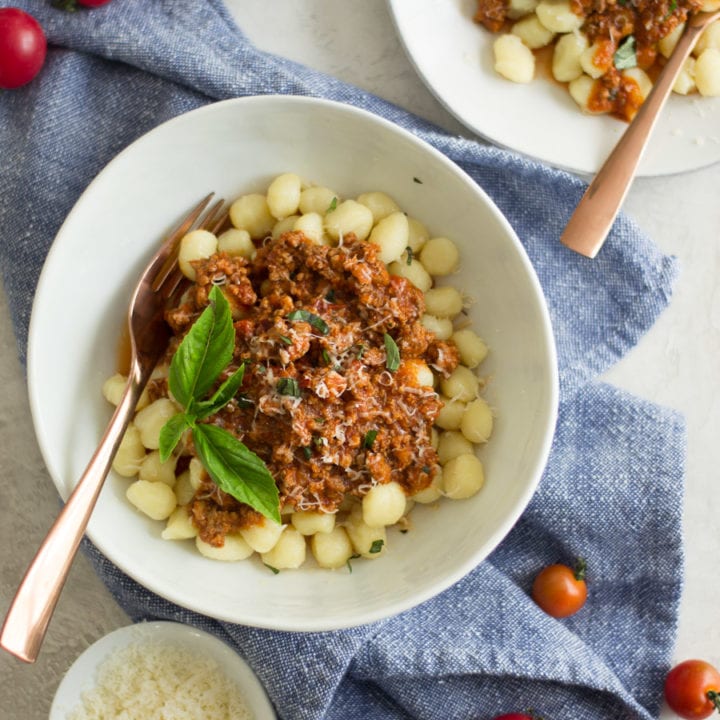 Instant Pot End of Summer Fresh Tomato Bolognese & Gnocchi
Chopped fresh summer tomatoes, ground beef, ground pork, garlic, herbs, and seasonings come together in the Instant Pot to make the perfect sauce for gnocchi.
Ingredients
3 Fresh Tomatoes, core removed and chopped
1 yellow onion, diced
3 garlic cloves, grated
1 lb lean ground beef
1 lb ground pork
1 tbsp balsamic vinegar
1/4 cup red wine
1 tsp salt
1/4 tsp crushed red pepper flakes
1/4 tsp pepper
1/2 tsp dried oregano
1/2 tsp dried thyme
14.5 oz can tomato sauce
6 oz can tomato paste
Instructions
Press "sauté" and add tomatoes and onion to the Instant Pot. Stir until the tomatoes start to break down a little, 3 minutes.
Add the beef, pork, and garlic. Stir to combine. Use a wooden spoon to break apart the meat. Slightly brown the meat for 5 minutes.
Mix in the seasonings, balsamic vinegar, and wine. Press "cancel."
Add the sauce and paste. Stir to combine as best you can.
Secure the lid with the steam vent closed. Press "Pressure Cook" adjust the time display using the "+/-" buttons until the display reads 20 minutes.
While the sauce cooks, bring a large pot of salted water to a boil. Add the gnocchi and cook according to the instructions on the packaging. Once they float, remove from water and set off to the side in a colander.
Quick release pressure, remove lid, and stir to combine. Break apart any big chunks of meat using a wooden spoon. Add more salt and pepper to taste.
Notes
Skip the sautéing step (steps 1-3) if you are in a pinch. You can just add everything to the pot and pressure cook on high for 20 minutes. You will need to break apart the meat more at the end though, but the flavors are all still the same.
Also, this recipe can be made without the pork if you are not a pork fan. Keep the other ingredient measurements and time the same.
Recommended Products
As an Amazon Associate and member of other affiliate programs, I earn from qualifying purchases.