Spaghetti with pesto alla trapanese a simple and uncooked tomato based pesto and pasta recipe. Add the ingredients to a food processor and then toss with your favorite noodles.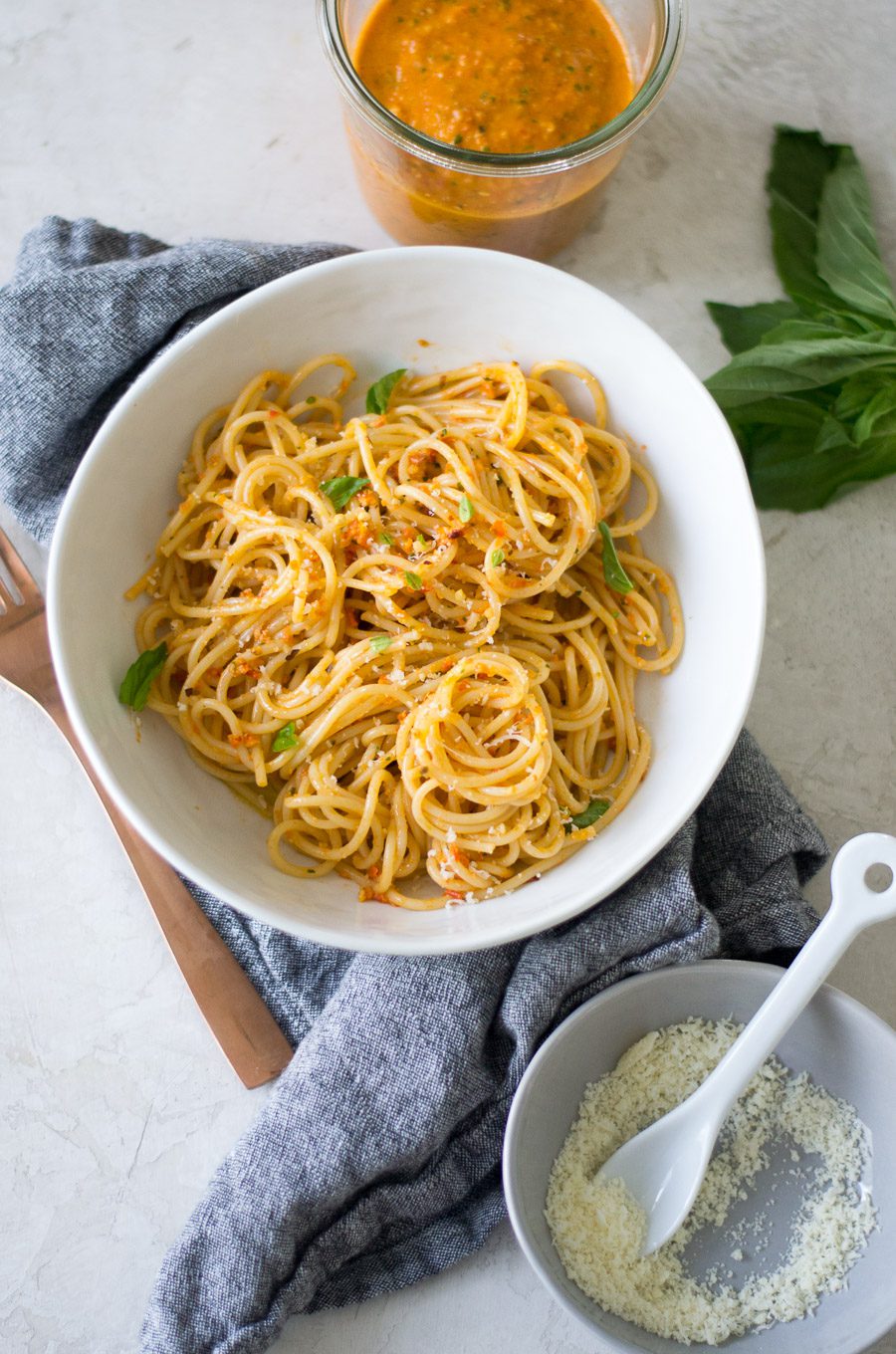 Have you ever read a book where the food in the book was like a main character?
I recently read Jennifer Weiner's new book, That Summer.
The food, in my opinion, was even better than the book overall.
I find myself lusting over all the food in any Elin Hilderbrand novel.
Beach scenes, fresh produce, clam bakes, crab boils, and a love story on the side?!?!?
I am in!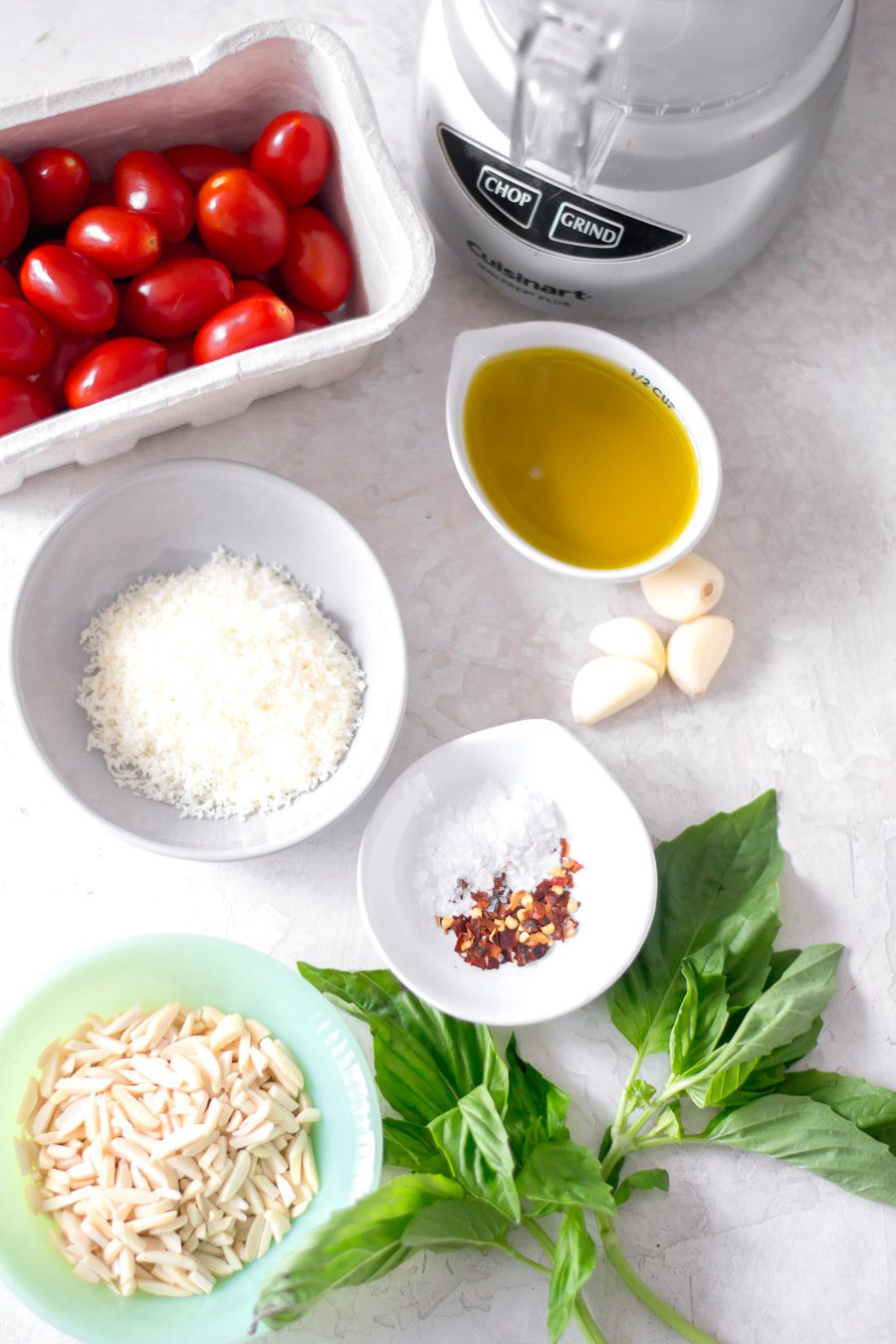 Recently, I read a fantasy novel about a family of witches from Italy.
The family owns and works in the restaurant.
If you are with me so far, you are my people!
The book is called Kingdom of the Wicked by Kerri Maniscalco.
It is a perfect spooky season read if you ask me.
The food in the book! OMG chef's kiss!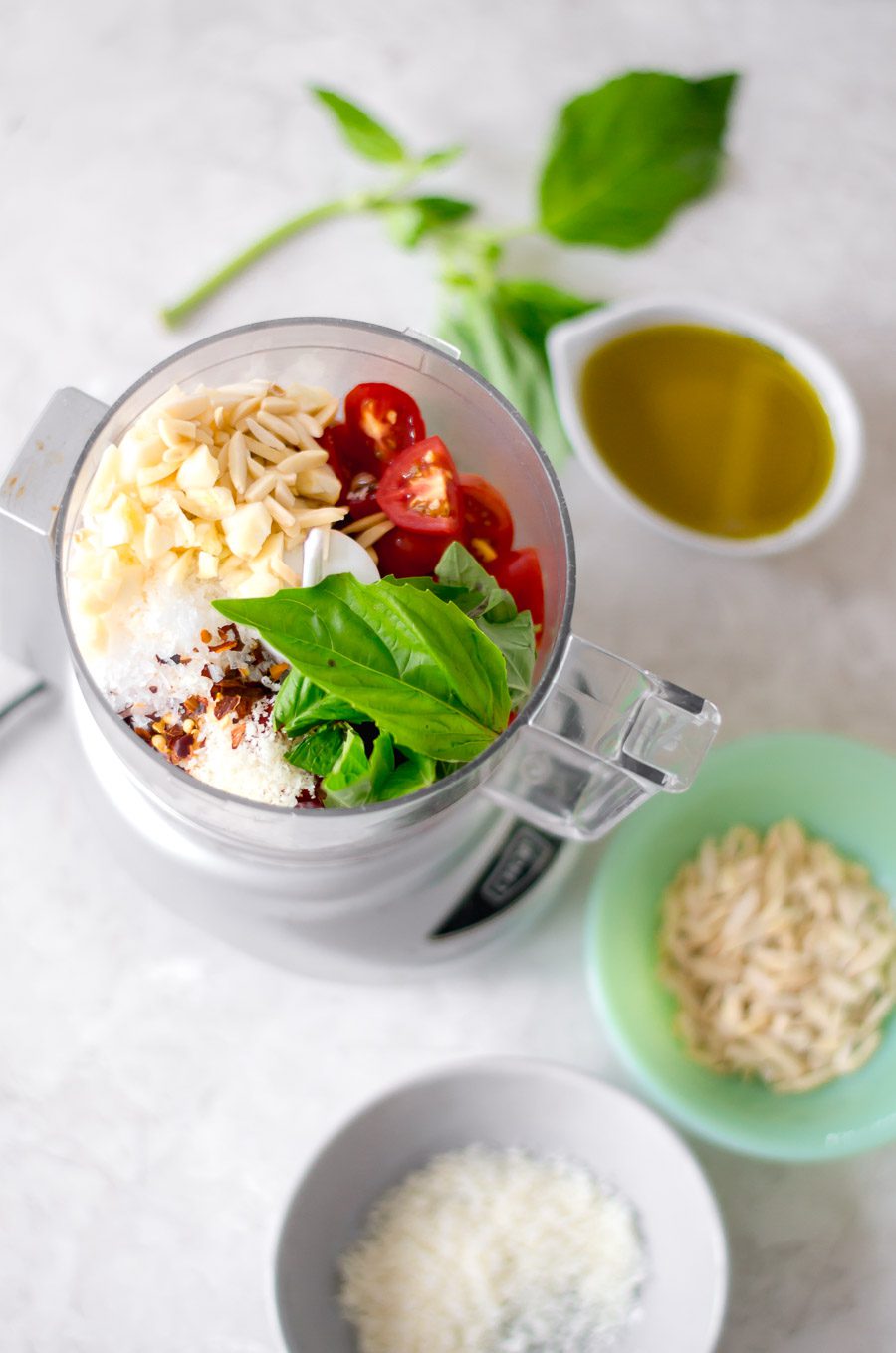 I came across spaghetti with pesto alla trapanese.
I know all about regular old basil pesto.
A tomato based pesto with almonds and a little fresh basil definitely had me intrigued!
Once I finished the book, I set out to find out about this traditional Sicilian pesto recipe and make it.
I am going to make a bold claim.
Pesto Trapanese > Basil Pesto

Here is what you need to make the pesto then you can judge for yourself:
Cherry/Grape Tomatoes
Fresh Basil
Toasted Almonds
Fresh Garlic
Red Pepper Flakes
Salt
EVOO
Freshly Grated Parmesan
Add all the ingredients, except the EVOO, to a food processor.
Once they form a sort of paste, stream in the EVOO, and puree until smooth.
Adjust the salt to taste.
Boil your noodles.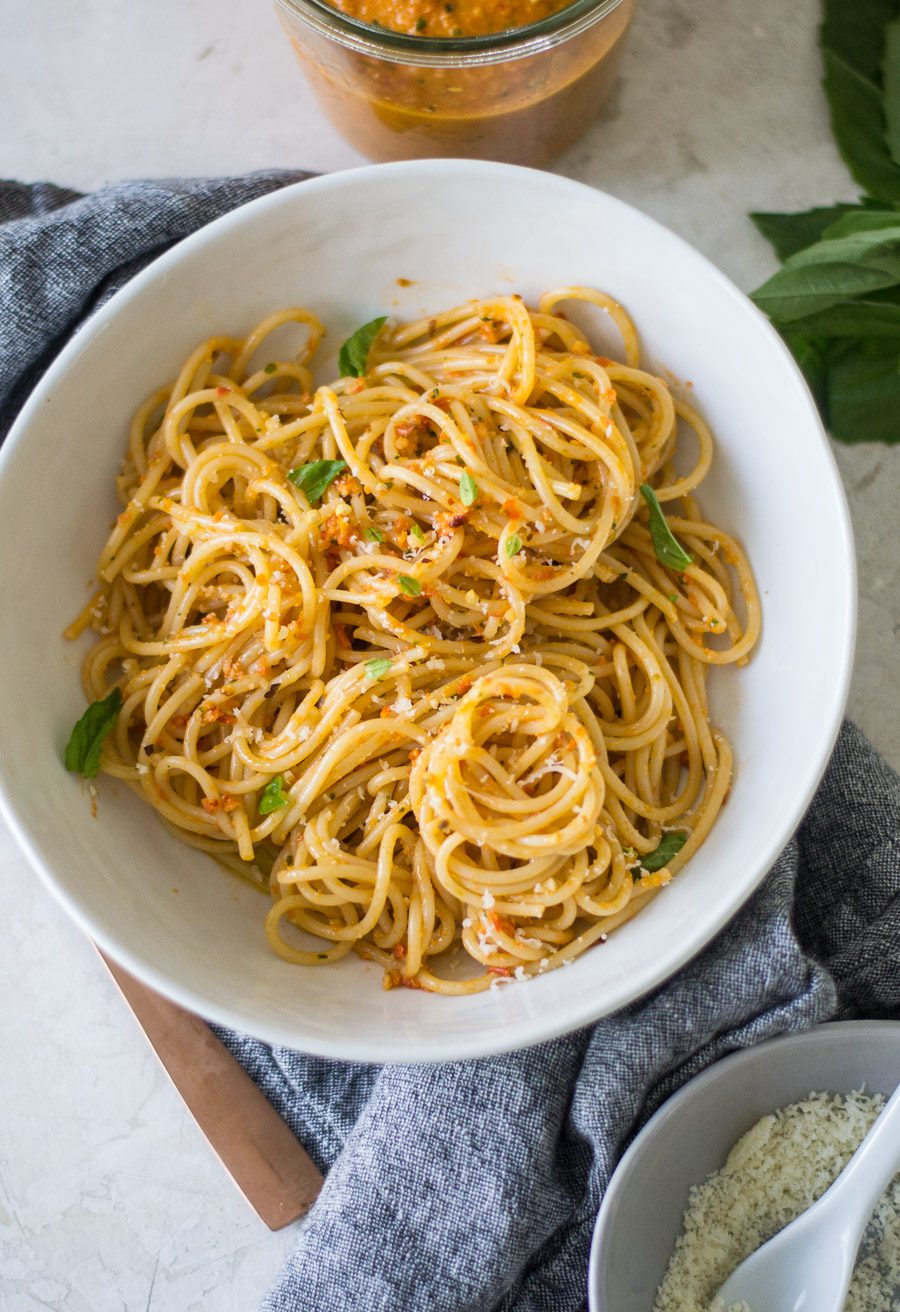 Take the noodles out of the boiling water with tongs and transfer to a serving dish.
Mix in a few spoonfuls of the pesto.
It is so good!
It is the end of the growing season for tomatoes.
If you are stuck with what to do with tomatoes still, try spaghetti with pesto alla trapanese.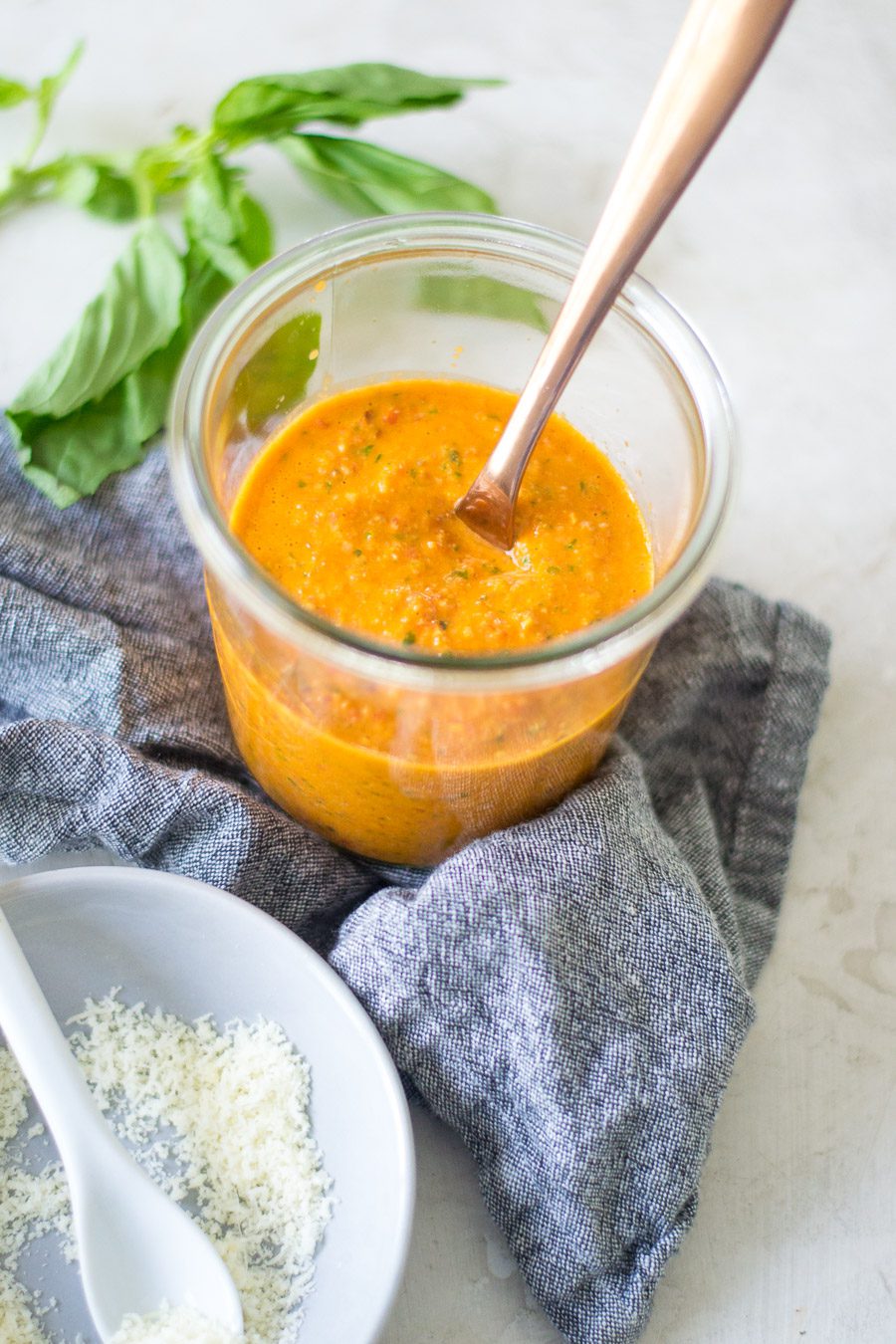 FYI the leftover pesto keeps for a while in the fridge. Just bring it to room temp before using.
The pesto is also great smeared on toasted bread!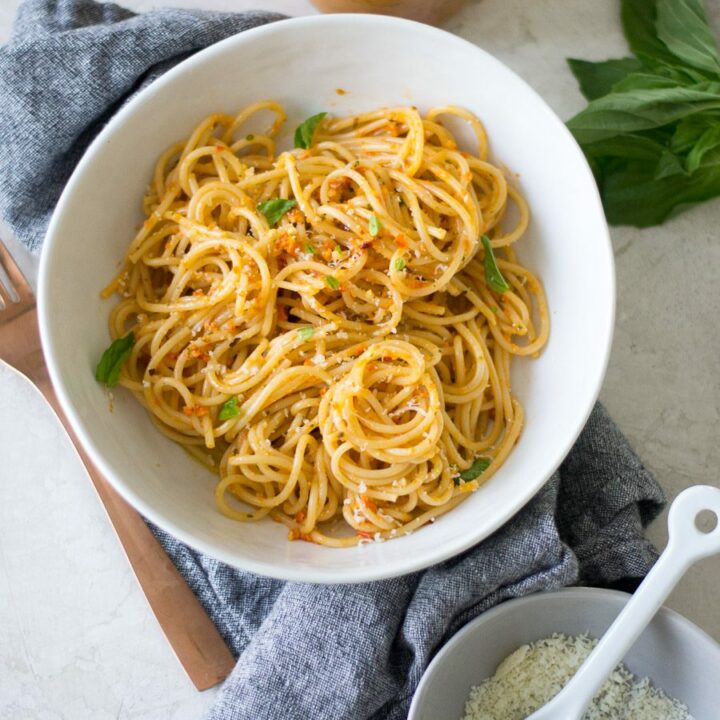 Spaghetti with Pesto alla Trapanese
Yield: Makes about 1 cup of Pesto and Serves 4-6

Prep Time: 5 minutes

Cook Time: 12 minutes

Total Time: 17 minutes

Homemade pesto alla trapanese made with fresh tomatoes, toasted almonds, garlic, red pepper, fresh basil, parmesan cheese, and EVOO tossed together with spaghetti.
Ingredients
1/3 cup toasted almonds
2 Cups Halved Cherry Tomatoes
10 Fresh Basil Leaves
1 Garlic Clove, roughly chopped
1/4 -1/2 tsp crushed red pepper flakes
1/2 tsp sea salt (more to taste)
1/2 cup freshly grated Parmesan cheese
1/2 cup extra virgin olive oil
1 lb spaghetti
Instructions
Bring a large pot of salted water to a boil. Add noodles and cook according to instructions.
Toast the almonds in a small nonstick pan over medium/low heat for about 5-7 minutes until lightly golden.
While the pasta boils, add all of the ingredients EXCEPT the EVOO to a food processor and puree until minced. Scrape down the sides as needed.
Add the EVOO and puree until smooth and almost creamy.
Once the pasta is cooked al dente, use tongs to remove the noodles from the water and add to a serving bowl. Add a few tablespoons of the pesto and toss with tongs until coated.
Extra pesto can be stored in an airtight container in the fridge for up to 3 weeks.
Notes
You can also use grape tomatoes in place of cherry tomatoes.
Recommended Products
As an Amazon Associate and member of other affiliate programs, I earn from qualifying purchases.