Simple kale panzanella made from avocado oil and lemon juice massaged kale, big homemade onion salt croutons, and shaved sharp cheddar cheese. Whip this easy salad together for any summer BBQ or picnic. It also makes a great weeknight side salad.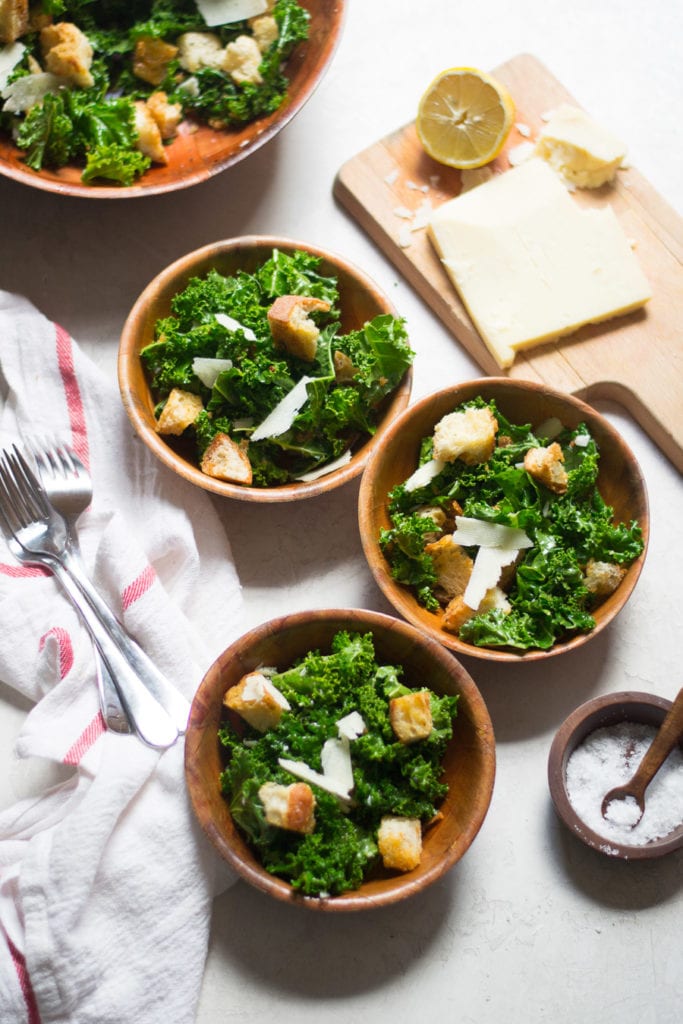 Two kale recipes in one week? Believe me, I already heard about it from my husband. He said to me, while holding a giant spoonful of kale in my ribollita, "I'm eating kale. I am not complaining, but twice in one week is pushing it."
I then spitefully used my spoon to take all that kale out of his bowl as to "spare him" from the extra health benefits. Dinner in our house is fun!
Sorry for trying to use up all my kale before it goes bad. That's ok because all the kale is having a trickle down effect to the kids. Andy had to answer some questions about his dad at school. He said Mike's favorite food is vegetables.
I got a good laugh out of that one.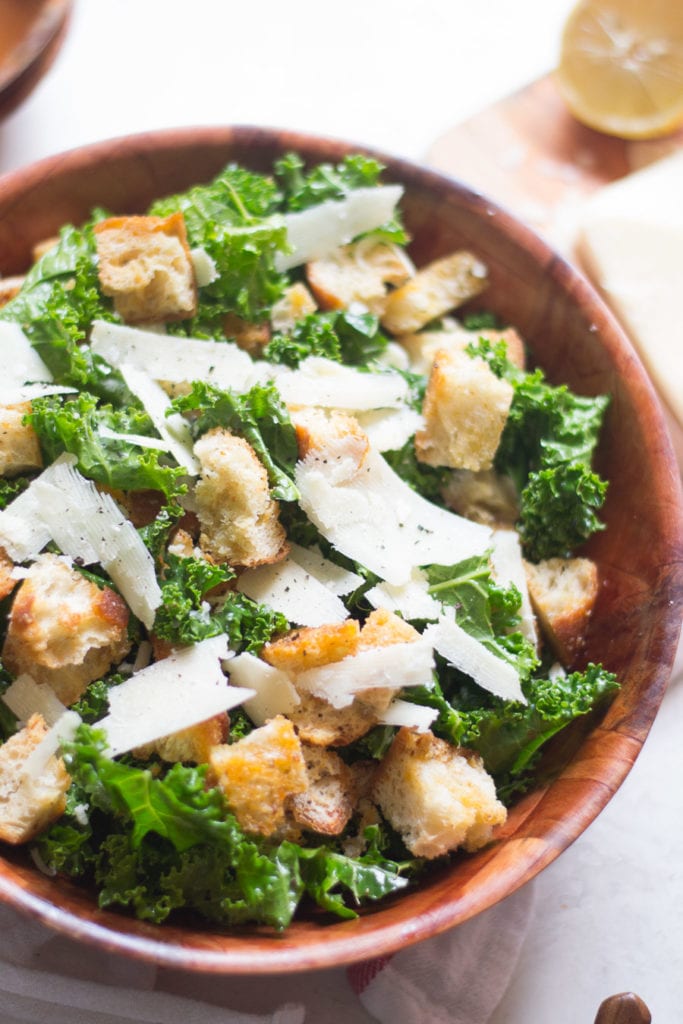 This weekend marks the kickoff of summer and summer grilling season. Instead of doing a big ol' juicy burger, I am sharing a big ol' green simple kale panzanella salad. Everybody can always use a few new grilling or picnic side salads, right?
This salad is made with lemon and avocado oil massaged kale, homemade onion croutons, and big shaves of sharp cheddar. That's it! You can totally whip this up last minute for any weekend gathering.
I made Mike eat this as a dinner side salad. Gotta get those greens in when you can!
I would also like everybody to know that I have been pumping out kale salad recipes like this one and this one for years and I just now learned that I need to be massaging my kale.
Bad food blogger!
It really does make the leaves tender and feel way less like rabbit food. I think that's why Mike was finally ok to eat a kale salad. That and the fact that the only other ingredients were bread and cheese.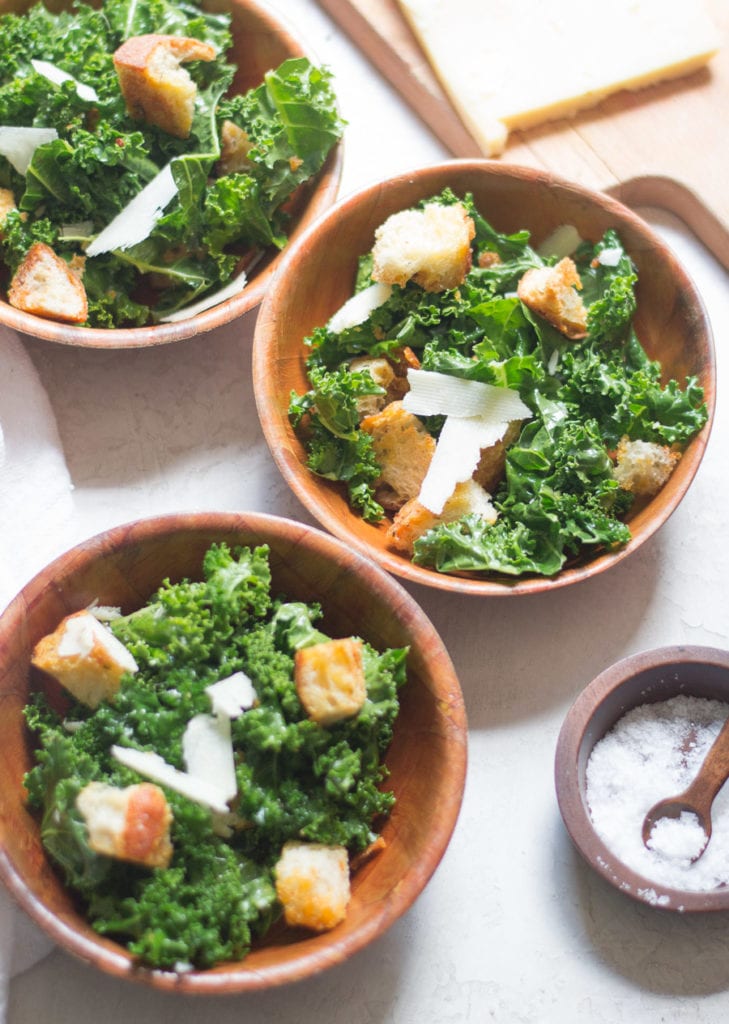 All about that balance!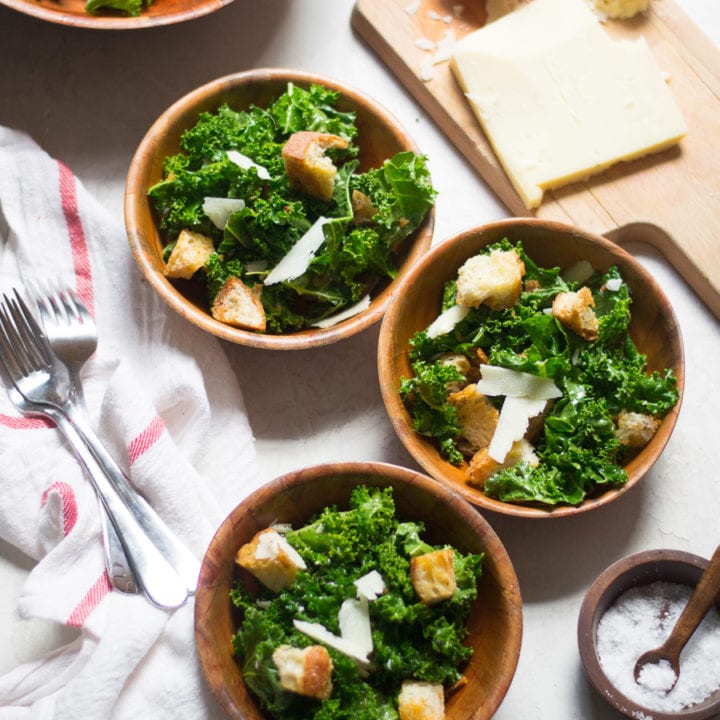 Simple Kale Panzanella
Kale massaged with avocado oil and lemon juice tossed with homemade onion salt croutons and shaved sharp cheddar cheese.
Ingredients
CROUTONS:
3 cups cubed sourdough or country bread
2 tbsp avocado oil or extra virgin olive oil
1 tsp onion salt (I like the Trader Joe's version)
1/4 tsp garlic powder
1/4 tsp black pepper
1/2 tsp smoked paprika
SALAD:
16oz cleaned kale, stems removed
juice of 1/2 a lemon
1 1/2 tbsp avocado oil or extra virgin olive oil
salt and pepper to taste
3/4 cup shaved sharp white cheddar cheese
Instructions
Preheat the oven to 375 degrees F. Line a large baking sheet with foil. Add bread, oil, onion salt, garlic powder, pepper, and paprika to the baking sheet. Use your hands to toss and coat the croutons evenly.
Bake the croutons for 10 minutes. Remove from oven, turn all the croutons and bake for 5 more minutes. Let the croutons cool before adding them to the salad.
Use your hands to tear the clean kale into bite-sized pieces.
Add the kale, oil, and lemon juice to a large mixing/serving bowl. use your hands to massage the kale for about 4-5 minutes until it starts to turn a darker deeper green.
Add a little salt and pepper. Taste. adjust the seasoning if needed. Mix in 2-3 cups of the homemade croutons. Top the salad with shaved cheddar.
Notes
Croutons can be made ahead of time. Store in a large, sealed, gallon storage bag at room temperature for up to 1 week.