Instant Pot Vegan Baked Beans have so much flavor and are made in a little over 30 minutes total. Skip the soaking process and put your Instant Pot to good use! Onions, red pepper, molasses, ketchup, mustard, and a whole slew of spices come together to make a truly magical baked bean dish.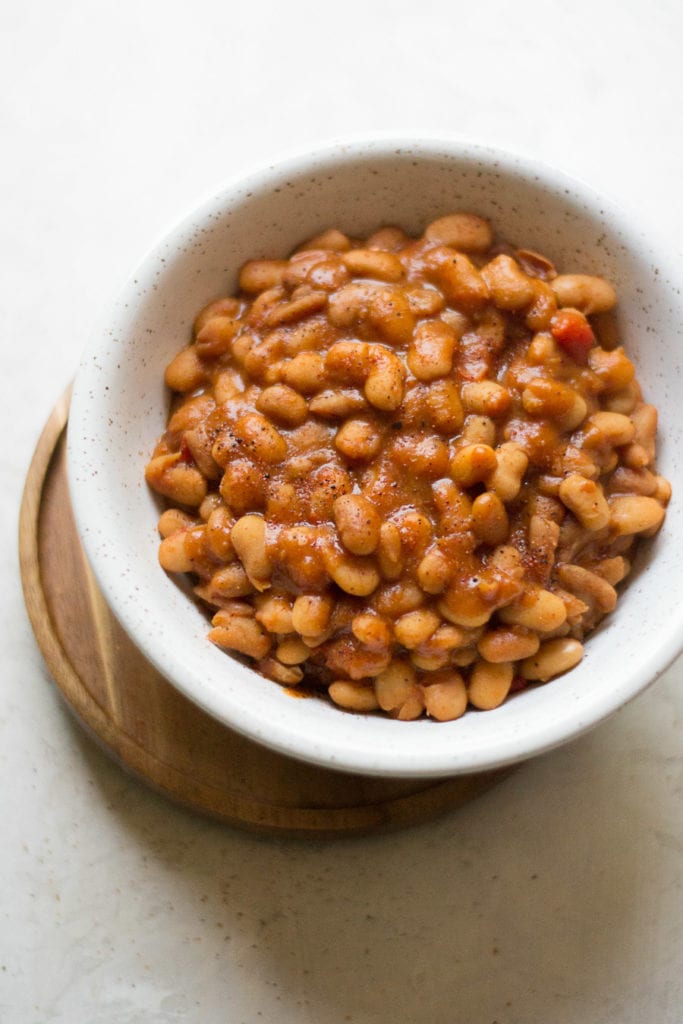 First off, yes, I know they aren't really baked so yeah I guess the title isn't entirely accurate.
Secondly, for all the friends and family that have asked, yes, I am doing well despite the fact I have been making more and more veg-head friendly recipes. No need to send out the wagons for wellness checks just yet.
Also, on that note, if I can make it through eight (almost nine) days with my husband being out of town for work and all babies (fur and human being) and myself surviving and thriving, I think my mental faculties are pretty stable.
For now.
I still have 4 more months of this biting, nipping, playing puppy phase. It legit might kill me, but we shall see.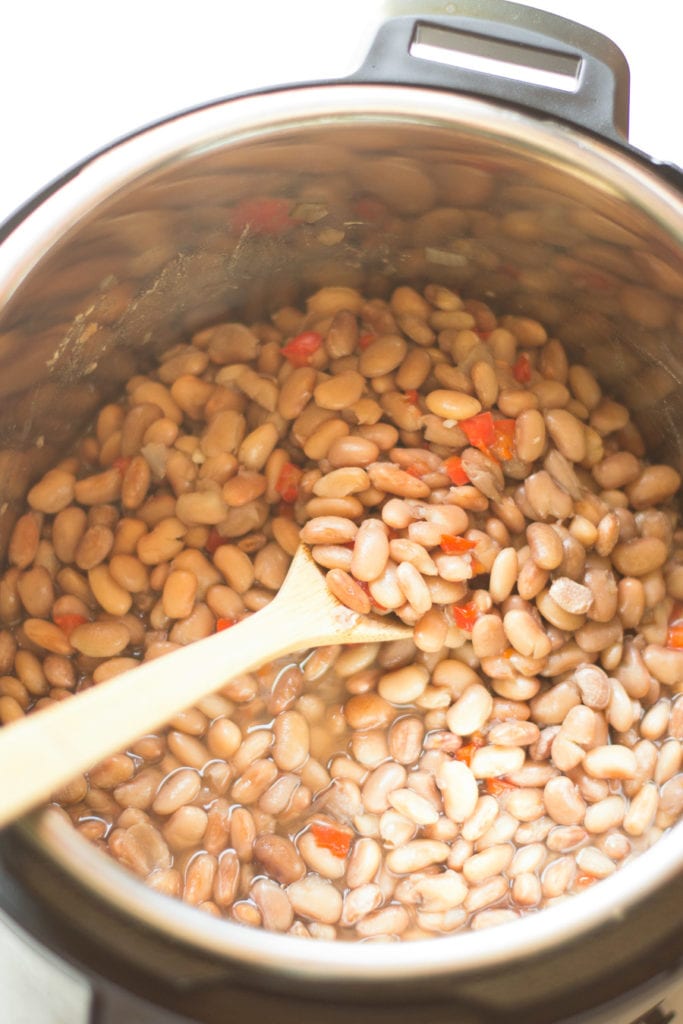 Instant Pot Vegan Baked Beans was birthed in my kitchen. I didn't want to fuss with cooking bacon and boiling dry beans and all that jazz that normally goes into really good homemade baked beans.
Not to jump on a soap box here, but it's good to not have every meal or dish be something Ron Swanson would be swooning after. Give the animals and grease a break, eh?
Soapbox over.
There are so many flavors in these beans, you won't even miss the bacon. I only 85% agree with that statement. Ketchup, mustard, red peppers, onion, molasses, and a whole bunch or spices give these beans all the kick you need.
Using dry beans is a great way to save time and money. You have the Instant Pot, right? Put it to good use!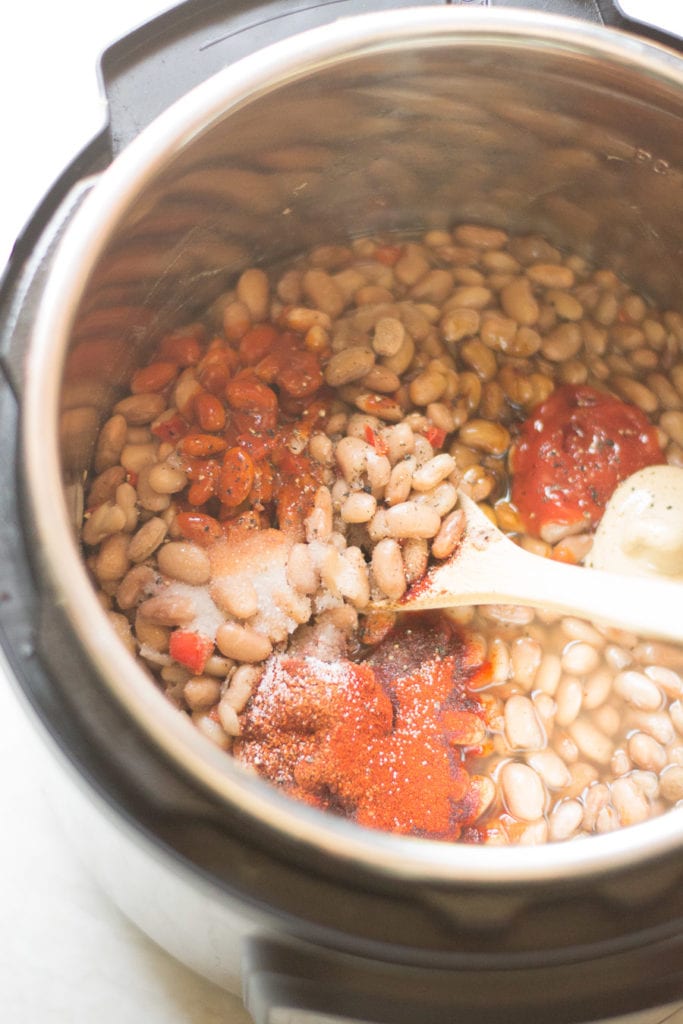 Are you worried you too will be judged by friends and family when you utter the word "vegan?" Leave it out.
They won't even question it because these beans be bangin'!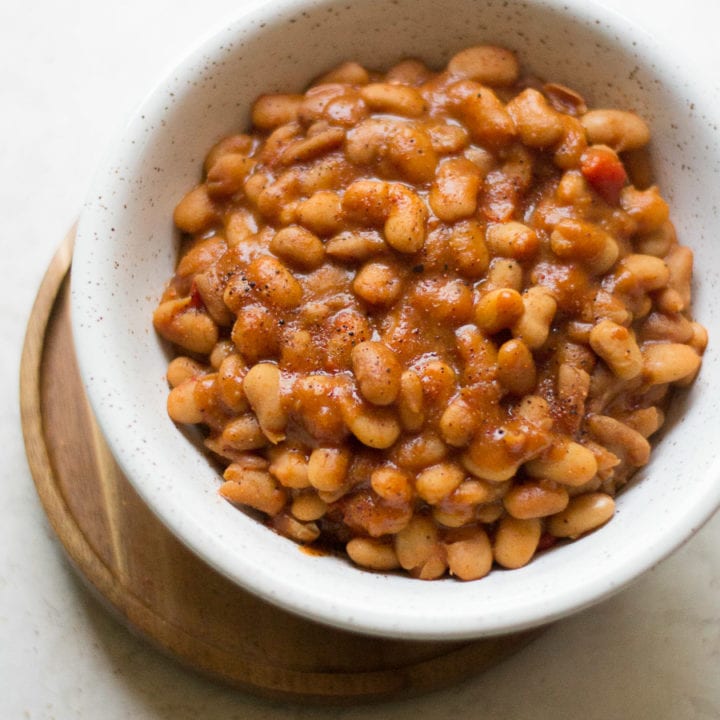 Instant Pot Vegan Baked Beans
Time to Come to Pressure:
15 minutes
Instant Pot vegan baked beans made using dry beans, red bell peppers, onion, ketchup, mustard, molasses, and all the traditional baked bean spice.
Ingredients
2 cups dry pinto beans
5 cups water
1/2 red onion, minced
1 red bell pepper, seeds and stem removed then diced
1/2 cup ketchup
2 tbsp black strap molasses
2 tbsp dijon mustard
2 tbsp chili powder
1/4-1/2 tsp cayenne pepper
2 tsp smoked paprika
2 tbsp maple syrup
1 tsp salt
1/4 tsp black pepper
Instructions
Add dry beans, water, red onion and bell pepper to the Instant Pot. Secure the lid with the steam vent in the sealed position. Press Pressure Cook, High Pressure. Use the -/+ buttons to adjust the time until the display reads 30 minutes.
Once the timer sounds, quick release the pressure. Remove the lid. Drain off 3/4 the cooking liquid.
Mix in the ketchup, molasses, mustard, chili powder, cayenne, paprika, maple syrup, salt, and pepper.
Press Sauté. Allow the mixture to sauté and simmer for 5 minutes, while mixing. As the beans cool, the sauce will thicken.
Notes
Feel free to hold back on the cayenne if you don't like a lot of heat. Also, substitute canned chipotle in adobo liquid for the cayenne for more of a smoky flavor.
Recommended Products
As an Amazon Associate and member of other affiliate programs, I earn from qualifying purchases.