Spicy salumi spread 'nduja laced scrambled eggs make for wonderful flavor packed breakfast tacos. 'Nduja scrambled egg breakfast tacos are made using three ingredients and are perfect for a quick breakfast, lunch, or dinner.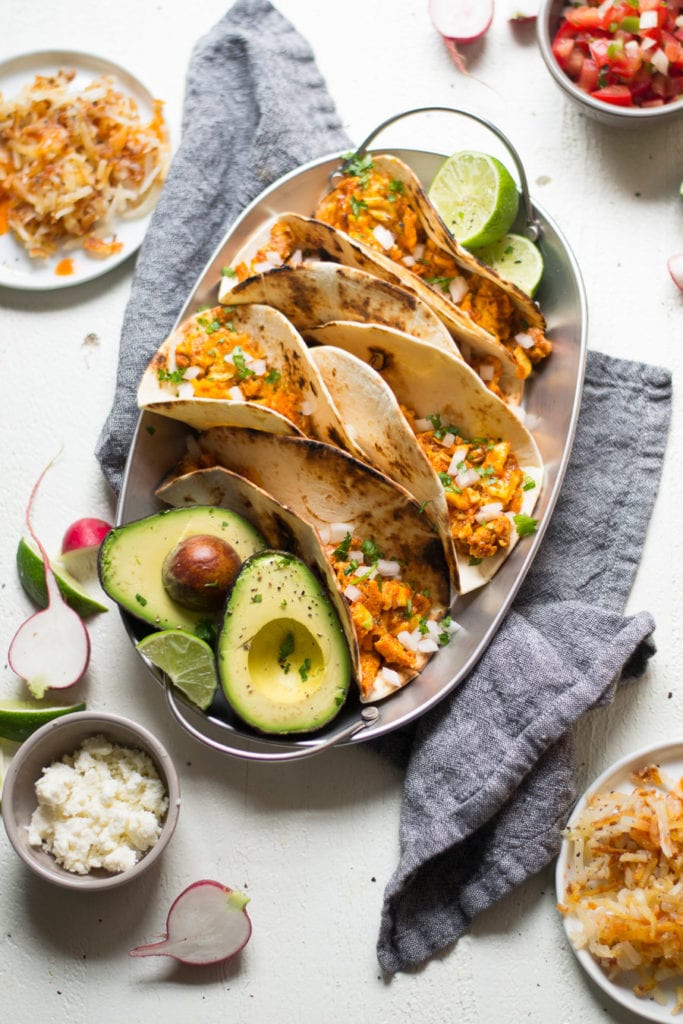 Pronounced "en-doo-yah." It's a spicy, fatty salumi spread from Italy. You can put it on crackers, put it on pizza, use it on grilled cheese (sorta in place of harissa like I did HERE), or simply mix it into scrambled eggs.
I picked up this nugget of deliciousness from Publican Quality Meats in Chicago when I was there for my Google Talk. (PS I will be sharing that video with you very, very soon!)
Teri from No Crumbs Left uses 'nduja as one of her magic elixirs to add a lot of flavor to food if, let's say, you're doing Whole30 or Keto.
The spice and fat from the meat adds so much flavor to anything. You only need to add a little salt and pepper to finish the eggs off.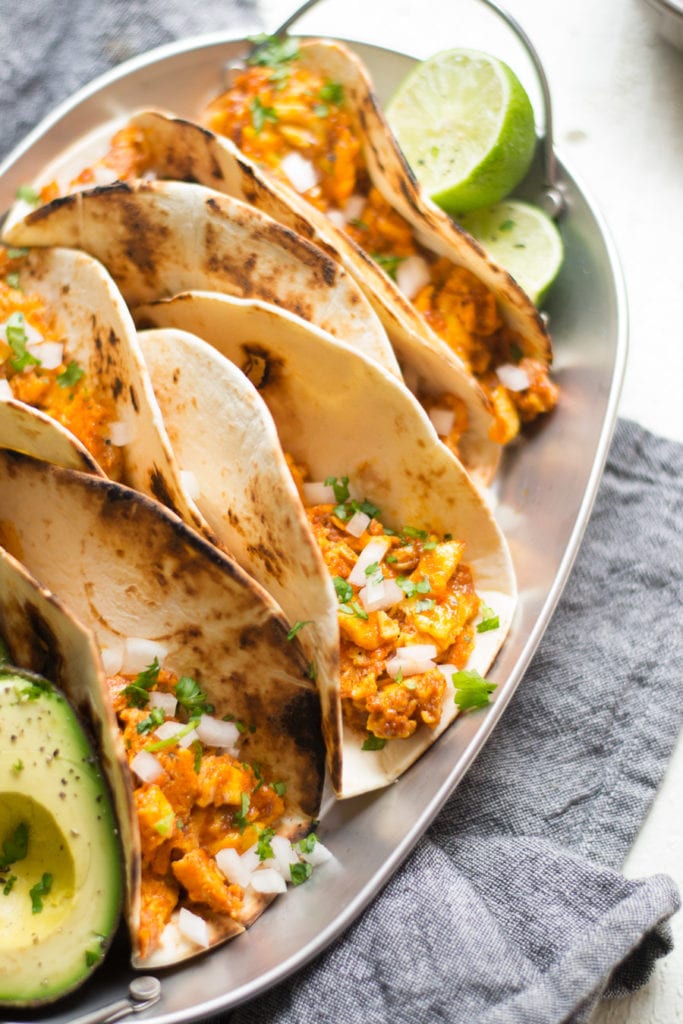 During Mike's last week of school, I made a big batch of these breakfast tacos. I wrapped them individually and he took one to work each morning for breakfast. He just unwrapped the foil, popped it in the microwave, wrapped it back up in foil, and then ate it in the car or when he got to work. Clearly, he took off the foil before eating. You get the gist.
Myself, I just liked to eat these for breakfast, lunch, or dinner. All are great options!
Mix the 'nduja with some butter in a pan. Once it all melts, add the eggs. Use a spatula to push the eggs from side to side in the pan to slowly cook the eggs.
the 'nduja will form these beautiful red, spicy ribbons throughout the eggs. Not only are these eggs flavorful, they are pretty too!
Don't want to do 'nduja scrambled egg breakfast tacos with cheese and all the taco fixins? Try these eggs served over some home fries or simply on toast.
It's literally four ingredients (not including tortillas) to make the best eggs you have ever had. I have found 'nduja at Mariano's, Standard Market, and Whole Foods. It should be in the prepackaged deli meat or charcuterie refrigerated section.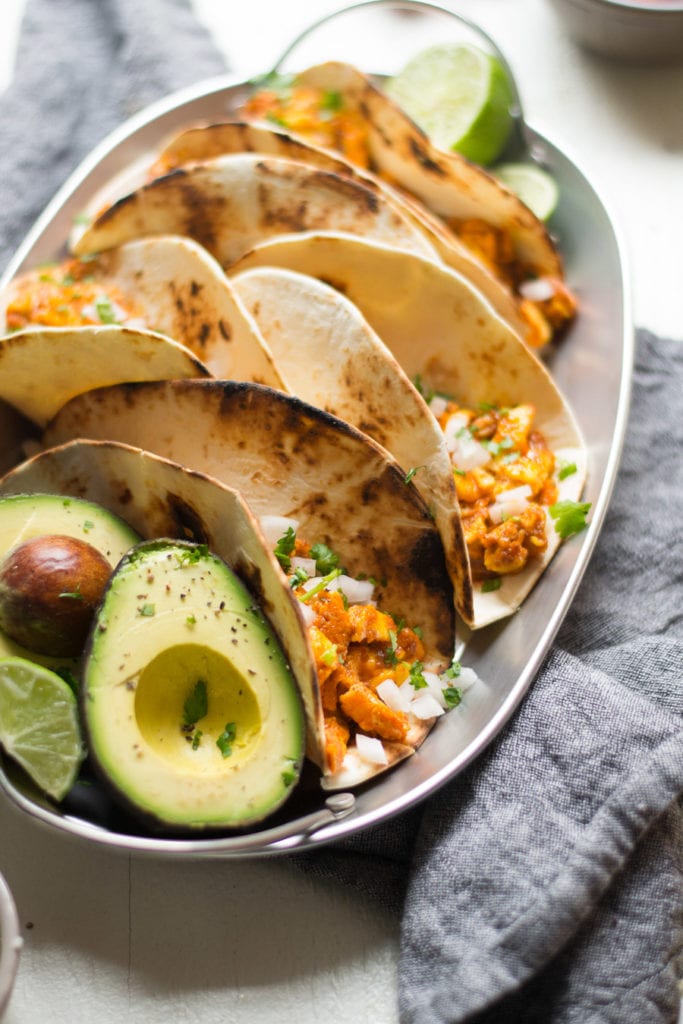 If you have never cooked with 'nduja, please try it! Let me know what you think about this magic meat!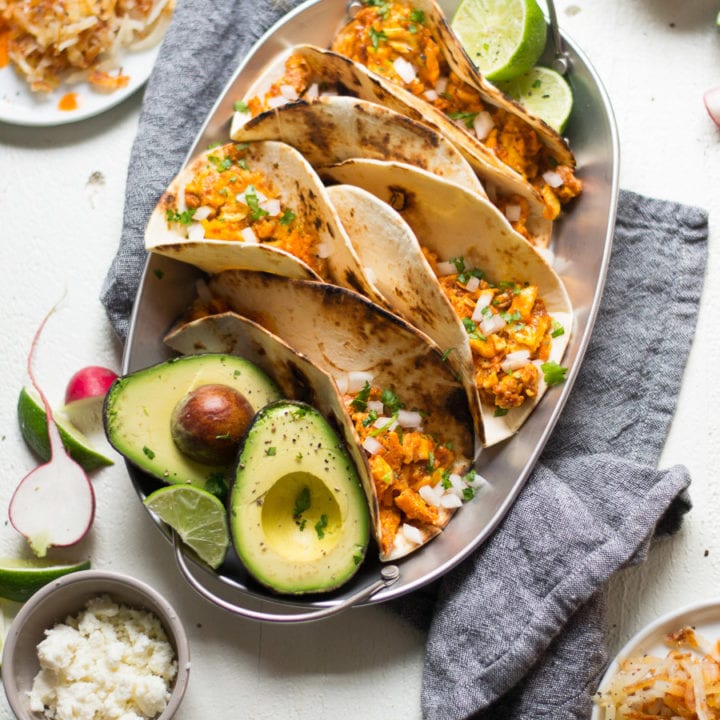 'Nduja Scrambled Egg Breakfast Tacos
Spicy and creamy 'nduja laced scrambled egg breakfast tacos. Only four ingredients!
Ingredients
1 1/2 tbsp unsalted butter
2 tbsp 'nduja
6 large eggs
1/4 cup heavy whipping cream
pinch of salt and pepper
6 flour or corn tortillas
OPTIONAL TOPPINGS
1/4 cup diced white onion
1 tbsp fresh chopped cilantro
1/4 cup crumbled queso fresco, optional
Instructions
Whisk together the eggs, heavy cream, salt and pepper in a medium mixing bowl.
Heat a medium non-stick skillet over medium/low for 1-2 minutes until hot. Add butter and 'nduja. use a wooden spoon or rubber spatula to press and sort of mash the 'nduja until it starts to melt into the butter.
Add egg mixture to the hot pan. Use spoon/spatula to push the eggs side to side to form ribbons. Do not mix the eggs, just keep pushing all different direction s from edge to edge for about 5-7 minutes. The eggs should be mostly cooked through at this point. Turn off the burner. the residual heat will cook the eggs. If your eggs are still looking a little jiggly or undercooked on top, cover with lid and let sit while you prepare the tortillas and toppings.
Warm the tortillas in the microwave wrapped in a wet dishtowel or over an open burner flame. Dish out about 3 tbsp of eggs to each tortilla.
Serve right away with whatever toppings you like or wrap in foil and store in the refrigerator for a quick weekday grab and go breakfast.
Recommended Products
As an Amazon Associate and member of other affiliate programs, I earn from qualifying purchases.