Walking tacos are always fun! Buffalo jackfruit walking tacos with a plant-based vegan queso are a healthier twist on a classic. Buffalo jackfruit walking tacos are good as is but even better with the separate recipe for vegan queso made in your Instant Pot. Both are easy swaps to add more variety to Taco Tuesday or Meatless Monday.
It has been about 15 years since I was a full-fledged vegetarian. I try to cut down on the meat intake we consume as a family because, I dunno, Leonardo DiCaprio and Michael Pollan said so. For real though. I think that if you don't focus a whole meal around a meat, you have way more variety.
It also saves me money.
Some of my favorite ways to cut back on meat have been through Meatless Monday. Monday is usually our pasta night. You can bet we are either eating lemon caprese pasta or roasted red pepper pasta. Either way, I follow the same old formula; noodles + lemon + olive oil + vegetable = AMAZEBALLS.
This week, I wanted to dabble in the arena of vegan queso. I know, I know. It's not real queso.
I can't really doooooo a lot of cheese in my old age. Vegan queso just sounded interesting to me. I cut out milk in my coffee because I don't want my coffee and milk with a side of cystic acne. Using fresh mozzarella on pizza is a way to consume less cheese on pizzas for me too. More surface area for sauce and crust as opposed to everything being swallowed by shredded cheese.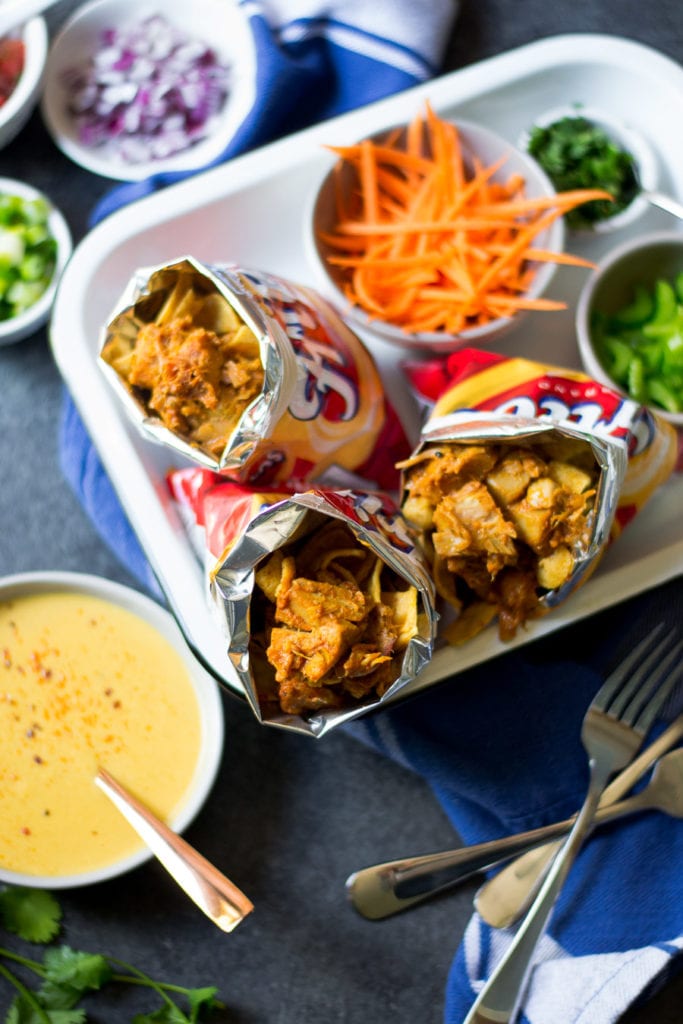 Jackfruit shreds up just like pulled pork. It takes on the taste of whatever sauce you use. I usually use The Jackfruit Company frozen pulled jackfruit. You can find it at Meijer, Target, and Whole Foods.
Again, these changes are just good for me, not a blanket global stance on what you should or should not be eating. It is also a fun game to see if Mike will notice he is eating vegan food or not? Hahaha!
The vegan queso is based off of Spice in my DNA's version and is made from a sweet potato, onion, and macadamia nuts. Of course it wouldn't be vegan queso without nutritional yeast, duh.
If you're reading this and thinking, "What language are you speaking?" Sorry. Don't be scared, I still love pizza, burgers, and fried chicken. These ingredients are just some little tweaks to eat more plant based and less meat dependent. Try introducing one ingredient and see if you like it.
Truth be told, I am not a fan of Fritos on their own.
Slather those Fritos in queso, buffalo jackfruit, and all the toppings and heck yeah, I am in! Buffalo jackfruit walking tacos are just plain fun and customizable. I hope you will look below at the recipes and dabble in one or two ingredient swaps this week.
Ya know, for the environment and for circa 1996 Romeo and Juliet Leo, because, come on, peak crush material. Ha!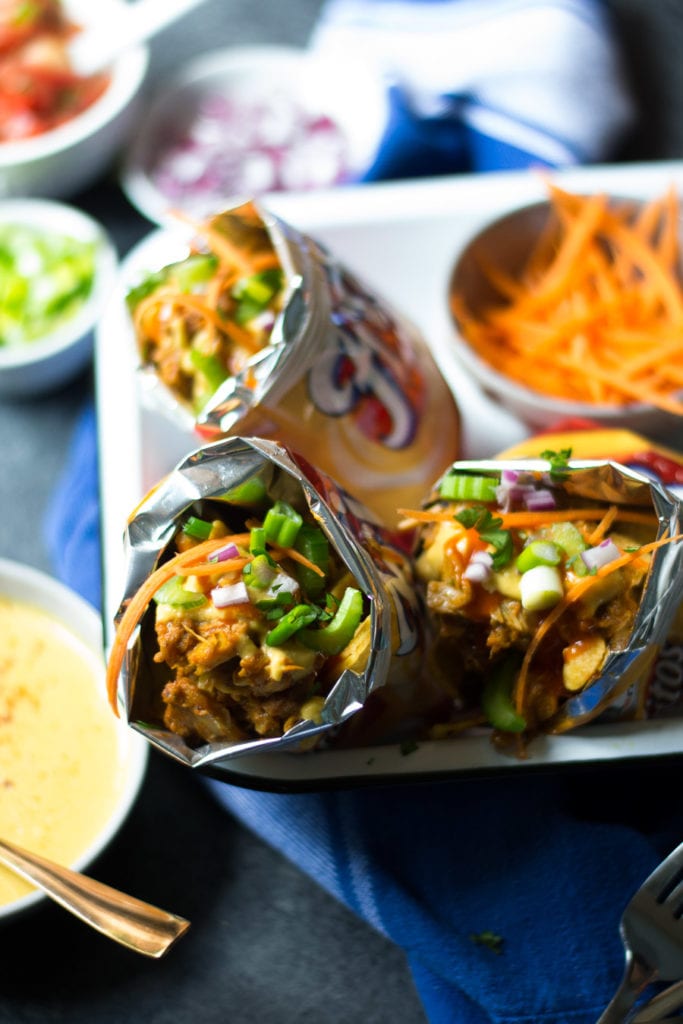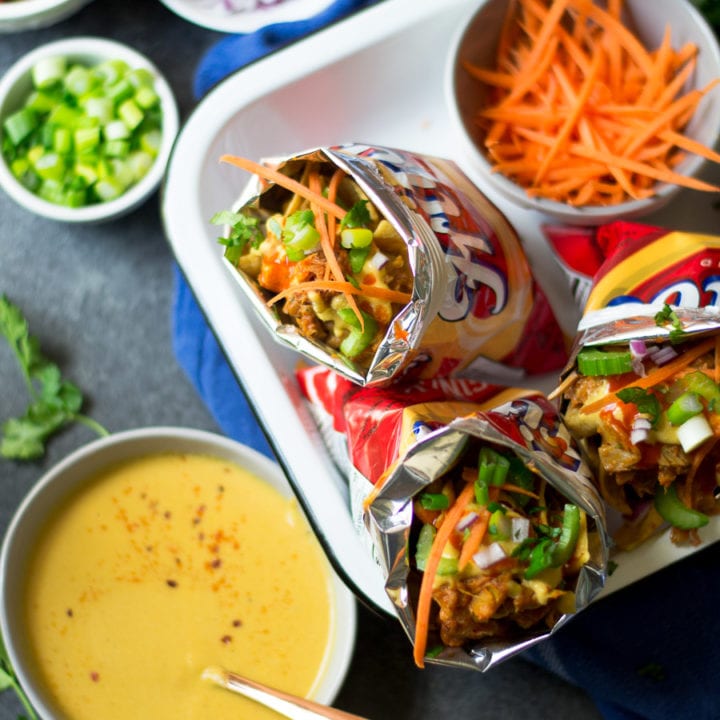 Buffalo Jackfruit Walking Tacos
Yield: 5 Servings

Prep Time: 10 minutes

Cook Time: 5 minutes

Total Time: 15 minutes

Make your own buffalo jackfruit walking taco any way you want! Start with a bag of corn chips, top it with buffalo jackfruit, vegan queso, and any other toppings your heart desires.
Ingredients
10oz Frozen Smoked Pulled Jackfruit, thawed
1 tbsp vegan butter
2 tbsp Frank's Red Hot Buffalo Sauce
salt and pepper, to taste
5, 1 oz bags of Corn Chips (Fritos) or Doritos work too
1 cup vegan instant pot queso (see recipe below)
1 carrot, shredded
1 celery stalk, thinly sliced into 1/2 moon shapes
3 green onions, whites and greens chopped
2 tbsp minced red onion
2 tbsp chopped fresh cilantro
3/4 cup pico de gallo
Instructions
Heat a medium skillet over medium/low for 1 minute. Add vegan butter, jackfruit, and buffalo sauce to the skillet. Cook while stirring to combine, for about 5 minutes. Use a wooden spoon to break up any large pieces. Leave the skillet on very low and cover with a lid while you prepare the rest of the toppings.
Open the bags of corn chips and set inside a container so they don't tip over. Add the rest of the toppings to small serving bowls. Arrange toppings next to the corn chip bags.
Remove the jackfruit from the pan and transfer to a medium serving bowl.
Transfer about 1 cup of vegan instant pot queso to a small serving bowl. Keep the rest of the sauce in the instant pot or warm if people want more.
Place a little bit of queso and jack fruit inside each bag of Fritos and then top with whatever you desire.
Notes
Other topping ideas inculde: sliced avocado, guacamole, pickled red onions, pickled jalapeños, vegan sour cream.

Recipe for vegan queso slightly adapted from Spices in my DNA.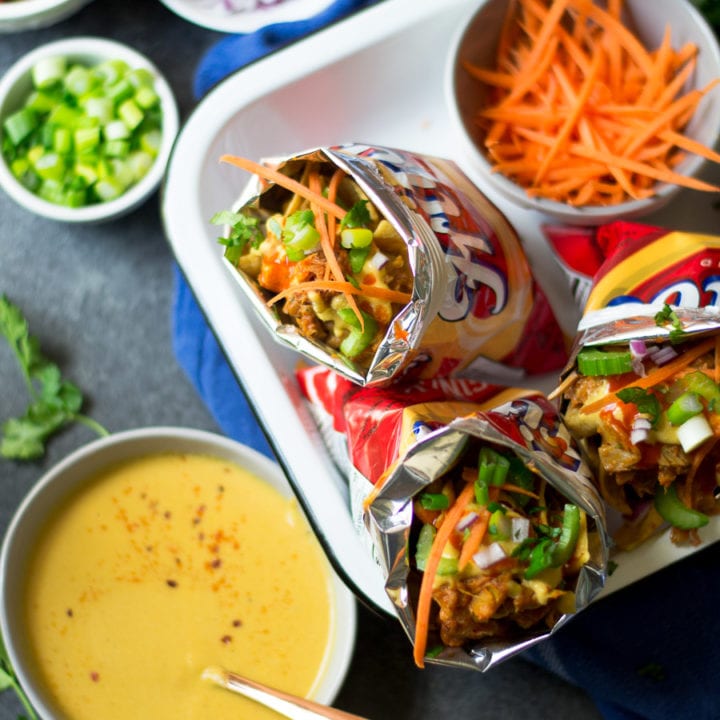 Instant Pot Vegan Queso
Vegan queso made from sweet potato, onion, macadamia nuts, and nutritional yeast. Cook on high pressure, mix in spices, and then puree!
Ingredients
2 cups water
1 medium sweet potato, peeled and chopped
1 cup unsalted dry roasted macadamia nuts (3/4 cup unsalted whole raw cashews work too)
1/2 yellow onion, chopped
1 cup nutritional yeast
1 tsp salt
1/4 tsp black pepper
1/4-1/2 tsp cayenne pepper (depending on how spicy you like it)
1/2 tsp ground cumin
1/2 tsp smoked paprika
1/4 tsp onion powder
1/4 tsp garlic powder
1/2 tsp ground mustard
Instructions
Add water, sweet potato, nuts, and onion to the instant pot. Cover with lid. Secure lid in place with the steam vent sealed.
Press pressure cook, high pressure. Use the -/+ buttons to adjust the time until the display reads 10 minutes.
When the timer sounds, quick release the pressure. Remove the lid and mix in all remaining ingredients. Stir to combine.
Wait for the mixture to cool slightly before transferring to a blender and pureeing until smooth. OR Use a syick immersion blender to puree the queso sauce until smooth.
Taste queso and adjust the salt or cayenne pepper level if needed.
Notes
Keep the queso on warm in the instant pot while serving at parties. Leave a ladle inside the queso so guests can help themselves.