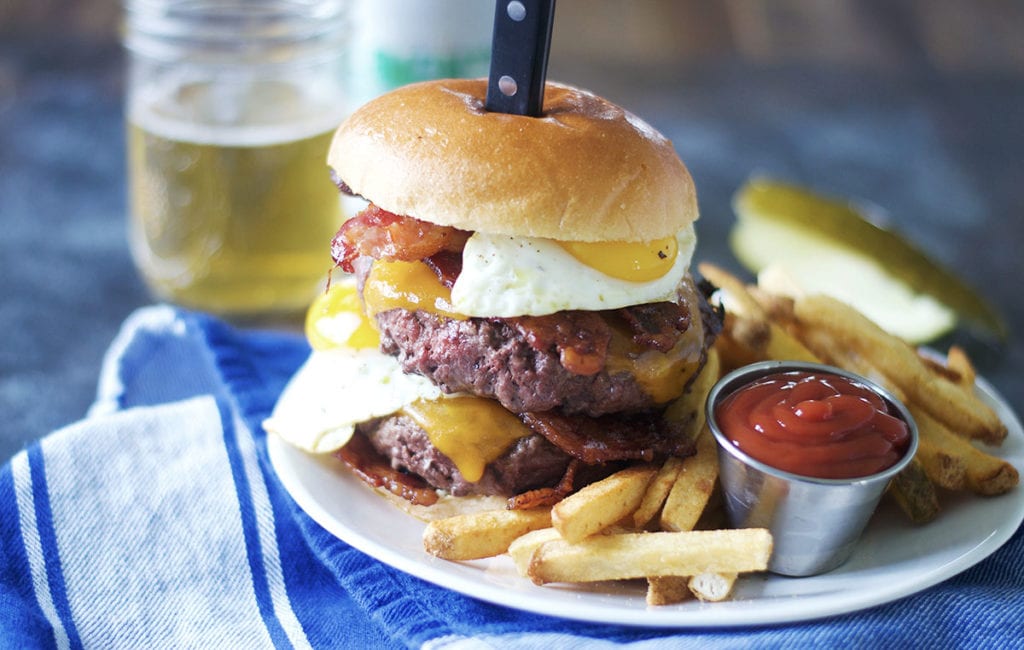 This recipe will forever be known as the burger that made Mike want to take a break from burgers. Quarter pounder burger patties, cheddar cheese, two fried eggs, and 4 slices of thick cut bacon all piled high on a brioche bun. How could a person get sick of this burger, you may ask yourself?
Let me explain.
I made the original test run of these burgers. I made three of them. I plated them, took all my pictures, and went to edit. The results were gray and dim and the burger just looked boring. I clearly did something wrong. Taste-wise, they were on point. But they need to look tasty to convince you to risk high cholesterol and make them for yourselves. And that is where I failed.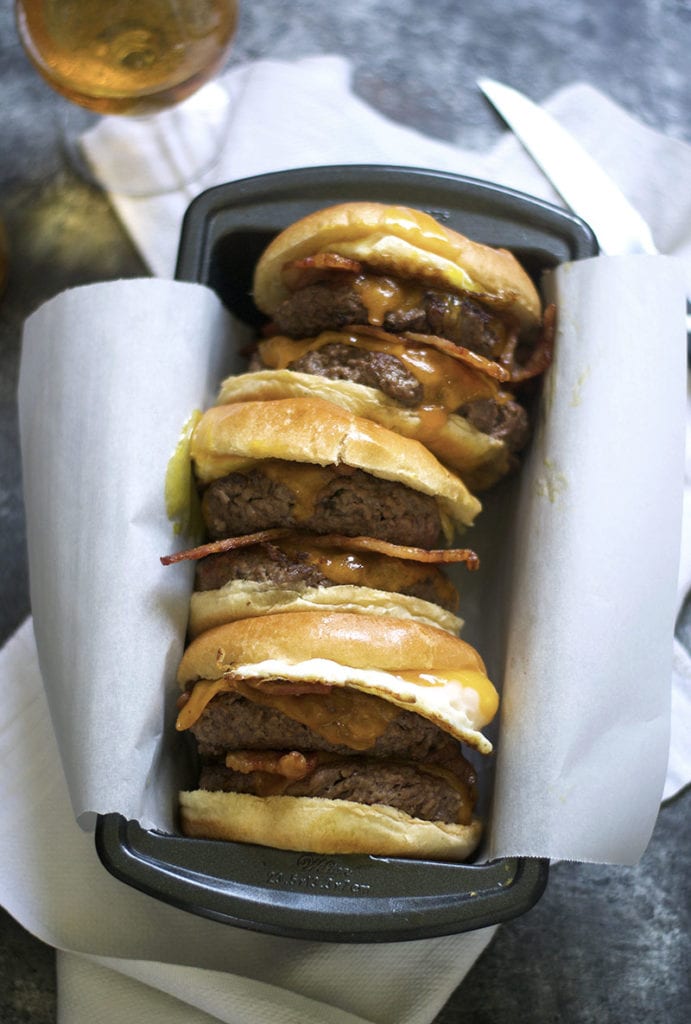 Off to the store I went for more Angus beef, cheese, bacon, and eggs.
The original burgers got wrapped in foil and shipped off with Mike for his school lunches. Let's start a burger for lunch tally. Right now we have three days of burgers.
The next batch of burgers is what you see here. I only made two double quarter pounders this round. I like this pictures so much better. Everything looks better with a side of fries and a beer, right? This time, when packing the burgers up for mike, I divided the burger patties and turned each double into a single. So, that will bring out burger total up to…. 3 + 4 = 7. Seven days worth of burgers for  Mike.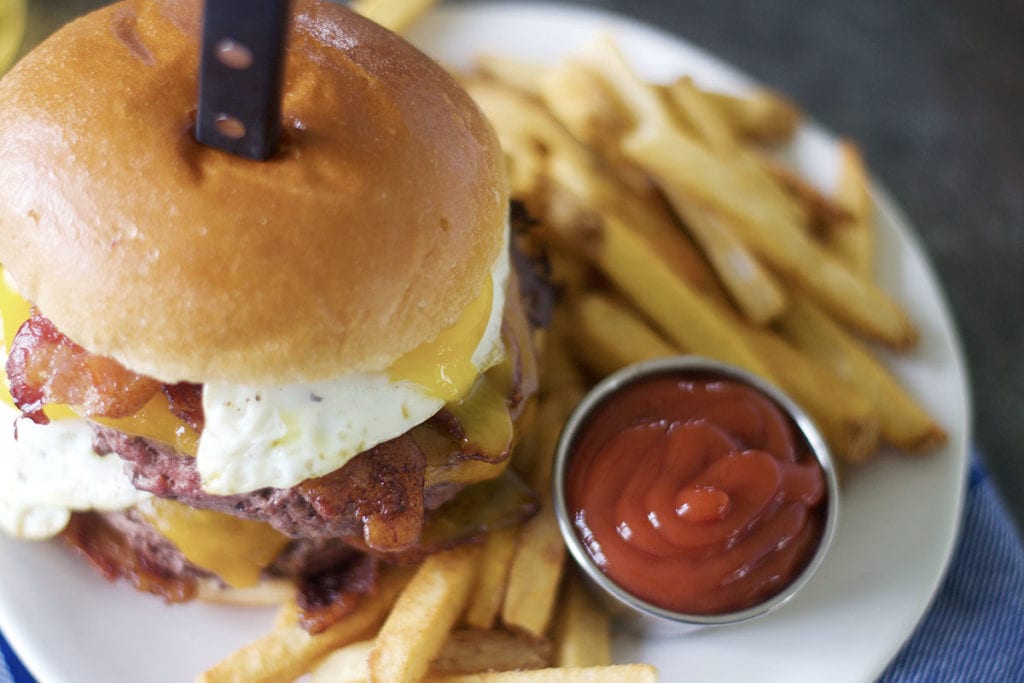 At one point he ate a burger for lunch and for dinner. I never thought I would see the day that Mike would ask for something different and a little lighter.
Ron Swanson, he is not!
If you are not familiar with Parks and Recreation, Ron Swanson is a magical, mustachioed, woodworking carnivore employed at the Parks Department in Pawnee, Indiana. In one of my favorite episodes, he asks for all the bacon and eggs at a diner. Like, for real, ALL of them. Then in another episode he enters into a burger contest. His burger is just beef. It wins. It is simple and everything that a burger should be.
With this burger, I wanted to pay proper homage to Ron Swanson. I think I did ok. I am sure I could have added more bacon, but other than that it is right up his alley.
I hope if you are grilling today, you give these babies a try!
Now, down to some burger biz! Each week this month there is a different prize to be won from entering HERE.
WHERE THIS EPIC BURGER CREATION IS MY OWN FOR #BURGERMONTH 2017, I WOULD LOVE TO THANK American Lamb Board, Anolon. Beef, It's What's For Dinner, Char-Broil, Curly's BBQ, Cuttingboard.com, Melissa's Produce, Primal Stone, Spiceologist , Thermoworks , & Veal Made Easy FOR THE KICK BUTT GRILL PRIZE PACKAGES!
THIS POST IS PART OF THE #BURGERMONTH CELEBRATION HAPPENING ALL MONTH LONG HERE AT GIRLCARNIVORE AND ACROSS THE INTERWEBS WITH 100 OTHER TALENTED FOODIES!! BE SURE TO FOLLOW #BURGERMONTH TO CHECK THEM ALL OUT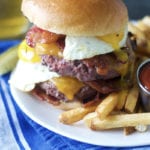 Ron Swanson Breakfast Burgers
Making Ron Swanson and any other carnivore proud with 2, quarter pound beef patties, lots of crisp bacon, and two fried eggs.
Ingredients
1

Pound

80/20% Certified Angus Ground Beef

Salt and Freshly Cracked Black Pepper

1

Pound

Thick Cut Bacon

4

Eggs

2

Brioche Hamburger Buns

4

Slices

of Sharp Cheddar Cheese
Instructions
Preheat the oven to 375 degrees F. Line a baking sheet with foil. Lay the bacon out on the foil lined sheet. Bake bacon for 12-15 minutes until crispy. Add to a paper towel lined plate to drain.

Heat a well seasoned, large cast iron skillet over high heat for 1 minute.

Section the beef into fourths. Form each fourth into a patty. Press an indent in the center so it stays flat while cooking. Season with salt and pepper.

Add two patties at a time to the hot cast iron. Cook for 3 minutes on the first side. Cook for 2 minutes on the second side. Top each patty with a slice of cheese and set off to the side.

Cook the remaining two beef patties the same way.

Add a bit of oil to a skillet. Cook the eggs until the white is no longer jiggly and translucent. Sunny side up, with a runny yolk is the preferred burger egg.

Pop the buns under the broiler for a minute to toast them.

Top the bottom bun with one patty, one egg, three slices of bacon. Then place the other patty on top with another egg and a few more slices of bacon. Cover with top bun and enjoy! Serve with fries and lots of napkins!