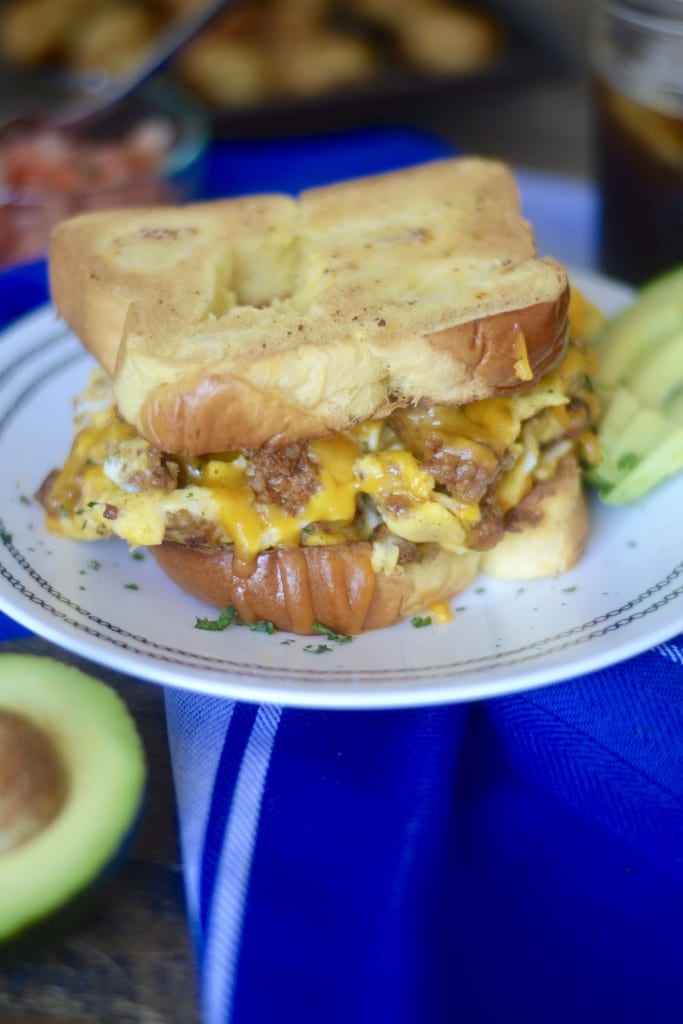 I am like Leslie Knope when it comes to breakfast. Certain days, especially if there was drinking the night before, I can be a total Ron Swanson. "Give me all the eggs and bacon." Why would anybody eat anything besides breakfast food? So many choices.
Mike used to work for a church band. Naturally that day of work would fall on a Sunday. When he coached football and baseball and was still doing church band, last year he was seriously working every single day of the week. I know they say distance makes the heart grow fonder, but come on already! As much as Mike loved the community and playing music with the band, he does have to admit it is nice to be home on Sundays.
Until I start giving him his daily itinerary of what we have to do and what more specifically he was to get done. Cough, the lawn, cough!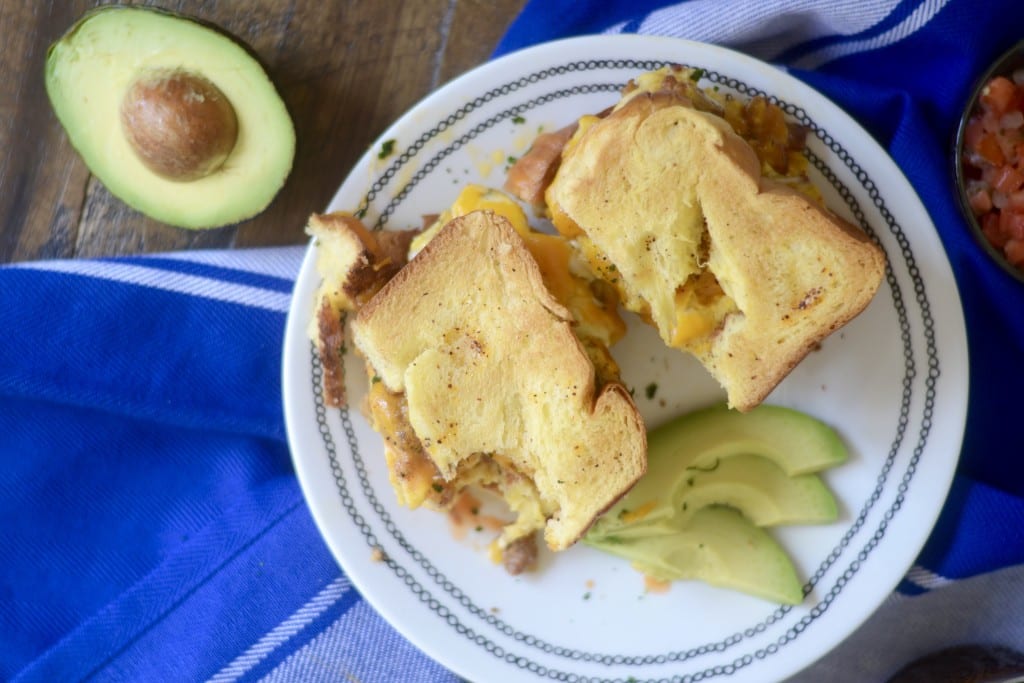 Don't feel bad for him. Don't you fellow men commiserate with him. Ok? He lives a charmed life. Even though I am sure he would tell you otherwise. With him home, this allows me to cook a big breakfast every Sunday. It can be just classic scrambled eggs with homefries or biscuits and gravy. I sometimes even do cinnamon rolls from scratch. But, get ready for this one people, Mike often complains that he just doesn't like "sweets" for breakfast.
GASP!
Hubba-whaaaa?!?!?
Normal people would kill for homemade cinnamon rolls. Anyway, because of that comment, I normally stick to savory egg and meat dishes.
These!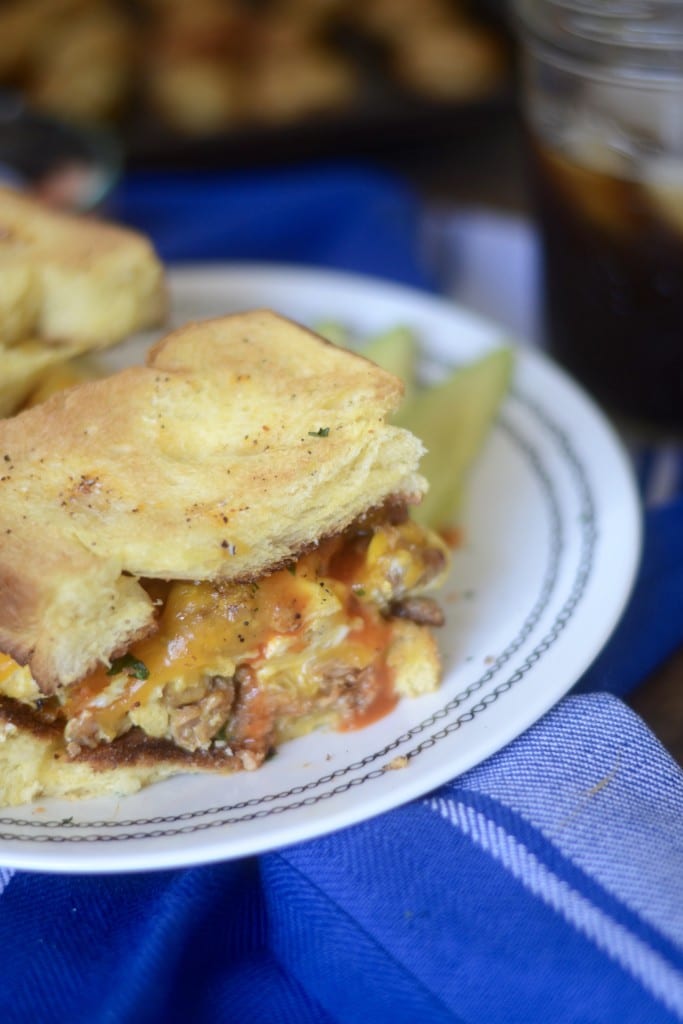 These sandwiches made appearances in our house for breakfast and then again for dinner! Because, like I said, who cares that it is called breakfast. Have it whenever! It is that good. Plus, I am not kidding you when I say this recipe is the easiest thing in the world! It is more about the ingredients. Buy good ground chorizo and a good loaf of French brioche, the rest if just scrambling eggs and melting cheese.
I am fairly confident that even Mike could make these. I mean, he has no excuse now. He is off on Sundays after all.
Chorizo and Egg Breakfast Melt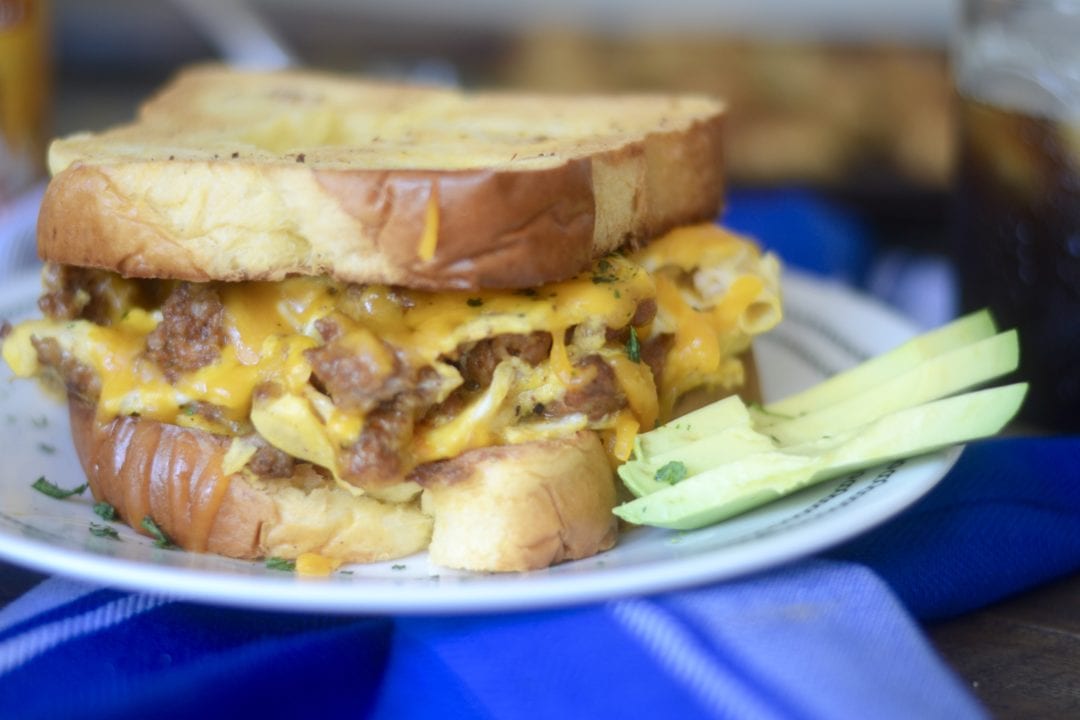 Spicy, crisp chorizo tucked inside fluffy scrambled eggs, and smothered with cheddar cheese. All between two toasted slices of buttery brioche.
Yields: 2 Sandwiches
4 Tablespoons Unsalted Butter, at room temperature
5 Large Eggs
1/4 Teaspoon Smoked Paprika
1/2 Teaspoon Salt
1/2 Teaspoon Black Pepper
Chili Powder
4 Thick Slices French Brioche Bread
1/4 Pound Ground Chorizo
3/4 Cup Freshly Grated Sharp Cheddar Cheese
Crack the eggs into a small mixing bowl. I normally do three eggs and two egg whites, but that call is up to you. Add the paprika, salt, and pepper tot he eggs. Whisk to combine.
Heat 1 tablespoon of butter in a small skillet. Add the chorizo. Cook over a medium/high flame. Use a wooden spoon or rubber spatula to break the meat into small chunks. Once the meat is browned, reduce heat to low.
Pour eggs into the skillet. Gently mix while the eggs cook to make sure the chorizo sticks into the scrambled eggs.
When the eggs are just about cooked through but still a little runny, add in 1/4 cup shredded cheddar. Mix to combine. Remove from heat and cover with lid.
Butter each side of the bread. Sprinkle a little chili powder on top of the butter. Place the slices on a baking sheet and set under the broiler for a minute or two to toast. Flip and toast the other side for the same time until golden.
Add the eggs to two of the slices. Top with remaining cheese. Place back under the broiler until melted. Cover with other slice of bread. Serve with chopped cilantro and hot sauce.
Preparation time:

7 minutes

Cook time:

15 minutes

Total time:

22 minutes