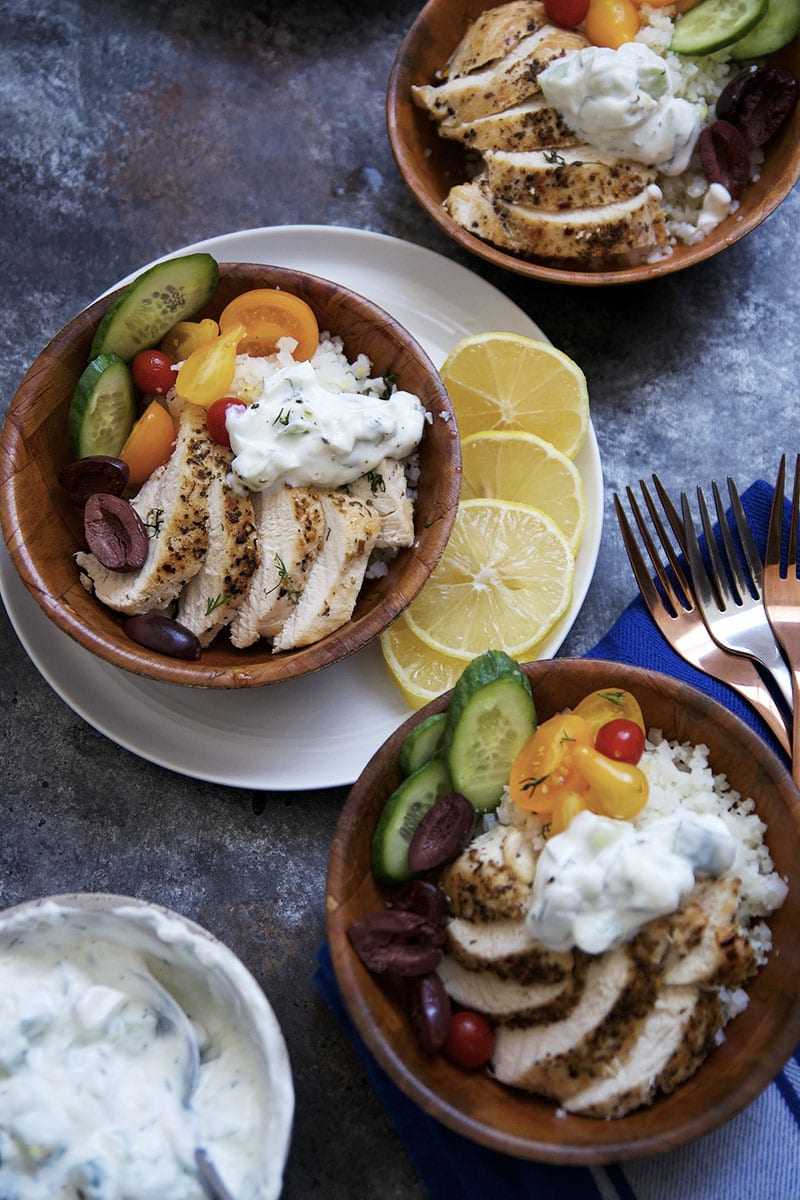 One of my goals for the blog is to include more quick weeknight meals. I think I did it with my 4 ingredient pumpkin chorizo bolognese, apple butter pork chops (only 3 ingredients), and my buffalo salmon wraps. The great thing about all of these recipes is I think they are all sort of healthy. Well, healthy for me at least. I never cared about healthy or not healthy growing up. You ate what your parents gave you and that was that. You didn't want to eat what was for dinner, oh well. I think I have told you guys before about my childhood dinners.
Just to refresh, my mom cooked every night except weekends. The meal consisted of a side salad, a vegetable, a pasta/grain, and a meat. All that every night with three kids at home with her most of the day. Yes, my mother is up for sainthood any day now.
I can never remember eating cooked broccoli or cooked cauliflower. As a parent, I now know why. The second you steam/cook either of those guys…. peee-yew!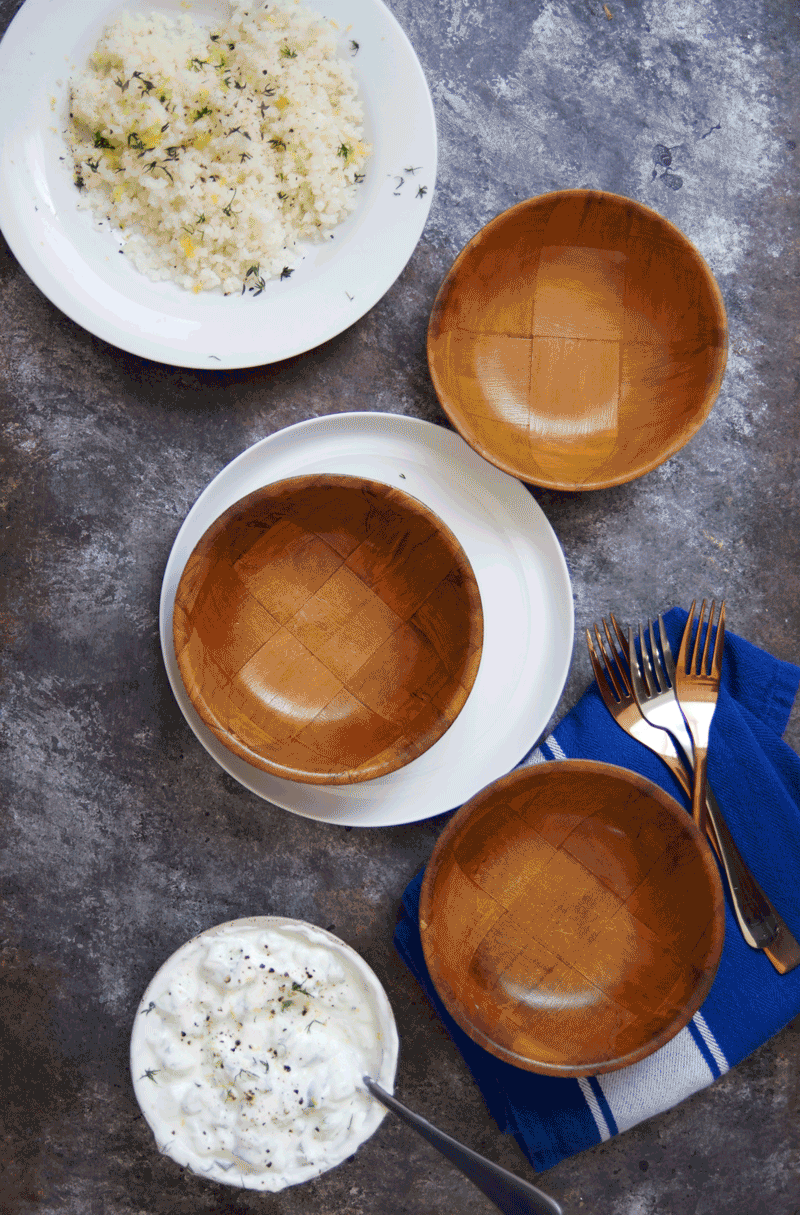 Andy's nose is like a super sniffer. So, all the times I have tried to sneak cauliflower puree into anything have been a fail thanks to his super sniffer.
I should have gone the rout of my mom and just offered them raw cauliflower and broccoli with tons of dips. Clearly, we weren't eating this at meal times. My dad would have his friends over for Monday Night Football and my mom, being the saint she is, would make all the apps. A veggie platter with ranch dip was always on the menu. Us kids got to hit the apps hard for dinner before my dads buddies came over.
My brother nick and I figured out that although we loooooove tomatoes, the surface of the tomato was not conducive to hanging on to a lot of ranch. Same with the cucumber slice. Cauliflower and broccoli, however! They have a bumpy surface which always holds the most dip. We were basically child snacking geniuses.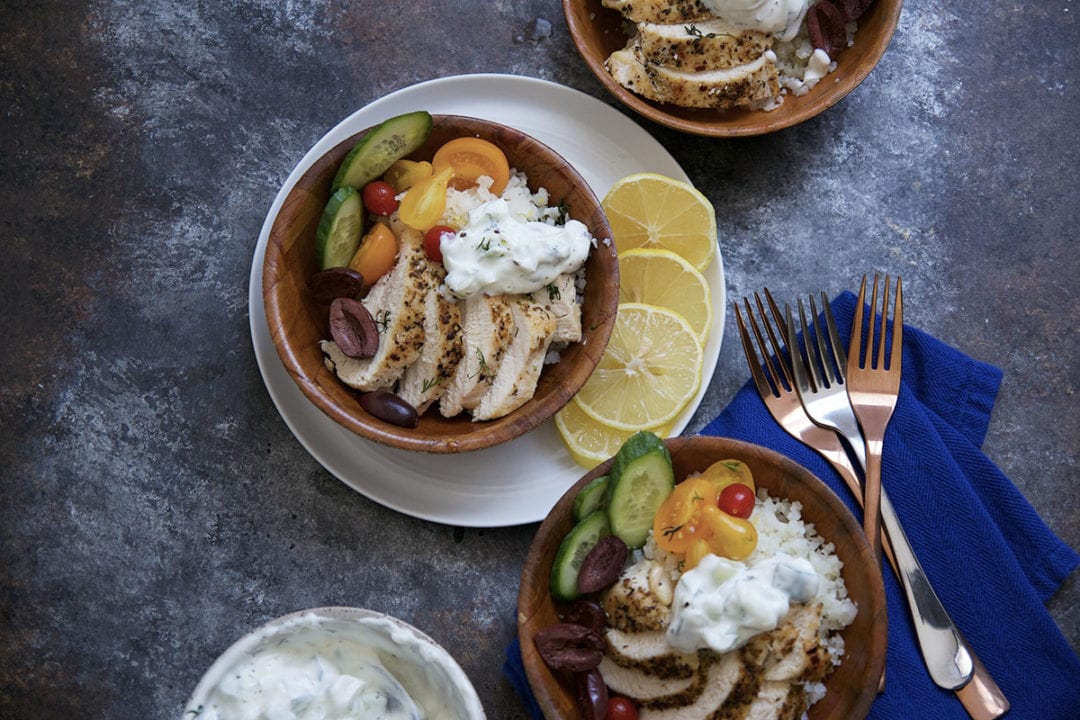 And ever since then, I love cauliflower and broccoli. I rarely eat it cooked though. That's just to save myself the "Ewww what stinks?" comments followed by the numerous sniffs from Jack who is just loving to follow along with anything Andy does or says.
But, the whole cauliflower rice trend, yeah, I can get on board with that.
Shhh…. I bought the frozen Green Giant bag. I don't have time to rice my own cauliflower. Let's be honest. I threw in some lemon zest, salt, pepper, and a little bit of fresh dill. Microwave for 5 minutes and boom, there is your rice. No guessing on if the rice is cooked all the way through or asking yourself why there is still so much water left in the pot when the rice is cooked?
Am I the only one that sucks at cooking rice?
This whole meal takes you like 20 minutes. You can customize whatever toppings you want and can even have people build their own bowls.
The only down side might be that you will drive yourself nuts thinking you still smell the cauliflower even though you cooked and ate all of it three days ago.
Related posts: