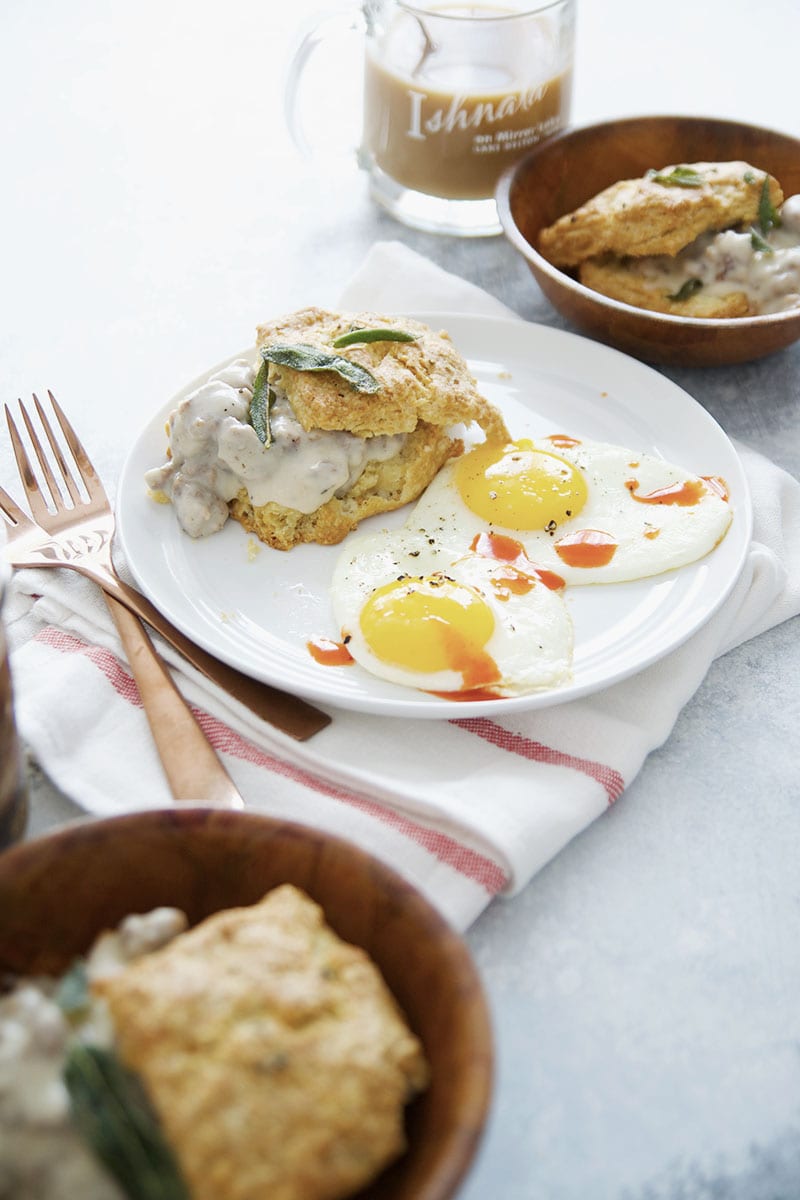 There are two types of people in this world; people that need to eat right when they wake up and people that don't. What category do you fall into? From birth I have always been an avid breakfast eater. As far as I can remember. Well, maybe because ever since I was born I have sucked at sleeping. My mom can testify to that! If you are up early then naturally, you want to eat breakfast.
I can remember sitting around the kitchen table with my brothers before school. We would watch Bananas in Pajamas on PBS, (because of our glamorous no cable life) and pull out the breakfast options. Deciding on breakfast was never too hard for me. Oh, girl, we had that classic 90's line-up of Toaster Strudel, Pop Tarts, Eggo Waffles, and the breakfast unifier, cereal. I have never met a person that doesn't like cereal. Wanna hear something weird? My little brother never really liked milk growing up. He still ate cereal. He ate it in a bowl, dry, with a spoon. He would have a glass of orange juice on the side. This breakfast may be a little Dexter-esque, but still, he ate cereal.
My dad to this very day has these epic breakfasts. We would wake up to smells of blueberry or apple pancakes. We would wander down the stairs at the early hour of 7 or 8am only to discover the smells lingered, but the food didn't. My dad wakes up at 4am. He "works out" then he eats breakfast. Alone. In the quiet of a sleeping house. As a parent, I now do the same thing and cherish that quiet breakfast before my kids wake up.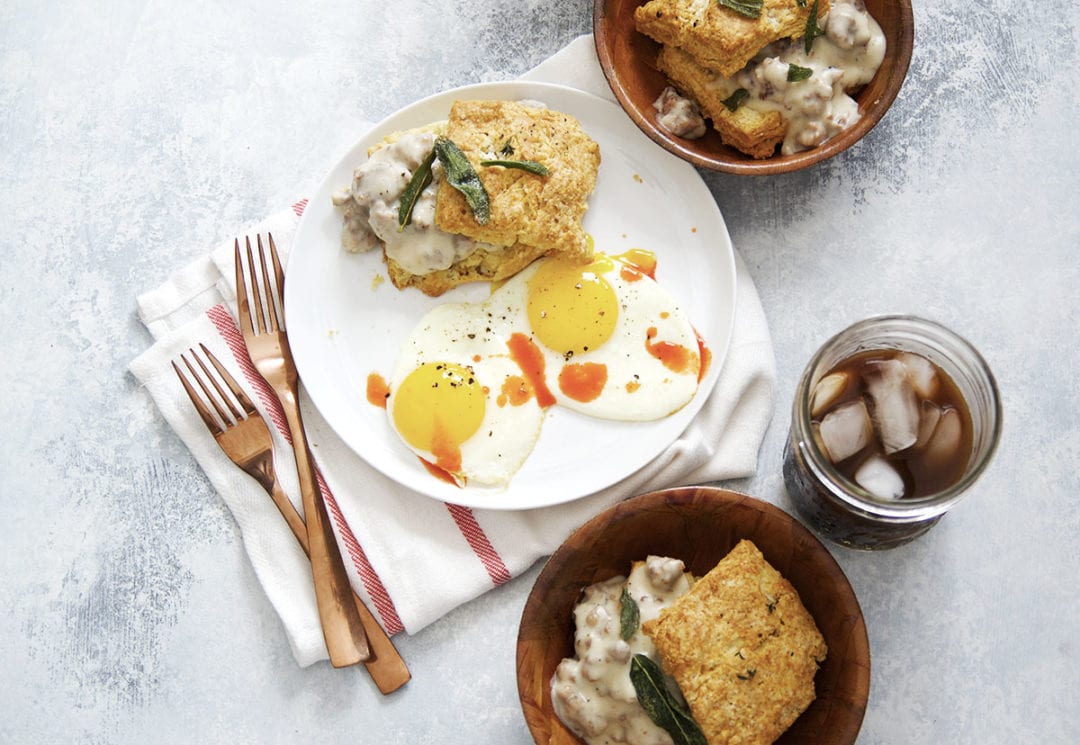 Growing up though… Not a fan of missing out on pancakes or the classic french fries and eggs.
Don't despair too much. My brother Nick and I learned how to cook our own fancy breakfasts. Then when we could drive, we would go to a greasy spoon diner and get eggs, hash browns, or giant omelettes. Basically I love breakfast. I even have a shameful love affair with McDonald's Egg McMuffins.
Ask anybody I have ever lived with in college how often I would stop at a drive-thru for a good ol' greasy sandwich, hash brown, and a large Coke hard. Go even a step further and ask my husband and sisters-in-law how annoying it is that the three of us require McDonald's breakfast at the airport before any flight.
On Sundays, we do up breakfast right in this house. Bacon, eggs, biscuits, and sometimes I even give into Mike's demands and bust out this classic fall gravy recipe. If you don't have the luxury of weekday or even weekend breakfasts, do it up for dinner!
Breakfast food is so good it belongs on the table multiple times a day.
Herb Biscuits and Fried Sage Gravy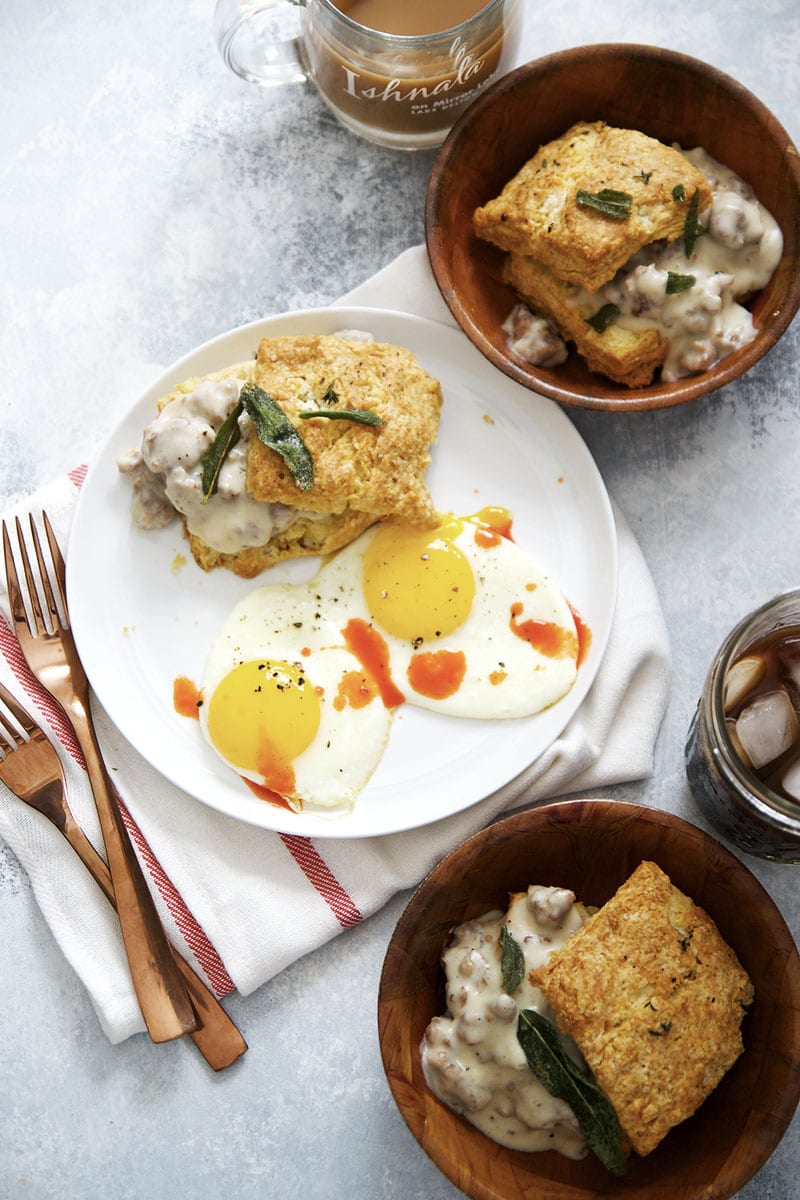 Herb studded fluffy buttermilk biscuits topped with crispy fried sage sausage gravy.
Yields: 3-5 Servings
For the Biscuits:
4 Cups All-Purpose Flour, plus more for dusting
1 Teaspoon Fresh Chopped Sage Leaves
1 Teaspoon Fresh Thyme Leaves
1 Tablespoon Coarse Sea Salt
1 ½ Tablespoons Baking Powder
1 Teaspoon Baking Soda
2 Sticks Unsalted Butter, cubed and chilled
1 ½ Cups Low-Fat Buttermilk
For the Gravy:
1 Tablespoon Unsalted Butter
8 Fresh Sage Leaves
2 Links Mild Italian Sausage, removed from the casing
2 Tablespoons All Purpose Flour
1 1/2 Cups Milk
Salt and Pepper
Preheat the oven to 400°F. Line 2 baking sheets with parchment paper.
First, make the biscuits. In a large bowl, whisk the flour with the salt, baking powder, baking soda, and herbs. Using a pastry blender or two knives, cut in the butter until it is the size of small peas. Add the buttermilk and stir until a shaggy dough forms.
Knead the dough on a floured surface until it comes together. Pat the dough 3/4 inch thick. Using a 3 1/2-inch round cutter or large glass, stamp out as many biscuits as possible. Reform the scraps and stamp out more biscuits. If you don't have a cutter, just use a serrated knife and cut the dough into 3x3-inch squares.
Sprinkle a little buttermilk on top of each biscuit and spread around using a pastry brush. Sprinkle a little salt, pepper, and thyme on top.
Transfer the biscuits to the baking sheets and bake for about 30 minutes, until golden and risen, shifting the pans halfway through baking. Let the biscuits cool on the baking sheets.
While the biscuits bake, add butter to a medium saucepan. Heat over medium flame until the butter melts.
Add the sage leaves and cook for about 3 minutes, until crispy and fragrant. Remove and transfer to a paper towel to drain.
Add the sausage to the hot pan. Using a wooden spatula, break the sausage into small pieces. Season with salt and pepper.
Cook until browned.
Reduce heat to low. Add in the flour. Mix until the fat absorbs the flour and a roux forms.
Slowly pour in the milk. mix to combine with the roux. Increase heat to medium and keep mixing until a thick gravy forms.
Remove pan from heat and transfer gravy to a small serving bowl.
Crumble to fried sage leaves on top of the gravy.
Serve the warm biscuits cut open with a big spoonful of gravy on top.
Preparation time:

20 minutes

Cook time:

30 minutes

Total time:

50 minutes