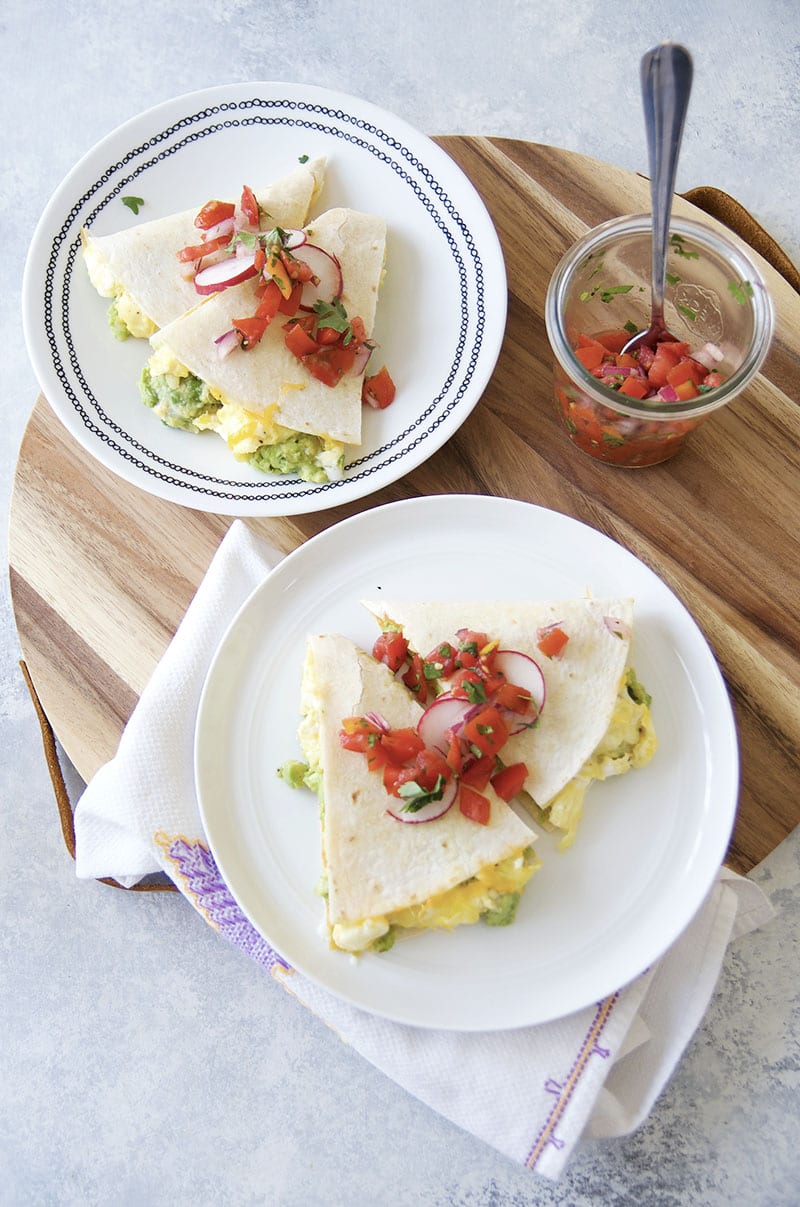 If you follow along with my Instagram Stories, you will for sure be able to finish the rest of this sentence:
Every morning, Stefanie starts her day with _________.
Cue the Jeopardy thinking music.
Those of you who don't follow along probably don't have Instagram (at least that is what I will tell myself is the reason you are not following my every movement outside of the blog).
The answer is eggs!
Every morning I start my day with a cup of coffee over ice with some almond milk and some kind of egg. I am waiting for the day when I get sick of eggs.
33 years and still going strong!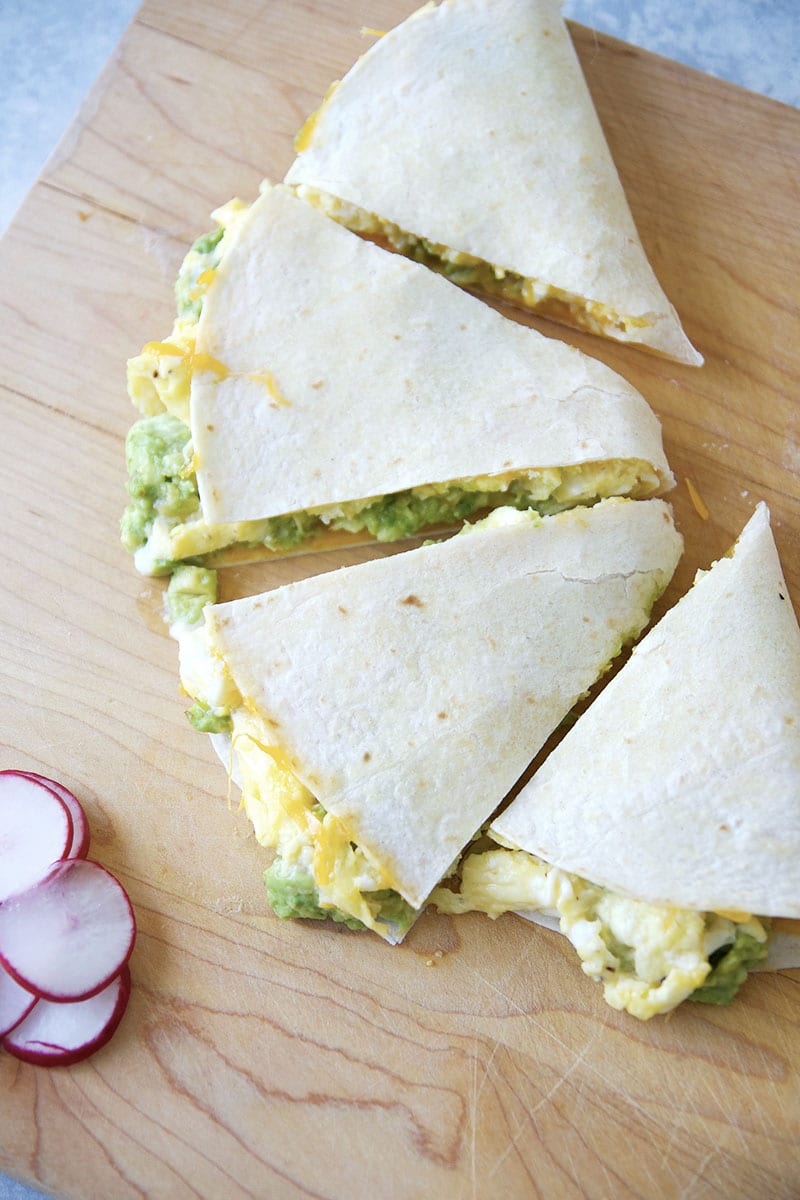 I usually soft boil a few eggs ahead of time. When I eat all those, I will fry up an egg. Weekends when everybody is home and up in my grill (literally), asking me what I am doing and what I am making, I switch to scrambled eggs.
Scrambies, as we lovingly refer to them, are way quicker.
I seriously don't mind if they are a tad overcooked. The overcooking is kind of inevitable when you have to pause what you're doing to tend to crashed or stolen Hot Wheels cars.
Every once in a while, I get a random morning all to myself. The kids sleep in. I get to wake up, shower, and cook breakfast in complete silence.
It is rare. But it does happen.
I seriously tiptoe around the kitchen. I remove every kitchen utensil and pan with the pace of a snail as to not clang anything or make any noise of any kind.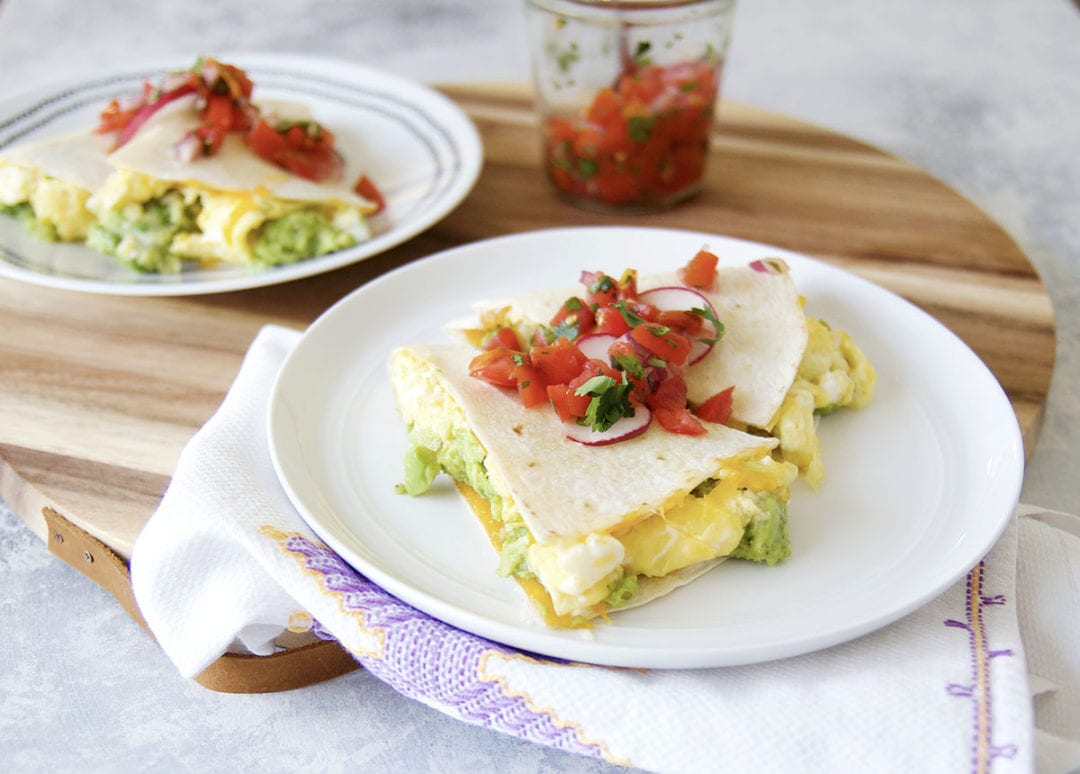 One of these rare mornings, I wanted to switch it up even more than normal (I mean, aside from adding avocado to toast instead of butter or having a different type of egg).
Also, I was out of my fresh baked bread…soooo yeah, quesadilla it is! I also didn't want to kid myself and act like I had all morning to cook and eat.
Quesadilla with a soft scramble, cheddar cheese and a smashed avocado. Done deal. These things make this the ultimate breakfast quesadilla in my opinion. It doesn't need meat, maybe a dash of hot sauce or pico de gallo.
You can also quickly shovel this into your face while standing over the sink when your kids inevitably wake up and start calling for you.
Ultimate Breakfast Quesadilla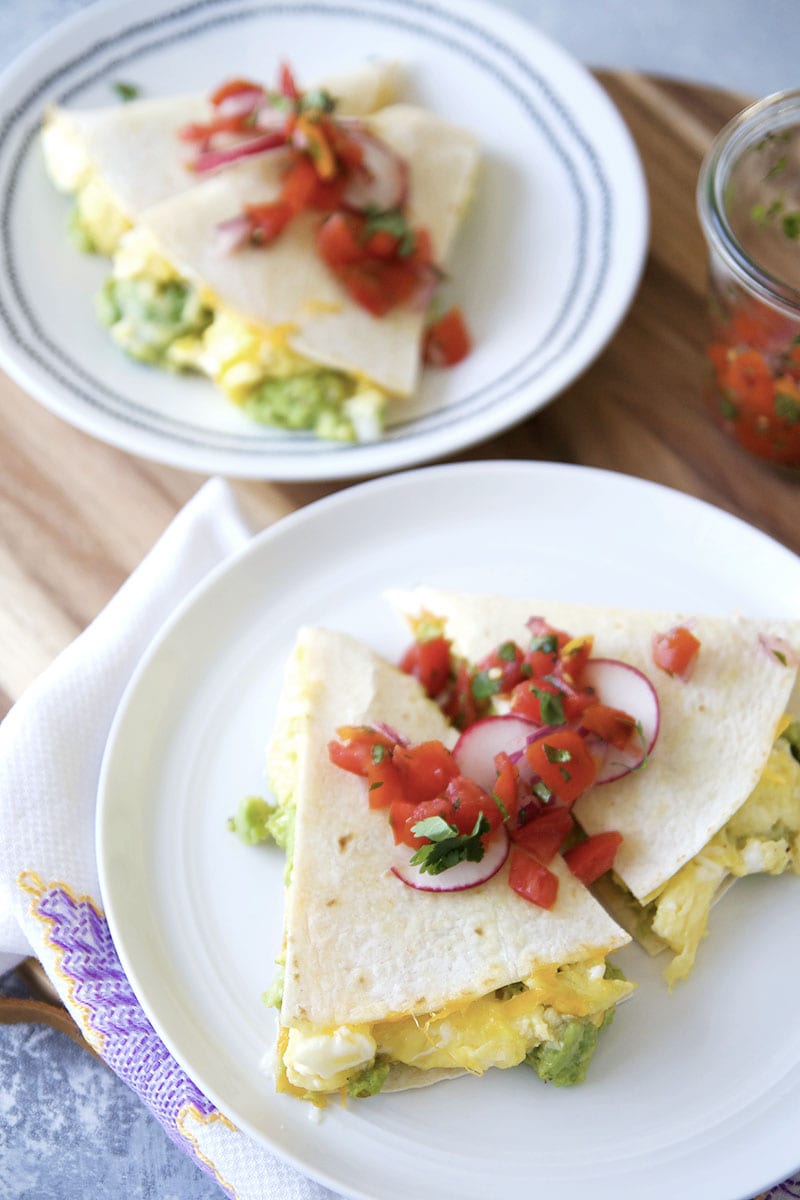 Easy, cheesy quesadilla topped with soft scrambled eggs and smashed avocado.
Yields: 1 Quesadilla
1 Tablespoon Unsalted Butter or Ghee
2 Large Eggs
1 Tablespoon Heavy Cream
Salt and Freshly Cracked Black Pepper
1/2 Cup Shredded Sharp Cheddar Cheese
Nonstick Spray
1 Large Burrito Tortilla
1 Ripe Avocado
Hot Sauce or Pico de Gallo
Add butter/ghee to a small non-stick skillet. Heat over medium/low heat until the butter melts.
Whisk the eggs, heavy cream, salt, and pepper together in a small mixing bowl. Add to the hot pan.
Use a rubber spatula and scrape the eggs from one side of the pan to the other. Do not stir. Keep gently pushing the eggs back and forth, creating little ribbons. Cook for about 6-7 minutes until the eggs are still a little soft.
Remove the egg pan and set off to the side.
Use a little bit of nonstick spray on a large skillet. Add the tortilla to the pan. Increase heat to medium/high. Add the cheese to the tortilla.
Once the cheese starts to melt, add the eggs to one side of the tortilla.
Add avocado to a small bowl. Use a fork to smash the avocado.
Add the smashed avocado to the tortilla on top of the soft scrambled eggs.
Fold the half of the tortilla over the side with the eggs and avocado. Gently press down with a spatula to make sure the cheese grabs on to the avocado.
Remove the quesadilla from the pan and transfer to a plate of cutting board. Let the quesadilla sit for 2-3 minutes before slicing into 4 wedges.
Top with hot sauce or pico de gallo.
Preparation time:

4 minutes

Cook time:

11 minutes

Total time:

15 minutes