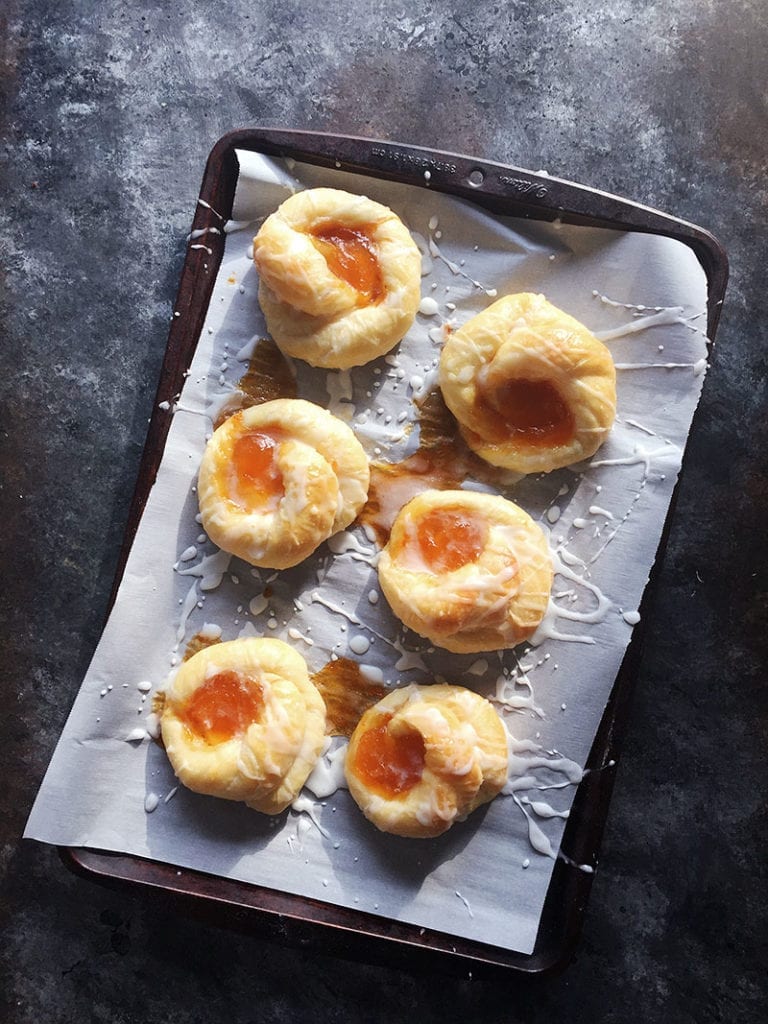 Food is such a marvelous memory trigger. Don't you agree? Beef stew makes me think of my Mom. Hard-boiled eggs make me think of my Dad. Anything pickled reminds me of my brother Zack. Spicy chicken wings make me think of my brother Nick. Boiled carrots and red potatoes make me think of my Grandma. The person I seem to have the most food memories tied to is my Dziadzia (pronounced jah-jah). Grandpa in Polish.
When we had Sunday dinners at his house, there would be whole roasted chickens, or what us kids so fondly refer to as "butter chicken." There was sauerkraut, lazy pierogies, regular pierogies, cabbage rolls, smashed potatoes, and of course his famous cucumber sour cream salad. On the days that he didn't cook dinner, we went to this old school neighborhood family-style Polish restaurant, where we would pretty much order all the same things. The only difference was our meals came with soup and salad and big slices of rye bread.
Oh gosh, does this Polish girl looooove her rye bread!
For dessert, a big plate of kolaczki, danishes, and strudel. I always made a beeline towards anything with apricot or cream cheese filling. Even today, that is my jam.
Homemade danishes are definitely a labor of love but they are totally worth it. When I saw how beautiful these turned out, more beautiful than the old Polish restaurants I do have to say, I was so proud. I took a bite and immediately thought of my Dziadzia. Oh, he would have loved these.
That's the magic of food. Now, if only the magic of food could have you lose weight instead of gaining it after eating six of these bad boys.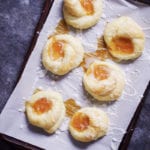 Apricot Danish
Light and fluffy pastry dough filled with warm apricot jam and topped off with a sugary glaze.
Ingredients
Danish Dough:
3/4

Cup

Whole Milk

warmed to about 110 degrees F

1

Large Egg

room temperature

2

Large Egg Yolks

room temperature

1

Teaspoon

Nielsen-Massey Madagascar Bourbon Pure Vanilla Extract

2 1/2

Cups

All-Purpose Flour

2 1/4

Teaspoons

Red Star Platinum Instant Baking Yeast

2

Tablespoons

Dixie Crystals Sugar

1

Teaspoon

Salt

4

Tablespoons

Unsalted Butter

room temperature

12

Tablespoons

Unsalted Butter

cold and cut into cubes
For the Danish:
1

Egg + 1 Tablespoon Water

beaten

1/2

Cup

Apricot Jam
For the Glaze:
1 1/2

Cup

Dixie Crystals Confectioners' Sugar

2-4

Tablespoons

Whole Milk

1/2

Teaspoon

Nielsen-Massey Madagascar Bourbon Pure Vanilla Extract

Pinch

Salt
Instructions
Grease a large mixing bowl, set off to the side.

In a large liquid measuring cup, combine eggs, milk, yolk, and vanilla.

In the bowl of an electric stand mixer fitted with the paddle attachment, mix the flour, yeast, sugar, salt on low until combined. Add the room temperature butter. Mix on low until no pieces of butter are visible. Add the cold butter and mix on low until the butter pieces are no larger than 1/2 an inch.

Add the milk mixture. Mix on low until a very sticky and lumpy dough forms. Use a spatula and scrape the dough into the prepared bowl. Cover with plastic wrap and let rise in the refrigerator overnight.

The next morning, transfer dough to well floured surface. Knead the dough about 10 times by hand and form into a ball. Dust lightly with flour and cover with a tea towel. Let the dough come to room temperature.

Press the dough into a 6x6-inch square. Use flour as needed if the dough gets too sticky. Roll the dough out into a 16x20 inch rectangle. Sprinkle more flour if it gets too sticky.

Use a bench scraper to fold the short ends of the rectangle in on the middle section to make three layers of folded dough. This is the first turn.

Flip the dough over seam side down and roll into a 8x16-inch rectangle. Do the same thing as before, use a bench scraper to fold the short ends in on the middle section to make three layers. Flip the dough seam side down and repeat this step two more times.

After the fourth time, just gently press down the dough with a rolling pin and cut in half width wise. Cover each half of the dough with plastic wrap and chill for one hour.

Work with one half of dough at a time. Place the chilled dough on a well floured work surface. Roll out into a 10x14-inch rectangle, flour as needed so dough doesn't stick. Trim any rough edges. Cut the dough vertically into 8 even pieces.

Hold one end of the dough strip in place with one hand and twist the other end of the strip into a spiral with your other hand. Tuck one end under itself and pinch to seal then curl the spiral into a snail shape. Tuck the loose end underneath the snail. Gently pinch into the dough so it won't come loose during baking. Continue until all 8 snails are made. Place the prepared danishes on a large baking sheet lined with parchment paper.

Let the danishes rise for an hour and a half.

Continue this snail making process with the other half of the dough.

Preheat the oven to 350 degrees F.

Brush the danishes with the egg wash.

Use two fingers to gently create a well in the center of each danish. Place a scant teaspoon of the jam into the well of each danish.

Bake for 18-20 minutes until golden brown.

Transfer to wire baking sheet to cool.

While the danishes cool, make the glaze. Whisk the sugar, milk, and vanilla together. Use the whisk to drizzle the glaze over the tops of each danish.
Brunch Week is still going on, so be sure to backtrack to my last post (click here) and enter the amazing giveaway from our awesome sponsors. Also be sure to check out the amazing recipes from my fellow food bloggers:
BrunchWeek Beverages:
Pineapple Citrus Smoothie from It Bakes Me Happy.
Southern Spiked Mango Iced Tea from The Crumby Cupcake.
BrunchWeek Egg Dishes:
Cheddar Asparagus Mini Quiche from Amy's Cooking Adventures.
Goat Cheese and Asparagus Breakfast Souffle from Palatable Pastime.
BrunchWeek Breads, Grains and Pastries:
Apple Cheddar Chop Bread from A Day in the Life of the Farm.
Apple Cinnamon Buns from Books n' Cooks.
Apple Lekvar Sweet Rolls from Cindy's Recipes and Writings.
Apple Hotteok (Fried Stuffed Pancakes) from kimchi MOM.
Apricot Danishes from Sarcastic Cooking.
Braided Apple Ginger Danish from The Spiffy Cookie.
Bourbon Banana Waffles from Forking Up.
Cinnamon Sugar Apple Muffins from Rants From My Crazy Kitchen.
Easy Popovers with Honey Butter from Hardly A Goddess.
Glazed Cinnamon Buns from That Skinny Chick Can Bake.
Strawberry Rhubarb Almond Rolls from Wholistic Woman.
Ultimate Cheese Muffins from Jane's Adventures in Dinner.
BrunchWeek Main Dishes:
Breakfast Loaded Tatertot Casserole from Big Bear's Wife.
Grilled PBJ with White Cheddar and Bacon from Nik Snacks.
Steak and Eggs Oscar Style from The Redhead Baker.
BrunchWeek Fruits, Vegetables and Sides:
Aloo Tiki with Apple-Tamarind Chutney from Culinary Adventures with Camilla.
Asparagus Salad from Cookaholic Wife.
Asparagus Caprese Salad from The Barbee Housewife.
Cheesy Potato Asparagus Tart from Sew You Think You Can Cook.
Garlic Roasted New Potato and Asparagus Salad from An Edible Mosaic.
White Cheddar Pimento Cheese Spread from Love and Confections.
BrunchWeek Desserts:
Chocolate Rose Truffles from Cooking with Carlee.
Coffee Almond Fudge from Family Around the Table.
Disclaimer: Thank you to #BrunchWeek Sponsors: Red Star Yeast, Dixie Crystals, Cabot Cheese, Nielsen-Massey, Rainier Fruit, and Michigan Asparagus for providing the prizes free of charge. These companies also provided the bloggers with samples and product to use for #BrunchWeek recipes. All opinions are my own. The #BrunchWeek giveaway is open to U.S. residents, age 18 & up. All entries for the winner will be checked and verified. By entering you give the right to use your name and likeness. The number of entries received determines the odds of winning. Six winners will be selected. The prize packages will be sent directly from the giveaway sponsors. The #BrunchWeek Bloggers are not responsible for the fulfillment or delivery of the prize packages. Bloggers hosting this giveaway and their immediate family members in their household cannot enter or win the giveaway. No purchase necessary. Void where prohibited by law. This promotion is in no way sponsored, endorsed or administered by, or associated with Facebook, Instagram, Pinterest, or any other social channel mentioned in the #Brunchweek posts or entry.