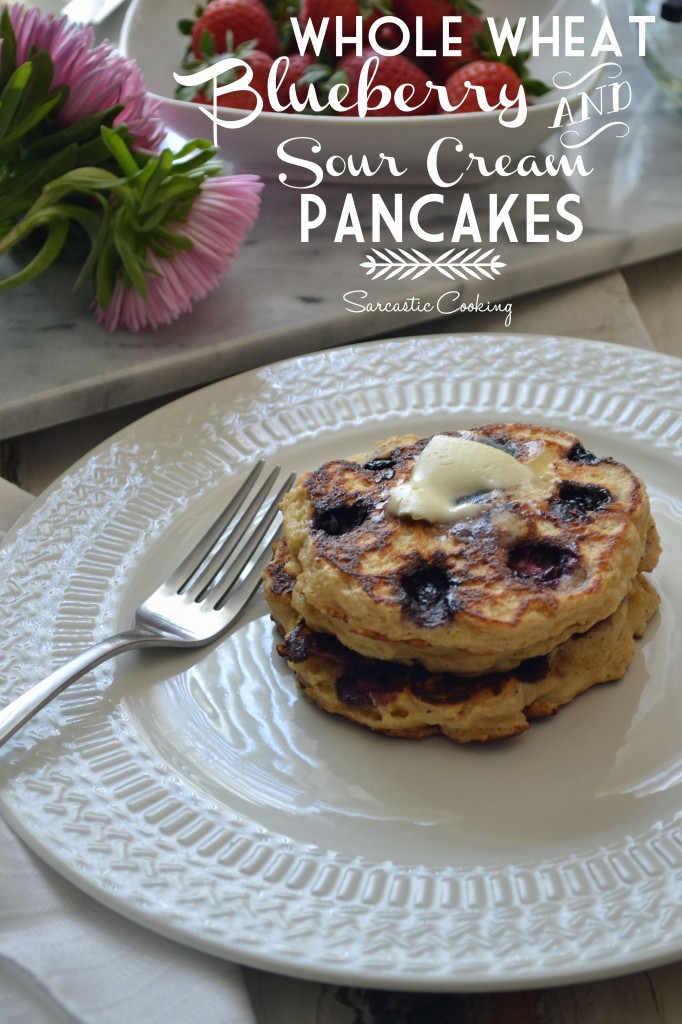 Everybody has their favorite movies, the ones you can put on every other day and laugh at all the same parts and say the lines out of memory. Despite the fact that you know it like the back of your hand, it is still funny to you. For me, these movies are as follows; Forgetting Sarah Marshall, 50 First Dates, and I Love You Man. Yes, I have a Jason Segel obsession. Actually, so does Mike.
Each time we watch these movies, we pick up on new funny lines to obsess over. Like the millionth time I watched 50 First Dates, I could not stop laughing at the one scene where…. Wait.
Let me explain the premise of the movie in case you haven't seen it yet. Adam Sandler falls in love with Drew Barrymore only to discover her short term memory is shot and each day she wakes up she forgets everything form the day before. So each day he has to try and make her fall in love with him all over again.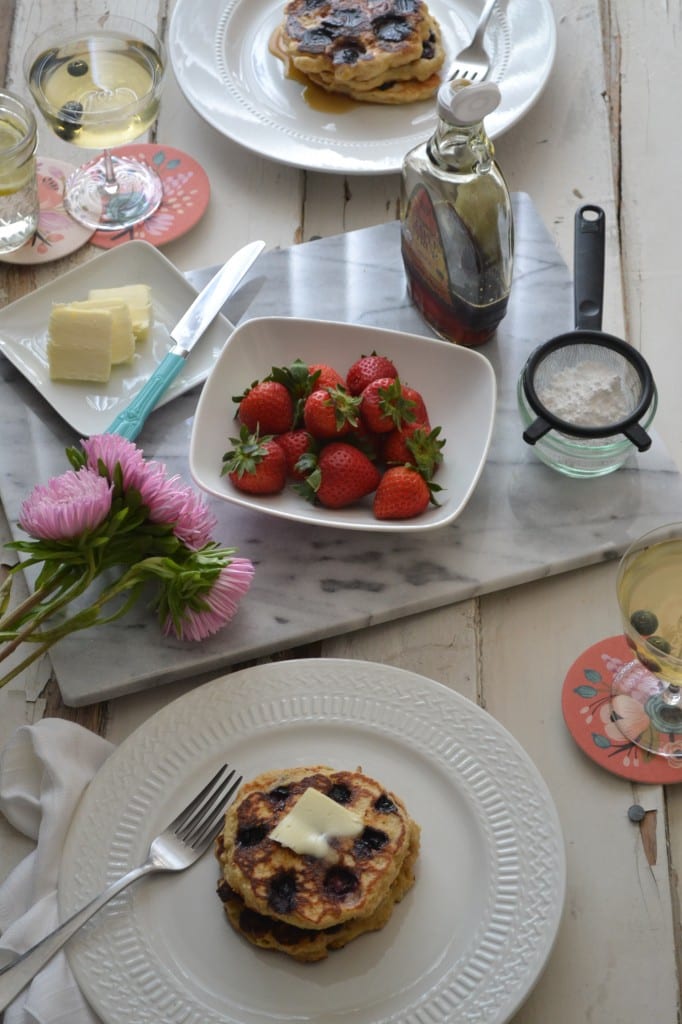 So, like I was saying, in one scene in which Adam Sandler is trying to get Drew to notice him, he pretends he cannot read the menu in a breakfast diner. While struggling with the words, he fake cries and she comes over to comfort him. She teaches him how to read the menu. That is of course after he struggles with the word pancake. He sounds the word out and says, "P-p-p-pan-clogs."
For whatever reason, that gets me every single time. You too? No? Well, I guess you just have to watch the movie then! So, now Mike and I always call pancakes "panclogs." And boy, are these some great panclogs!!! They will make the perfect brunch for Mother's Day.
Now here is a little reminder about all the great prizes. Be sure to enter before the 11th!
Prize #1:
From California Walnuts one lucky winner will receive:

A KitchenAid Artisan 5-Quart Stand Mixer model number: KSM150PSGA. Mixer comes with: 2-piece pouring shield, 5-quart stainless steel bowl, flat beater, dough hook, and wire whip.
A Walnut Prize Pack containing 1lb burlap bag of fresh California Walnuts, 1 portion control tin, 1 heart shaped cookie cutter, 1 flexible cutting mat, 1 mini spatula, 1 chip clip and 1 water pouch. .
Prize #2: (but with lots of winners)
From Lodge Cast Iron one lucky winner will receive:
One lucky winner from the rafflecopter below will receive a Lodge Cast Iron Skillet, three silicone pieces (a hot handle holder, a pot holder and a trivet).
In addition, one lucky participant from our TweetChat on Sunday May 5th from 2-3pm Eastern will also win a Lodge Cast Iron Skillet and the three silicone pieces. PLUS five lucky participants will get a set of the three silicone pieces. (Search for hashtag #BrunchWeek to follow along. Use the hashtag in tweets during the chat to enter to win).
AND, everyone who comments in our PinChatLive on Saturday May 11th between 2-3pm Eastern will also be entered to win one prize of a Lodge Cast Iron Skillet and a set of three silicone pieces and 4 prizes that contain three silicone pieces each. (For the PinChatLive go to The BrunchWeek Pinterest Board at 2pm on May 11th and comment on the questions pins there. Refresh your screen often so you don't miss any new questions).
Prize #3:
From Flavors of Summer one lucky winner will receive:

A Flavors of Summer Entertaining Package including (get this!) a $100 gift card to Sur la Table! In addition to the amazing gift card, this entertaining package includes a variety of goodies including cookbooks, kitchen utensils, entertaining partyware like a chip and dip server, beverage container and more. From free products, to fun stuff for decorating – you'll be able to make the most of your next summer party.
Prize #4:

From Black Gold Farms one lucky winner will receive:
A Martha Stewart Collection Kitchen Prize Package including a 3 quart Enameled Cast Iron Casserole, Magnetic Spice Grinders, a Pot Clip, Cheese Grater and a Silicone Head Spatula.
Prize #5:
From the Food and Wine Conference and #SundaySupper:
The Food and Wine Conference is being held in Orlando, Florida from July 19-21st at the unbelievably beautiful Rosen Shingle Creek. Speakers include Sara Moulton (of Food Network fame), Michael Green (a true celebrity in the wine and spirits world) and Jaden Hair (cookbook author and creator of Steamy Kitchen). This prize is for a single Full Conference Pass with a value of $250. (Accommodations can be booked at the Rosen Shingle Creek at a highly discounted rate for all conference attendees).
Prize #6:
From Bob's Red Mill one lucky winner will receive:
A Bob's Red Mill Kitchen Prize Pack: A beautifully emblazoned Bob's Red Mill canvas tote bag containing the Bob's Red Mill Cookbook, assorted Bob's Red Mill products, a Salter® Baker's Dream Aquatronic Baking Scale, Norpro® Silicone Heat Resistant Spatula, Best® Standard French Whip and a $40 Bob's Red Mill Gift Card.
Prize #7:
From Whole Foods Orlando one lucky winner will receive:


The Whole Foods Orlando Breakfast In Bed Basket: Mixing Bowl, Allegro Organic Breakfast Blend Coffee, Allegro Coffee Mug, Cooking Whisk, Microplane, Delamotte Champagne, 365 Organic Amber Maple Syrup, Whole Pantry Cinnamon Sticks, French Brioche and a $25 Whole Foods Market Gift Card
Prize #8:
From Whole Foods Orlando one lucky winner will receive:

Whole Foods Flavorful Delights Basket: Full of fun items and ingredients to play with in the kitchen: 5 qt Colander,, Servino Homemade Pastas, 365 Organic Balsamic Vinegar, Macadamia Oil, Marmigiano Regiano, Key Lime Savory Oil, Branfords Original Hot Sauce, Cheese Grater, Vosges Black Pearl Bar Chocolate, Vosges Fire Bar Chocolate, R.C. Buck's Gourmet Rub – Sweet Orange Habanero, Divina Pickles – Sweet Watermelon Rind, Composta Di Fragole – Strawberry Compote with Modena Balsamic Vinegar, Sabatino Tartufi – Truffle and Honey
Prize #9:
From Stonyfield Organic one lucky winner will receive:
A Stonyfield Kitchen Prize Pack: A Prize Pack full of yogurt fun From Stonyfield Organic Yogurt is just ONE of the amazing prizes in our #BrunchWeek 2013 giveaway.Preserve Colander, Preserve portable yogurt carrier, Preserve cutting board, Stonyfield cookbook, Stonyfield oven mitt, Travel sandwhich carrier made out of 100% reused plastic bottles, Stonyfield water bottle, Stonyfield tote bag, 10 free cups of Stonyfield Greek.
Whole Wheat Blueberry and Sour Cream Pancakes
Recipe Type
:
Brunch/Breakfast
Author:
Prep time:
Cook time:
Total time:
Serves:
Makes 8, 4 inch Pancakes
Ingredients
1 Large Egg
1 Cup Low-Fat Sour Cream
¼ Teaspoon Vanilla Extract
1 Teaspoon Lemon Zest
2 Tablespoons Sugar
¼ Teaspoon Salt
¼ Teaspoon Ground Cinnamon
½ Cup Whole Wheat Flour
¼ Cup All-Purpose Flour
1 Teaspoon Baking Powder
½ Teaspoon Baking Soda
Butter, for the pan
½ Pint of Blueberries
Instructions
Preheat the oven to 250 degrees F.
In a large bowl, whisk together the sour cream, egg, vanilla, and sugar.
In a separate medium bowl, whisk together the salt, cinnamon, flours, baking soda, and baking powder. Fold the dry ingredients into the wet ingredients. Don't over mix the batter. It is ok if there are still lumps in the batter.
Heat a large heavy-bottomed skillet or cast iron pan over medium/low heat. Add a pat of butter to the pan.
Once the butter melts, add about ¼ cup of batter to the pan. Place a few puddles of batter at least two inches apart in the pan. Cook for three minutes. Add a few blueberries to the half-cooked pancakes in the pan. Flip the pancakes and cook for five minutes.
When the first batch of pancakes are done, transfer them to a baking sheet, and then place the sheet in the oven to keep the pancakes warm while you continue to cook the rest.
Recipe adapted from The Smitten Kitchen Cookbook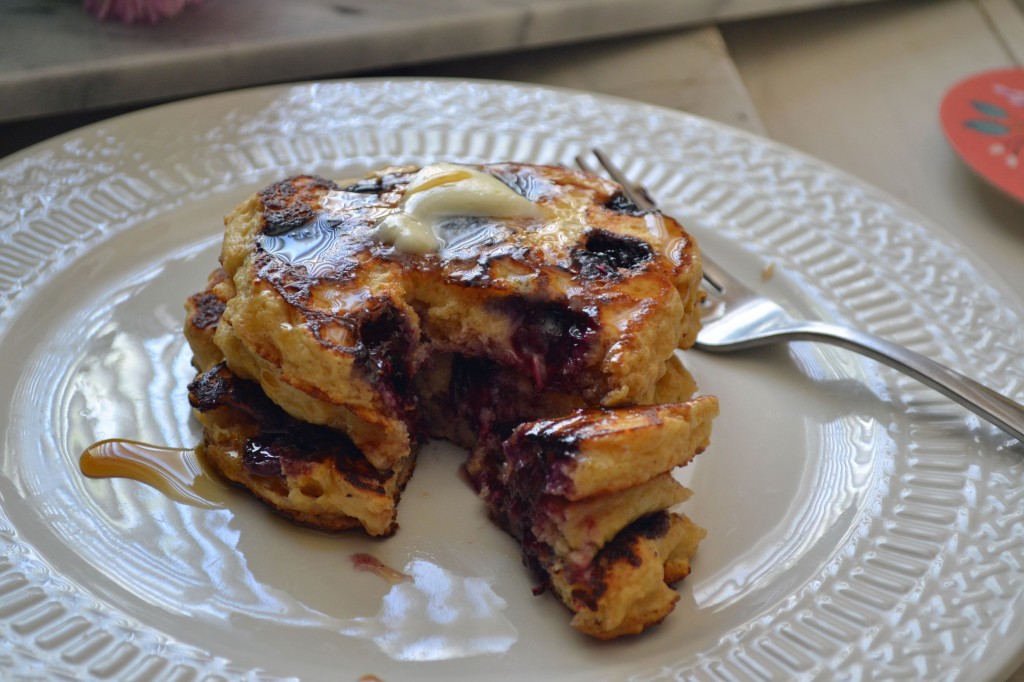 Here are other recipes from my fellow Brunch Week Bloggers:
Brunch Drink Recipes
Mango Lime Bellinis by Cook the Story
Strawberry Sangrias by Kokocooks
Breads, Grains, Cereals and Pancake-type Yums
Souffle Pancakes with Bacon Flowers by Jane's Adventures in Dinner
Mini Breakfast Pizzas by Sweet Remedy
Turkey, Brie and Raspberry Waffle Bites by Vanilla Lemonade
Glazed Doughnut Pancakes by The Domestic Mama & The Village Cook
Whole Wheat Blueberry and Sour Cream Pancakes by Sarcastic Cooking
Meat, Poultry, Fish and Legume Brunch Recipes
Thai Orchid Salmon Salad by Culinary Adventures with Camilla
Egg Recipes
Crouque Monsieur Strata by White Lights on Wednesday
American Girl Chip and Ham Scramble by The Vintage Cook
Sausage, Egg, & Veggie Casserole by Katie's Cucina
Potato Recipes
Poutine Hash by The Girl In The Little Red Kitchen
Brunch Dessert Recipes
Vanilla Bean Cookie Bars by Rachel Cooks
Candied Bacon Brownies by {i love} my disorganized life
Turtles French Toast by Cravings of a Lunatic
Chocolate Chiffon Cakee by Love and Confections
Dark Chocolate-Orange & Walnut Banana Bread by The Kitchen Prep
Related posts: