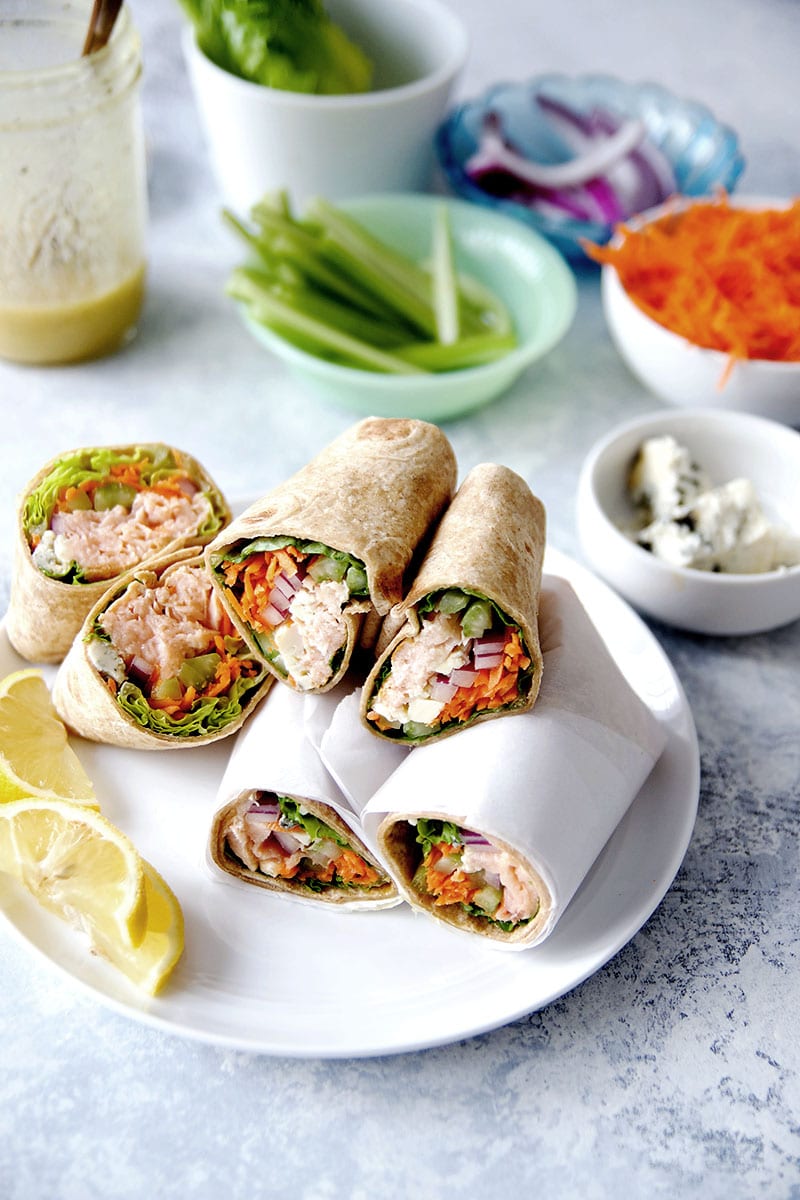 Do you meal plan? Wait. A better question is, do you stick with meal planning for more than two weeks? That seems to be my limit. I don't know if it is boredom or laziness or even a combination of the, two but I just can't be monogamous to meal planning. I will go back though, so I guess you could call it an open relationship, or maybe more of an on and off again relationship.
I have talked about sticking to theme days though and that does help. But isn't it so much easier NOT to cook at all? Maybe if money grew of trees that life would work for us. Sadly it does not, so cooking it is!
We are still stuck in the phase of toddler meals and adult meals. Yes, I created bad habits. Yes, I gave in to their weird food preferences. But also it is sooooo much easier just to give them three things to choose from for dinner than hear them scream and moan about something green being on their plate. I know, worst mom ever. (Passive aggressive eye roll emoji). I do have high hopes that they will come back around and maybe one day we can all eat one meal together.
Sigh, that is what my dreams are made of!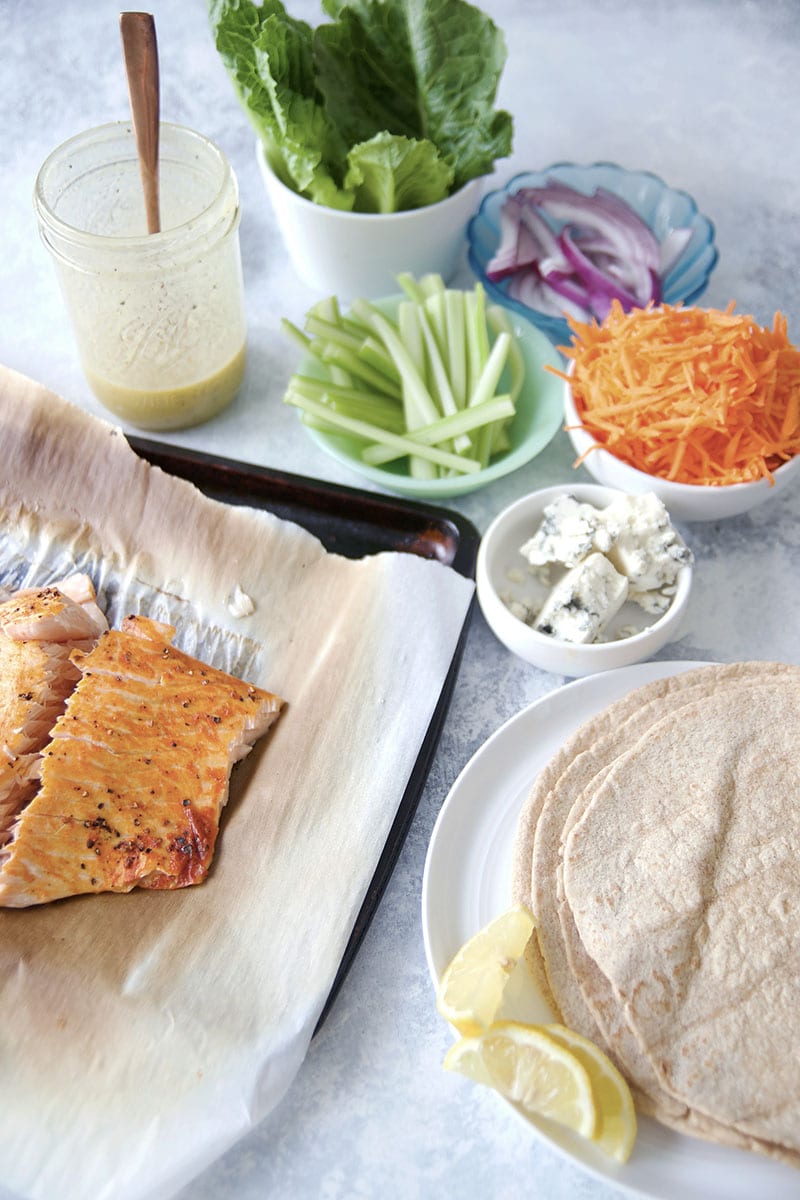 Alright, so our meal planning is just for me and Mike really. If you think the kids are picky, then I guess you haven't met my husband the buffalo sauce everything king of Chicago. He calls himself a simple man with simple needs, but I like to use other non-blog appropriate words when it comes to Mike and food.
All that aside, he is somewhat happy with lunches and dinner as long as one is spicy or coated in buffalo sauce. And since I give into the kids all the time, why not just keep it going with my husband. Hence the invention of buffalo salmon wraps. I buy one large piece of fresh salmon, lather it in a little bit of salt, pepper, and buffalo sauce. Then I broil it on low for 10-12 minutes. I add some of Mike's most tolerable vegetables and then wrap it up. Ta-da! Dinner and lunch the next day!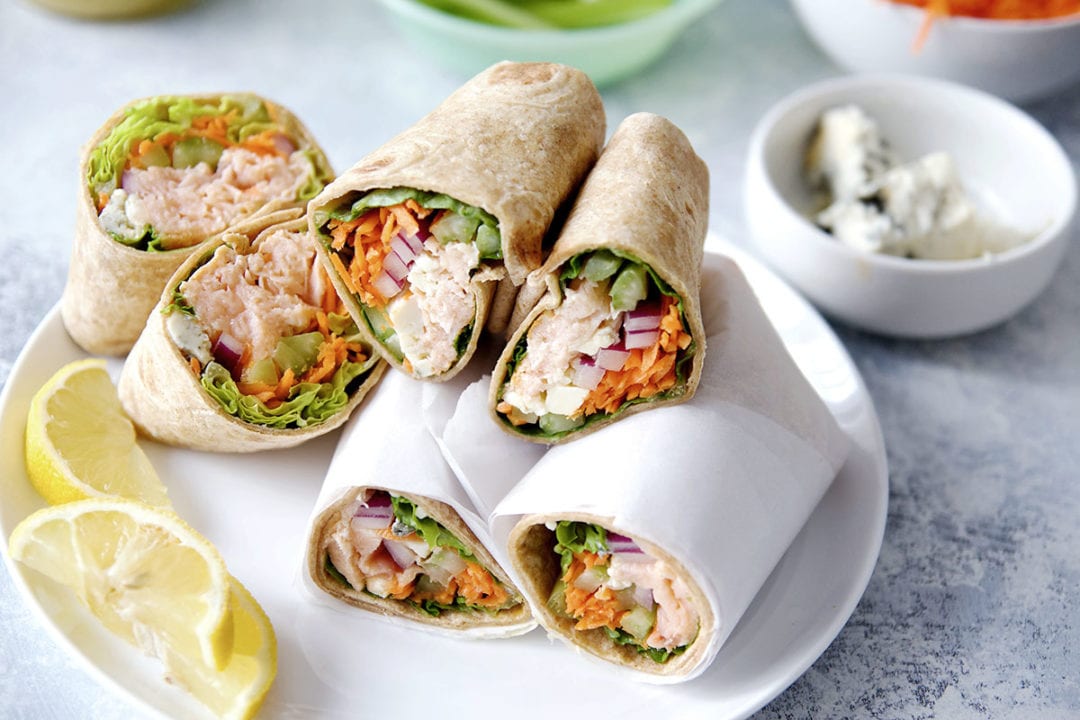 To appease my inner suppressed foodie, I made a nice lemon-tahini-cumin dressing to go on everything in the wrap. You know I can't keep things too simple! But you could easily drizzle in a little ranch dressing if you were looking for a quicker dinner.
Alright!
Thanks to this meal, me and meal planning are back on after a week long hiatus. Thanks for your support and understanding guys!
Buffalo Salmon Wraps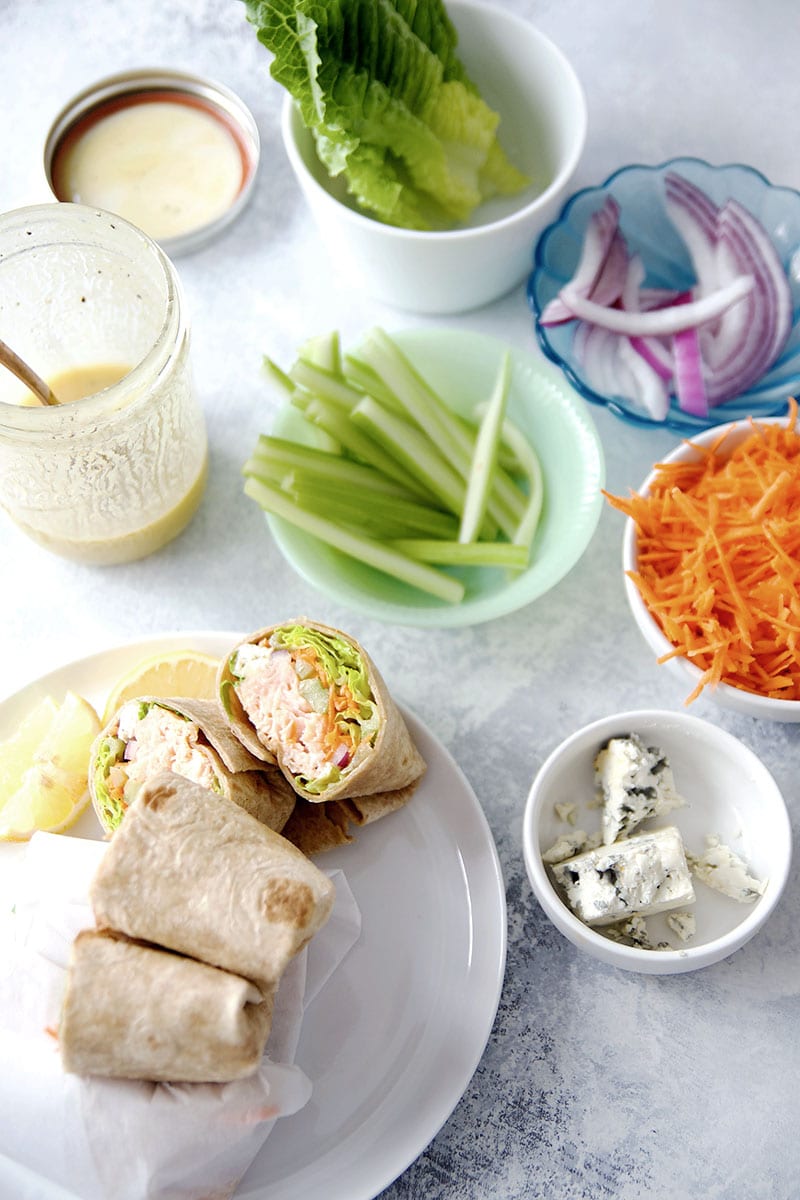 Super easy baked buffalo salmon wraps with a lemon cumin tahini dressing.
Yields: 4-6 Wraps
For the Salmon:
1 1/2 Pound Piece of Salmon, skin on and bones removed
2 Tablespoons Frank's Buffalo Sauce
Salt and Pepper
For the Wraps:
Romaine Lettuce Leaves
2 Tablespoons Sliced Red Onion
1/2 Cup Shredded Carrot
2 Celery Stalks, cut into matchsticks
1/4 Cup Crumbled Sartori Reserve Dolcina Gorgonzola Cheese
4-6 Whole Wheat Tortillas
For the Lemon Tahini Cumin Dressing:
1 1/2 Tablespoons Tahini
1/4 Teaspoon Onion Powder
1/4 Teaspoon Garlic Powder
1/2 Teaspoon Salt
1/2 Teaspoon Ground Cumin
1/4 Teaspoon Fresh Ground Black Pepper
1 Tablespoon Fresh Squeezed Lemon Juice
1/2 Cup Extra Virgin Olive Oil
Preheat the broiler to low. Line a small baking sheet with parchment paper and set off to the side.
Place the salmon filet on the parchment paper. Pour the buffalo sauce on top and then rub it in. Sprinkle seasonings on top. Place under the broiler for 10-12 minutes until cooked through.
Meanwhile prep the salad dressing. Add all the dressing ingredients to a small bowl and whisk to combine or add to a mason jar and shake until combined.
While the salmon cools, slightly, prep the wrap toppings.
Line each tortilla with a leaf of romaine lettuce, a few red onion slices, shredded carrot, a few celery matchsticks, and blue cheese crumbles. Place a few crumbled pieces of salmon on top of the toppings along with a drizzle of the dressing. Wrap into a small burrito by folding the closest section over the filling, and then the sides in and then roll to close.
Serve right away or refrigerate for a day and then eat.
Preparation time:

20 minutes

Cook time:

12 minutes

Total time:

22 minutes