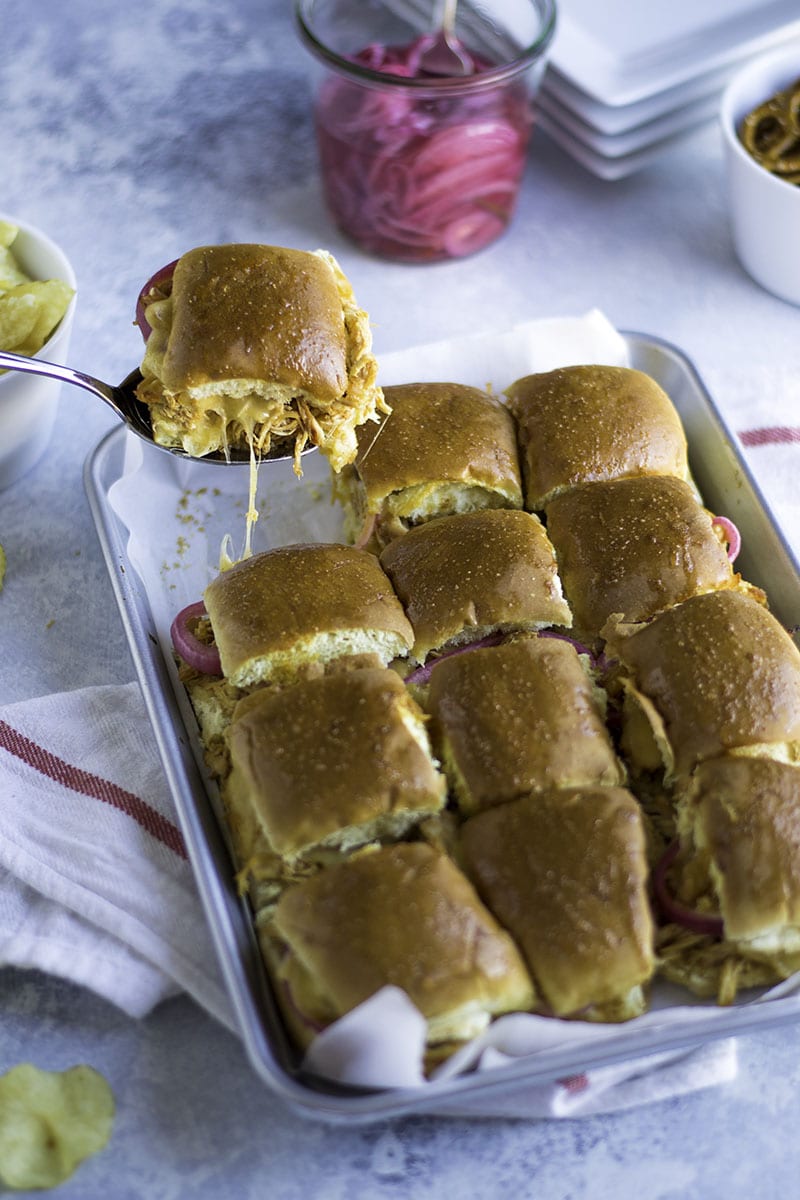 Remember like two weeks ago when we were all sick for the millionth time this winter? I was whining about how I didn't get to cook all the Super Bowl foods that I had originally planned. Well, we are finally *KNOCK ON WOOD* better.
I honestly think Jack's doctor was just sick of seeing us and hearing from us so she gave him an antibiotic just to shut us up. Nonetheless, it still helped.
That means I finally got to defrost all the chicken and make my sliders for dinner. Mike has been taking them for lunches too. One slider makes the perfect quick bite. Mike would say 3 sliders are more his speed, but I am a dainty woman and he is a manly man, so make your own serving size assumptions.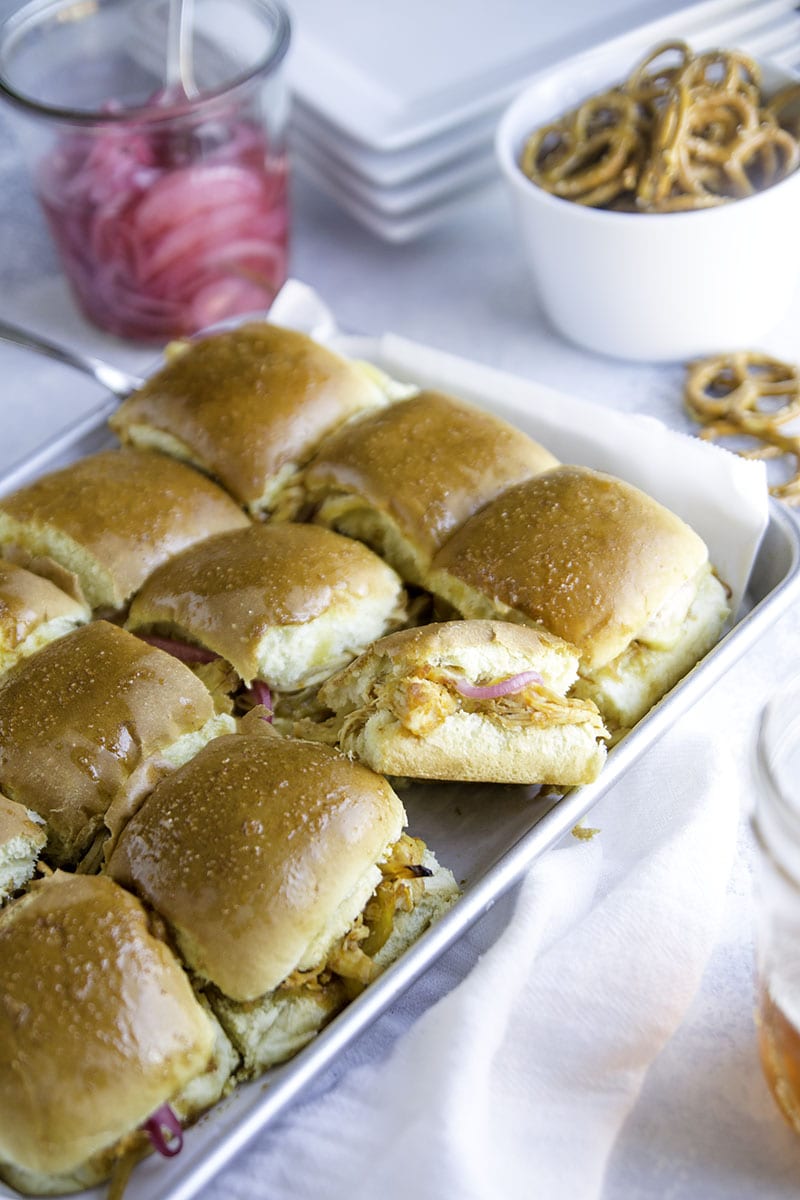 Now there is one thing in this recipe that may throw some people: pineapple.
I am on team pineapple. I love pineapple on a spicy pulled pork or bbq chicken pizza. I am also a huge sweet and salty fan. Mike, on the other hand, hates all sweet and salty combos. You will never find M&M's in his popcorn. He is usually a subtly-pick-the-pineapple-off-the-pizza-so-his-wife-doesn't-get-mad kind of guy.
And I appreciate his extra effort trying to spare my emotions.
It scares me to admit this, but Mike is kind of like my Dad. He hates pineapple and coconut; so does my Dad. I even caught Mike playing solitaire on his phone a few days ago (*shudders*).
My Dad was drafted but lucked out and stationed in Hawaii during Vietnam. During that unbearable time in which he was a correspondence typist for the Army, he suffered unimaginable torture by being forced to eat way too much coconut and pineapple. To this day, he will turn up his nose to anything with a hint of either in it.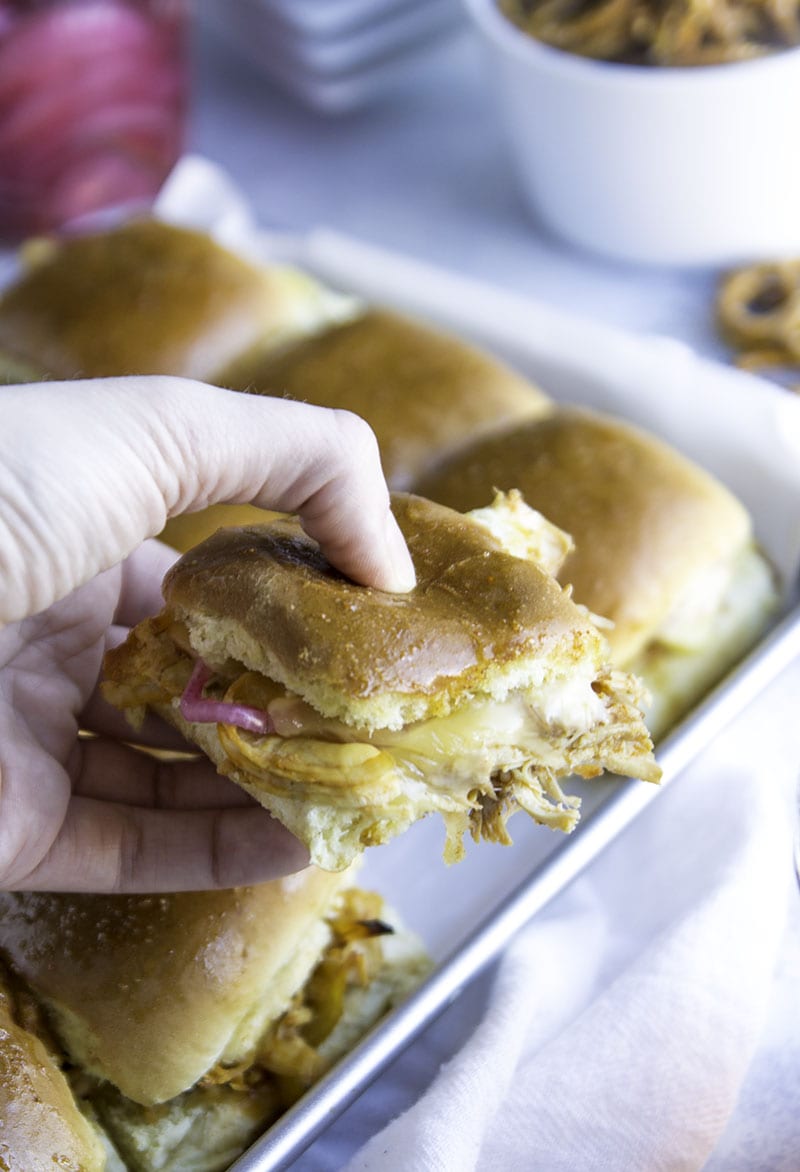 He lives a rough life.
I am not sure about my Mom's stance on pineapple. I would say she is on my side since, if Mike is becoming my Dad, I sure as heck am becoming my mother. But she could surprise me on this one.
No matter if you are team no pineapple or team all the pineapple, this slider has enough spice, sweetness, and smotherness (yep, I just made that word up) to keep each little bite perfectly balanced. Plus, the chicken is made in the slow cooker or pressure cooker!
Win win.
Related posts: