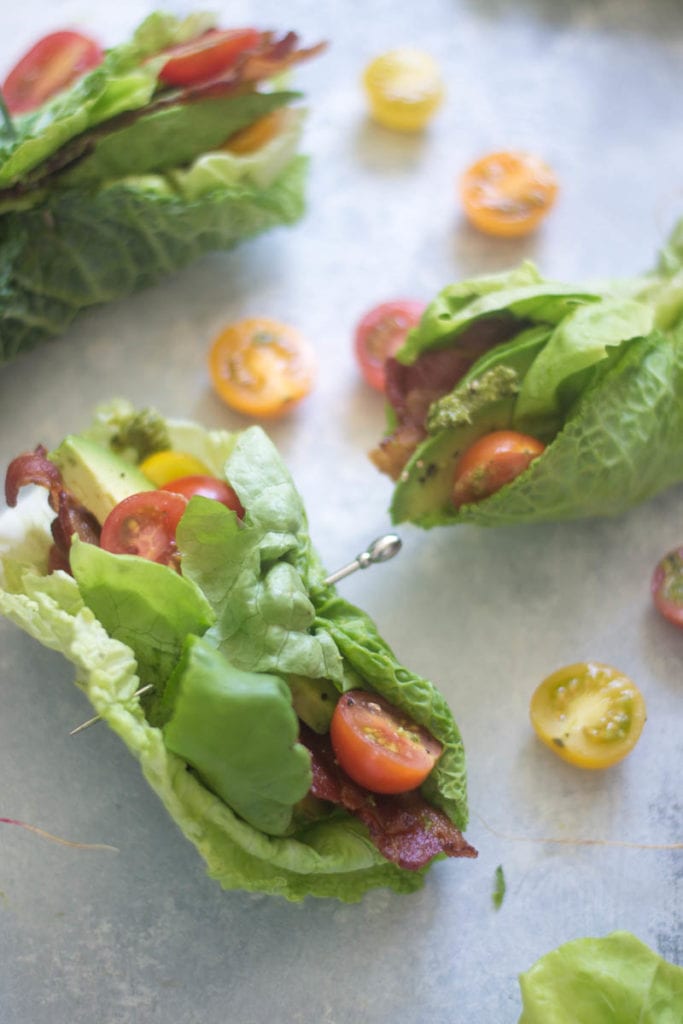 The summer slump has hit me hard, guys. I really do not want to cook and prepare lunch. Breakfast, yes! I will even do two breakfasts on days I am up super early. A quiet one with Matt Lauer and a second later breakfast with two loud ruffian toddlers. Dinner, yes. If I do not have an answer for Mike's question of "What's for dinner?" at like 8 in the morning, it leads to a very annoying and long conversation with a lot of why's and why not's that I would just all together avoid at any cost.
But, lunch.
Ugh, I can't even.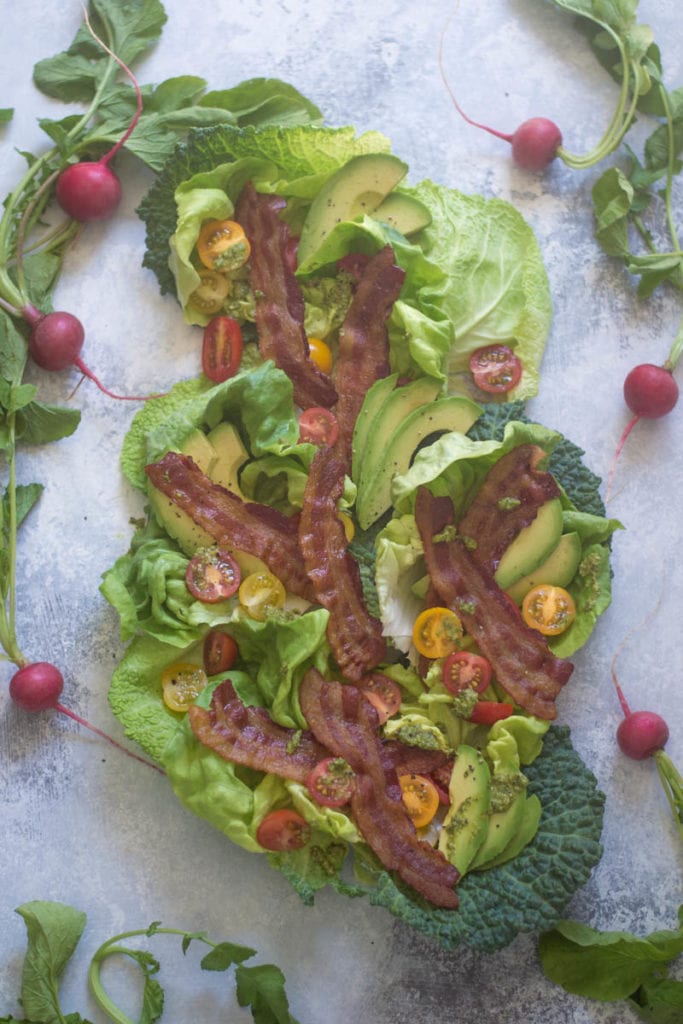 I have fallen into the fast food trap. Like every other day we are doing a drive thru run. I am that mom. My drive thru peeps know me. It's not my fault though. Wendy's nuggets are soooo good. And it is way easier. On days when I am a good mom, I make PB&J or throw some nugs in the oven for Jack. By the time I get the kids down for naps or "rest" time, I really don't even want to mess around the kitchen. That is my work time!
During my 2-3 hour window of time, I have to eat lunch, clean up the kids lunches, cook blog recipes, photograph recipes, write, and if I really push it, edit pics. That is a lot to do in that short window. You can see why feeding myself falls off the list.
It is like, if I don't eat with the kids, I don't eat at all.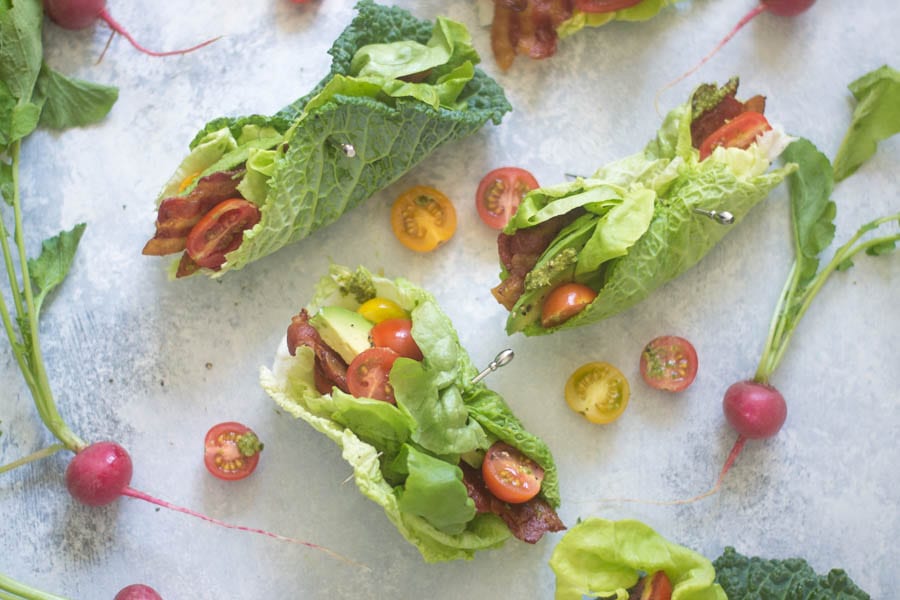 That was until I made these for you guys! I cooked a bunch of bacon ahead of time. Then when it was time to eat, I popped it under the broiler for a minute to heat it back up. Some butter lettuce, mini-heirloom tomatoes, sliced avocado, and a little dab of pesto made the easiest and sort of healthy quick lunch. I ate them everyday last week. Come to think of it, that was maybe a bit too much bacon. I would even say you could *GASP* skip the bacon if you wanted.
I guess I can cook lunch… I just really don't wanna. See? Food bloggers, we're just like you.
Bacon, Lettuce, Avocado, Tomato, & Pesto Cabbage Wraps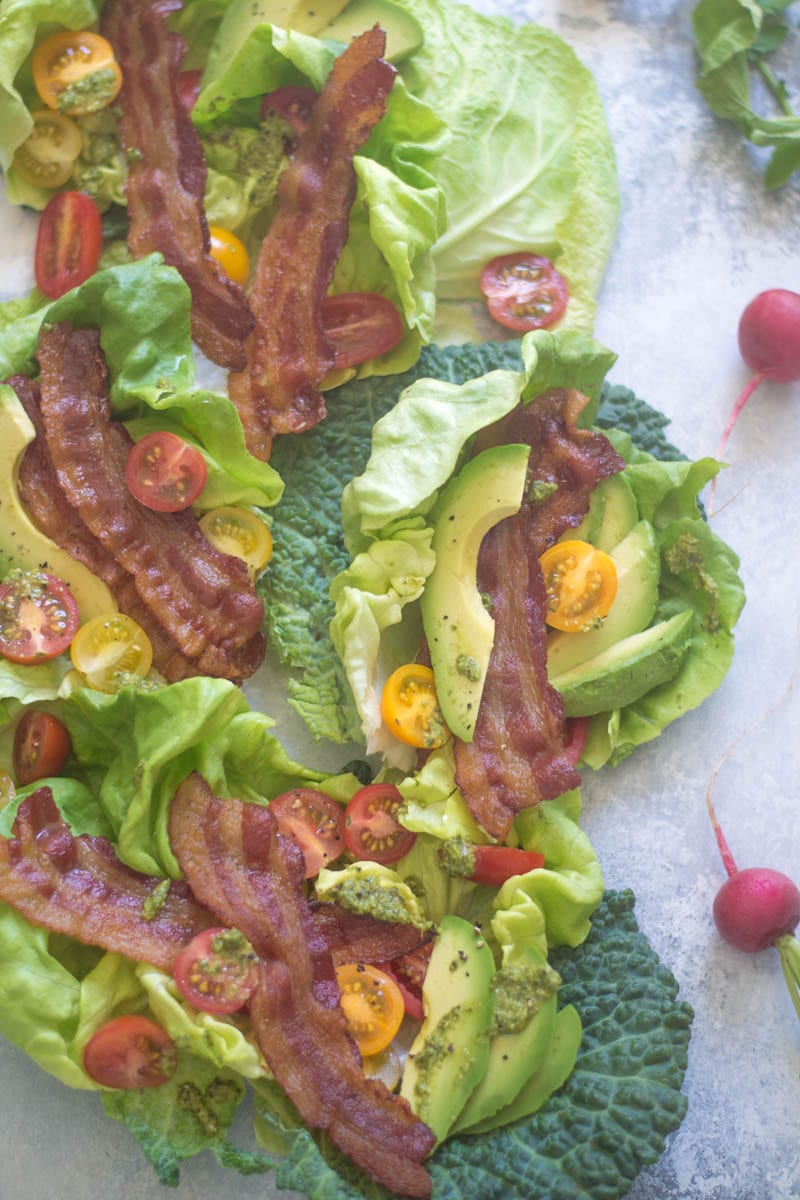 A quick and easy weekday lunch of BLAT wrapped in a cabbage leaf with basil pesto.
Yields: 6-8 Wraps
1 Pound Bacon, cooked crispy
1 Cup Mini-Heirloom Tomatoes, sliced in half
1 Avocado, thinly sliced
6-8 Leaves of Butter Lettuce
6-8 Leaves of Napa Cabbage
1/4 Cup Basil Pesto
If bacon was cooked ahead of time, pop it on a baking sheet and heat under a low broiler for 1-2 minutes until hot and crispy again. Pat off excess fat with a paper towel.
Place a medium sized cabbage leaf down on a plate. Top with butter lettuce leaf, a few tomato slices, avocado slices, 2-3 strips of bacon, and a few dollops of pesto.
Gently fold the cabbage leaf up into a sort of taco. Eat that way, or place a toothpick through the leaves to hold it in place if you want more presentation.
Preparation time:

10 minutes

Cook time:

12 minutes

Total time:

22 minutes