Roasted fennel and tomato soup is a transitional soup. It gets you through the end of winter and the rainy start to spring. Tomatoes, fennel, onion, and garlic get roasted in the oven until caramelized. Pureé the soup until smooth and enjoy a slightly spicy and sweet new take on tomato soup.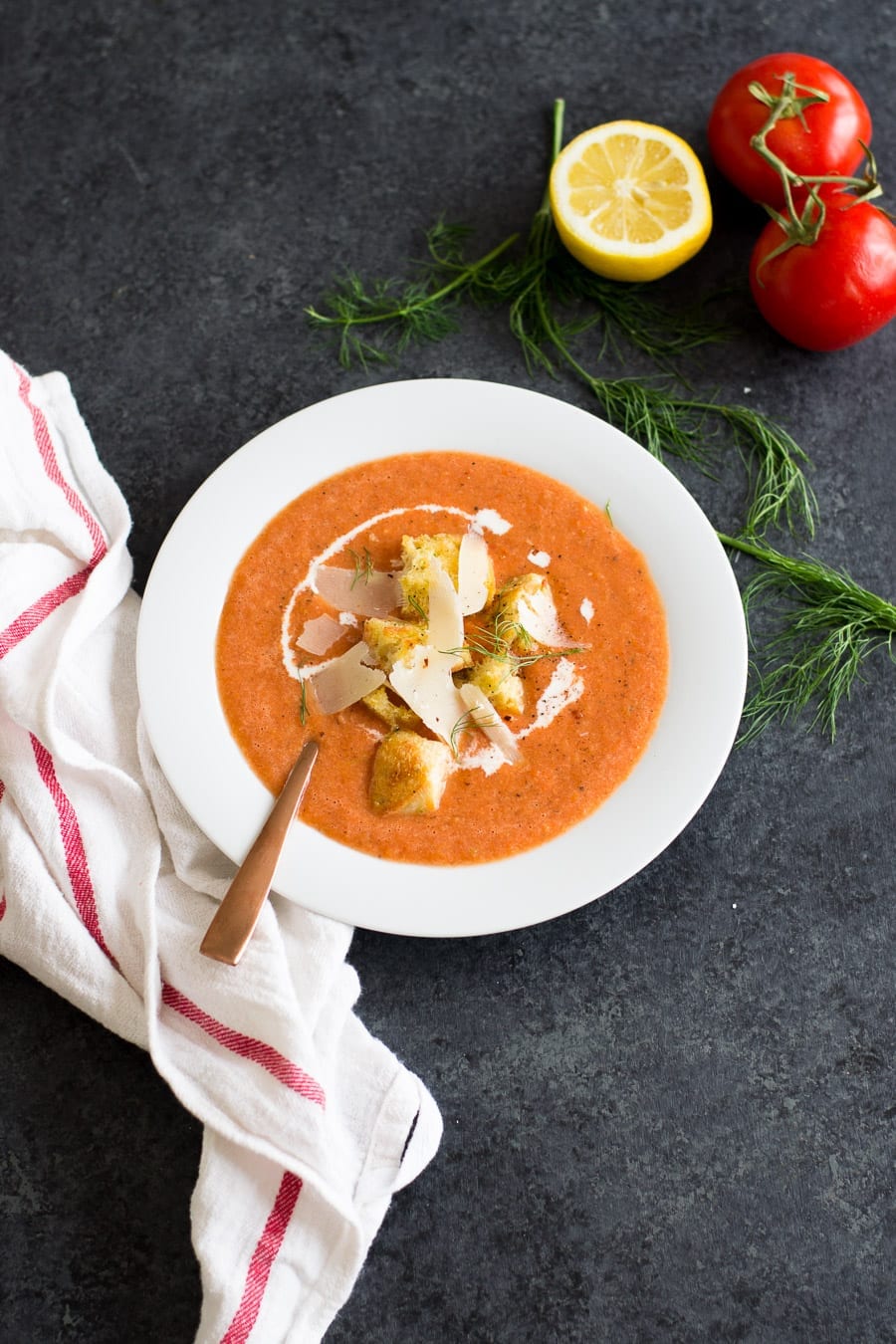 This time of year is perfect for cozying up with a bowl of tomato soup. Throw in some funky croutons or a grilled cheese and you got me hooked! It's not quite spring and winter hasn't let go of its chilly grip on our souls.
I know that is a bit ominous sounding. I feel bad for my winter coat in all this. She gets the brunt of all my loathing stares.
I am ready to move on to the next season and a new, lighter coat.
The only good thing about this limbo weather is soup season is still appropriate. My favorite tomato soup of all time comes from Panera. Anybody else ever get a craving for that creamy tomato soup with all the croutons on top?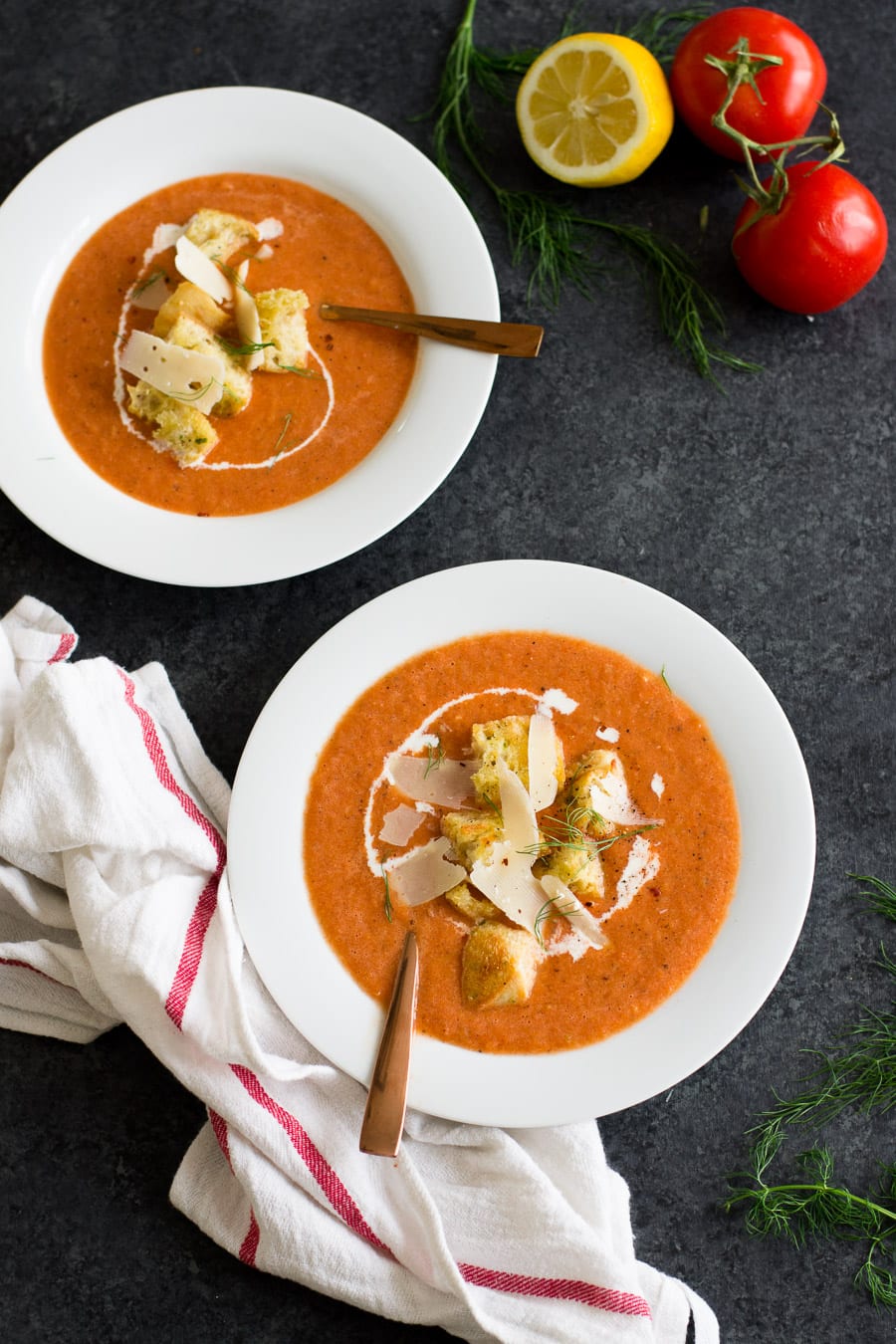 I decided to give my go-to roasted tomato soup a seasonal adjustment and add in fennel.
Fennel adds a slightly sweet yet spicy twist to tomato soup. Roasted fennel and tomato soup will carry you from cold winter days through those chilly and rainy spring storms. It's going to be your new favorite.
All the usual suspects: tomatoes, onions, and garlic are tossed with chopped fennel and some olive oil. They get roasted in the oven for 20 minutes until nicely caramelized.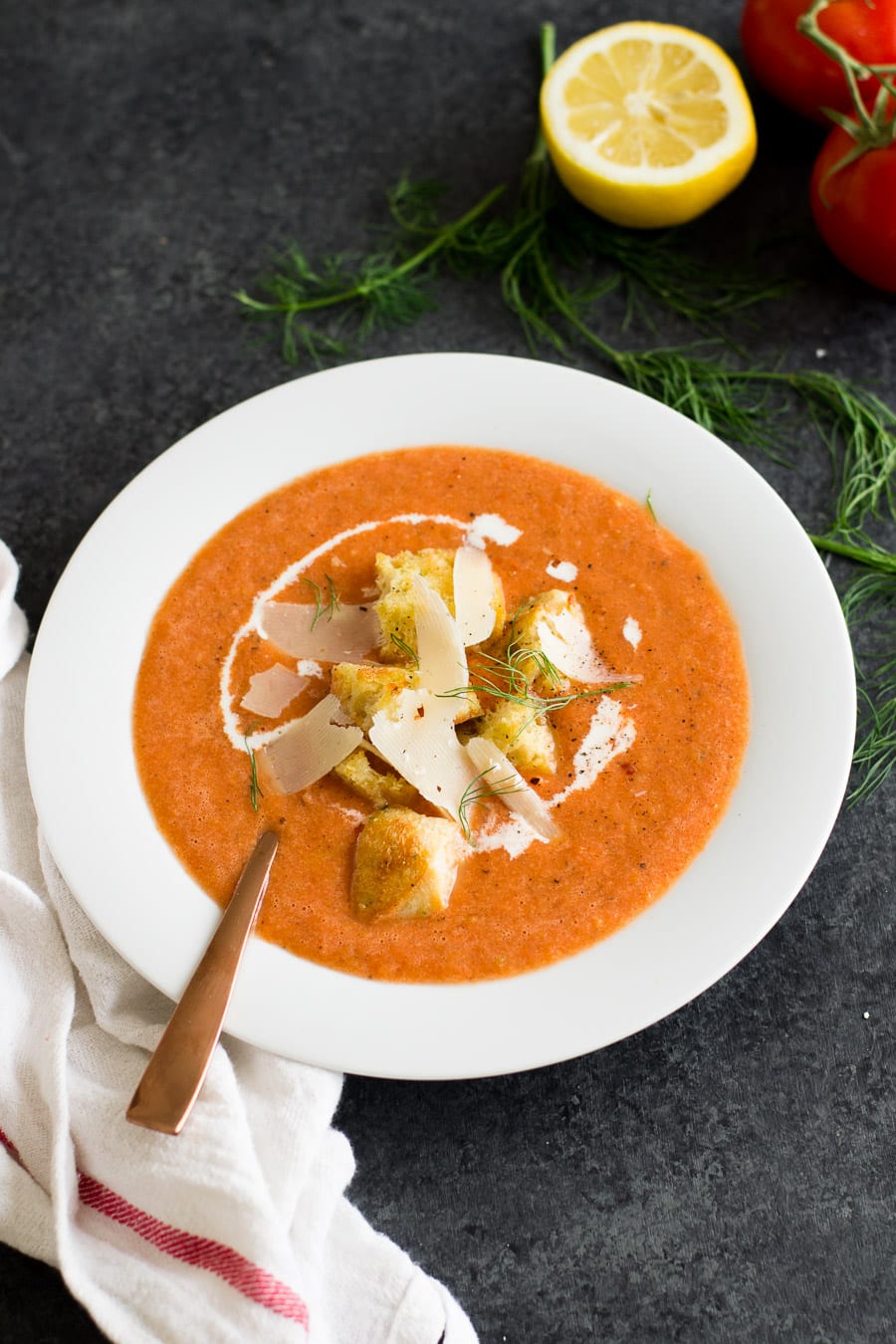 I like to add the roasted ingredients right to a pot along with a can of fire-roasted tomatoes and stock and use my immersion blender to pureé until smooth. If you don't have an immersion blender, toss it all in a blender and puree until smooth. Either way, it gets the job done.
Let's all channel our winter loathing into creating bowls of soup instead, eh? I feel like it is a much better way to channel our energy. Plus I don't know how many more aggressive tosses across the room my winter coat can take.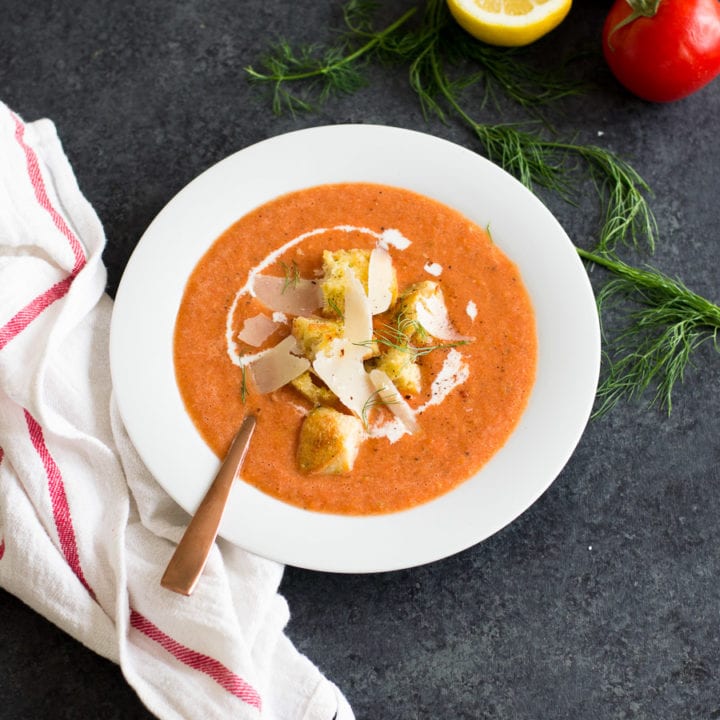 Roasted Fennel and Tomato Soup
Roasted tomatoes, fennel, onions, and garlic purred until smooth make the perfect cozy, yet slightly sweet and spicy soup to transition into spring.
Ingredients
2 large beefsteak tomatoes, seeded and chopped
1 fennel bulb, fronds, stem and base removed
1 small yellow onion, chopped
1 garlic clove, chopped
juice of 1/2 a lemon
3 tbsp olive oil
1 tsp salt
1/2 tsp black pepper
1, 14.5oz can fire-roasted diced tomatoes
2 cups vegetable stock
heavy cream, for topping
croutons, for topping
Instructions
Preheat the oven to 400F. Line a medium baking sheet with parchment paper or tinfoil.
Add chopped tomatoes, onion, and garlic to the prepared baking sheet.
Remove the green parts of the fennel and then chop the white fennel bulb into 1/2-1/4" pieces.
Add fennel to the baking sheet along with olive oil, lemon juice, salt, and pepper. Toss with your fingers to combine. Roast the vegetable for 20 minutes.
Remove the roasted vegetables from the oven. Add them to a large pot or a blender along with the can of roasted tomatoes, stock and a little more salt and pepper. Use an immersion blender to puree if you transferred the ingredients to a pot. Puree until smooth.
Heat the soup for a few minutes to bring it back up to temperature. Top with heavy cream and croutons.
Recommended Products
As an Amazon Associate and member of other affiliate programs, I earn from qualifying purchases.