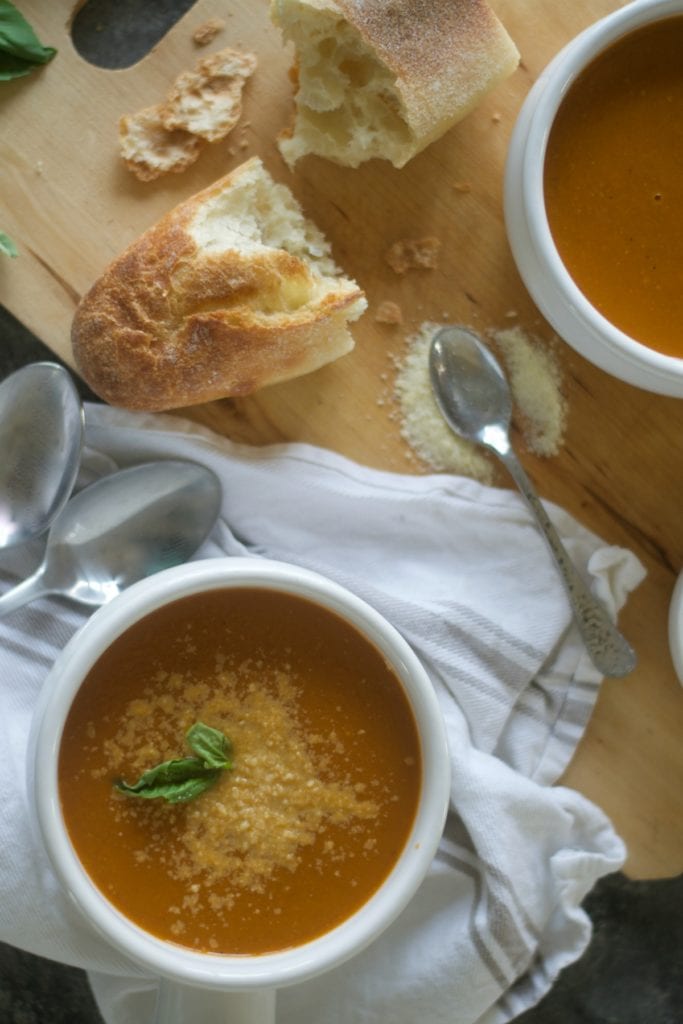 My timing is awful. I could blame the kids, as I usually do when I run late on things. I could say I was struggling because of Super Bowl Sunday. I could say it was all of the above that led to me posting a Meatless Monday recipe on a Tuesday yet again. Not to mention, yesterday was 51 degrees. Like, who wants to eat hot soup when the weather has a spike? I know for some of you 51 seems chilly. Us midwesterners were like, SPRING IS HEEEEEERE! Ah! The sun. It burns my eyes!!!
Well, not really. I have sunglasses. But you get the gist.
Even a little break in the winter chill is just enough to get you through the day. The kids were happy. I was happy because they played together and entertained themselves. It was good for a Monday.
Like I said before, this was supposed to be posted yesterday.
We spent the Super Bowl at a friends house. Andy decided this was a great day to not nap. Naturally. He also chose the perfect time to meltdown. Right during halftime. The only thing I really wanted to see! Ugh, kids. Then he was so exhausted he fell asleep in the car on the way home. Score!
NOT!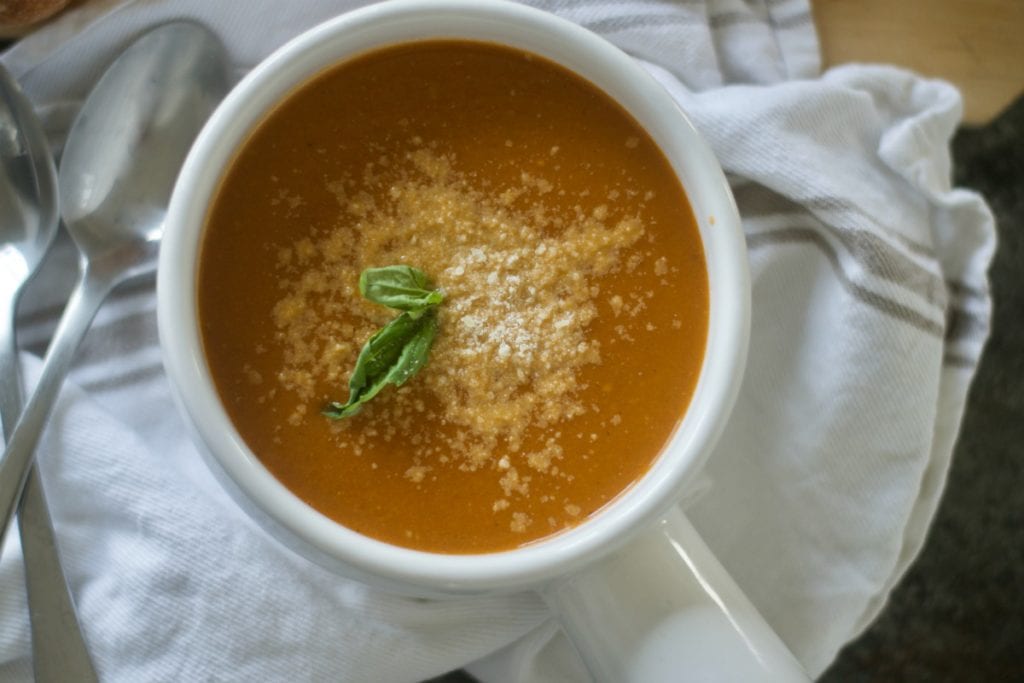 He awoke right as we pulled in the driveway and then proceeded to explain to me that his trains had a lot of deliveries to make and he needed to go help them get to work. Dude? No. It is bedtime. Cue the 45 minute bedtime back and forth dance!
20 minutes of him arguing about trains and telling me he doesn't want stories. Ok, you got it.
"Goodnight Andy."
Close door and walk out.
Crying. "I need you to rock me. You're mad at me."
"I am not mad. I love you." 20 minutes of rocking and talking. Two stories, because he changed his mind.
Close door. Goodnight for real.
9:30pm. Yeeeaaahhh, that blog post is gunna have to wait until tomorrow. Mama needs sleep.
Now that I am semi-well rested, here it is. The easiest, six ingredient soup. It all gets roasted on one pan in the oven. You cool it and add it to a blender. Done! Toss some croutons on top and, if you aren't vegan, a sprinkle of parm. Good to go! I promise to try my best to stay on a three posts a week schedule for you guys!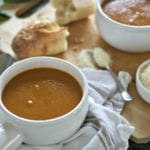 Roasted Garlic, Butternut Squash, and Tomato Soup
Slow roasted garlic, tomatoes, and butternut squash go right from the oven to a blender and become a quick and easy "creamy" soup!
Ingredients
3

Garlic Cloves

unpeeled

12

Ounces

Cut butternut Squash

16

Ounces

Mini Pearl Grape Tomatoes

1/3

Cup

Extra Virgin Olive Oil + 1 Tablespoon

Juice of 1 Meyer Lemon

5

Fresh Basil Leaves

Salt and Pepper

16

Ounces

Vegetable Stock
Instructions
Preheat the oven to 375 degrees F. Line a large baking sheet with foil.

Place tomatoes and cut butternut squash pieces on the lined baking sheet. Toss with lemon juice and 1/3 cup olive oil. Season liberally with salt and freshly cracked pepper.

Tear off a small piece of foil. Place the garlic cloves in the foil along with the tablespoon of oil. Form into a little pouch so none of the oil leaks out during roasting. Place the garlic clove pouch on the same baking sheet with the tomatoes and squash. Roast in the oven for 45 minutes to an hour, until golden and some of the tomatoes start to burst.

Let the veggies and garlic cool completely.

Add roasted tomatoes and squash, basil, vegetable stock, and peeled garlic to a blender. Puree until smooth. Add more salt and pepper to taste.