Lemon lentil spinach soup is made with red lentils, turmeric, cumin, and onion. The soup is pureed and then hit with a burst of fresh lemon juice and fresh baby spinach. It's creamy and totally dairy-free.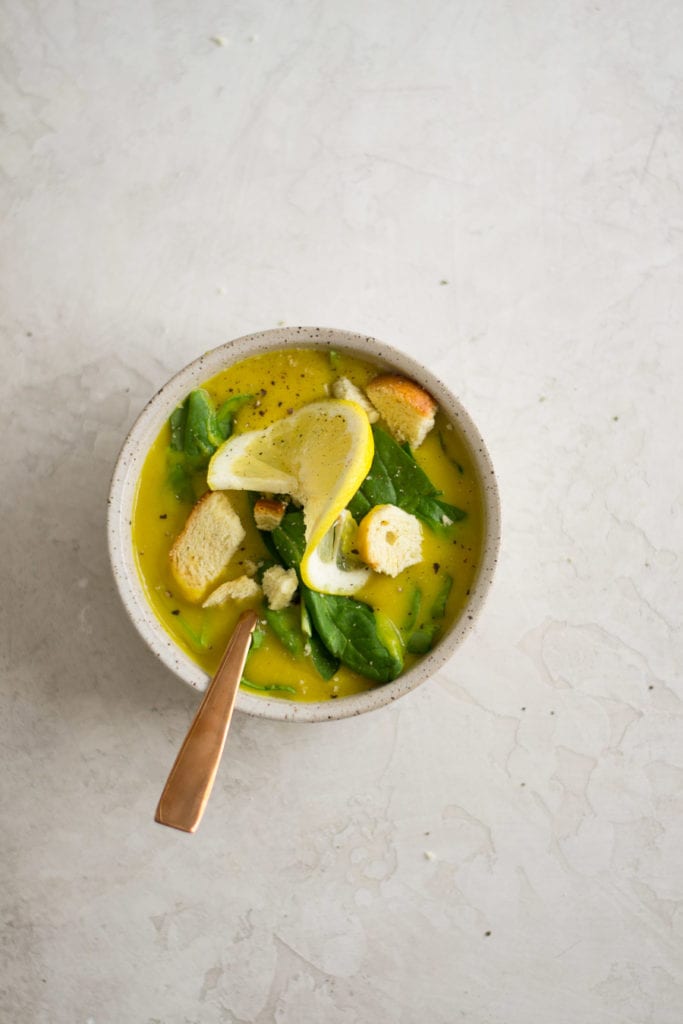 I have a few questions for you all today. First off, did you know that my second cookbook came out? I feel like with the start of the school year and just coming off the spring and summer high from my first book, my second child sorta got forgotten.
My second cookbook is another collection of Instant Pot recipes. If you want more info on the book, click on this link to read more. This lemon lentil spinach soup recipe (which has slow cooker and Instant Pot methods) is actually from the book. I already shared my famous Instant Pot Loaded Bacon Cheeseburger Quinoa from the book.
Those of you that know about the book already are probably bored so I will move on to my next question.
When you think of lentils, what do you picture?
An image of a split pea, poopy looking soup sorta pops into my mind. Sorry if that description turns your stomach when you're reading about a recipe. It is normally a dark and hearty soup that makes me want to take a nap after finishing a bowl.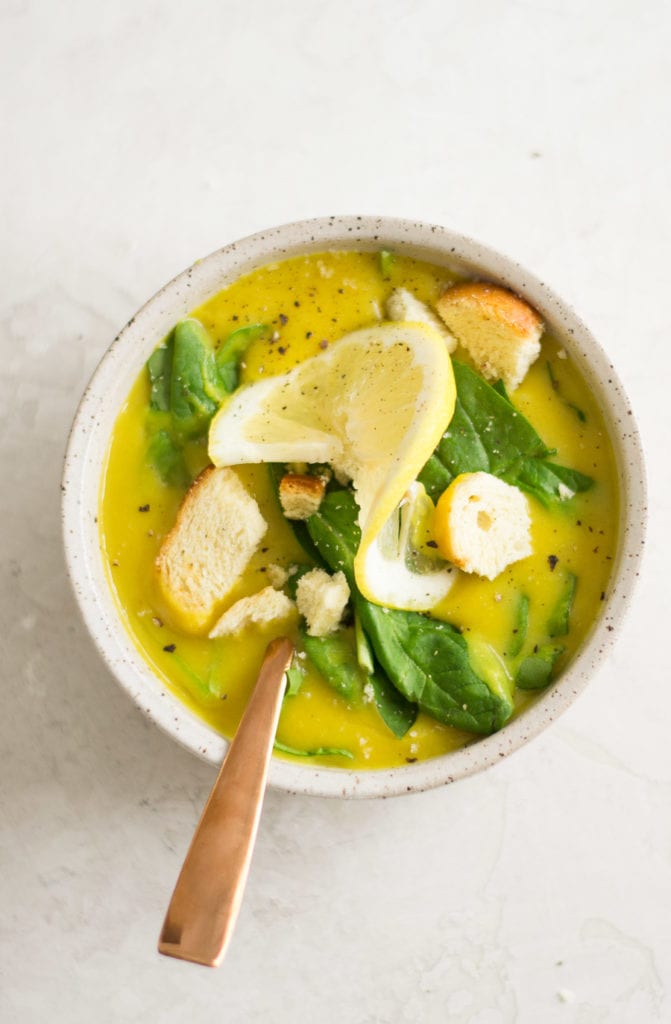 Lemon lentil spinach soup is not that kind of soup. It is made with turmeric, cumin, red lentils, and lemon juice. After the lentils are pureed until smooth you end up with a creamy, dairy-free soup. Mix in the fresh baby spinach and it is ready to devour.
The Instant Pot method of cooking takes about 15-20 minutes grand total. The slow cooker method takes about 8 hours on low. Both methods deliver the same creamy/dreamy results.
Lemon lentil spinach soup is a perfect soup for those cold winter months because of the punch of lemon and the added benefits of a good serving of turmeric. Also, if I must say so myself, it is just a dang pretty soup!
Thanks for "answering" my questions. Enjoy your soup!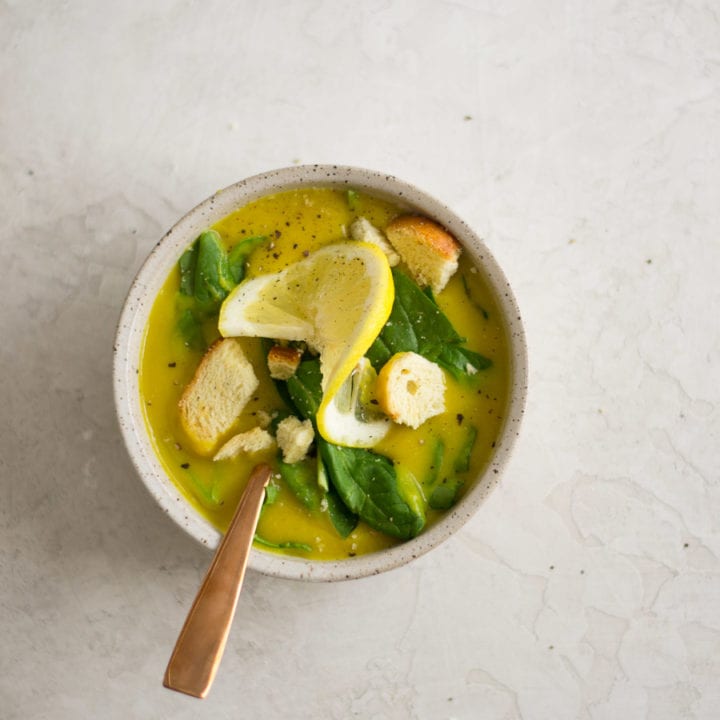 Lemon Lentil Spinach Soup
Dairy-free creamy lemon lentil spinach soup is made with red lentils, turmeric, cumin, onion, lemon juice, and fresh spinach. Both Instant Pot and Slow Cooker methods included.
Ingredients
1 tsp extra-virgin olive oil
1 yellow onion, diced
1 tsp salt
1 tsp ground cumin
¼ tsp ground turmeric
¼ tsp freshly ground black pepper
¼ tsp ground coriander
32 oz vegetable stock
2 lb dried red lentils
Juice of 1½ lemons
3 cups baby spinach
Croutons, for topping (optional)
Instructions
Press sauté on the Instant Pot. Heat the oil in the pot. After 1 minute, add the onion. Sauté for 2 minutes, or until translucent.
Press cancel and add the salt, cumin, turmeric, pepper, coriander, stock and lentils. Stir to combine.
Secure the lid with the steam vent in the sealed position. Press pressure cook until the display light is beneath high pressure. Use the plus and minus buttons to adjust the time until the display reads "12 minutes."
When the timer sounds, quick release the pressure. Remove the lid. Add the lemon juice. Use an immersion blender to puree the soup until smooth.
Mix in the fresh spinach and top with croutons, if using. Once the spinach slightly wilts, adjust the salt and pepper to taste
Slow Cooker Method: In the Instant Pot, combine all the ingredients, except the lemon juice and spinach, and stir. Press slow cook until the display light is beneath less/low. Use the plus and minus buttons to adjust the time until the display reads "8 hours." After 8 hours, remove the lid, mix in the lemon juice and use an immersion blender to puree. Stir in the spinach
Recommended Products
As an Amazon Associate and member of other affiliate programs, I earn from qualifying purchases.