Slow cooker lemon garlic chicken sandwiches are made with 5 ingredients. Tart and garlic infused pulled chicken is perfect on a brioche bun along with some mozzarella cheese and fresh spinach.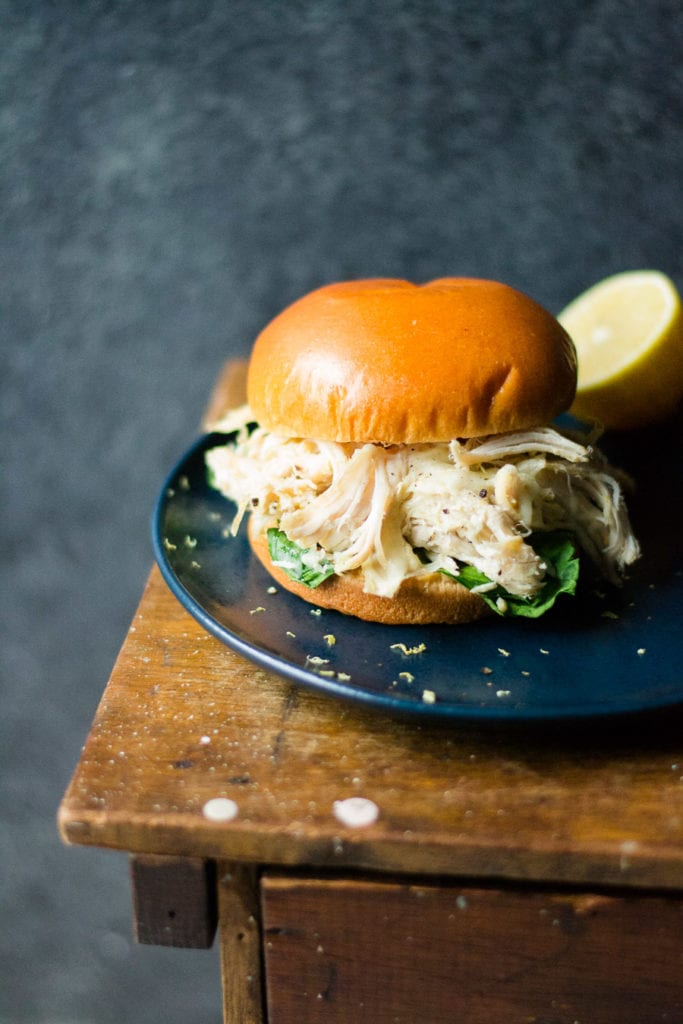 Another year, another Halloween. Last year it was beautiful and warm. The kids made a killing on candy. The good stuff, not those garbage Tootsie Rolls. Just sayin'. Seriously though, why do people still buy those things?
This year it's a dreary, rainy, possibly snowy 40 degrees. You can't see it but believe me when I tell you I am rolling my eyes in an extreme fashion. Can I just stay home and pass out candy? Is anybody going to even go out in that weather? I mean aside from teenagers. I remember going out trick-or-treating through all kinds of weather in middle school.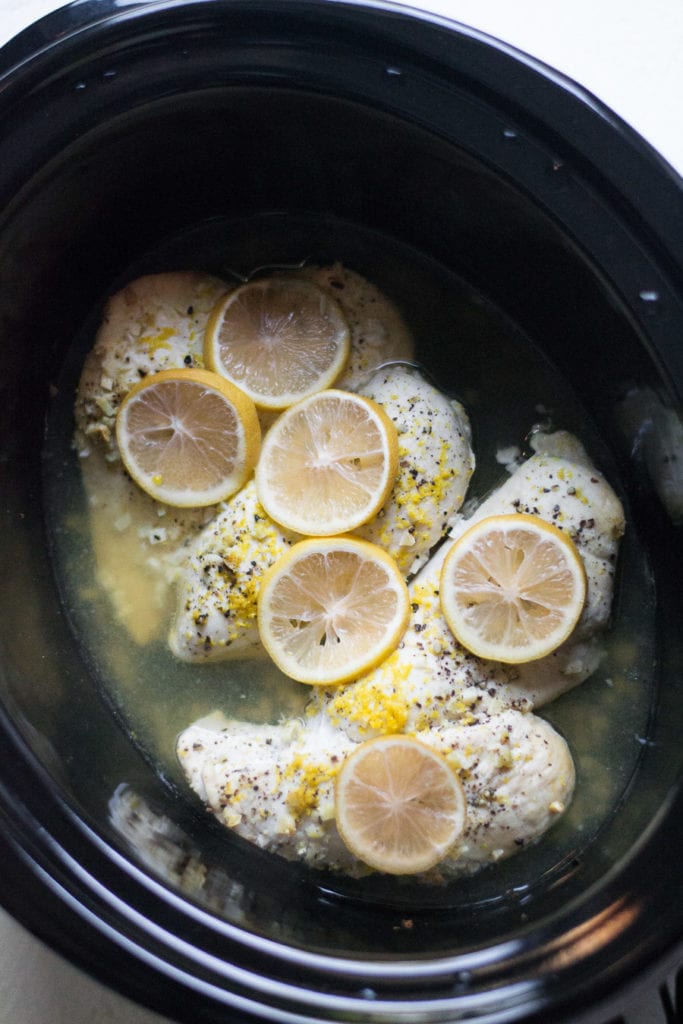 Most Halloweens I throw some chili or soup in the slow cooker and go about my day. When ever we get back home, boom, dinner is there, hot ready to be eaten.
This year I decided on slow cooker lemon garlic chicken sandwiches.
All you need for this recipe is boneless, skinless chicken breasts, 2 lemons, 5 garlic cloves, dry white wine, salt, and pepper. The result is a juicy, tart, suuuuper garlicky shredded chicken. It's perfect on top of a toasty bun with fresh baby spinach for crunch and some shredded mozzarella cheese.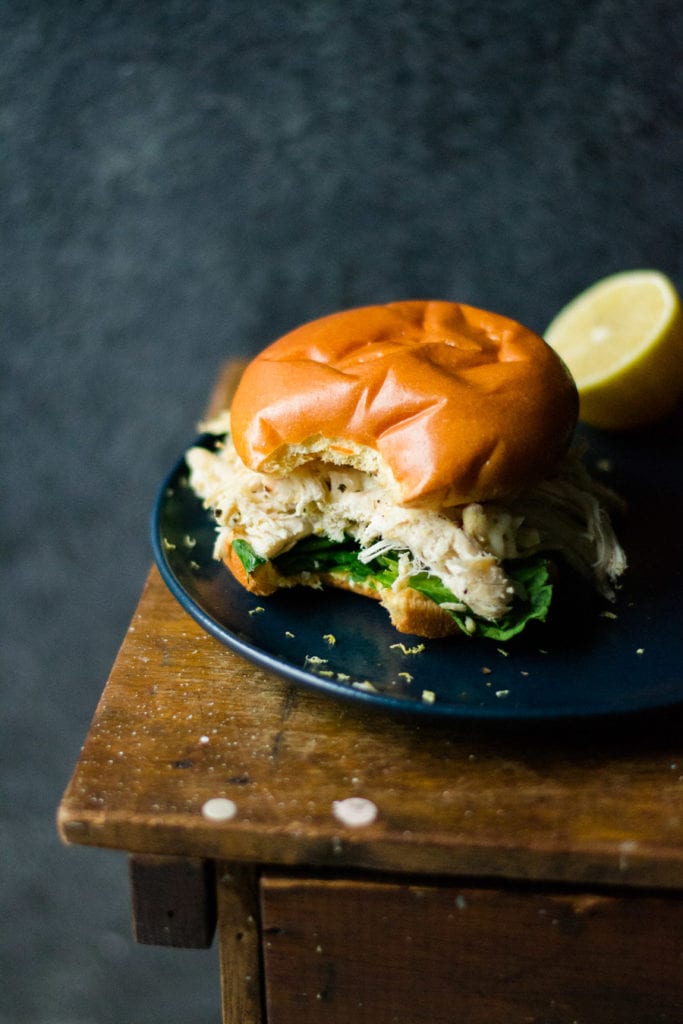 The cheese is totally not a must but it does serve as a sandwich glue to help keep the buns together.
I am hoping the trick-or-treat weather is better wherever you may be located. Even if it isn't at least we have epic and easy shredded chicken sandwiches to enjoy.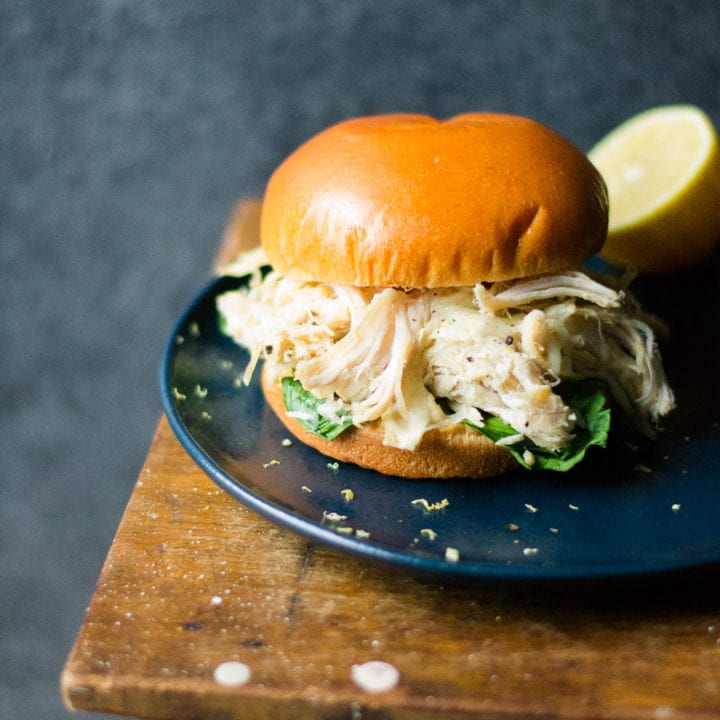 Slow Cooker Lemon Garlic Chicken Sandwiches
Total Time:
6 hours
5 minutes
Lemon and garlic infused slow cooker pulled chicken sandwiches.
Ingredients
2 1/2 lbs boneless skinless chicken breasts
juice and zest of 1 lemon
5 garlic cloves, minced
1 tsp salt
1/4 tsp black pepper
1/2 cup dry white wine
1/2 lemon, thinly sliced and seeds removed
FOR THE SANDWICHES: 10-12 brioche buns, shredded mozzarella cheese, & fresh baby spinach
Instructions
Add chicken breasts to the slow cooker. Top with lemon juice, lemon zest, minced garlic, salt, and pepper.
Pour white wine over the chicken and top with lemon slices.
Cover with lid and cook on low for 6 hours or high for 3-4 hours.
Once the chicken is cooked through, remove the lemon slices, and shred the chicken.
Serve chicken on toasted brioche buns with fresh baby spinach and a sprinkle of shredded mozzarella cheese.