Chickpea and chorizo shakshuka is the perfect mash-up of Mexican and Mediterranean flavors. Slow-poached eggs in a spicy tomato base along with chorizo, bell peppers, chickpeas, and onions. Add in your favorite fresh greens like baby arugula at the end along with a splash of lime juice for the perfect finish. The ultimate one pot meal for a brunch or dinner.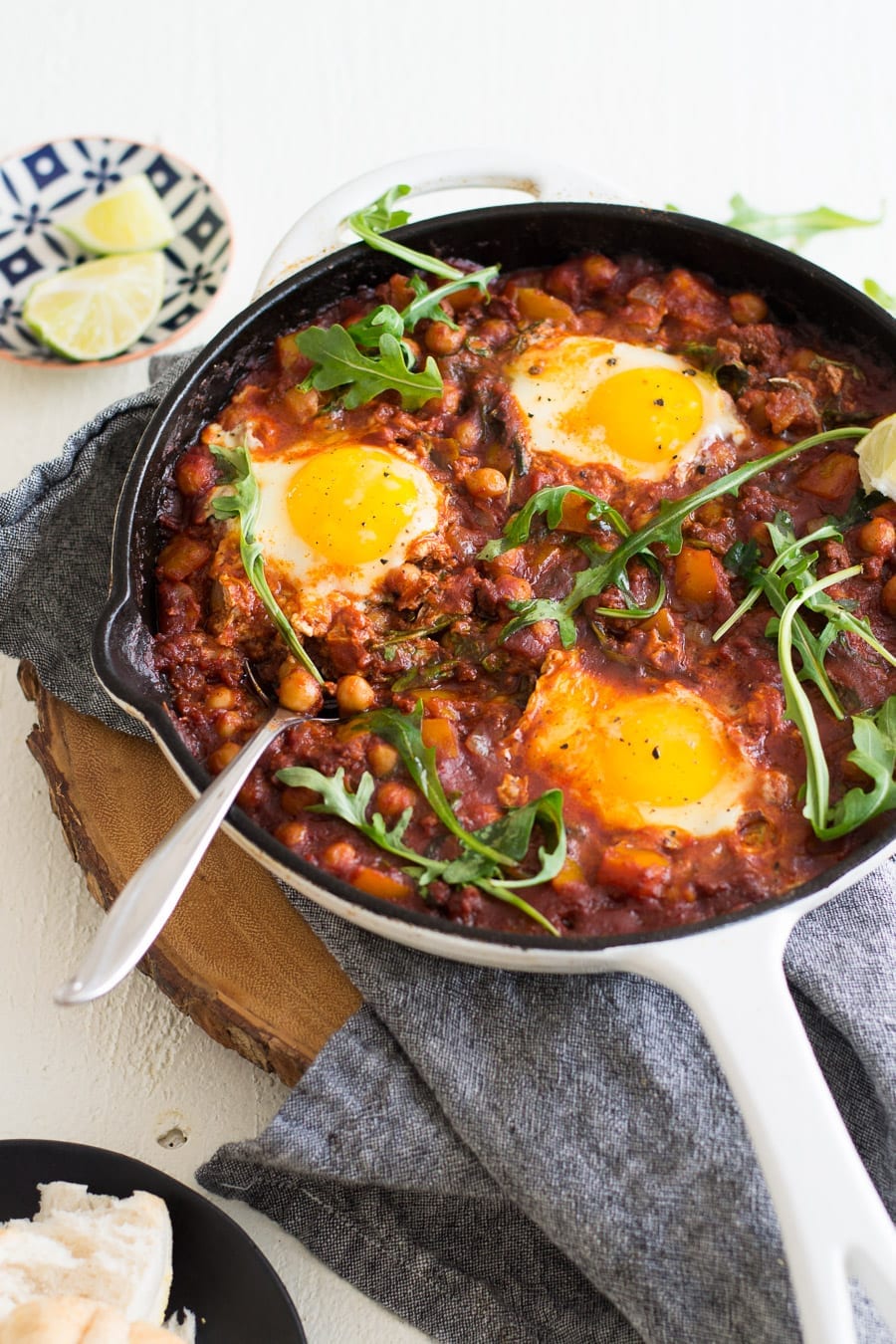 Before there was Martha Stewart's famous one pot pasta, the go-to famous, OG one pot meal was Shakshuka. Some people may also know it by its other name: eggs in purgatory.
Shakshuka and eggs in purgatory are dishes made up of slow-poached eggs in a tomato sauce. It is the perfect dish for a brunch or a breakfast for dinner situations. I love to dunk some toasty bread in the sauce and egg yolks. Some people claim it is the ultimate hangover cure.
I know nothing about that though.
One of my favorite shakshuka recipes was from Molly Yeh's cookbook. I made it on the blog a while back. It's couscous shakshuka. Little carbs already in the tomato sauce? Yaaasss!!!
Chickpea and chorizo shakshuka is a Mediterranean and Mexican mash-up. The spicy chorizo adds a lot of flavor to the dish so you don't need to add in a lot of excess seasonings. A little lime juice at the end is just the right touch.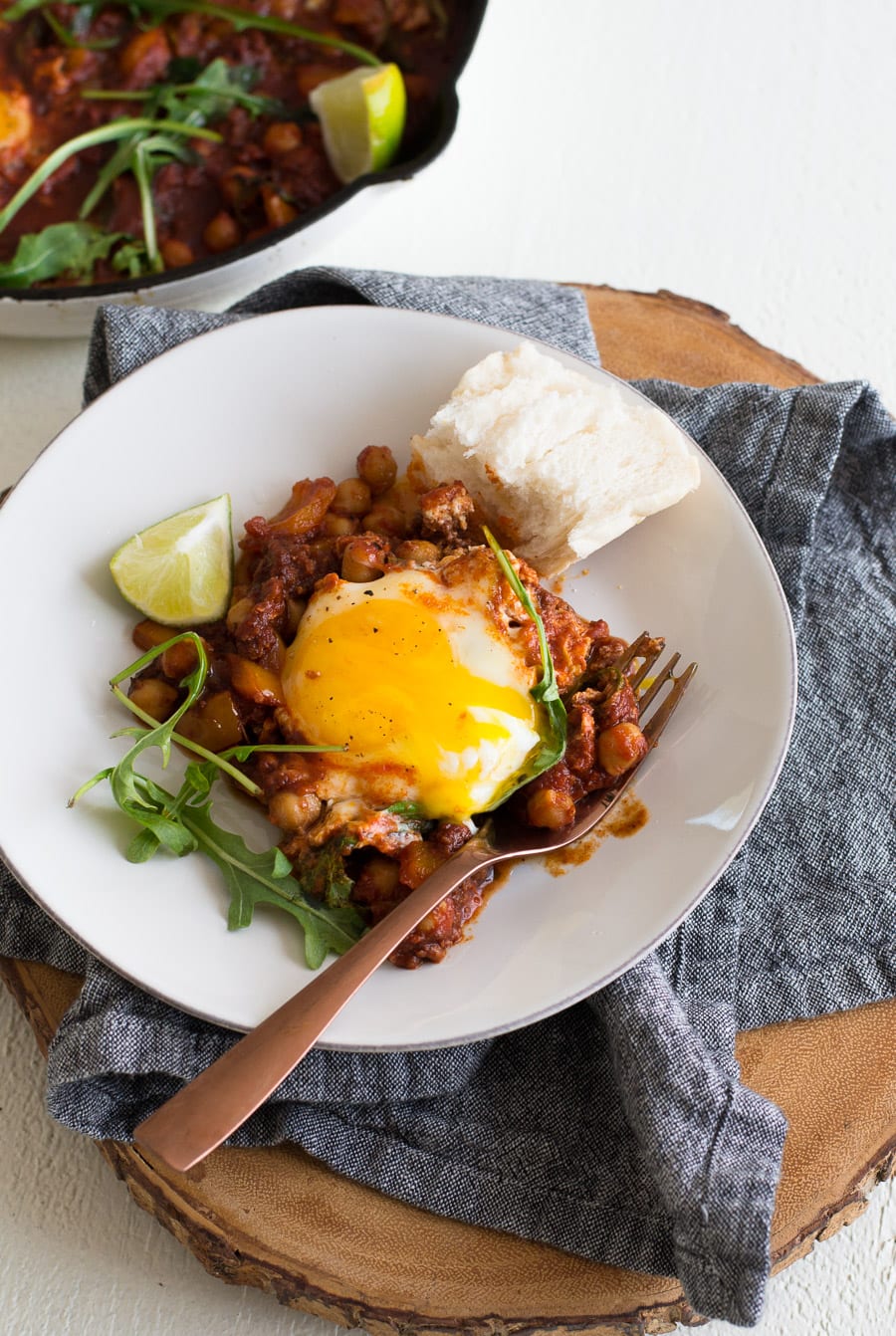 I like the idea of shakshuka being more substantial.
If I wanted to eat tomato soup, I would eat tomato soup, right?!?!? Gimme a good big base of spicy tomato sauce, chickpeas, chorizo, bell peppers, and onions so it feels more like a stew. Technically, you don't need bread on the side, but I will never turn down bread.
Don't tell Mike I said that!
Every single time I serve a saucy dish, he looks for bread or a sandwich on the side and I send him daggers with my eyeballs because, I mean, come on man! Just eat your shakshuka and be happy.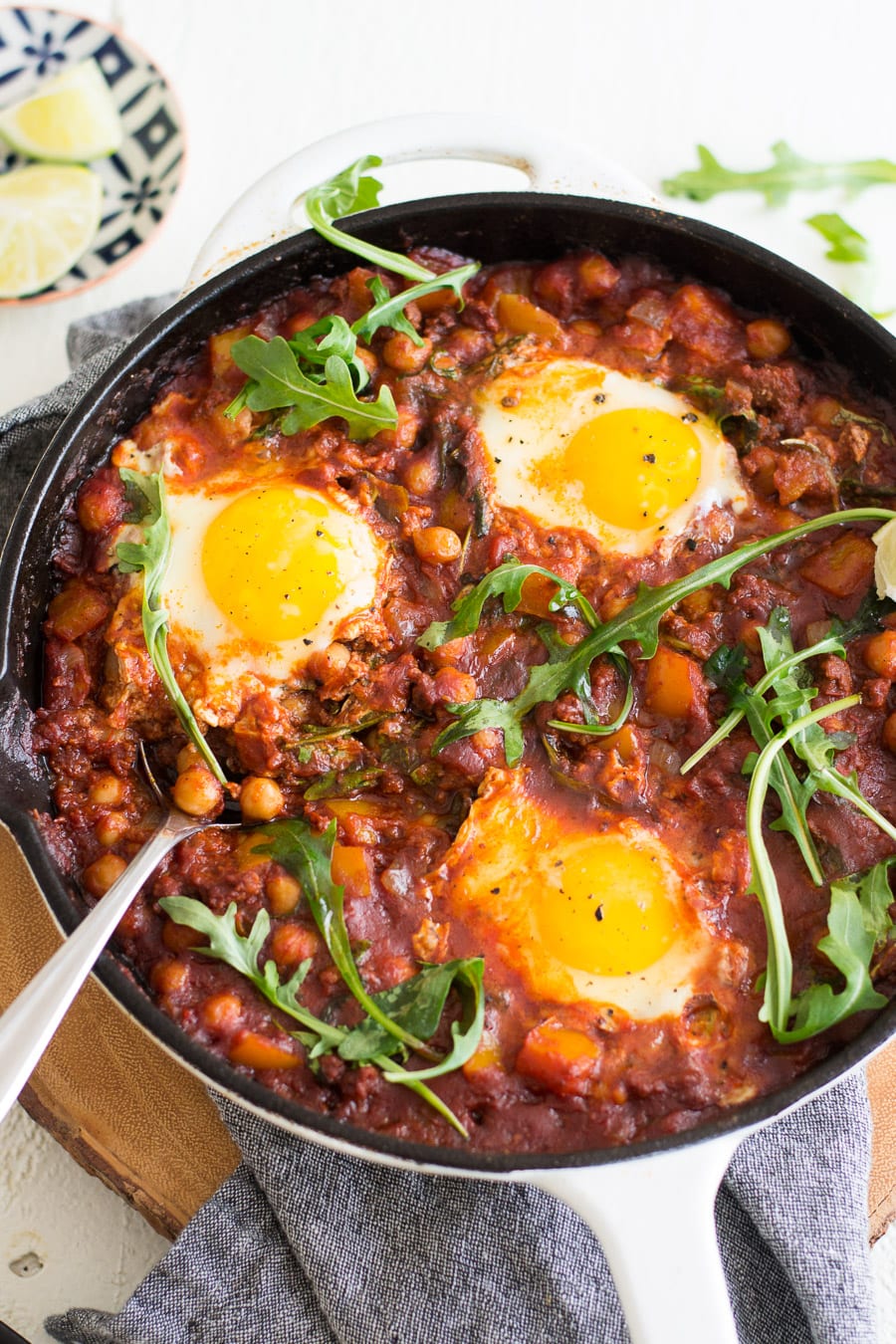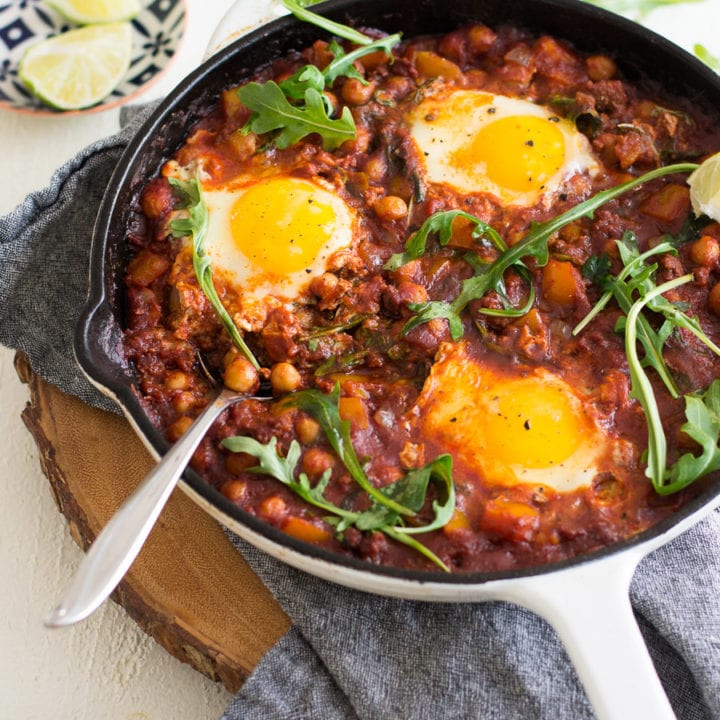 Chickpea and Chorizo Shakshuka
Slow-poached eggs in a spicy tomato sauce with chorizo, chickpeas, bell peppers, and onions.
Ingredients
1 tbsp extra-virgin olive oil
8oz ground pork chorizo
1 yellow onion, diced
1 orange bell pepper, seeded and diced
1, 14.5oz can chickpeas, drained and rinsed
1 tsp smoked paprika
1/2 tsp ground cumin
1/2 tsp dried oregano
1 tsp salt
1/4 tsp crushed red pepper flakes
20oz can crushed tomatoes
1 cup baby arugula
3-4 large eggs
juice from 1/4 lime
Instructions
Heat a medium skillet over a medium/high flame for 1 minute. once the pan is hot, add the oil, swirl to coat the pan. Add the chorizo. Break apart using a wooden spoon.
After about 3-4 minutes, add the onions and bell peppers. Reduce the heat to medium. Cook until the onion is translucent, about 5 minutes.
Add the seasonings and chickpeas. Mix to combine. Cook for 5 minutes. at this time the meat should be thoroughly cooked.
Mix in the tomatoes. bring to a simmer over medium/low heat. Once simmering, add about half the arugula and mix into the sauce. Then, create a small well for each egg and crack one egg into each well. Cook for another 15 minutes until the whites are no longer runny and translucent. Add a lid to help the eggs cook a little quicker.
once the eggs are cooked through to your liking, add the rest of the arugula, which should slightly wilt as the shakshuka cools. Finish off with a dash of salt and the lime juice.
Notes
dd in a diced and seeded jalapeño or a small can of diced green chiles if you want a little extra heat.
Recommended Products
As an Amazon Associate and member of other affiliate programs, I earn from qualifying purchases.