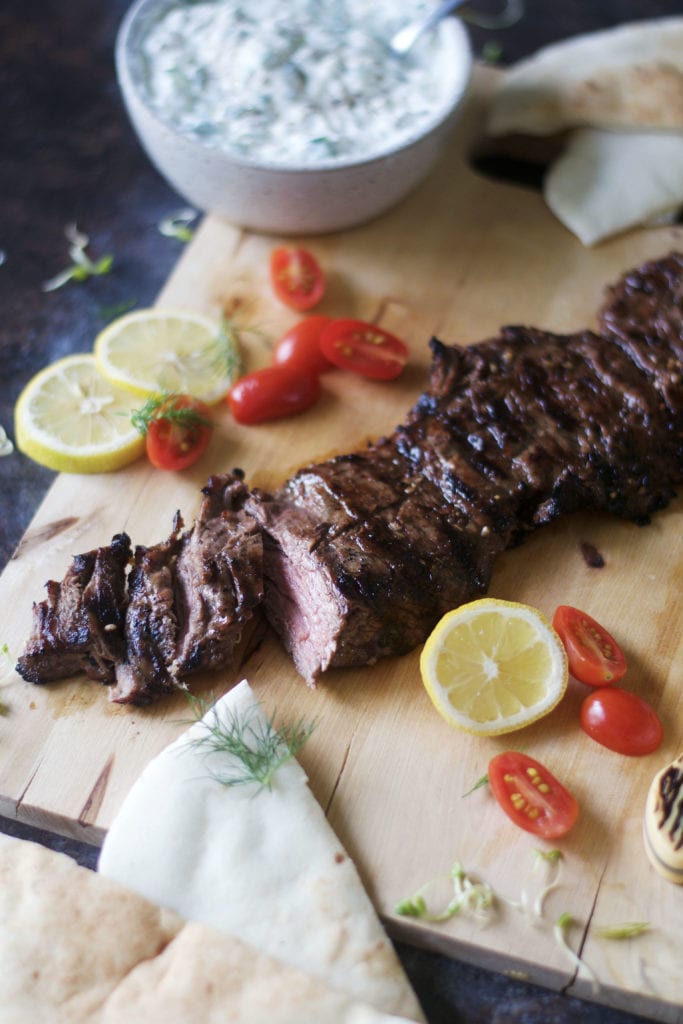 You know what sucks about summer? Sunburn! Woooord! I know. Yes, I am an adult. Yes, I can remember to put sunscreen all over my beautiful tan boys. For the most part I can remember to put it on myself. Remembering to reapply is a different story. I am ok-ish being sunburnt. I kind of have a lot of experience with it. #Pale. I would feel awful if it happened to the kids though. Oh man, when I was younger, my mom would warn me about putting on sunscreen and I, naturally, wouldn't listen.  And you know what? My brothers found it hilarious to smack me on my bright red shoulders. Bunch of jerks.

But, you know what is awesome about summer? Grilling season! I have made a version of this steak three times since it got hot here. Aldi has super reasonable skirt steak. I will say that you have to do a bit of butchering yourself to remove the fat. Or are you like a full blown adult and have a butcher? Saaahhh-rry! I guess I should add that to my summer bucket list. Acquire a butcher.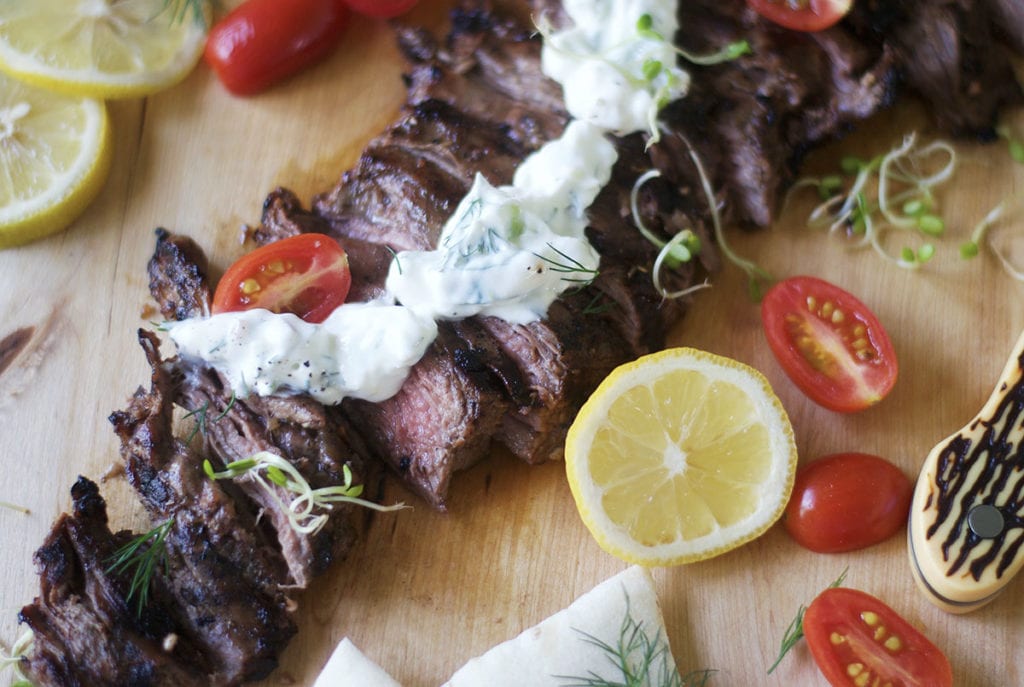 In the meantime, back to steak.
You can totally take the basic bones of this recipe and turn it into a Mexican steak. Instead of lemon, use lime. Instead of oregano, use ground cumin. I would also skip the vinegar if you are going the Mexican route.
This steak goes well with a nice cool tzatziki sauce and grilled pita. I needed some extra veggies, so I tossed in some microgreens and sliced Roma tomatoes. This is so easy to throw together an hour before dinner time. I just mush all the ingredients together in a gallon size sealable plastic bag. Toss the meat in and then let it sit in the fridge until you are ready to get grilling.
I will also recommend having an umbrella open over your head while you grill to avoid the dreaded sunburn I am dealing with now.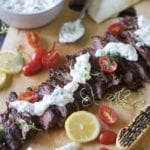 Greek Grilled Skirt Steak
Simple and quick grilled Greek skirt steak.
Total Time
1
hour
14
minutes
Ingredients
1 - 1 1/2

Pounds

of Skirt Steak

fat trimmed off

1/3

Cup

Light Olive Oil

1

Tablespoon

Balsamic Vinegar

1

Garlic Clove

grated

1/2

Teaspoon

Oregano

Juice from 1/2 Lemon

Generous Pinch of Sea Salt

Freshly Ground Black Pepper
Instructions
About an hour or two before grilling, add the olive oil, balsamic, lemon juice, garlic, oregano, salt and pepper to a gallon sized plastic food storage bag. Seal the bag and give it a good shake to combine the marinade. Open the bag, add the meat. Press most of the air out and then seal the bag. Store in the refrigerator for at least an hour.

Once you are ready to eat, let the bag with the steak sit at room temperature for 10 minutes to get the chill out.

Heat your grill over a high flame for at least 5 minutes.

Remove the steak and add to grill. Grill for about 5 minutes on the first side. Flip and grill five minutes on the second side. Flip and grill for 2 more minutes on the first side and then flip and grill on the second side.

Remove steak from grill. Let sit on a cutting board and rest for 5 minutes.

Slice and serve with grilled pita bread and tzatziki sauce.