Ratatouille stuffed shells are filled with bell peppers, eggplant, tomatoes, onion, and zucchini. They are slightly sweet and baked with a little cheese until golden and crisp.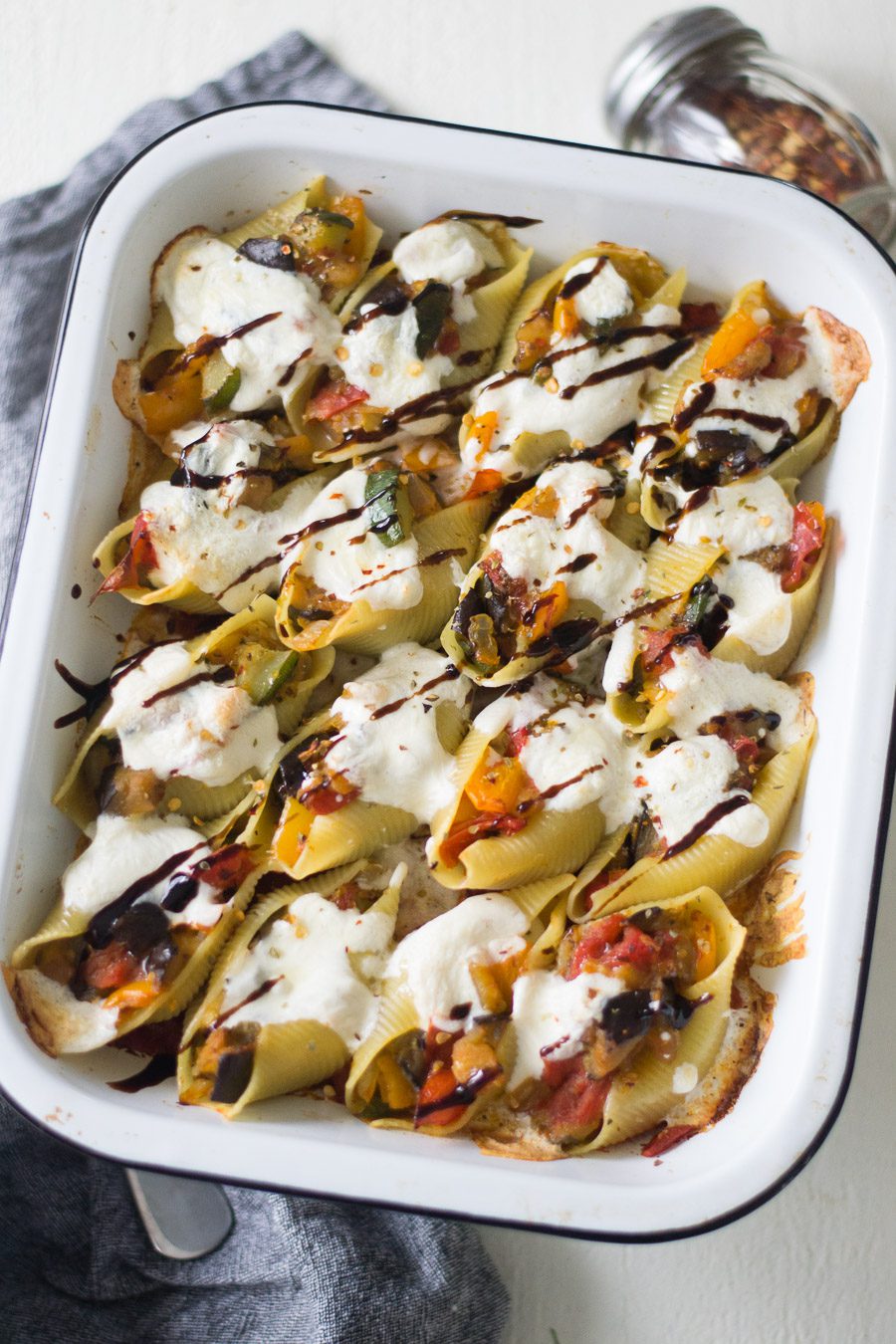 Oof! What a past week it has been in this house.
Jack got hit with a bad virus that spiraled into a sinus and bronchial infection.
I have been playing nurse the last week.
It also goes without saying I have been living on coffee and Halloween candy to help me survive the days.
I hope you guys are all well during this weather and season shift.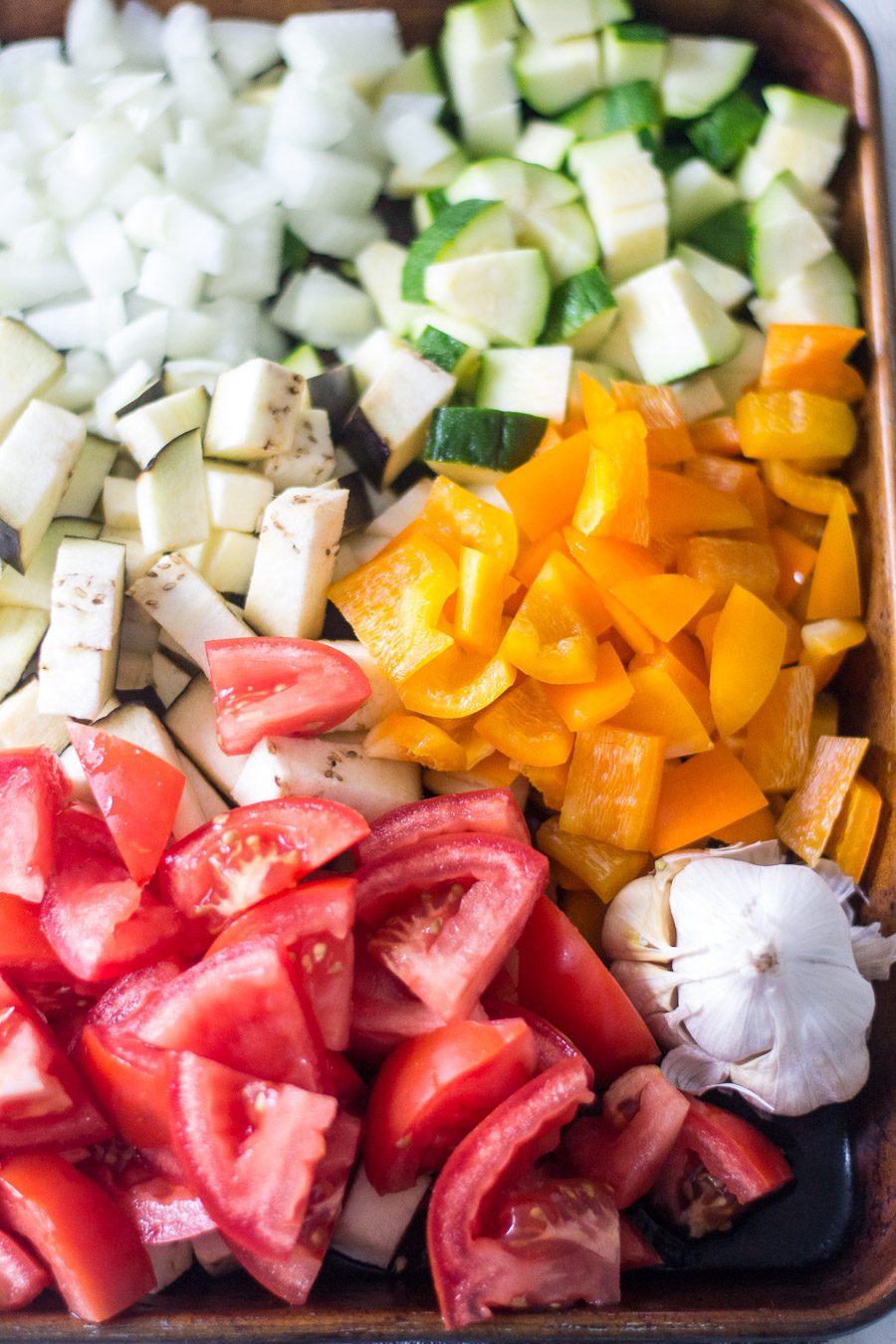 A hearty and not too complicated dish to make or freeze for a rainy/sick day is ratatouille stuffed shells.
In fact, I wish I would have froze some instead of giving them to my parents.
Ratatouille is a French Provençal dish of stewed vegetables.
The vegetables traditionally found in ratatouille:
Eggplant
Zucchini
Bell Peppers
Tomatoes
Onion
Garlic
I have done all different kids of ratatouille; a casserole version, skewers, and even lasagna roll-ups.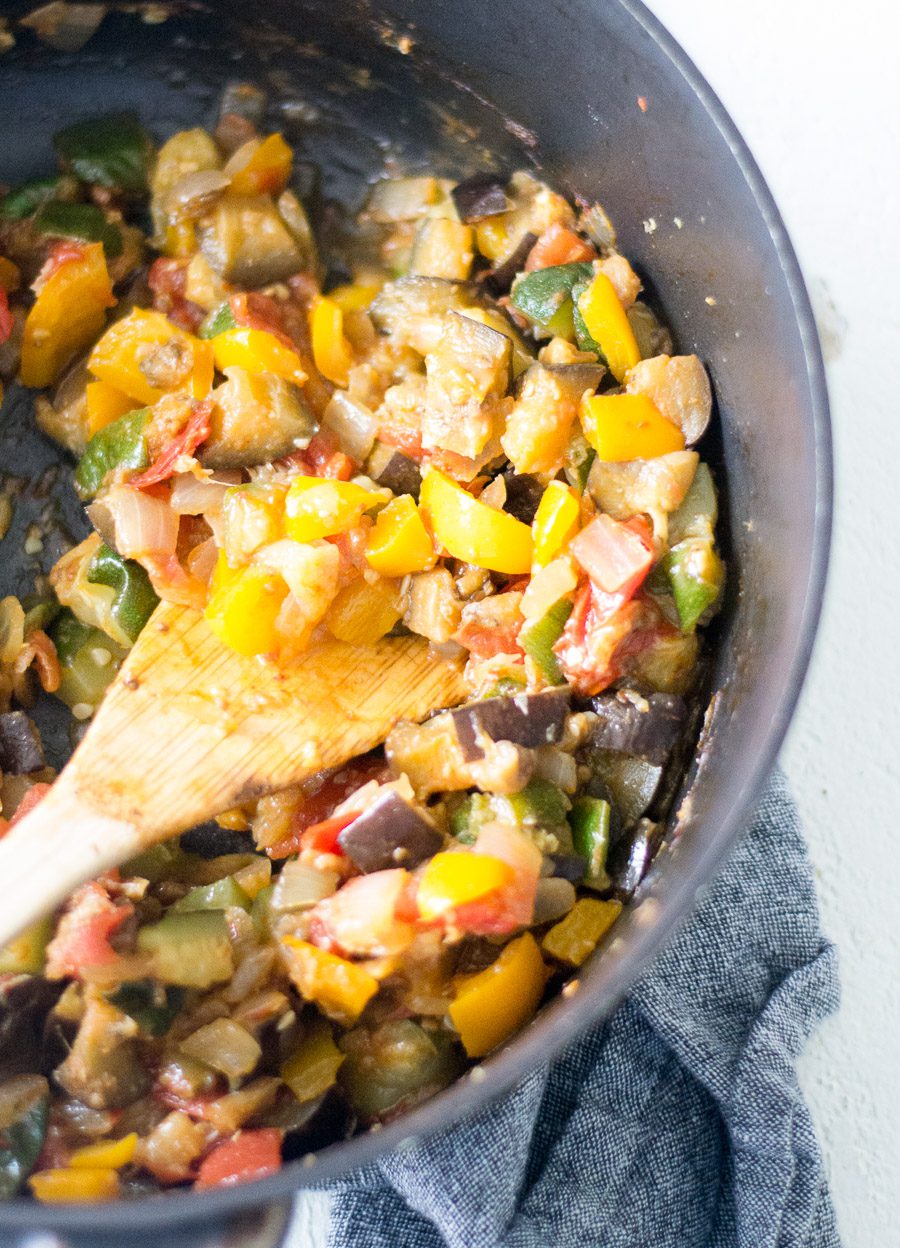 This simple one pot version is also very easy and delightful.
First thing's first is you have to cook down all the vegetables until they become golden and super tender.
It is ok if the tomatoes and some of the eggplant sort of mush together and become jammy.
That makes for a great stuffing that will stay in the shells a lot easier.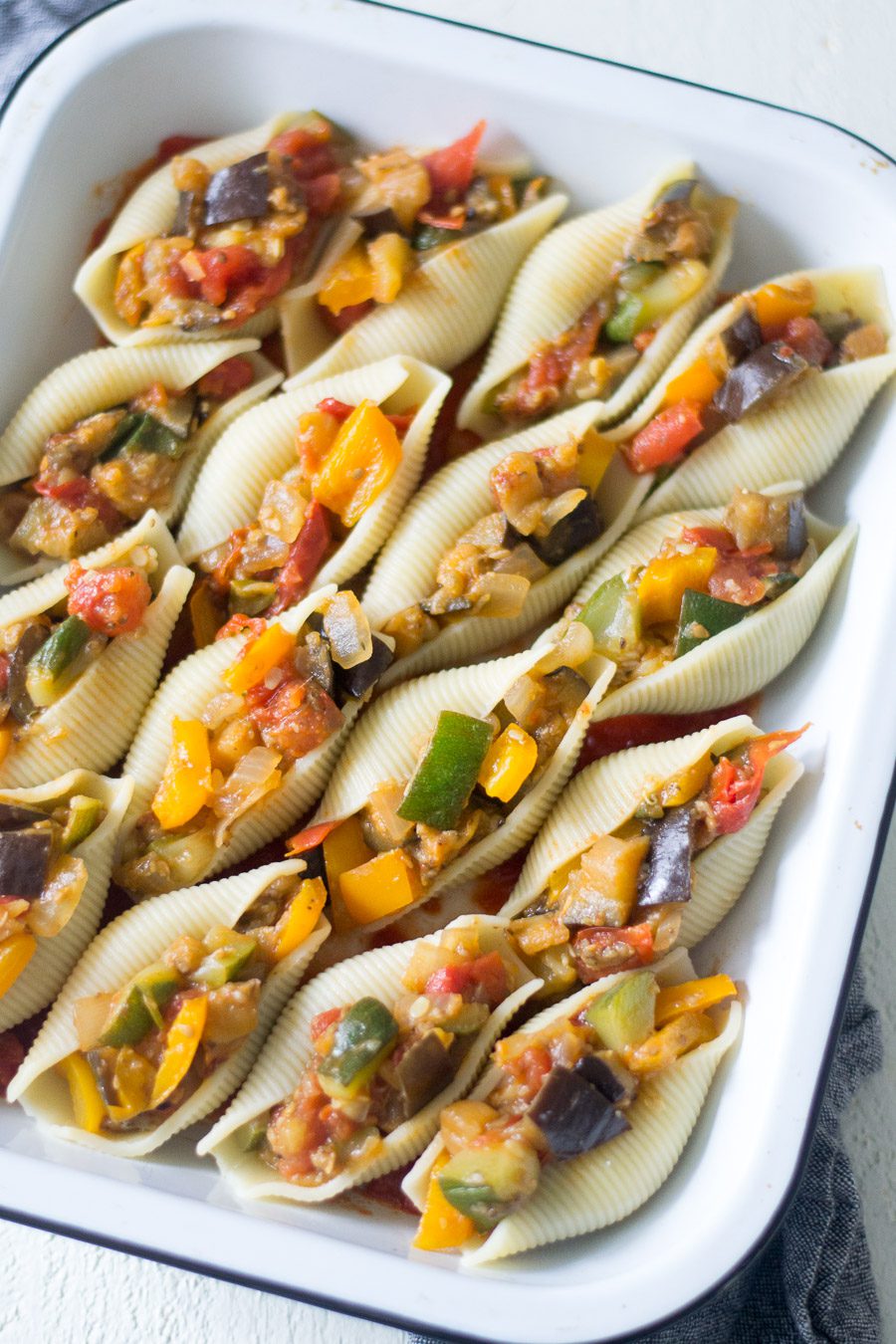 There is zero cheese in the stuffing. It is just vegetables seasoned with garlic, salt, and crushed red pepper flakes for a little kick.
Pour your favorite jarred marinara, about a cup or so, into the bottom of the baking dish before adding the stuffed shells.
I topped the shells with an 8 ounce ball of fresh mozzarella that I ripped into smaller chunks.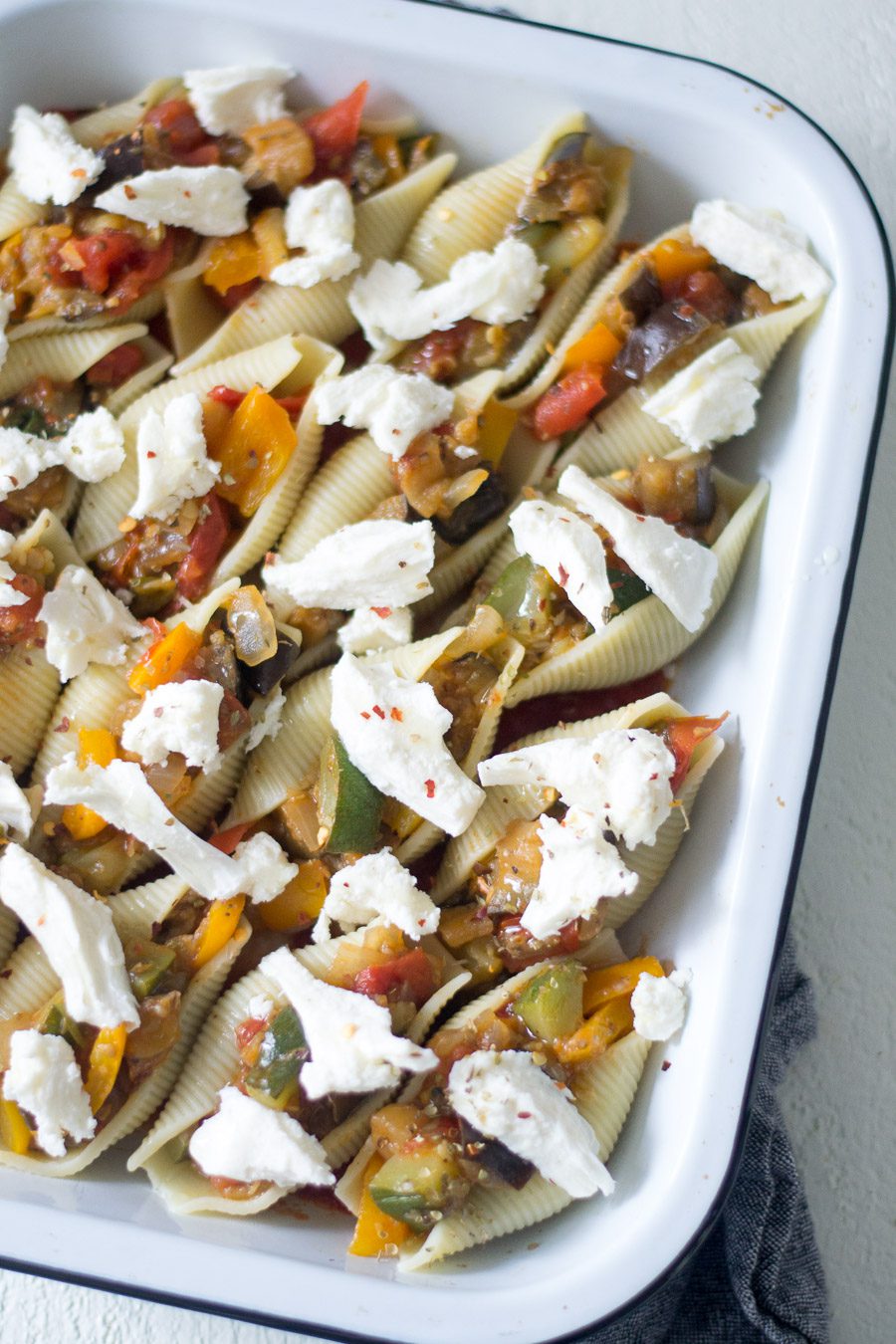 I have been on a cutting back on dairy kick lately. In my search for cheese alternatives, I found a cashew shredded cheese from Trader Joe's that melts and tastes like a dream.
This dish can even be dairy free, see!
Cover with foil and bake until the cheese melts.
Remove the foil and continue to bake until the edges get crispy and golden.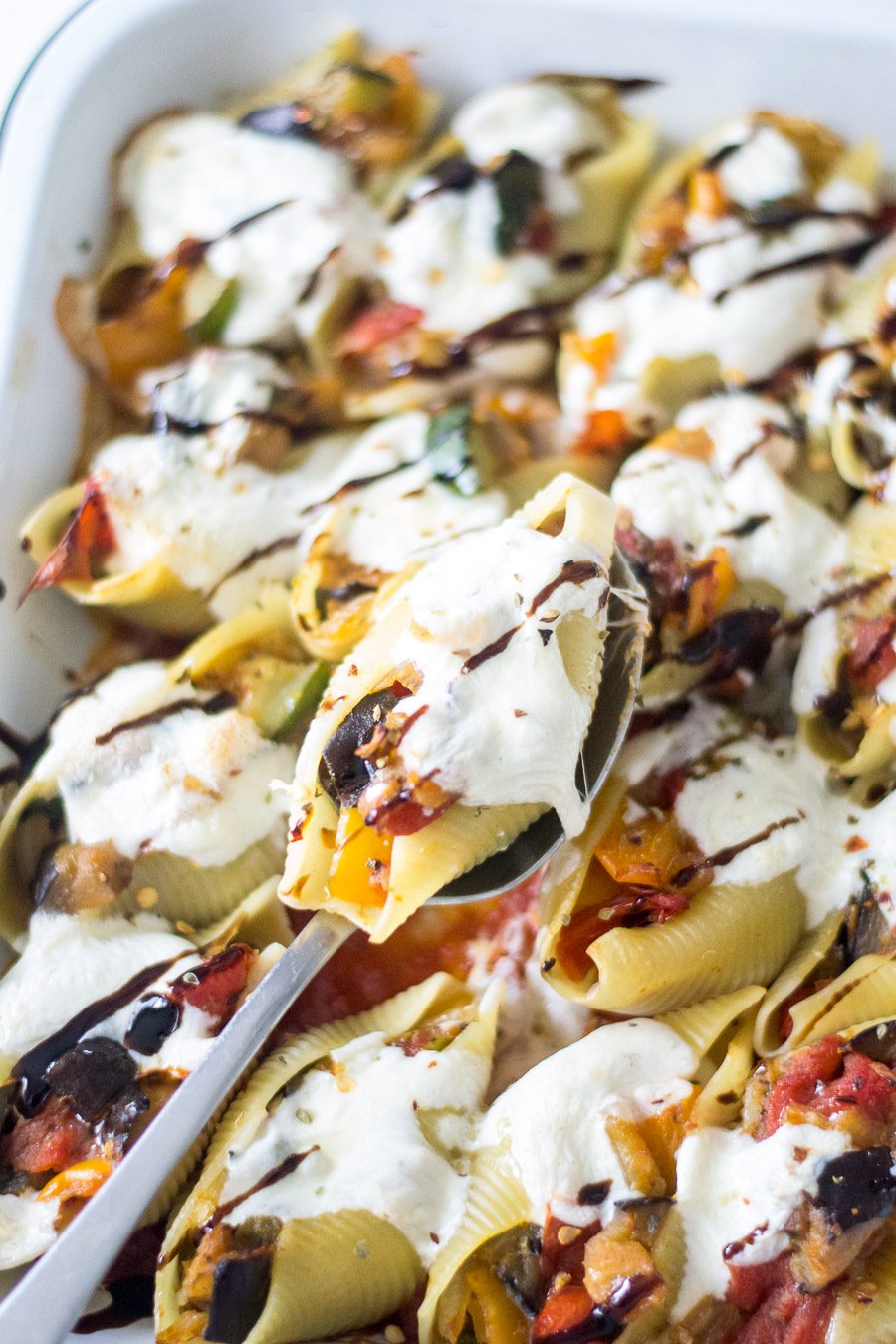 This dish would be a great replacement for a holiday typical dish like lasagna.
And it is even less work!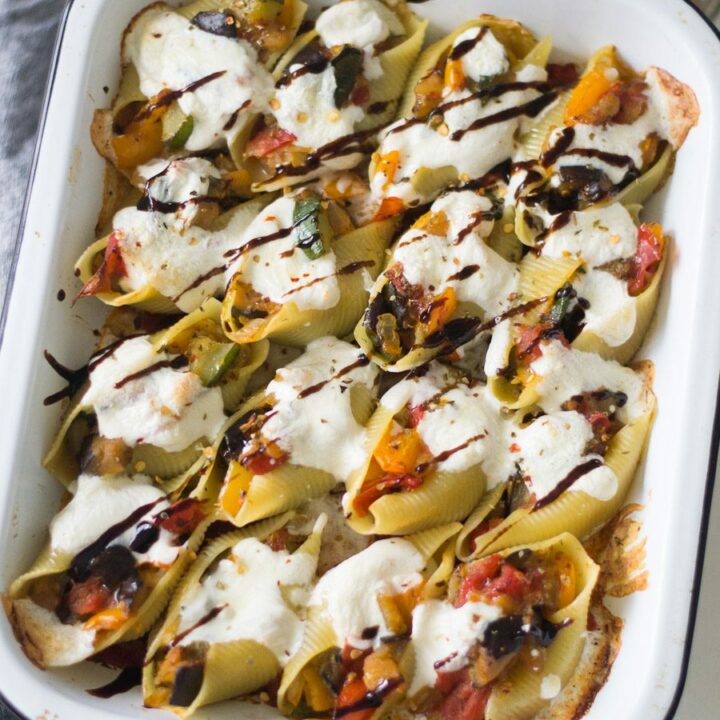 Ratatouille Stuffed Shells
Yield: Makes 16-20 Shells

Prep Time: 10 minutes

Cook Time: 50 minutes

Total Time: 1 hour

Shells stuffed with eggplant, tomatoes, peppers, onion, and zucchini and then topped with cheese and baked until melty and golden.
Ingredients
16-20 Large Pasta Shells
2 tbsp extra-virgin olive oil
1 yellow onion, diced
1 large zucchini, diced
1 large eggplant, diced
1 bell pepper, diced
2 tomatoes, cores removed and diced
1 tsp salt
1/2 tsp crushed red pepper flakes
3 cloves of garlic, grated
1 1/2 cups jarred marinara
8oz fresh mozzarella, ripped apart into smaller pieces
balsamic glaze for topping, optional
Instructions
Bring a large pot of salted water to a rolling boil. Add shells and cook until al dente. Drain and then keep off to the side to cool.
While the noodles boil, dice all the vegetables. Heat the EVOO in a large Dutch oven or heavy-bottom pot over a medium flame.
Once the oil is shimmering add the onion, peppers, zucchini, eggplant, and bell peppers. Mix and stir to evenly coat the veggies in the oil. Sauté the veggies for about 10 minutes before adding in the tomatoes.
Add in the tomatoes, garlic, salt, and crushed red pepper. Cook for another 10 minutes until the tomatoes fall apart and the veggies start to caramelize on the edges. Remove from heat and let the veggies chill out in the pot while the oven preheats.
Preheat the oven to 375 degrees F. Add the marinara to the bottom of a 9 x 11 inch baking dish. Begin to fill each shell with a heaping tablespoon or two fo the veggies. Add each filled shell to the prepared baking dish.
Rip the mozzarella and scatter it over all the stuffed shells. Cover the pan with foil and bake for 20-25 minutes until the cheese melts. Remove the foil and bake for another 10-15 minutes until the edges get crispy and the cheese gets golden.
Top with a good drizzle of balsamic glaze and some more crushed red pepper flakes or fresh basil, if you like. Allow the shells to cool for 3-5 minutes before dishing out.
Notes
*You can also use your favorite dairy-free shredded cheese in place of the mozzarella for a vegan/dairy-free version.
Recommended Products
As an Amazon Associate and member of other affiliate programs, I earn from qualifying purchases.